B-R-E-A-K-I-N-G  N-E-W-S: Customs abolishes homogeneous containers examination
 The Nigeria Customs Service (NCS) has abolished container homogeneous examination policy, replacing it with a new regime of total containers examinations.
Management explained that the policy review became necessary to actively respond to rising insecurity situation in Nigeria in terms of worrisome proliferation of arms and ammunition, illicit drugs and other dangerous imports.
The new policy which is already effective was authorized through a circular with the title 'NEW RULES ON HOMOGENOUS EXAMINATION, with reference number EI&I/2021/CIRCULAR No.008, dated 10the May 2021, and sighted by our reporter, reads:
"The common practice of homogenous examination where bulk containers scheduled for examination are randomly selected for examination is hereby abolished.
"Henceforth, examination of containers, no matter the quantity must be positioned, cut and examined before exiting the Command's Terminals.
"Any Releasing Officer who fails to comply with this new directive will be sanctioned accordingly."
The circular addressed to all customs area controllers and signed by U. G Mohammed, Acting Assistant Comptroller General, Enforcement, Investigation & Inspection (E,E&I),  on behalf of the Comptroller General of Customs, takes immediate effect.
While some port users condemned the new policy, others expressed mixed feelings, even as some said the policy is in other in view of the country's security challenges.
This is even as some blamed the customs for whatever security breach is associated with imports, in view of customs failure to provide scanners to ease the burden of examination.
An agent who spoke on condition of anonymity said, "Why won't ports in Nigeria be congested with circulars like this, being released at this time."
Another who also declined to have his identity revealed for fear of official harassment, also frowned at the timing, saying, "Sometimes our government actions themselves creates confusion. How can a service that is talking about harmonizing cargo clearance processes in line with Africa Continental Free Trade Agreement (AfCFTA), turn around suddenly with policy designed to run counterproductive to the ideals of AfCTA?"
However, reacting, Chairman, registered Board of Trustees of the Association of Nigerian Licensed Customs Agents, ANLCA, Alhaji Taiwo Mustapha, aligned with the new directive, saying it is an act of exigency.
Mustapha said the security situation of the country requires urgent and critical policy action to address it, but urged the management of customs to discourage and disallow double examination of containers, under whatever disguise.
He said, "I have not seen the circular, but whether l have seen it or not, my position has always been that customs should be allowed to do their job. Today, the country is under siege, we have security situation and arms and ammunition are everywhere, including addictive drugs, they are everywhere.
"How did these things come in, is it not through our so-called import containers? For me, the customs should be allowed to do as they see fit. We need Customs to be on top of the security situation, because nobody can tell me that these arms and ammunitions are not coming through the borders and sea ports.
"This year alone, you need to see how National Drug Law Enforcement Agency (NDLEA) is picking drugs from all nooks and crannies, this is not good for us, government should be supported to do what is right", adding:
"What l will advise against is that these 100 percent physical examination should be done neatly, to avoid controversy and to avoid putting importers and clearing agents under hardship.
"Containers should not be subjected to double examination for any reason. Every relevant unit of the customs, the resident customs, federal operations, strike force, customs police, port or maritime police, NDLEA, NESREA, whoever is involved in physical examination of containers should all be there at the same time."
He continues: "Once a container has been examined and released from the examination point, it should not undergo any other form of examination, that way it will be tidy and neat. The question of federal operations unit or any other unit of customs or other agencies stopping the container on the way should be completely discouraged.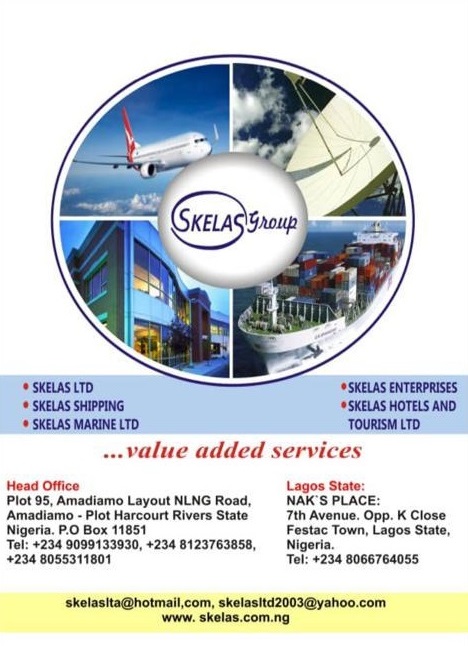 "I am sure that the pain of having every container examined is far less than the insecurity we are having all over the country, provided the leadership of customs ensures that these examinations are not allowed to repeat outside the port."
Contacted for reaction, the Deputy National Public Relations Officer, Deputy Comptroller Timi Bomodi acknowledged the new policy regime, and explained it was undertaken as a direct response to the nation's security situation.
Although he took much trouble to explain in detail the new development, he debunked the idea that the practice of homogeneous container examination  where containers of homogeneous goods are picked randomly, hitherto, was a policy; describing it as 'discretionary approvals.'
His words, "First of all, the idea of examining homogenous containers in multiples wasn't a directive, it was a discretionary thing, that officers be allowed to use their discretion. The security situation has made it tense because we are seeing so many new developments, where people use all kinds of methods to try to invade the law.
"Every agency has to, not only strategize but re-strategize. It's a consistent way of trying to see how we can combat this menace. The service is trying to; through its own internal mechanism tighten its scrutiny at various points of entry to see that whatever may be concealed in those containers do not escape the long arm of the law.
"We are all witnesses to what is taking place in the country today, and everything else takes a back seat to solving the security challenge. I think it is something that we all should be ready to accommodate; we know the pains it might cause members of the industry and even the public in general. So we know that these are necessary because not doing that will be tantamount to also causing pains in other ways.
"We are not saying this method is a sure proof way of ending insecurity, but we are saying, let us do what we need to do, those things that are within the ambit of our power."
Bomodi also painted a sad picture of the nation's porous border line, which he noted has also created part of the current insecurity. He noted that the service will rather intensify effort in areas it has the competence and capacity to close leakages, while the federal government continue to think of how best to reduce border porosity.
He also explained that the purchase of cargo scanners for the use of the service is not the customs direct duty but that of its supervisory federal ministry of finance. Taking full advantage of his operational background, the deputy customs duty spokesman also declared that in spite of widespread misunderstanding about the service's multiple layers of check and counter check system, such system will be maintained, to act as mop up mechanism.
He said, "We know we have huge land borders, we know we cannot police up to ninety percent of our borders, that is the reality. But it won't stop us from doing those things that we can do to help this fight. And all we crave is the understanding and patience of everybody to see what results we can possibly get.
"You have been in this beat for sometime; you should know there are different kinds of checks that are placed along the way to curb whatever attempts people may want to make on gaining against the system. Examination of containers 100percent is one, but there are other ways. Things happen in this country, you will be shocked to know what length or what method people employ to beat the system, so many."
Importantly, he urged the general public to know that even 100% physical examination of cargo does not amount to a perfect check system, since the bad guys are always devising new strategies to beat detection.
"So the directive to conduct 100percent examination of all cargo within the port is just to forestall the chances by some human error, some things that are designated to be inside homogenous containers carrying homogenous goods do not escape. That is only one level of intervention, there are others.
"You can have goods in transit; you can have goods under different schemes like bonds, transires, different things. Remember, the people that are doing these things, either they intend to carry arms and ammunition, or they intend to traffic in illicit drugs. They have invested massive amount of money in doing it, and when they see that the screws are tightened in one place, they look for other alternatives to do their business.
"So customs will not just be satisfied with only one solution, or we decree this thing should happen like this in this area. We cannot just fold our hands and say 'oh, because we have directed that, that thing must happen here, then every other thing is okay, everybody leave', no, it is not possible.
"My local proverb says the rat that has only one hole does not live long. There are other possible leakages we must anticipate and take steps to close. We know it is possible to beat the system, so we also have to create as many solutions to also be abreast of the bad guys, so that in case this one leak, somebody elsewhere will be able to intercept.
"Again, people should always remember that the dangerous nature of some of these things make them inimical to the health and wellbeing of the general public, and people should appreciate the efforts that officers make to ensure that these things don't get out of our hands or out of control", adding:
"These are some of the strategies being put in place to contain these things. It won't be satisfying to everybody, it would not meet the expectation or needs of everyone, but it is the situation as it is today that determines the kinds of interventions that the service would want to employ."