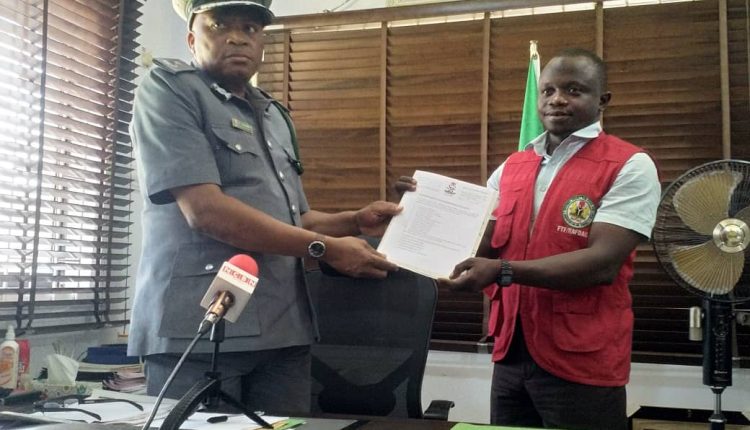 Customs Marine hands over N62m seized, expired drugs to NAFDAC
BY FUNMI ALUKO
The Nigeria Customs Service, Western Marine Command, yesterday handed over seized drugs worth Sixty Two Million, Two Hundred and Fifty Thousand, Seven Hundred and Ninety Four Naira (N62,252,794.00) only to the National Agency for Food and Drug Administration Control (NAFDAC).
Controller of the Command, Deputy Comptroller E. Ochiba said the drugs suspected to be expired, but that smugglers however, unscrupulously had it's expiry details reworked with valid dates.
He explained that the drugs whichwere intercepted by it's patrol team based on credible intelligence along Abumbum-Ojo waterway includes 817 Bottles of B-Vital, 1,158 Bottles of Kordy-capsule, 3,110 Bottles of Double Ginseng, 619 Bottles of Detoxina and607 Bottles of B-care.
The products also include 198 Sachets of Ninhuang Jeedu pian, 1,200 Sachets of St Formula, 475 Bottles of Apetamin Syrup, 7 Bottles of Spinsure Table, and 17 Bottles of Danshen Plus.
Others are 7 Bottles of Arthro capsule, 13 Bottles of Spinsore Pill, 123 Bottles of Chitomeala andBundles of printed labels of Double Ginseng with Batch no. DG 04021.
The customs marine boss said the drugs was faked with a new manufacturing Date of 29-04-2021 and fake expiring Date of 28042024.
He said, "You may recall that during our last press briefing on the 24 September 2021, the Command under my leadership showcased various seizures including expired drugs intercepted by our patrol team while on credible intelligence along Abumbum-Ojo waterways on Wednesday 15 September 2021 at about 0020hrs.
"After physical examination seizure was found to contain drugs that have expired since 27 April 2017 and uncertified by NAFDAC, with total value of N62,252,794.00 only."
He said the seizure contravened Schedule 3 Revised Import Prohibition List (Trade) item 14 Waste Pharmaceutiques.
"These are expired, unused and contaminated pharmaceuticals which if not intercepted by our operatives would caused havoc to the society in general."
"I mentioned during the last meeting that the smuggler intended to replace the expired labels with labels carrying new manufacturing and expiry date as it can be seen on the bundles of printed labels of Double Ginseng accompanying the seized consignment.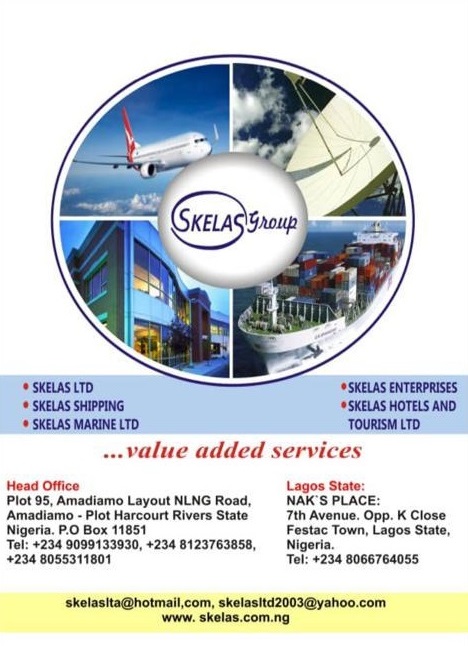 "The new printed label is carrying 29042021 and 28042024 as manufacturing and expiry date respectively."
Ochiba explained further that the seizure shows the desperation of smugglers to acquire wealth without considering the health implication of the expired drugs on the society.
He warned unscrupulous element to desist from smuggling, noting that smuggling is a serious crime, when left unchecked would have a negative effect on our economy.
"I want the smugglers to know that the operatives of the Command would leave no stone unturned until they meet their waterloo."
Ochiba said the handing over of the drugs was directed by the by the Comptroller General of Customs, Col. Hameed Ali (retired) in the spirit of inter-agency collaboration.
He said "I am handing over the seized expired drugs to the Director, NAFDAC Investigation and Enforcement as directed by the Comptroller General of Customs.
"I want the smugglers to know that the operatives of the Command would leave no stone unturned until they meet their waterloo."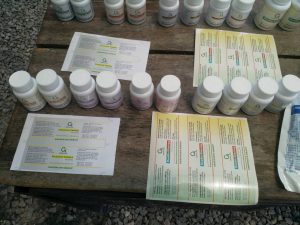 We were invited to come and takeover the apprehended, expired seized drugs. We appreciate the Customs because this has been some sort of nightmare for NAFDAC. I recall that around August this year, NAFDAC destroyed a lot of pharmaceutical products, most were unregistered while some have expired. And this is the kind of strategy offenders are putting up in other to deceive consumers. When drugs have expired the smugglers print new labels to cover them up. This is wrong, once a product has expired, it has expired. Consuming such is causing danger to society.
Responding, NAFDAC Director of Enforcement represented by Yahaya Abdulmajeed said his agency appreciates the operational synergy between it and Customs, noting that Customs have taken away quite an amount of burden.
"We appreciate the customs, most of our recent destruction worth millions of naira is from the Customs.
"It means synergy is there, work relationship is still there."