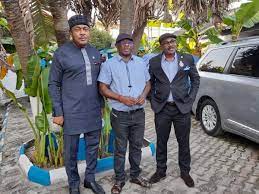 NAGAFF/ANLCA Romance: The Disaster Foretold
BY EGUONO ODJEGBA
The alarm bells rang loud and long when Iju Tony Nwabnike, embattled National President of the Association of Nigeria Licensed Customs Agents (ANLCA) began a corporate romance with the maximum leader of the National Government Approved Freight Forwarders (NAGAFF), Dr. Boniface Aniebonam, towards the end of 2020.
Both leaders told whoever cared to listen that the new romance is the beginning of a new order between NAGAFF and ANLCA and in the industry atmosphere, noting it will conquer territories and subdue mountains, and recreate mutual benefits through the bounds of oneness anchored in fidelity.
While the two leaders clink glasses, Aniebonam was no doubt recreating in his mind, an agenda to have control over the 15-man Governing Council of the Council for the Regulation of Freight Forwarding in Nigeria (CRFFN).
Until then, ANLCA has been his major headache, and those whose business it is to know say that Aniebonam has not spared any effort in trying to befriend ANLCA in order to negotiate an understanding that would guarantee his group a fair or leading representation at the council.
Highly intelligent, long suffering and persuasive, it is on record that before the affairs with the Iju Nwabunike led ANLCA, he had attempted to espouse the Prince Olayiwola Shittu led ANLCA, which industry observers say succeeded marginally. As usual, those familiar with the happening said he deployed pretense laced with friendly mien to hoodwink the unsuspecting Shittu executive into a working relationship, for a joint sharing formula designed to capture control of the council's board.
This according to information led to the famous 6:6:1:1:1power sharing at the governing board in favour of ANLCA and NAGAFF, in the prior election; with the smaller groups like the factional National Council of Managing Director of Licensed Customs Agents (NCMDLCA), Association of Registered Freight Forwarders of Nigeria (AREFFN) and NAFFAC, with a representative, each.
It is believed that Aniebonam's further attempts to embark on certain manipulative overtures within ANLCA aroused strong suspicion, whereupon, Shittu took immediate steps to shut him out, permanently and officially. But that was after the 2018 governing council election engineered to produce the 6:6:1:1:1 sharing formula.
It is said the sudden action to stop him on his track caused him quite some shock and pains, having to see his dream to stoop to conquer albeit through hook and crook, vanished into thin air. He scampered back into his shell, but never giving up, laid in wait, like all political mavericks are wont to.
But he did not even wait for too long as the new leadership of ANLCA after the Shittu's tenure sauntered into his waiting arms, albeit with very little effort, apparently attracted by the sweet lullaby of ethnic affinity and emotionalism.
It is believed that despite well meaning members of ANLCA warning Nwabnike of the danger of official fellowship with NAGAFF not to talk of a romance that had threatened to imperil ANLCA, he refused all entreaties and walked into Aniebonam's political snare, with a swagger of a carefree political rookie.
For Aniebonam, nothing could have been more fulfilling and gratifying, so, like a master chess player, he moved with utmost finesse and deftness; smart enough to secure a full, firm hold without scaring off his catch.
In November 2021 during the inauguration of NAGAFF new president in Lagos, he confessed to some some grand plots he had deployed to destabilize ANLCA under his brother, Nwabunike led executive's watch; in a rather unbecoming display of arrogance.
According to him, he gave Nwabunike the moral and political courage to expel ANLCA's board members; saying the action has restored peace back to the association. Aniebonam who was speaking at the inauguration of the new president of his association, no doubt felt especially relevant as the de facto power in the nation's freight industry.
Seated quietly and inclined to Aniebonam's  show off was Nwabunike and his delegate which comprise of the Vice President, Kayode Farinto, National Secretary, Alhaji Babatunde Mukaila as well as Hajia Bola Muse, who he led to the NAGAFF event.
While charging the new president of NAGAFF, Aniebonam said: "A leader must be able to take decision, it could be a wrong decision, but if you don't make decision at all, then you are not a leader.
"This is why my big brother, Iju Ozobulu (Tony), when he was being disturbed in ANLCA, I told him, Tony you have to take decision, you cannot satisfy everybody and since Tony Iju took decision in ANLCA, do you still hear noise? Some people were expelled."
He proceeded to ventilate his desire for seeking partnership with ANLCA, but keeping the other facts and motives to himself. In addressing his real intentions albeit indirectly, he said:
"Do you know that the problem between ANLCA and NAGAFF has always been the sharing formula? There is no much difference, only that ANLCA says that they are bigger. It took me 20 years to be able to bring my brother to my side and I said, let's stop fighting, whatever you can offer, I can also offer it", he said.
Sadly, Nwabunike and his executive minded only his outward intentions, and did not see the need to be worried. While the NAGAFF overlord coo into their ears mere coverings of his grand plot, part of the decoy was the reinvented Freight Forwarders Forum (FFF), a group of all the Registered Freight Forwarding Associations, purportedly designed to fight as a unite to influence the CRFFN business, with its supervising Federal Ministry of Transportation and such other incidental stakeholders, whether as individuals or corporate entities.
That Aniebonam's real intent was to cease the machinery of FFF straightforwardly or by subterfuge, at some point for the purpose of elevating self through NAGAFF, was not lost on discerning members of ANLCA except those lost in the romance of the lust of power.
Thus Nwabunike's insistence to continue with the romance was not only considered an affront but a danger to the good of ANLCA and the collective destiny of its members. With the vigorous nod of the self enervating ANLCA's Ebubedike, Aniebonam became the clearing house in FFF, and indeed its sole authority. All views, actions and inactions must align with the NAGAFF life president's inmost consent or be rejected, anon.
In this fashion, he led the Forum in its meetings with the Transportation Minister and or the delegated authority, clearly as dual personality, and pretended to oppose the minister in the open, but in concert with him behind the curtain.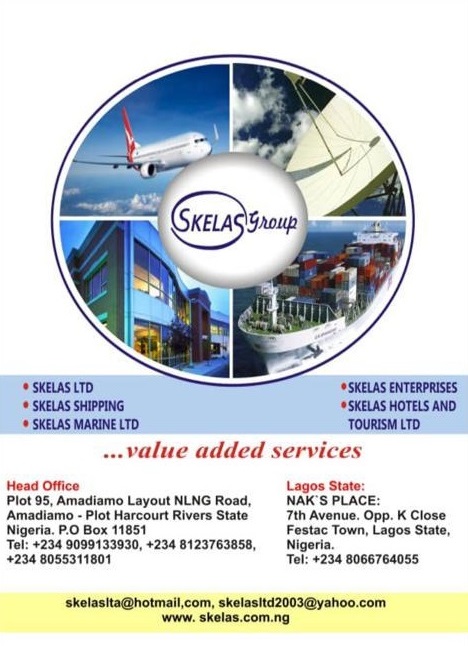 There has been an industry speculation about Aniebonam working behind the curtain to ensure that the Transportation Minister had his ways in the controversial election, even as NAGAFF trashed ANLCA in a most humiliating aggregate representation in the governing council, winning 8 seats; and leaving ANLCA with over 50 years of historical sanction, with 5 seats.
It was a disaster foretold, and it is only logical that those waxing philosophical about the avoidable and shameful defeat are the self same promoters of the ungodly romance. Interestingly, while tossing the Forum around with his fanciful 6:6:1:1:1 sharing formula, Aniebonam had his plan B, which was exclusive to the success of NAGAFF at the Governing Council election.
It will be recalled that the NAGAFF founder after a meeting that preceded the public notice issued by the Federal Ministry of Transportation on the CRFFN Governing Council Election, told the whole world that young NAGAFF millionaires has earmarked  N100million aside for the purpose of wining all the 15 seats.
The fund no doubt, also came handy when the maximum ruler decided that a serving and a former NAGAFF president, Mr. Increase Uche and Dr. Eugene Nweke must excuse themselves from the election. While ANLCA and other members of the Forum foolishly followed the 6:6:1:1:1 script, 12 members of NAGAFF had purchased the nomination form; while ANLCA leadership folded its arm and sat back.
According to industry gist, while Iju Nwabunike faithfully followed every step taking by Aniebonam, apparently as pay back for helping him to 'expel' ANLCA BoT that had become very troublesome, neither Chief Henry Njoku, as discreetly referred to as  the self appointed ANLCA Brigade Commander, nor Alhaji Daura Bala, President of AREFFN, trusted the Freight Mayor of Maybin Street.
Sources inform that when the duo of Njoku and Bala noticed Aniebonam had an expanded NAGAFF list at the meeting with the Minister of Transport in Abuja, they confronted him, whereupon, Aniebonam reportedly promised to look into the matter; with the promise to make them (additional names in the list) step down.
Based on their individual hunch and distrust, Njoku and Bala reportedly protested to the Minister that they will not accept the imposition of Western Freight Forwarders to represent them in the Eastern Zone, and requested o field candidates from their own zone; which Amaechi agreed to expeditiously; thereby changing the game plan.
Thus the sudden change in the further delineation of electoral zones coupled with the naked huge scale electoral fraud  that attended the exercise and NAGAFF's underhand Plan B  finally nailed the 6:6:1:1:1 arrangement ANLCA banked on to win its own six seats.
But for the smart move of the Brigade Commander, ANLCA may have lost the whole seats to NAGAFF. However it is viewed, through the opaqueness of the ANLCA national leadership, NAGAFF has made history defeating ANLCA in the council election, whether we call it fraudulent victory or not.
What is glaring is that the goliath has been beaten by a cunning upstart, or Robin Hood, if you like. This dismal performance has no doubt taken ANLCA 20 years backwards; courtesy of its present leadership lack of imagination, according to insiders.
For the discerning minds, it is needless to waste precious time examining NAGAFF's post election crocodile tears and expression of dissatisfaction with the outcome of the election. While NAGAFF savours its sweet victory, it's okay that while leaking its wound, ANLCA  leaders must put on their thinking cap and take deliberate steps to extricate the association from its self imposed mortification; or face the brim prospective of been completely out staged and becoming irrelevant in the scheme of things.
It is pathetic that members of ANLCA with leadership capacity and foresight who warned against the romance were called names by NECOM, even as the NAGAFF dictator took on the gauntlet to lead visible and invisible assault on his opponents such as Chief John Ofobike, for daring to speak against the sultry romantic embrace.
Yes, there is no doubt that money, big money, influence and power were all instrumental in the compromised election, clear thinking and leadership capacity on the part of ANLCA would have made all the difference in a purely competitive electioneering contest; as against entrusting its electoral value in the hands of one man; who thinks and strategize like a Vladimir Putin.
But Sir Ofobike, also popularly known as Dan Katsina with Segun Odutan and few others called out the National Officers of ANLCA to stop selling the association for cheap, and warned about its romance with NAGAFF.
They argued that ANLCA under Iju Nwabunike is on auto pilot for allowing themselves to be subsumed under NAGAFF overall direction, and further noted that the development has left ANLCA adrift, creating confusion and acts of lawlessness; which they said was becoming and embarrassing.
Ofobike said well meaning members of ANLCA feel guilty as sin to witness the gradual fall of the once vibrant association into disrepute, and called for an end to the dirty romance.  He said, "Tony Iju  Nwabunike led suspended NECOM's suspicious hobnob with a non friendly individual and group is eroding on our collective values. Under his watch, he subjected ANLCA to a near subservience, running to a splinter organization to take briefs on how ANLCA decisions should be made.
"Tony lju Nwabunike has subjected ANLCA to an extension of NAGAFF and this is not acceptable. His indiscretions have eroded ANLCA's reputation into near oblivion. We are poised at this juncture to recover ANLCA's dwindling fortunes, reputations and relevance in the industry."
Aniebonam not only fired back by spitting invectives, he was believed to have set up machinery to impugn on the integrity of Ofobike.  In a private correspondence with some of his supporters in the Forum, he outlined a sustained campaign of calumny against Ofobike, ostensibly to teach him a lesson.
In the conversation, the NAGAFF emperor wrote:  "If you people understand the damage OFOBIKE is doing to the initiative the earlier the editorial board get started. OFOBIKE and his group have been expelled from ANLCA and to the industry stakeholders they are faction because they are more than one person. The way out is to mount a sustainable campaign and enlightenment of the stakeholders that OFOBIKE and his disgruntled elements have become inconsequential and drowning men clutching at the straws.
"I therefore advise that the leadership of the Compliance Team of NAGAFF and ANLCA backed up by the steering committee of the associations should swing into massive campaign and declare OFOBIKE enemy of the freight forwarders."
All said and done, the lesson inherent in the ANLCA defeat at the CRFFN election is for the warring factions, and all members of ANLCA to bury their differences, close rank as soon as possible and with one accord, face the task of rebuilding their fallen association; or face the gloomy prospect of creeping irrelevance through counterproductive alliances and unwarranted corporate official fights.
Those itching to get detail graphic account of the fraudulent governing council election must exercise patience, as it will amount to dampening this report, bringing in the sordid electoral fraud that attended that exercise.