Okorefe Advocates Unbundling of Transportation Ministry
...As Experts Recommend Blockchain Technology For Efficient Customs Operations
Maritime resource person, teacher and publiher, Mr. Charles Okorefe has recommended the urgent unbundling of the Federal Ministry of Transportation into the Ministry of Maritime Transportation and Ministry of Roads and Railways respectively, to accelerate the purposeful development and speedy growth  blueprints of the critical sub sectors.
This is even as experts has recommend the adoption and application of blockchain technology, artificial intelligence (AI) and Drones amongst other applications for the efficient operations of the Nigeria Customs Service; especially in the area of anti-smuggling activities.
The experts made the recommendations at the 2022 Annual General Meeting (AGM) of the League of Maritime Editors and Publishers (LOMEP) held at the Administrative Staff College of Nigeria (ASCON) Topo-Badagry Lagos, yesterday.
Delivering the lead paper at the event themed "The role of Technology in Trade Facilitation and Smuggling Suppression," Okorefe noted that blockchain could serve as an immense catalyst to efficient trade facilitation and suppression of smuggling, having been gainfully deployed in managing cryptocurrencies which produced evident real time, online trading efficiencies and transactional integrity and compactness.
A lecturer at the Nigeria Maritime University (NMU), Okorefe lamented that the major reason for the slow development of the nation's maritime capacities has to do with the unwieldy size of ministerial supervision and manifest conflicts and challenges that attends poor choice making and lateness of decisions.
He argued that given the nation's huge maritime domain and resources, a ministry of maritime will be self sustaining and decisive for growing it's potential, which will ultimately drive the national economy once freed from its current state of apparent political imprisonment.
"A ministry of transportation will be self sustaining, it will not be parasitic on others. This country's maritime domain and resources is very huge, once it is freed to function optimally it can contribute significantly to impacting our gross domestic product.
"So my recommendation is for the establishment of a maritime ministry, separate from the ministry of roads and railways. Each emerging ministries are strong and can get better and improved supervision, the ministry of transportation as we currently have is not growing the economy, decisions are often slow.
"Breaking the transportation ministry down will create competition and efficiencies" Okorefe noted.
He lamented that the railway doesn't move up to one percent of cargoes from the nation's ports, and stressed that logistics connection remains a huge burden to the ports which according to him should be addressed expeditiously.
He also warned of grave implication if Nigeria engages in needless border closures having signed and ratified the African Continental Free Trade Agreement (AFCFTA).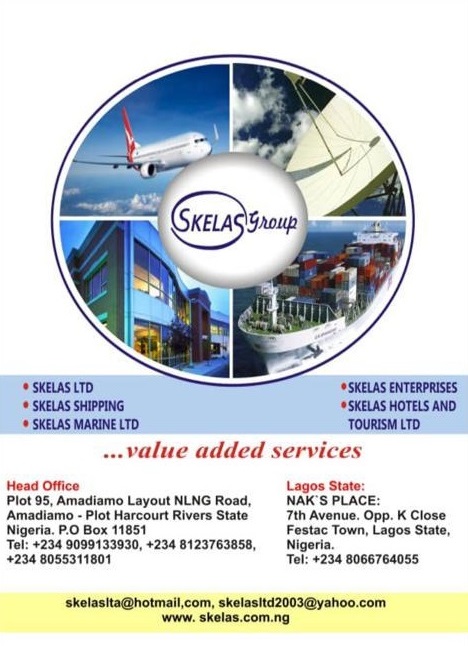 Speaking earlier, Chairman of Nigerian Port Consultative Council, Otunba Kunle Folarin in his goodwill message condemned federal government's policy penchant for prohibition of imported items that are not produced in sufficient quantities in the country.
Otunba Folarin noted that human elements resulting in extortion and interruption of free flow of trade are some of the biggest challenges to technological innovations at the nation's ports.
Chairman of the occasion and Director General of Nigerian Maritime Administration and Safety Agency (NIMASA), Dr. Bashir Jamoh described the training programme and the theme as ap.
The NIMASA boss said media represents a very strategic tool in nation building and commended LOMEP for showing exemplary leadership in maritime journalism over the years.
"The media is one of the key elements in nation building and everything we do in life. The maritime media is very unique and they work tirelessly. I receive news posts by 1am and 2pm because they work round the clock.
"This shows your passion to change and sanitize the industry. You always want to sensitize, educate and correct wrong impressions in the industry and we are grateful to have this vibrant maritime press," Jamoh said.
In his welcome address, the immediate-past President of LOMEP, Mr. Kingsley Anaroke noted that his administration was able to enhance productivity and rebranding of the group.
Anaroke who is also the Chief Executive Officer of Kings Communications Limited, publishers of MMS Plus newspaper, highlighted some of his administration's accomplishments to include; establishment of a Centre for Maritime Journalism, Group Insurance for members, a maritime compendium, new patrons, transparency in budgeting, among others.
While expressing delight that his leadership consumated over 75 percent of its agenda, he tasked the new executives to further advance the cause of journalism by offering helpful guidelines to the younger crops of maritime reporters on the significance of developmental journalism.
Mr. Timothy Okorocha who emerged the new President of LOMEP a day earlier at the venue thanked his predecessors for an amazing template and pledged to build on the successes.
Others elected with Okorocha include Eddy Iroha, Vice President; Felix Kumuyi, Secretary; Francis Ngwoke, PRO; Friday Odemena, Financial Secretary; Tony Ohakwe, Treasurer; and Sola Mekusi, Welfare Officer.