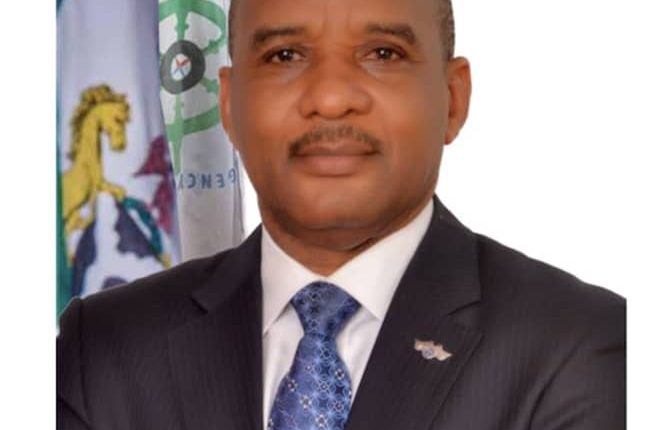 BY EGUONO ODJEGBA
Management of the Nigerian Maritime Administration and Safety Agency (NIMASA) has scored itself high in its responsibility for flag state control, saying a total of 489 vessels were surveyed in 2021, as against 276 figure in 2020; translating to 43.6 percent rise.
Director General of NIMASA, Dr Bashir Jamoh who disclosed above in his office Friday during a press briefing,  noted that maritime safety to which survey and inspection of vessels belong formed a significant component of its achievements in 2021.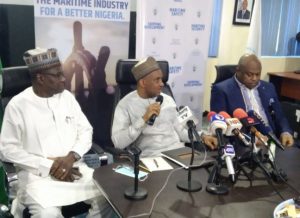 He explained that survey and inspection of vessels form key safety requirements of the Merchant Shipping Act 2007. According to him, under condition survey, a total of 489 vessels were surveyed in 2021 which is 43.6 percent higher than the total number of condition survey carried out in 2020 on 276 vessels.
This achievement according to him is despite the Covid-19 challenges, even as he revealed that under its port state control functions, 429 foreign vessels were boarded.
He said, "We have an administrative routine of surveying ships every month. It is all part of our commitment to safety and security. In year 2020, we surveyed 276 ships. But in 2021, the figures doubled. We surveyed 489 ships."
According to the DG NIMASA, the survey is an indication of management's seriousness to ensure that vessels maintain safety, pollution standards while in the ports and waters.
Jamoh also said that management took firm steps to shore up the international recognition and acceptance of Nigerian Seafarers' Certificate of Competence (COC) in 2021, arising from the rejection of the COC by ship owners.
The Agency helmsman also lamented the rise in the number of Nigerian Seafarers whom he said have been failing the COC examination, stressing that management has however taken steps to correct the development, in addition to reviewing its online COC verification process to enable ship owners locally and internationally determine the genuineness of Seafarers COC before employment.
While giving a breakdown of the performance of seafarers in the said COC examination, Jamoh  revealed that out of the 829 who sat for the officers cadre examination in 2020, only 264, representing 32% passed and got certified. Out of the number, 565 candidates, representing 68% failed; while total certificates revalidated for 2021 stands at 246.
"You can see a very serious and negative figure in terms of our students seating for professional examinations of different certificates amounting to 68% failure. The agency is liaising with various institutions to see how we can address this gap.
"There are so many factors attached to this, and we hope that before the middle of 2022, we would overcome these challenges."
Speaking further on the performance of our seafarers certification examination, he said out of a total of 610 candidates that sat for the Officers Examination in 2020, 251 candidates, representing 41% passed; while 359, representing 59%  failed, highlighting the higher bar of performance in 2021.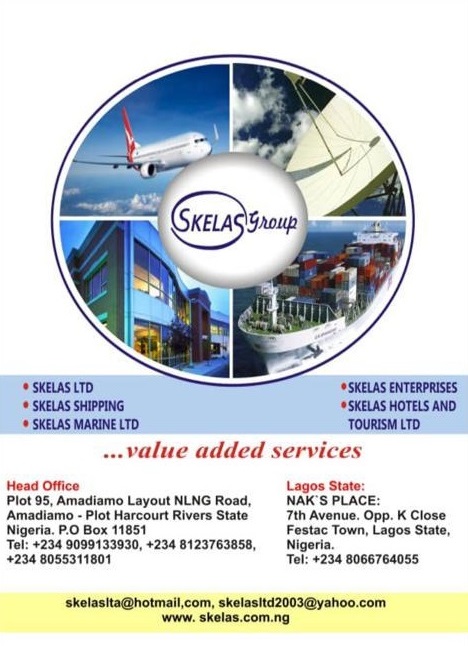 "The total number of certificates revalidated was 132, this means that in 2021, we had 246, a considerable increase as being recorded."
In addition, Jamoh disclosed that the confidence level of seafarers has been redoubled, stating that while a total of 1, 251 candidates sat for the Ratings Examination in 2020, the number jumped in 2021 to 1,327.
"The examination for ratings in 2021, the total number of students who sat for the exams are 1,327, this is a sharp increase against the 2020 figure of 1,251. Total number of candidates that passed is 990, forming 74%. Total number of candidates (that) failed is 337 with a percentage failure of 26%."
He said that the overhaul and reactivation of the online seafarers' certificate verification has led to drastic reduction in the forgery of Nigerian certificates, and have also enhanced the employability of Nigerians seafarers in the maritime sector.
"We have been experiencing rejection and discrimination against Nigerian seafarers by shipowners both locally and internationally, this is why the agency decided to introduce the online seafarers' certificates of Competency verification platform which allowed shipowners to access these candidates that passed our examinations directly from the comfort of their offices.
"With this, we reduced the forgery of our certificates and improved the standard and confidence of our certification."
Fielding questions from journalists on the fate of the Agency's controversial Modular Floating Dockyard regarding issues of government planned involvement in its operation, profitability and maintenance, Jamoh said arrangement is ongoing for its privatization under a PPP.
This is even as he hinted of the possible commencement of the facility's operation by the end of first quarter this year, barring any unforeseen circumstances; noting that wherever it becomes absolutely necessary, government will not shy away from continuing with critical businesses in the absence of private participation.
"However, we don't want to operate it by government or NIMASA alone but for Public Private Partnership (PPP)"
Although he declined to name those involved in the PPP, he confirmed that the Nigerian Ports Authority is part of the deal, having yielded its Continental Shipyard as base for the business.
"We have been undergoing this process, and the DG ICRC was here for the first certificate, telling us that privatisation of the floating dock is profitable, doable and they gave us the go ahead. We have also gone ahead with the managing partner and co pattern, which is the Nigerian Ports Authority NPA, with the provision of Continental Shipyard
"We expect in no distant future maximum by February 2022, the privatisation would have been approved by the Federal Executive Council because it's a national asset."
The DG NIMASA also disclosed that the agency contributed N37.69 billion to the Consolidated Revenue Fund (CRF) in 2021.
"In 2020, the agency contributed to the consolidated revenue account by paying N31,839,917,978.20k. We went ahead to increase the amount we paid in 2021 with a total amount of N37,691,630, 450.22k."