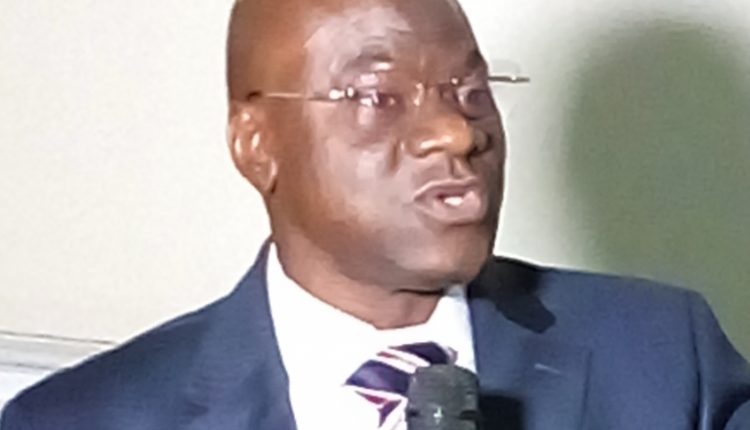 Why ANLCA's New Constitution Is A Nullity – Mustapha
Chairman of the Registered Board of Trustees (BOT) of the Association of Nigerian Licensed Customs Agents (ANLCA), Alhaji Taiwo Mustapha has described the association's revised Constitution as a nullity; as a product of an illegal National Executive Committee's (NECOM).
In a media chat with select maritime journalists, Mustapha revisited some of the issues that has polarized the NECOM and BOT, and by extension, members of the association for three years; which he said includes lack of leadership capacity, lack of focus, the penchant of NECOM to use association's name to feather personal interests and to settle personal scores.
Mustapha spoke about other industry issues, including imports valuation issues impacting negatively on members, and fear of freight operational disruptions in 2022 due to omicron; Eguono Odjegba was there and report.
Excerpt:
Customs recently announced a N2.2trillion revenue collection for 2021, overshooting its target, despite NECOM observation recently that importation has dipped by about 50percent. How do you explain this?
I don't know the indices the suspended NECOM relied on, but let us even accept that customs made this much, what was the exchange rate when the target was given? "As at the time the federal government gave Customs that target, what was the exchange rate? If the exchange rate was about N306 thereabout when the target was given, as at today the exchange rate is N404. So, if Customs say they have been able to generate N2.2 trillion, it basically has to do with the increase in exchange rate on the system. Secondly, one of the issues we raised with the Customs management when we met was that the valuation system has been so outrageous and it is killing trade facilitation. Virtually, every Customs officer has become a valuation officer and that we have rejected. Customs has a valuation unit and the unit should be allowed to do the job but as it is today, even Federal Operations Unit, Strike Force unit do valuation job.
The BOT led by you had a meeting with management of Customs recently, were you able to table this valuation matter, and if so, what was the response?
We were able to resolve this halfway with management that any officer that has issues with valuation should refer to the valuation units at the area commands; that the valuation unit of the command will be the final authority. Even at that, the valuation system we are running is stupendously outrageous. They also promised to set up a valuation complaint desk which would address issues immediately, where the issue cannot be resolved, it would be escalated to the zonal or headquarters, as the case may be.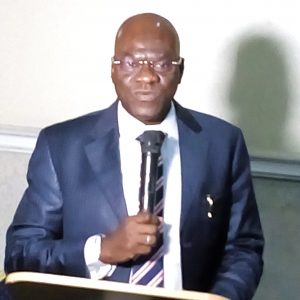 In as much as we don't want to put the whole blame on the customs management, a good number of the information we give to them are not actually available to them. So if we didn't take that initiative of meeting them, management may not be in the picture of what is happening.
What would you say were the challenges in the freight forwarding industry in 2021, and how did it affect the optimal performance of your members?
It is not only the freight forwarding industry in Nigeria; there is recession in the global economy. Because of the Convid-19 pandemic, a lot of jobs are suffering; a lot of people have lost their jobs. Coming back to freight forwarding, l will give you a scenario of what happens in the oil industry as example of the problems we face. Nigeria economy is oil based, it is a mono product economy accounting for about 90percent of our revenue. When production is going on in the oil rigs, simultaneously, there are lot of service providers that goes along with it. You have chemical suppliers, cements, electrical, fabrications and various services; these services are massive. When you shut down an oil rig, it takes between 90 days to six months for that rig to come up again. It's not like closing a well and anytime you like, you open it again and fetch water, so its takes quite some effort to get a closed oil rig to come back to full production. So during the corona virus pandemic, a good number of rigs were shut down; the oil industry almost collapsed. So, most of the jobs we did in 2021 was a backlog of items that were already in the supply chain. If an oil company had already placed order for certain items, it takes some months for the items to be produced and months between for their shipment and before they get to Nigeria. So some of the items that were already produced and in the warehouse, and some at the ports, and suddenly the economy shuts down. When the Nigerian economy was opened again in 2021, the items started coming in, and that was why we didn't feel the impact of the pandemic immediately, because it was a mechanism driven by supply chain. So, as at third quarter 2021, the items in the warehouses were already getting exhausted, while the productions of new items were yet to start fully. At this point, freight forwarders job in Nigeria started slowing down. So, as it is today, we are hoping that Omicron will not affect the fresh production of oil rigs items that was restarted last year. And takes us to why the freight forwarding industry has been affected so badly. That was the major challenge and it may take some time to get back to normal.
Last year's amendment of the ANLCA constitution created a tenure elongation through which the current NECOM are billed to spend an additional year in office, giving national officers henceforth, a total of five year single term.
You can't stand something on nothing. In the first-place, the amendment of the constitution of ANLCA was supposed to be done by a legally constituted NEC. So, when a President and the National Executives that were already suspended call for NEC to amend the constitution that is building illegally on top of illegality. So, they don't have the mandate and the legal backing to amend any constitution. So, the issue of amending their own tenure with additional one year in their favour is null and void and it cannot stand. Election was held in February and under the calculation, the NECOM tenure is expected to end by February 2022. That is our position.
So if the BOT is rejecting the constitutional amendment, what are you doing to push for NECOM election by February 2022 ending?
I don't want them to preempt us so I am not going to say to the press what our plans are.
Last year, the court advised that both parties should explore out of court settlement. How far have you been able to go with that? Has there been any an overture or peace talk?
We were supposed to hold a meeting on that on 22nd December but we couldn't do that because more than 50 percent of us were already out on our way out of Lagos for the Christmas holiday. Hopefully, in another one or two week, another meeting will be fixed, but for us, we are not in a hurry. We are waiting for their lawyer to fix the meeting.
Dr. Farinto Kayode made recent remarks about the settlement talks initiated by lawyers of both sides, saying the BOT is deceiving the public.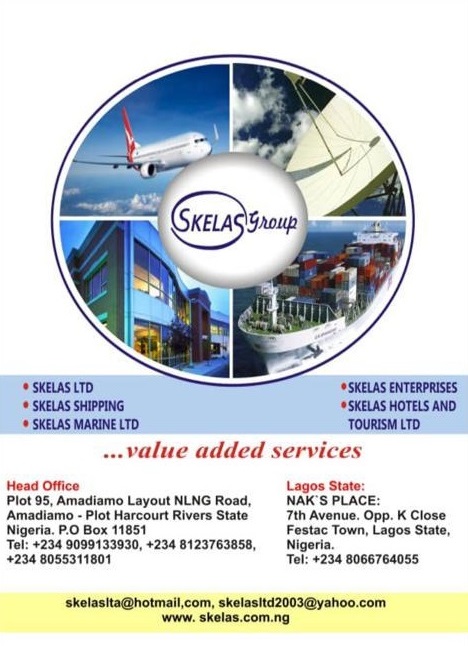 Where l grew up in Yoruba land, an adage says when you have a bastard child within a family, the bastard will be itchy not to allow peaceful resolution where there is crisis. But when you have a child who is legally entitled within the family, he will always go for peaceful resolutions when there is a crisis especially when the person knows the importance of the legacies of his father or parents. We have been so disposed to peaceful resolution because we don't want to destroy the house that we have built. We don't want to destroy a house we call our own. And it is a case of if you have a mad man inside a China shop, will you start fighting the mad man inside the shop when you know you have valuables at stake? All you have to do is to keep appealing, to gradually push the mad man out of the shop. When the madman is now out of the shop, you may wish to start flogging (him) or just let him go. So, what we are saying is, we have been so disposed and patient about this peaceful resolution to the crisis. The property at the National Secretariat is in our name, the original document of that property is with us. The registration of the association in corporate affairs is in our name. So, if anybody is going to call anyone in respect of the association, like if the government wants to reach out to ANLCA, they will simply go to Corporate Affairs. And where l have my name to protect, l wouldn't want anything bad about it to go to the public. For example, when the issue of the closure of the secretariat came up the other time, l knew how many calls l received from government quarters. The position was always, you're the BoT Chairman, we have seen your name with the CAC, what is happening? So, at the end of the day, amicable settlement is still the option, and l can tell you that is part of why we are doing this. Just recently, we held a meeting with the CG of Customs and the management. And the questions that came up was if actually the other party is not behaving like a kangaroo according to one of the officers, the relationship between Customs and the agents would have been better than what it is.  So, we are looking at the crisis from different angles, that in as much as we are not in a hurry to push this settlement, because we have other plans, we believe it's up to them. If they like, let them come up to say we should settle, if they like, let them continue the way they are going, but l know that however long it takes, at the end of the day, justice will be served. We have been on it for three years but I believe that very soon, we will get to the end and the whole issue will be resolved.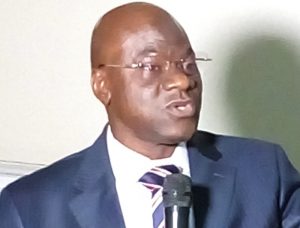 ANLCA Western Zone members appear not to be happy with the slow response of the BOT to cadge the NECOM and arrest the crisis rocking the association, they're alleging that the BOT may have been compromised.
Let me correct that impression. A Yoruba adage says that an elder sitting down sees farther than a young man even when standing. I see beyond the crisis of today, l have gone into crisis resolution in the past, either at my individual level in terms of dealing with people, and even in my village. l have resolved a lot of crises, even the ones that are worse than this. If Tony Iju comes in here now, you will see us shaking hands with each other, smiling and laughing, that is to say that the crisis has not reached a level where it cannot be resolved. I still hold that on my left hand. Secondly, if for example you have your children in the car and somebody hits your car, the first impression your children would have is that you will come out and fight the man who has hit the car, right? But then, for any right-thinking father and or matured person, he wouldn't do that. So we see all what they have done or said as their own level of immaturity, and their level of upbringing. For me personally, l have a name to protect in the industry, l have a name to protect back in my village, so when there is a crisis, l am always careful to know what should be the limits. I quite agree with our members that this thing has dragged on for too long and that they have suffered at the hands of these guys. But then, you allow certain things to get to a point where you have every reason to say 'oh so far, l initiated this, you rejected it, at so, so point, l initiated this, you denounced it; so at the end of the day, you have reasons to say l have pursued peace but this people refused to accept peace. Yoruba says when somebody sends rat to you and you are sending snake in return, should that have been the necessary step to have been taken? On the other hand, the adage says at the point somebody is sending a snake to you, don't wait, send a missile to that person. So, on our side, we have waited, we have initiated several peace moves, and I quite agree with our members that we are getting to the point where we should not allow the crisis to go beyond this stage. And l can assure you that inasmuch as we want to keep our plans to ourselves; definitely they won't go scot-free if they reject this last option of peace move to end the crisis.
What are your terms for settlement if they (NECOM) come to the roundtable?
The basic term for settlement, we all know it. They should respect the BOT election, which actually brought this crisis. Without that, it means there is no resolution. Once they recognize the BOT election, every other thing will follow. If you can still remember when we conducted the Tin Can Chapter election, part of what l said that day was that despite where we were, there is still room for resolution. We suggested then that 'look, we still have so many vacancies in different chapters, that for peace to reign, Tony Iju or his NECOM should nominate some of our members into those vacant positions so that we can kick start the peace process properly and start having a normal relationship. But they refused, they went ahead to conduct their own elections, but after the so-called elections they conducted, what did they achieve with it? Which of them have been able to take over any chapter? They won't be able to. The fragile peace they have been having at the Airport Chapter still boils down to the fact that we didn't want to give them headache there, and that is why up till tomorrow, they still don't have what is a normal executive in that chapter.
Kayode Farinto described the registered BOT recent visit to the Customs management, led by you as illegal, do you have any reaction?
If you are bathing in a river and a mad man comes to carry your cloth away, will you start running after the mad man to the village naked to say 'bring my cloth'. Who will they call a mad man when you eventually get to the village?  It is not everything we should react to. Farinto as far as I am concerned, has some elements of immaturity. We know the kind of jobs people like Farinto are doing and because all those loopholes have been blocked that is why he is bitter with the current management of Customs. We know what pains him and why he doesn't want anybody to relate with the Customs. So it is his own personal anger against the customs he is rubbing off on the association to make it look like it is the association that is having issues with customs. What stops you, even if there are issues as the Vice President of the association to engage, to call the attention of the customs leadership. If you cannot reach the CGC, you can reach his deputies or the zonal chiefs to resolve issues for your members. It is because they don't have what it takes because Abuja will not listen to them. We didn't go there to fight for our personal issues, all the issues we raised there are operational issues that has to do with our members. Rather than look at the visit from that angle, they are sounding petty, that they have their own BOT or whatever. And it is unfortunate for people like Chukwura Uzor at his level and age, to open his mouth and say the things he say to the press; but that is by the way. As this crisis goes on by the day, it has opened my eyes to actually know who actually is matured in this our industry; and who actually means well for ANLCA. I have seen the traitors, betrayers in this our industry, so if you are sitting in the secretariat and you are busy collecting money from some members, and you are sleeping over the monies, without making impacts in their (members) lives…for four years, what will they say they have been able to achieve? You the press men should be able to ask them, in February their tenure will end, what will they point at as their achievements for four years? In as much as we still accept the fact that there are issues in our operations that we need to iron out with Customs, but when you stand on this side and keep throwing stones and for years you are not getting results. For the past two years that they keep criticizing the customs management, what have they been able to get out of it? For me, my job may not suffer because of my relationship with the top management but then there are some of our members who are actually suffering, so I can't seat on the fence and say it doesn't concern me and don't look for solutions to their problems and part of the solution to the problem is to take the issue up from the top because there is a limit to what an Area Controller can do. So that is why we initiated it (visit) on our own. The fact remains that the Customs management knows that there is a crisis in the association and they know who is on the wrong and right side of the law. The suspended NECOM have made a series of moves to have meetings with some of them but they rebuffed them. They made moves with the Corporate Affairs, they rebuffed them because they know they don't have what it takes legally to be there. So, for those of us who have the legal backing to call ourselves the BOT, we shouldn't allow our members to suffer. By February, their tenure will end, what will they point to that they have achieved for four years?
What is the position of the BOT on the ongoing CEMA amendment bill?
On the day of the public hearing, I told my people to step down because, if we had gone there, we would be making two different positions as Kayode Farinto and Tony Iju were already there. I and Chief Elochukwu were in Abuja. But if we had gone there, it would be making it open to the world that we have a divided house. It is unfortunate that they could not even represent us properly or articulate their thoughts, and I was ashamed that day, to see somebody standing in for ANLCA and giving such a presentation, no proper homework was done on the Act. We didn't say we should go there and attack customs. When we saw what they have done, we have already taken it up at the Senate level, of course the Act would move from the House of Representative to the Senate. Basically, the section we have kicked against till today is slamming a 25% penalty on every debit note, it is like adding salt to injury. Before now, it has always been a N600 penalty on every debit note. In fairness, the N600 is already outdated, even my son can bring out N600. But what we are saying is that, even if you are removing the N600, we should be able to agree on a percentage, if they say 2.5% on every debit note raised, it is still understandable. Any greedy officer will now be eager to raise a debit note because they know that the 25% penalty would shoot it up. This is now inside the amended CEMA, and it was among the points we have raised.
We gathered that the collection of dues is ongoing in the eastern ports, who is collecting the money, is it going to ANLCA purse? Secondly, we also learnt the eastern ports have not been paying dues to the national secretariat even before now, is this true?
The eastern chapters have been paying their dues; the issue is that the money is been mismanaged and embezzled. It has been going into their individual pockets.
But it has not been going to the national
Whether it has been going to the accounts opened by the national or not, all l know is that members of the eastern ports have been paying their dues, l am a member of Onne chapter and l know they have been paying, but the money has not been going to the right purse. And that is why they cannot account for it; but its not really their fault, it is the fault of those who have been paying. Why keep paying and it's not having impact on your operations, or is the money meant for the national to be drinking pepper soup?
Who are those collecting the money?
The suspended NECOM have been collecting the money. Shortly before the crisis, the elections of our members in the western zone was about to come up. They bought forms, paid money, up to the tune of about N12 million. This money was supposed to be used to conduct elections in all the chapters of the western zone, but up till today, the suspended NECOM cannot account for that money. We later raised money to conduct the elections, and that is part of the issues they were having with Raymond Oyinba. Why did they overnight chased him out? And this is somebody they have been using to conduct illegal elections, and when the issues of money came in between them, you heard what happened at the end of the day.
There is gist that ANLCA have been collecting POF for CRFFN
As far as we are concerned at the port, we don't know what's going on in the CRFFN, l don't want to comment about CRFFN, because your question is part of the initial problems we were having with CRFFN. The issue of whatever you're going to collect, at the end of the day, what comes back to the members? So if you cannot define it right from the onset, then we shouldn't start it. But because they knew…those of us who were against it, knew those who were for it. Henry Njoku was fully for it because he knew what he wanted to gain from it, and Tony Iju supported him. And they knew that l wouldn't do anything against my members. And we said let the money come in through the association, at the end of the day, the association can remit to the CRFFN. ANLCA collects a chunk of the money, we take our own percentage, then remit the rest. Let NAGAFF and the others collect their own and remit according to your strength. Today ANLCA represents about 70/80percent of membership of CRFFN, so what stops ANLCA from taking the larger share, that is where the disagreement came from. But because they knew they were going to fight for their individual pockets and not for ANLCA, this NECOM hurriedly went ahead. I remember very well the last meeting we held on the CRFFN issue before the crisis got to this level, Tony Iju set up some committee, to say, go and look into this issue, bring your report back and let us settle the issue politically, that was his language.  But at the end of the day after the committee submitted its report, they didn't get back to anybody, they didn't bring out any white paper; they hurriedly went ahead to say, 'CRFFN we are ready, go ahead, start collecting POF'. I wonder why people behave like gluttons, their interest is to keep amassing and amassing, without having anything to show for it at the association level. We knew what it took Shittu Olayiwola to build that secretariat. What value have they added to it since they came in?
And what is forecast for the current year?
We pray and hope that the global economic recovery after the Covid-19 pandemic will not relapse, we pray that the new variant, the Omicron does not put us on the reverse. It is difficult making predictions under the current global attacks by the pandemic. So let us pray more and take all necessary precautions to remain safe.