B-R-E-A-K-I-N-G: Stakeholders Drag Presidency As Planned Merger of NPA, NSC and NIWA Leaked
BY EGUONO ODJEGBA
Just as Nigerians have gradually began to forget about the hullabaloo that greeted the proposed merger of revenue generating agencies under the new government of President Bola Ahmed Tinubu, there are indications that the president's Policy Advisory Council may have succeeded in securing his approval to pull out a different but similar arrangement.
Grapevine holds that this time, the Policy Advisory Council is believed to have secured authority to drive the merger of the National Inland Waterways Authority (NIWA) and the Nigerian Shippers' Council (NSC) with the Nigerian Ports Authority (NPA) as the titled entity.
According to the grapevine, the rumour of the merger of NIWA and NSC with NPA has already created serious tension amongst workers and staff, while those at the leadership and management level are said to have adopted a "sit down look" attitude.
Meanwhile, industry stakeholders have condemned the planned merger under NPA, even as some say that whereas the planned merger of NPA and NIWA is excusable, they expressed misgivings about the merger of the NSC with NPA, noting that the planned merger of the three named agencies may create an imbalance.
Speaking on the development, the Principal Partner, Blue-Waters Maritime Resources Ltd, Mr Okey Ibeke noted that whereas the similarity and duplication of functions between NPA and NIWA makes the merger purposeful, he frowned at efforts to subsume the Council under the NPA.
He said, "Merger of NPA and NIWA is in order, because their functions overlap, especially in maintenance, dredging of inland waters, channels and lagoons. But, Nigeria Shippers' Council is supposed to be private sector driven, just like it is in other countries.
"It's supposed to be an association where shippers (importers and exporters) converge to fight against undue exploitation by government agencies, terminal operators and shipping companies. If the focus was on NPA and NIWA, it would be meaningful in that there are certain functions that are duplication in their statutory functions."
Okey further explained that inspite of the apparent overriding executive powers of the president, without the enabling act of the affected agencies undergoing proper and constitutional amendments, the mergers may end been treated with disregard.
"Another issue is the Acts of Parliament setting up these agencies. The Acts has to be amended first before any merger is considered. There's also problem of managing the staff alignment and crisis that will emanate from such venture. These organisations have their full complement of all cadres of staff at all levels.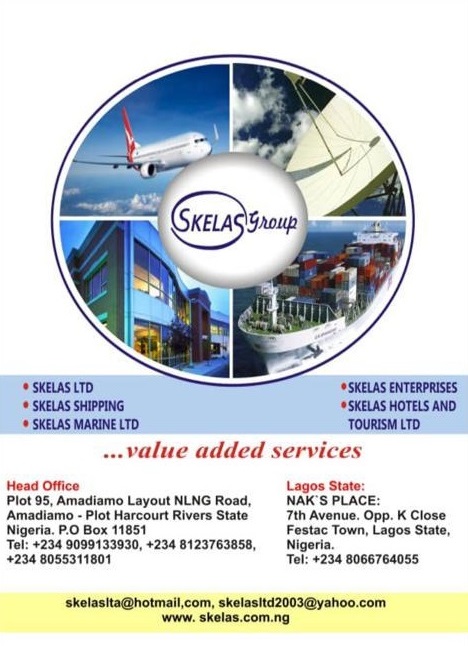 "What will government do away with all the human and physical structures these organisations have put in place over the years? In fact, they're better left as they are.  The only thing government has to do, is to review the Acts setting them up and remove areas of conflicts", he stated.
Also, a budding maritime expect and business journalist/publisher, Mr Ismail Aniemu think that the whole idea about merger should be properly defined and structured to avoid negative consequences.
"The port authority in every maritime country is a distinct entity.  For Nigeria, the NPA is yet to fully actualise it's goal as a landlord in a modern port environment.  As at 2023 we are still grappling with port community system (PCS) which is a basic ICT platform that integrates all stakeholders in a single window platform.
"Our port is yet to overcome basic infrastructural deficits like access roads being in state of disrepair, quay apron at the verge of collapse and inadequate manpower for modern operations. Merging NPA with NIWA or NSC will result in avoidable loss of focus for the port authority."
 "It should be allowed to consolidate its position as landlord for the various terminal operators. Nigerian Shippers Council has been saddled with the function of port economic regulator since 2014 without legal backing. The gazette it relied on is an executive document that lacks the force of law without the legislative process and passage by the National Assembly."
He also lamented the fact that successive governments have neglected to empower the Shippers' Council to function efficiently and optimally, making it susceptible to commonplace dispute and disregard by those it should regulate.
"By its extant law, NSC is a protector of indigenous shippers. Until that law is repealed or amended, terminal operators under its regulation won't take the council seriously, and l think this is where government intervention should be directed.
"This economic regulator function without recourse to the National Assembly is a form of impunity on the part of the executive arm of government. This is also not a good signal to encourage foreign direct investments in an economy that is far from actualising it's enormous potential for sustainability.
"There is nothing wrong if the Acts establishing NIWA, CRFFN and NSC are harmonised into one agency of government with regulatory and other powers. This could reduce the cost of governance and promote cohesion that will lead to increased productivity", he enthused.