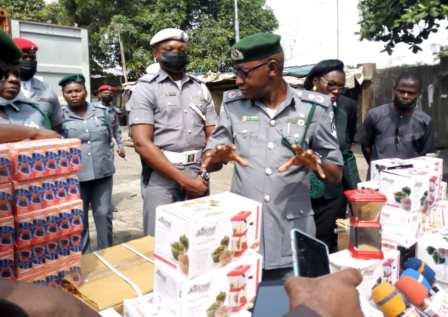 Customs, NDLEA fight over seized drugs
BY GBOGBOWA GBOWA
The Nigeria Customs Service, NCS, and the National Drug Law Enforcement Agency, NDLEA,  appears to have engaged in fierce horn locking as both lay claim to seizures of narcotics at a Lagos port terminal.
Although usually dependable sources informed Pinnacle Time that a 2x 40ft consignment of imports in which 40,250kg of controlled Codeine syrup was concealed was discovered by designated joint security agencies including the NDLEA and Customs at the terminal; both however, individually went to town, claiming independent seizure of the drugs.
NDLEA which is believed to have gone to town first with the reported seizure acknowledged the cooperation of other agencies including the NCS in doing so; the Customs followed with a statement later, that it made the seizure, while also noting that the seizure became possible as a result of shared intelligence with other sister agencies involved in the regulatory chain for imported items.
Whereas the NDLEA in a statement   said it has intercepted 40,250 kilograms of codeine-based syrup worth over N2billion imported into Nigeria in two 40ft containers from India. The statement reads, "The consignments intercepted on Tuesday, February 8, 2022 were brought into the country in two containers marked HLBU 2239792 with 1,125 cartons of the drug and HLBU 1067338 with 1,751 cartons, with a market value of N2, 012, 500, 000."
Spokesperson of the anti-narcotic agency, Femi Babafemi, said the seizure is coming on the heels of a similar drug bust of 14,080kg codeine syrup and 4,352.43kg cold caps used to conceal the former in a 40ft container imported from India, on Wednesday February 2, 2022 at the Apapa port.
"Both seizures followed intelligence from foreign partners and cooperation of other port stakeholders such as Customs, DSS, Navy and others.
"The consignments were seized at the Port Express Bonded Terminal, Berger-Apapa after they were discovered concealed behind cartons of hypergra 200mg and deluxe chilly cutters, after which the agency's sniffer dogs were brought in to identify the illegal substance."
It continued, "While reacting to the seizures, chairman/chief executive of NDLEA, Brig. Gen. Mohamed Marwa, retired, said the agency remains poised to deal decisive blows to drug cartels this year by ensuring that no gram of illicit drug is allowed to come into or pass through Nigeria to other countries.
Marwa also reportedly expressed gratitude to foreign partners for sharing timely intelligence and other port stakeholders for their cooperation and commended the officers and men of the Apapa Port special area command of the agency for their vigilance.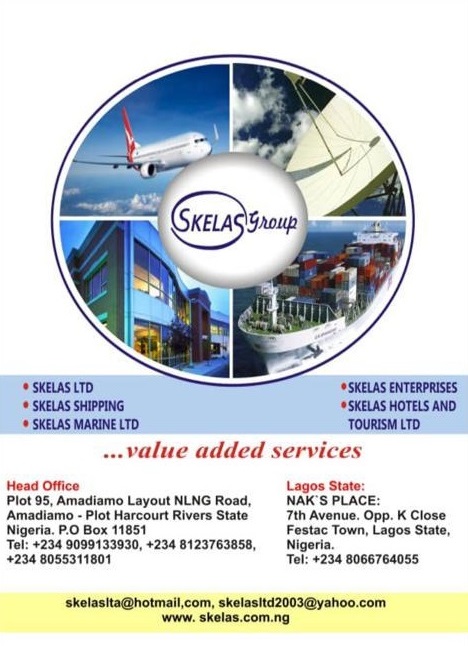 However, Customs Area Controller of the Kirikiri Lighter Terminal, Comptroller Hammi Swomen at a  press briefing Thursday, said as part of its avowed onslaught against the importation of prohibited items, the NCS  KLT Command has intercepted 2x 40ft containers of restricted drugs.
Swomen explained that the contrabands were concealed among manual blenders so as to deceive its eagle-eyed operatives; noting that the seizure was made possible as a result of shared intelligence with sister agencies operating at the port.
According to the Customs, the 2 x 40FT containers has registration numbers HLBU1067338 and HLBU2239792, and were manifested to be carrying hot plot, insulated plastics; but upon examination were found to contain 2,493 cartons of cough syrup with codeine, 100ml, 383 cartons of Barcadin with Codeine, 100ml, and 49 cartons of Hyegra, Viagra 220mg. Also included were 99 cartons of Delux chilly cutter, manual blender.
Swomen said, "The drugs which originated from India did not have NAFDAC approval number.  They were labeled 'for export only' with a total Duty Paid Value of N212,775,950."
It will be recalled that before this sad development, both organisations have worked harmoniously, in view of similar seizures made by other commands of the NCS, which the NDLEA readily key into as co-fighter in tackling the menace of drug smuggling.
In a related development, NDLEA Sokoto State Command has reportedly arrested and detained an Indian trader over the smuggling of restricted medicaments into the country through the land borders from Cotonou Republic of Benin, and through Niger Republic into Nigeria.
The Indian, Vyapak Nutal was taken into custody for interrogation by operatives of the agency for trafficking of 134,700 bottles of Codeine syrup into the country through the land border between Nigeria and Niger Republic into Sokoto state.
The suspect had loaded the consignment into trucks in Cotonou, Benin Republic and drove through the land borders via Niger Republic before entering Sokoto state at the Illela border.
According to NDLEA, Nutal settled in a hotel in Sokoto from where he started to look for buyers for the product, even as operatives of the agency were said to be on his trail. Luck ran out on him as officers of the Department of State Security eventually apprehend him and swiftly handed him over to NDLEA on Wednesday 10th February 2022.