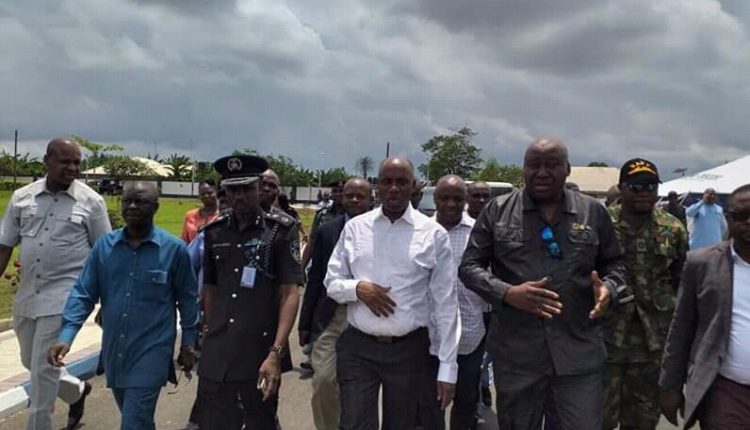 MAN Oron: Need to protect and sustain the gains of reform
BY EGUONO ODJEGBA
By September this year, the four year tenure of the Rector of the Maritime Academy of Nigeria (MAN), retired Cdr. Emmanuel Duja Effedua, will run its course. 
Already, apprehension of his probable reappointment has for awhile generated smouldering but quiet agitations, especially amongst various interest groups both at the host communities and the catchment area states; with tons of petitions, laced with frivolous contents, flying everywhere, all calculated to impugn his integrity, with the cold calculating desire to create doubt in the mind of the appointing authority.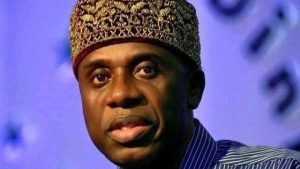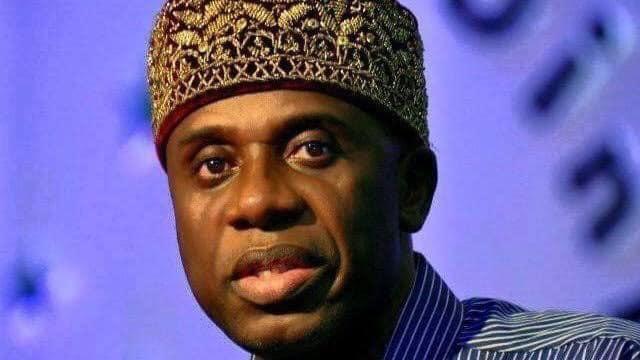 Without controversy to the huge and positive turnaround that has come the way of the Academy, there is urgent need on the part of the Federal Government to embark on strategic and deliberate action plan to sustain the gains of the reforms, meticulously put in place since September 2017, under Effedua.
Above imperative is not only instructive in ensuring that the gains are not washed away through the appointment of wrong or incompetent leadership, it has become necessary in view of the ongoing subtle agitations and entitlement propaganda by some ethnic and catchment nationalities, either to influence the appointment of a new rector, that will be subservient to their calls and becks.
The urgency in providing a reassuring atmosphere is hinged on reports of aggressive attempts by locals at interfering with the administration of the institution, through extraneous devices and open gangsterism, which appear to have taken the form of hostile and unacceptable dimension, and through frivolous petition writing, aimed at casting shadow of fear on the academy and its leadership.
Whereas this questionable conduct and strategy appeared to have worked in favour of trouble makers in the past, there is manifest evidence that the current leadership and management of the Academy has succeeded in shutting the gate against those that have been described as soldiers of fortune.
The immediate and direct gains have been the unprecedented and impressive turnaround of the academy in the past three years. At this present rate of unprecedented developmental pace, MAN Oron must not be allowed to lose traction or be allowed to stagnate.
While essential requisite infrastructure, training facilities, improved academic manpower, better equipped state of the art classrooms, provision of standard cadets accommodation, improved cadet feeding and wellbeing, including the provision of structured learning environment, the academy has reconnected with its mission objective, and is presently enjoying robust international acceptance and technical assistance.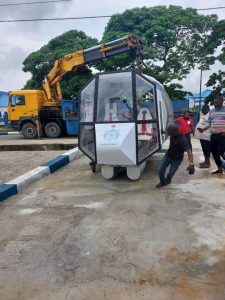 It must also be emphasized that MAN Oron has become a regional authority in maritime education, courtesy of the decision of the government of President Muhammadu Buhari to save the Academy from collapse, by ordering its audit in 2017; under an interim management committee (IMC), led by Chief Adebayo Sarumi.
At the end of the audit, Mr. President through the Minister of Transportation, Rt. Hon. Chibuike Amaechi, keen on pulling the academy out of the brink also retained the IMC for additional six months, to enable the committee work alongside retired Cdr. Duja Effedua, who was appointed substantive Rector in September 2017. 
Upon the departure of the IMC in March 2017, Effedua, a retired naval chief known for his uncommon quirk in solving challenges and getting results, began a radical clean up of the system, and through strategic mapping, technological innovation, revenue re-engineering and financial prudence, charted a recovery design, some of which also largely tapped into the recommendation already put in place by the IMC.
A thick skin mission runner, Effedua is a fit administrator government can depend upon to drive changes without bore or fear, and one that understands the dynamics of threats posed to official and national interests; and how to effectively and efficiently dislodge such threats through deft leadership capacity.
To say that he succeeded hundred percent in his assignment has never been in dispute, not even amongst his worst critics. His radical steering of the affairs of the Academy out of the old pervasive money sharing hubris, has left many well meaning stakeholders tongue-tied, at his ability to turn the academy around under a single term, less six month.
In view of the vital reconnect of MAN into global maritime map, there has been  enormous international and continental acceptance, and with it improved technical assistance and support.
Accordingly, the academy has been receiving various kinds of supports and assistance, both from far and near. Confirming this development, Effedua recently provided a gist of the support the Academy has so far received.
He said, "Let us start with the International Oil Companies (IOCs), Institute of Marine Engineering, Science and Technology (lMarEST) and Nautical Institute of the UK. They have been interacting with us and giving us technical advice. l think the Nautical Institute have an Award for the Best All Round Cadet backed up with one year free membership and some books.
"International Maritime Organisation (IMO) has donated books to us and after the last audit and they now saw the progress, they donated over 200 very expensive books to us. Veritas International also promised to do something, because they have seen changes locally. The maritime stakeholders, Master Mariners and Co, Nigerian Ship Owners have been giving technical advice and also, they are always forthcoming whenever we seek their assistance.
"Like the Master Mariners, they have visited the Academy more than four times in the last six months, because they want to be sure. They were among the first to view the simulators. NPA recently offered to populate our library with books and also help us to equip our maritime exhibition hall, which construction is about 90percent completed."
Few weeks back, the Ghana Maritime Authority (GMA) wrote to MAN to authenticate two certificates the Academy issued to its cadets, believed to be seeking for course upgrade in Ghana. As a matter of fact, GMA requested MAN to convey its confirmation in its official letter headed paper, to enable them treat the said application expeditiously.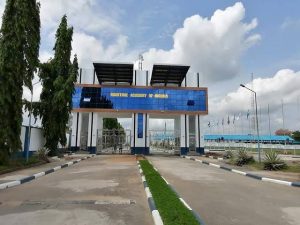 The letter sighted by our reporter, showed that one of the two applicants in question is of Calabar extraction, going by the name, while the other is Igbo; both likely situated within the Academy's catchment area.
While it bears emphasizing that MAN is a federal institution, there is no gainsaying the fact that people of Oron Federal Constituency and indeed, Akwa Ibom State as a whole must continue to have and enjoy its dues in the affairs of the Academy.
Nonetheless, such rights and privileges as the case may be, should and must be seen to submit to equitable ideals, be lawful and reasonable, both in context and intent; that should otherwise convey due sense of responsibility. 
It must  be mentioned that whereas, aspects of the reforms and restructuring of the Academy removed  much of what was associated with the rot in the system,  within and without, those adversely affected as it were, rather than tow the path of honour and exit gracefully, are believed to have taken on the gauntlet in shameless subtle battle.
Sadly, some former members of staff believed to have joined the tribe of questionable contractors, are part of the large army of disgruntled persons currently fighting the Academy.
They have expressed the willingness to take the Academy Rector down with them, for daring to halt the regime of money sharing, of extortion and blackmail.
It got so bad that during the EndSARS protest, intelligence report indicated that some of them allegedly plotted to attack the Academy. Expectedly, the Rector thwarted said plot, through counter threat to bring the full weight of government down on all concerned should the Academy come to any hurt.
 As his first tenure due date approaches, these tribe of detractors have found it expedient to intensify their attacks on his character in the hope that President Buhari may be persuaded on account of their dubious petitions, decline to extend his tenure, by an additional four years.
From all empirical evidences, this is the plot and sole reasons for all the empty petitions they are flying about. But their greatest immediate disappointment is that rather than distract their target or ruffle him a little bit, Effedua has developed thick skin to their blackmail and campaign of calumny; as he remain focused and undivided in his determination to keep them permanently at bay, while the Academy continue to grow in leaps  and bounds.
Last week, the arrival of the Helicopter Underwater Escape Training Equipment, HUETE, designed to train helicopter crew on skills needed to stay safe and aid escape from helicopter that has landed in water, signaled the last leg in the installation and completion of the Academy's Simulation Training Centre (STC).
Speaking of the success of his assignment, Effedua said he will continue to protect the Academy against all economic predators until his last minute in office. He notes only Mr. President has the prerogative to grant appointment to anyone, and further note that appointment is a privilege and not a right; while admonishing those have extorted the Academy in the past to watch their actions.
"Corruption will keep fighting back and those of us that have served before will understand what it means to be victimized by criminal systems. We must ensure that we fight to clean the rot. I have upgraded my security everywhere, am not afraid of anything, but am ready to respond robustly."
"During the EndSARS Protest, they planned to burn the Academy, and l got intelligence report. l sent messages to those planning it that if you burn a flower in the Academy, your gardens will burn. We can all go street wise, and when they got my message, they calmed down."
Providing clue to the sponsorship of some of the attacks by state and federal actors, he exposed a chilling account of some of the political sponsors.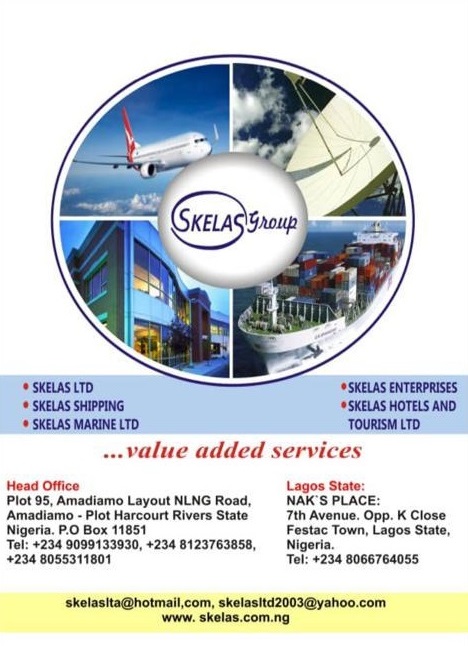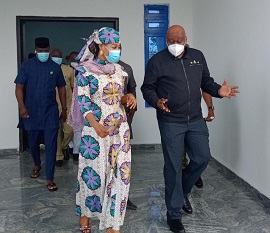 "This politicians don't understand that when you interact with riffraff's, even if you say good morning, how are you, it's a trophy, they are doing it unconsciously. They will show it around to their peers, they will say, 'old boy, oga send me message o. They will be hailing him, but these politicians don't know the implication.
"They say they called them to stand down that now is not the right time, that the rector is a mad person, he wants to come and burn our houses, so stand down. And they were showing that thing everywhere."
He also described spurious allegations of money laundering against him as work of desperation and fiction. "It's just fiction and imagination, people keep twisting issues; they want me out, they are afraid of second term. I have told them they don't need to worry; it's just five months to go.
"But what if l don't go? That's the question l keep asking. I am ready when my time is up, but what if the government says stay, l can't disobey the government, l will stay on. They can't arm twist the Academy to steal its money anymore, that era is gone.
"l have made them go hungry for refusing to share the Academy money. And that is what is playing out, what they planned in the senator's house nine months ago. The audio file is available.
"To show you their desperation, somebody sent me a message last night, somebody I don't know, but just let me read the message…'your stubbornness will cause you predicament, more trouble, fresh corruption charges, your boss cannot sort it for you.
"I receive so many messages like this, some of them will say if I don't pay them money they will continue scandalizing my name. They won't see a kobo. Some people in the community will tell you, 'oh before you came, they were sharing money for us'. I said l can't share money for you, all l will do is CSR, l will distribute it to the direct beneficiaries."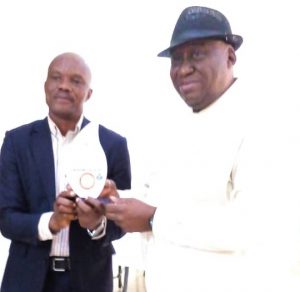 A thick skin mission runner, Effedua is a fit administrator government can depend upon to drive changes without bore or fear, and one that understands the dynamics of threats posed to official and national interests; and how to effectively and efficiently dislodge such threats through deft leadership capacity. His work culture also clearly manifests his wish for the Academy not to return to the dark days of alleged overbearing host community attitude.
"l allow my work to speak for me, that's my nature.  l feel sorry for the person who is going to take over from me because these cabal are still there. And they will never give up because they have tasted money meant for the development of the Academy before, and will never give up. Government does not give money to MDAs to share to communities, if they need money they should apply to Poverty Alleviation Programme, but not to come to the Academy to share money.
"Sharing of the Academy's money during solemn assembly is now a thing of the past.  And because some of the former rectors soiled their hands, they became vulnerable, and the cabal made so much money from them through blackmail.
"Over the years, what the cabal have done is, they force the rectors to employ people from the community, whether they are qualified or not, and once they are employed, they send them to bursary, procurement, audit, and works; no other place. You won't find them teaching; their job is to protect their criminal empire.
"Like when I first came, you'll ask, are you sure this contract was done, they will tell you, 'according to stores record.' When I checked the contractors' files, it was 100percent Oron indigenes; and I asked, how can this be? By the time I shuffled it a little bit, removed some persons and put other persons who were not indigenes, everything stopped. And because I made changes, moved some people out and brought in other people; that also became subject of petition."
Last week, the arrival of the Helicopter Underwater Escape Training Equipment, HUETE, designed to train helicopter crew on skills needed to stay safe and aid escape from helicopter that has landed in water, signaled the last leg in the installation and completion of the Academy's Simulation Training Centre (STC).
If anybody thought above culture of impunity is unacceptable, wait until you hear more damning revelation in terms of above reported protection of criminal empire.
"In a federal institution where you have 575 members of staff, 400 are from Akwa Ibom State. And from that figure, about 90 percent are from Oron, qualified or not qualified, though I have weeded those not qualified out already.
"For example, a lot of them have fake certificates, can you imagine in a federal institution, people are employed without NYSC certificate. We discovered six lately, and because they are everywhere, they cover for each other. Some of them go on prolong absence, they disappear, people will be helping them to sign time book, until we had to use the ICT Department to check those issues.
"Since we started that process, we have discovered those that have been missing, some of them have been missing for one year plus, they have been collecting salaries, nobody reported them. They were concealing the information, but we were able to get most of them and we sent them parking.
"There is a cabal that has held the Academy hostage. I have petitioned the DSS, the IGP, and every other agency relevant to this kind of crimes, that they pay attention to what is happening because the Academy is a school, not an oil company.
"This is the only school I know that host community picket with the silent endorsement from the town political leaders and their socio-cultural leadership, too."
Effedua did not only carry out structural reforms with its concomitant administrative internal dynamics, he has also succeeded in raising the bar in institutional coefficients.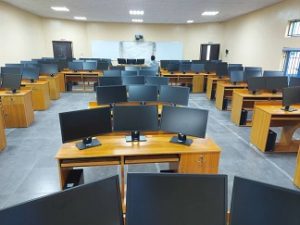 "The Academy is working hard, we have done very well, internationally, we are now respected, to the extent that foreign lecturers are applying to join us. As at now we have two already, and four more are coming. If the Academy has no international acceptability, I don't think they would want to come and work here. But with all the beautiful things happening to the Academy, people around don't see it as such.
"Lately, you must have been reading about a lot of petitions everywhere. Between 2017 and 2018 I have had about 6000 petitions written against me. They say I must die for upsetting the apple's cart, l refused to die. The FG sent me here to reposition the institution, not to die. This is my third year and seven months, am still alive, and still working. There's still more to do, there's need to consolidate and expand.
"The Academy has evolved. l have achieved all I set out to achieve according to the FG template, l have laid the foundation and IMO is happy with us. What they could not achieve in 39 years I achieved in three years, because I said no to money sharing, and because I blocked leakages, now I have become the enemy of the state. The most annoying part is that nine months ago when Nigeria was battling with Convid-19, they met in the house of a senator in the state, and discussed the problem I am posing for them, and that I needed to be taking care of.
"In summary the academy we met was not an academy but a contractor's haven where most staff were contractors and the funny thing is that contracts will be awarded and they will not be executed. But you will see paper work giving evaluation, 90% for a job that is just about 15 to 30% and payments would have been made."
As the first rector to undertake far reaching reforms to reposition the Academy, not minding whose oz is gored, Effedua sure understands the internal workings of the Academy in terms of internal and external threats. Not less the threats of possible reversal of all the beautiful gains that has been made in the past three and a half years, hence the FG must ensure that the gains already made is consolidated upon.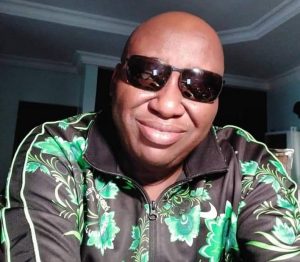 To achieve that, it is necessary for government to extend the incumbent working rector's tenure, to provide for time to consolidate and erect other administrative dynamics to permanently ward off busy body elements whose intentions is to find soft spot to re-access the Academy and erode the gains already made.
After the exceptional and beautiful tenure of Pastor Nsenye Ebong, the only son of the soil to commit to the growth of the Academy, the institution has since erupted into a political neo-ethnic struggle to produce the rector.
Even though Ebong handed over to the most senior lecturer, Mrs. Etim, petitions flooded the supervisory transportation ministry from diverse ethno-cultural interest within Oro nation, calling for her removal.  A director of the transportation ministry, Joshua Okpo from Rivers State was then appointed, cutting short Etim's stay to barely four weeks.
Okpo was also trailed by petitions but was lucky to secure a second term in 2015, but died shortly thereafter under unclear circumstances. A former lecturer at the Academy, Engr. Anthony Esuodu, from Anambra State, was appointed to replace the late Okpo. He got ill sooner after resumption, and he too died after a protracted battle with ill health, less than a year in office.
Thereafter, the Academy Registrar, Mr. Ante Mkpandiok, an Oron indigene from a nearby community stepped in to fill the gap. As usual, he was assailed by infighting, with tons of petitions, from within and without.
A group of petitioners who claimed to be from Eyo Abasi, the Academy's immediate host community, reportedly engaged in bitter struggle to unseat Mkpandiok whom they described as an 'outsider'.
In August 2017, the President appointed an interim management committee (IMC) led by a former Managing Director of the Nigerian Ports Authority (NPA), Chief Adebayo Sarumi.
By September 2017, Effedua was appointed substantive rector, opening up the Academy to a breath of fresh air and unprecedented development, across critical performance index.