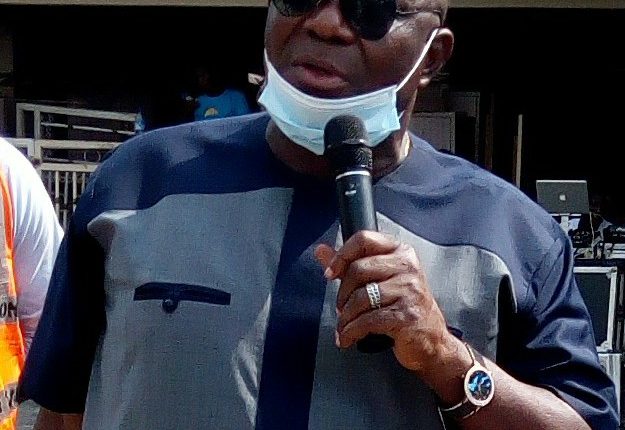 'Registered Board is firmly in control of Western Zone' – Dan Katsina
Leader of the Association of Nigeria Licensed Customs Agents (ANLCA) Western Zone, Chief John Oforbike has said that despite all efforts by the associations's National Executive Committee (NECOM) led by Hon. Iju Tony Nwabunike to allegedly divide the zone, he is in fully in control.
Oforbike popularly known as Dan Katsina stated that despite having be suspended from office by court, the NECOM have been carrying out series of illegalities including violation of court orders, and declared that neither him not the registered Board will engage in illegality to score even with those in NECOM.
Admitting his suspension as the former Western Zone Coordinator, alongside NECOM by the court, he said the desire by the registered Board and loyal association members to allow the court decide on what is right is not a weakness and should not be so misconstrued.
Dan Katsina noted that the police have realized that NECOM's trumped up allegation of terrorisim against him and other chieftains of the association has been seen for it is is, barefaced lies and desperation; because of the purported fear of failure in the upcoming 2022 ANLCA election.
He spoke with Eguono Odjegba at the venue of a press conference by the registered BOT earlier in the week. Excerpt:
With these myriads of crisis rocking ANLCA especially the western zone which is your stronghold, how have you been able to keep a grip against losing your members?
Actually when this crisis started, l did everything humaly possible to prevent it from spreading. One, Tony Iju doesn't have strength in the western zone.  Kayode Farinto even has more influence than Iju in the west. I am on ground and l can tell you that both Tony Iju and Babatunde Mukaila do not have any real strength in the west. Iju won election with only three votes and those three votes were manipulated. Before the elction he has left the association for fifteen years, so where he can be said to have some influence is at the Airport Chapter, where he went to play lgbo politics with Alloy an lgbo man who was the then chairman. If you look at it critically, the whole crisis being championed by Iju is connected to re-election, and all he has tried to do is to divide western zone.
Why western zone, what is his special interest in the zone?
But you have said it yourself; the western zone is the main stronghold of ANLCA, not just ANLCA but even the entire ports and customs activities. So that is why Iju is fighting tooth and nail to capture the zone, but he cannot.  You can see that he has been creating parallel chapters and executives; it is all part of the plot. Sadly, most of those he is parading are not even association members, some are former association members, some are just thugs he hired. They have no operating licenses, but he has given them ANLCA identity card. As far as they are concerned, they have created membership base. Take for instance; in Tin Can lsland Chapter where he is pushing Ojo Akintoye as factional chairman. Ojo has never won election in ANLCA, he has tried, he couldn't. He left here, he went to CRFFN, and then went to NAGAFF, his small followers he put them there before coming back. He now went to PTML Chapter, with the same thing Ajibola, he said okay, you people are the executives here. Those people that followed them in their campaign that time, now they want to give them positions just to create membership. In actual sense they don't have members. If we call for a meeting, you will see members, the core association people will come, not rented crowd. So if you are talking about my strength in the western zone, yes, we have the strength, Iju and his cohorts are no threats, and because they know that in a normal contest they are no where, he is trying it the gangster way.
How much of them is Dan Katsina still exercicing influence over?
I am in control of the entire south west. We conducted election in Apapa Chapter, they are there till tomorrow. Our members and executive are in Tin Can, in Kirikiri Lighter Terminal, in Ports Terminal Multi-purpose Limited, that is PTML; we are everywhere in the zone. Temitope Akindele is in charge of the Airport with our members, are you hearing me? In Seme we are in control, didn't you see them together with Fanu their chairman here? You must have seen all the chairmen, they were all here.
But some of the chapters are factionalised
Yes, I have said so, it is the handiwork of Iju, they came to create the factions and gave their soldiers positions, this is part of the crisis we are dealing with. He is doing all of this because by March next year, their tenure is over. Ordinarily there is no how they can garner the require vote to return to office, so they have resorted to all kinds of illegalities.
Are you saying all this agitations is ahead of the coming election?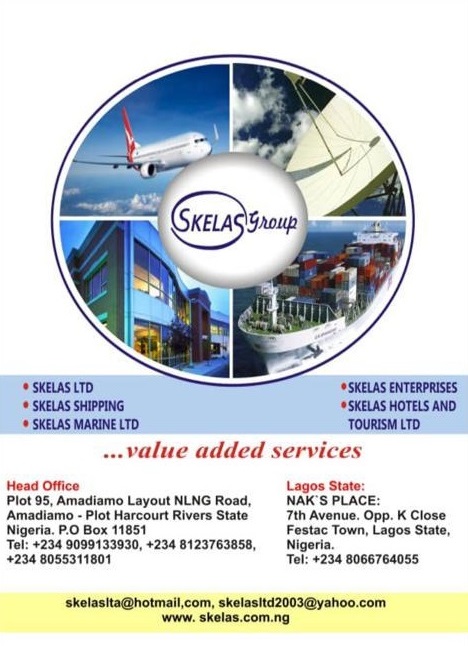 Yes, it is because of March 2022 election. And they went ahead to create their own board, a kangaroo board that will conduct election and put them back. If you check ANLCA Constitution, it is the board that conducts election; that is the essence of the ANLCA Board. We have ASECO, our electoral body that has been dissolved by the registered board, the man said he wanted to conduct election, he created one himself. Now there are court cases everywhere stopping them from parading themselves. There is an Igbo proverb that says when you want to shave your beard, you shave the mustache. So if you are talking about members, we have them. You saw that the hall was filled up during the press conference with our western executives and their task force teams. These are licensed customs agents, they are supposed to be in their offices, but they all came here. Do they have such crowd of bonafide members and genuine clearing agents? Judge for yourself with what you have seen so far. They cannot match us, if you are talking about followership and personality…the man they call Sylvester Budu in Apapa, he was Assistant Secretary in 2004 to Peter Obi, he has never been part of our association. Lawrence Uba that was Secretary at Ijora, he contested chairmanship election, he couldn't win, now Ijora has been scrapped, Iju brought him and put him there. And do they have license?  So, what are we saying? Emeka Uba too that was PRO to Peter Obi in 2004, they went and brought them, just to say they have members. But who is an authentic member? What makes you a member, you must be licensed. You must belong to a chapter.
 You talked about the constitution, are you aware that the NECOM have a different constition from the one been operated by the registered BOT?
I know, there can be nothing genuine about an impostor. An adage says if the mad man body stinks, the clothes on his body stinks as well. The Iju NECOM does not exist in law, the same thing apply to the illegal constitution they parade. All lawful documents of ANLCA including ANLCA Constituitution are in the possession of the registered board led by Taiwo Mustapha. Any other document is fodged and therefore counterfeit.
Are you not worried that all these game plans bringing about these rabble roasing crisis ahead of 2022 may give the faction an advantage? What if their own board declares them winner?
Let me tell you something, like the BOT Chairman said during the press conference, they say if  a mad man picks your cloth while bathing in the stream, and you chase after him because you don't have anothercloth, you are more mad because the mad man has his cloths on while you pursuing him naked. You know the Nigerian judiciary system, Iju and his people studied the judicial system and decided to take advantage of it. Iju is a politician, this is the first time we are having a party politician been our national president. So the politician in him introduced the spirit to flout court orders. We have competent court orders, let them continue to contravene court orders, we will not join them. We will continue to have confidence in our judicial system, and look up to the court as the arbiter of justice. We will employ only legal and legitimate means to challenge their illegalities, we believe that in our case, justice delayed will not be justice denied. We will ensure through legitimate actions that the 2022 election is not manipulated.  You cannot be a driver until you have a driving license approved by the FRSC. You cannot be a member of the board until you are registered by the Corporate Affaisr Commission. Take the 2011 Anambra governorship election for instance, Peter Obi won the election, they rigged it and gave it to Andy Uba. It took Obi two to three years before the court threw Uba out. Look at Osun State, the same issue with Adeleke, our judicial system is too slow, but eventually justice will prevail. So everything they (NECOM) are doing is a nullity.
There is talk about the financial power of the western zone airport chapter, and it is believed that the NECOM are having greater hold of the place, does this worry you?
This is what happened, the man that was the chairman at the time Tony lju contested was an lgbo man, who is a brother to Henry Njoku. His name is Alloy Igwe. When his tenure expired, election was conducted by this present BOT and most of them didn't show up, the man who came won. They went to court to say they will not accept and they started making trouble. The matter is still in court in Badagry. All this things lju is doing will be answered for, no national president has the right to make a unilateral appointment into any vacant chapter position.
 What is the rule, that vacancies must be contested and won?
Yes, and if there are issues, within the first ninety days, the board takes over administration of such chapter. Another ninety days, making six moths, election is conducted. Go and look at the constitution. That Boko Haram has taken over some territories in Nigeria, collecting tax from people, does not make their activities legitimate. What is happening now in ANLCA is like a macabre dance, and knowing fully well that if we engage them there could be crisis, our people decided to allow them be, to hold on to monies they have collected. At the end of the case, every monies they collected, by whosoever, will be returned back to the chapter's purse. So it is a matter of time.
What is the association strength in the northern zone and chapters, l understand that only the Aminu Kano Airport Chapter is functional?
All of that is due to the crisis we have at hand. It boils down to leadership style of Tony Iju. We have the Kano Chapter and under Olayiwola Shittu, we establish the Abuja Chapter. Since Tony lju became president the Board and the NECOM have not conducted any election. He has tried to challenge the one we conducted, but it is illegal because he does not have power to conduct elections.
So what is the BOT agenda to make the northern zone and chapters effective?
I am not in the board; this question should go to the chairman and board members. All l know is that as soon as we remove the blockade, we will pick our piece and pieces together and move forward. I want to assure you that ANLCA will not die.
Recently some registered board members and western zone members including yourself, was arrested and detained at the AIG Zone Alagbon. What were the issues and what is the update?
 The matter is with the police, an allegation was made, very serious allegations, that we were training terrorists, that we arm them, with military uniforms. The names of the petitioners are there, the police have done the needful by inviting us, detaining us, and granting us bail. We have gone to the Alagbon about two to three times. They are still investigating the matter, but l believe that if the allegations were true…terrorism and kidnapping are serious offences and are not bailable. And the AIG Alagbon who happened to have worked in the port command for years knows all of us. When he saw the file, he studied it and asked his crack officers to investigate it. He discovered that it was a political and association something. He said 'come, you people should go and settle this matter, why are you trying to destroy ANLCA for the upcoming young ones?' He called all of us to the meeting, can a police man who have indentitied a terrorism crime grant those involved bail to go home? But l have been defamed, because it was everywhere that John Oforbike was arrested and detained over terrorism. So l will continue to be law abiding, and allow the court to decide. It is not a sign of weakness to go to court.