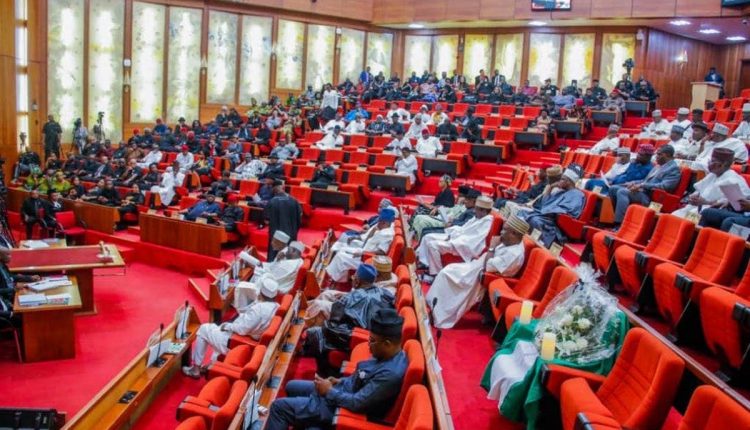 Senate, ICPC, probes massive import frauds
Senate, ICPC, probes massive import frauds
By Eguono Odjegba
Even as Nigeria continues to borrow massively from China to fund its deficits and economy, a number of Indo-China businesses operating in several parts of the country have perfected ways and means of perpetually ripping off the economy.
One of the several ways Chinese owned concerns destroy the national economy is through importation fraud, where they doctor both shipping and customs documents to secure massive falsification of imported goods through under declaration and under payments of correct customs duty and taxes.
The Nigerian Senate Committee on Customs, Excise and Tariff and the Independent Corrupt Practices Commission, ICPC, are believed to have begun looking into this disturbing trend which sources reveal have been going on for many years. 
The ongoing probe involving a number of Chinese, Indian firms with Nigerian fronts most of whom are based in Lagos indicate that these companies has history of consistently falsifying their importation information including making wrong HS code, classification in the pursuit of under declaration of the imported goods, leading logically to reduction of duty and taxes with the ultimate aim of short changing and defrauding the federal government of hundreds of millions of naira per consignment.
A letter written by the Senate Committee sighted by our reporter and addressed to affected shipping companies and terminal operators in the latest rounds of fraud, directed both shipping companies and terminal operators not to release the containers pending the outcome of its investigation. 
Some of the questionable imports include auto batteries and new tyres of various sizes which normally attract between 20% to 60% duty but declared as building materials with 5% duty.
The consignment is estimated at over 300 containers shipped through one of the seaports in Lagos. Checks reveal that many foreign owned companies especially those with Indo-China links have perfected ways and means of ripping off the Nigeria  economy through massive abuse of government  revenue and taxation system.  
As Apapa Customs release contraband containers 
The Nigerian Senate Committee on Customs, Excise and Tariff penultimate week in a letter to a shipping company accused of bringing in about 300 containers of tyres and auto batteries of various sizes with questionable declaration, ordered the ocean liner and the receiving terminal operator in Lagos to furnish it, senate, with details of the shipping documents.
The senate committee also wrote to the affected seaport terminal operator with a directive to stay action on the release of the said containers, pending the outcome of its investigation, triggered by a petition the senate committee believed to have received.
Despite these directives, there are strong indications that the Nigeria Customs Service, Apapa Area Command, in collusion with the said terminal operator, have started releasing the said containers; some of which have been traced to the Lagos Trade Fair International Market by operatives of various security agencies.
The Senate Committee which is believed to be acting on a petition said the questionable imports include auto batteries and new tyres of various sizes wrongly and falsely declared as building materials and charged 5% customs duty, as against the correct duty of 20% to 60%, depending on the right classification.
There have been rise in complaints in the past one year about Apapa Customs getting involved in series of irregular cargo clearances that directly translates to economic sabotage, hiding under the cover of Transire Goods or Bond Transfer. 
The command's apoarent notoriety is also exemplified in cases of botched releases of containers that ends up been intercepted by various police units, including IG Monitoring Team, Yaba Zone 2 and Maritime Police Command. Operatives of the Department of State Security, DSS, are also believed to have been attracted by the incense of untidy releases, while the customs revenue target collection system have made nonsense of proper accountability. 
Most of the importing firms named in a number of petitions to organs of government including the Independent Corrupt Practices Commission, ICPC, are Chinese and Indian owned, and are believed to be leading a cartel in fraudulent cargo clearance. 
Also contacted vide text message for reaction, the Apapa Customs Area Controller,   Comptroller Mohammed Abba-Kura failed to respond.