The MAN Oron Sub-Regional Training Capacity
BY EGUONO ODJEGBA
During the recent celebration of the World Maritime Day in Lagos, Rector of the Maritime Academy of Nigeria (MAN) Oron, Commodore Duja Effedua gave a colourful appraisal of the training capacity of MAN Oron in his presentation.
As one of the pillars for assessing the overall capabilities of maritime nations, the update and current status of MAN in the West and Central Africa sub region showed a significant and improved growth ranking following its impressive inter-connectivity as a maritime training authority.
While Effedua signpost the Academy's growth capacity with the regional inter-training institutions, he particularly made reference to the working relationship between it and neighbouring regional academies, with which MAN exchanges official protocols and bilateral engagements.
In particular, MAN Rector said while the Ghanaian Maritime Academy has written to checkout and authenticate the testimonial and certification of two Nigerian Cadets from MAN seeking higher training in Ghana, he also mentioned the request by Equatorial Guinea, a Central African maritime country for its Cadets by MAN.
Apart from Equatorial Guinea, the Rector told maritime stakeholders that several institutions including oil and gas companies are increasingly partnering with the Academy for training for special courses and training of their staff.
His words, "Having successfully repositioned MAN, it has begun to recover some of its lost past glory, our authority as the foremost maritime academy in the region has since been re-established. We are already into partnership with global maritime bodies and institutions in the sub region; we have begun to offer training to interested institutions and organs outside Nigeria.
"I am happy to inform you that Equatorial Guinea has written to us requesting to train their Cadets at MAN. We have also received several applications from very credible institutions requesting training for their technical personnel and staff because we have the most modern Simulators and other training equipment that no other Maritime Academy within the West African sub region has."
Effedua explained that because the Academy's training equipment are top notch and of the latest technologies worldwide; MAN has become a regional hub, providing training in modern techniques and maritime operational tools.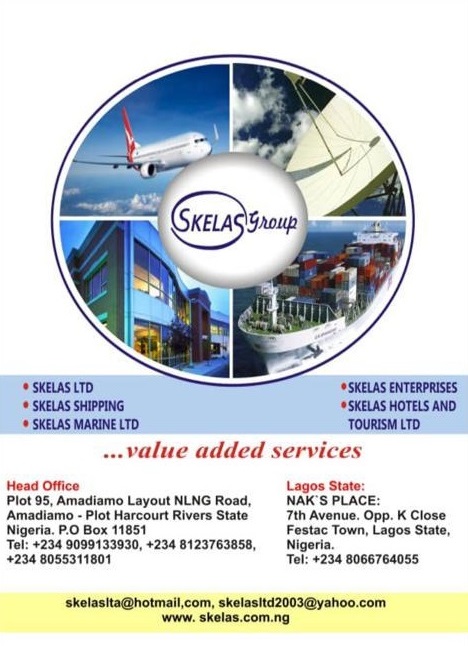 "With the training equipment that we have at the Academy, anyone going outside Nigeria for any kind of maritime training is just wasting his/her time because it is absolutely unnecessary. It is now cheaper to have any of those courses and training at MAN than going overseas; while our quality is top standard" , Effedua said.
Contributing, the Minister of Transportation, Rt. Hon. Chibuike Amaechi advised MAN management to further increase its present standard by growing its faculties, in addition to raising the pool of professional instructors.
"If you could work at having more faculties, engage qualified lecturers, even if they have to come and teach on part time basis at the Academy because of the issue of salary structure which is not within your purview, Nigeria stands to benefit more.
"The youths that you so help become better persons will never forget the gesture and they will have you to thank in the future", the minister said.
This is even as the Director General of the Nigerian Maritime Administration and Safety Agency (NIMASA), Dr. Bashir Jamoh expressed joy at the ongoing transformation at MAN, and said NIMASA will continue to support the Academy to attain its utmost capacity level.
He said, "Few years ago, there were no structures, there are now structures, there used to be small, small huts as buildings, there are now big spacious structures. Where there use to be several abandoned projects, you now have such projects completed and put to use, where there were no training equipment, there are now very modern, state of the art training equipment.
Where there was no training swimming pool, you now have standard swimming pools, where there were no functional simulators, several simulators have been procured, installed and commissioned for training purposes; and the list goes on.
"The Rector has demonstrated resilience and determination to succeed where others failed and we will continue to support him by providing the required funding so that the Academy can continue to carry out its training."
He assured that under his administration, MAN's Funding drawn from 5percent of NIMASA's net revenue will continue to receive utmost attention and fidelity.
"We recognize that the Maritime industry is dependent on human capacity. Without the necessary manpower, the industry will not function; we will therefore do everything within our power to support the Academy to succeed."
It will be recalled that the Nigerian Maritime University (NMU), recently visited the Academy to also seek areas of collaboration and training for its students, given the undeniable capacity of MAN.
Speaking during the tour of the Academy by NMU Cadets and Lecturers, the Vice Chancellor, represented by the Dean, School of Maritime Transport and Logistics, Dr. Victor Omoke expressed satisfaction and surprise at the great transformation of MAN of recent.
Dr. Omoke classified the quality of educational and infrastructural facilities put in place by the Rector in the Academy as second to none in the the West African sub region and beyond; and lauded Effedua for his outstanding performance.
He said, "I visited the Academy few years ago and it was nothing compared to what I have seen today. The transformation is massive, unimaginable and unbelievable. This is the kind of leaders Nigerians have been praying for.
"I believe that hard work, productivity, efficiency, transparency and ability to deliver are rare traits which should be lauded and encouraged when found in any leader."