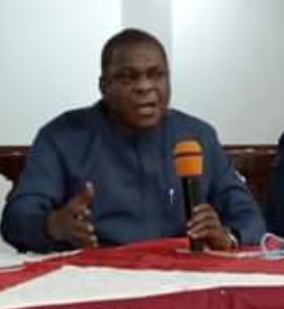 'There is no law backing ports concession' –Amiwero
BY EGUONO ODJEGBA
President of the National Council of Managing Directors of Nigerian Licensed Customs Agents (NCMDNLCA), Mr. Lucky Amiwero, today, stripped terminals operators laying claim to being concessionaires of mere posturing, noting that there is no law backing the 2006 ports reforms.
Amiwero who was speaking during a Port Industry Town Hall Meeting organized at the Rockview Hotel, GRA Apapa Lagos by  JournalNg, said any claim by anyone to article of concession is not only faulty but fraudulent and misleading.
He explained that those behind the port reforms and the so-called concession allowed themselves to be used to deceive the nation about a purported port concession, whereas, behind the curtain, all the reform processes and documentations were based on lease agreement.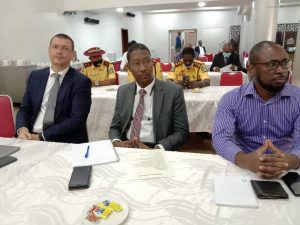 An unapologetic and outspoken maritime expert, Amiwero took a swipe at those behind the 2006 reforms for mortgaging the future of Nigerians and the port economy by engaging in unhealthy and unethical memorandum of understanding, inimical to the well-being of the port system, in the immediate and long term.
He said, "We don't have concession in this country, what we have is lease agreement, there is no law supporting concessions. What happened was that components that makes the port was not taken into consideration when the ports were leased.
"By the provisions of NPA Act, it has the right to enter into lease agreement for five years, and what we are having is lease agreements, not port concession. Even their documents say its lease agreement.
"You have a contract in a country where you have concession that is defined by laws. And by the WTO convention, when you concession a port you must have a law, and that law must provide for a commercial regulator."
Amiwero lamented that the faulty 2006 port reforms is what have contributed largely to the ongoing operational problems of port congestion and rising port trade costs. He identified the loss of container bay, trucks parking, warehouses etc as a direct consequence of the unmindful 2006 lease agreement entered into with investors, by the Nigerian Ports Authority (NPA).
He accused the federal government and NPA of turning ports into factories and industrial bases, a situation he said led gradually to the current congestion at the Lagos ports.
"You now have a situation where industries and factories have taken over port operational spaces.  They also sold away all container holding bays, trucks park and warehouses,  trading off the future of the nation in ports capability."
He however explained that it is not the duty of shipping companies but that of terminal operators, to provide container holding terminals.
…As ANLCA tackles Customs over Delay in Scanner Operations
Similarly, the Association of Nigerian Licensed Customs Agents (ANLCA) expressed displeasure over  delay in the installation of newly acquired cargo scanners by the Nigeria Customs Service (NCS),  as a ploy to continue with its 100% physical examination of imports.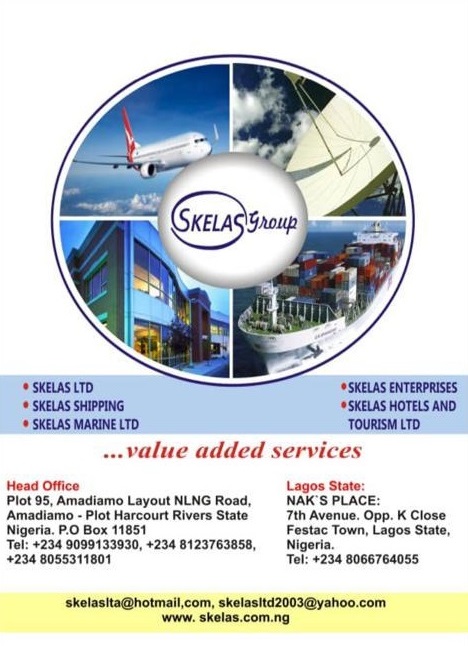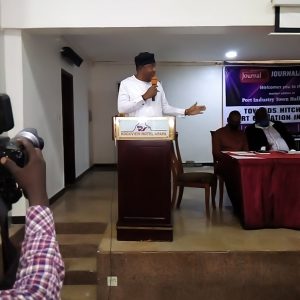 The National President of ANLCA ,Iju Tony Nwabunike who stated this during the Port Industry Town Hall Meeting organized  by JournalNg, described the regime of physical examination of cargo as an ugly episode that has adversely affected gains of port concession.
He also lamented that the Nigerian ports are not driven by standard operational procedures, noting that port access roads in Lagos and Onne particularly, are far beneath the standards of smaller, neigbhouring countries.
He applauded the organizer of the town hall meeting for assembling industry players to discuss way forward for hitch free port operation, noting that our port system is dysfunctional and have created lots of confusion, requiring genuine organized private sector intervention.
"As a way of helping the government, who seems helpless in the face of obvious non compliance across board, private sector groups in the port have established compliance teams and this point to our collective inadequacy.
"I don't want to say our port system is about the worst in the maritime world. Sadly, that is what it is looking like in terms of shipping companies and customs operations."
The ANLCA leader also expressed concern about the inability of our port system to be able to optimize the gains of the African Continental Free Trade Agreement (AfCFTA), noting that smaller countries like Benin Republic and Togo are seriously integrating into AfCFTA), while Nigeria is engaged in self defeatist syndrome.
"We are nowhere near our peers to maximize the benefits of our port system for this single African trade regime. The earlier we act, the better because under the regime countries will see themselves as rivals and competitors in certain economic fronts. Nigeria must not be caught sleeping.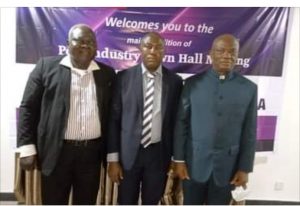 "Nigeria is the only country I know in the world where cargoes are subjected to joint manual and very cumbersome examination process and as an importer or customs broker, you are subjected to multiple alerts by different customs units."
The Comptroller General of Customs, Col. Hameed Ali (Rtd) however  faulted Nwabunike  on his position on cargo scanners, explaining that the service is awaiting an audit report on the scanners, hence the delay in deploying them.
The CGC who was represented by the Customs Area Controller of Tin Can Island Port Command, Comptroller MBA Musa, and who spoke through Deputy Comptroller  Kikelomo Adeola, reaffirmed the service's commitment for trade facilitation; without compromising national security.
Publisher of the JournalNg, Mr. Ismail Aniemu said the Town Hall Meeting with the theme: Towards Hitch Free Port Operations In Nigeria" was put together to offer a window of robust and effective engagements between stakeholders aimed at addressing critical challenges confronting the maritime industry.