 Wrecks Removal: Policy conflict and portfolio of interests
Wrecks Removal:
Policy conflict and portfolio of interests
The Director General of Nigerian Maritime Administration and Safety Agency, NIMASA, Dr. Bashir

Yusuf Jamoh, recently hinted that the removal of wrecks from our territorial waters could cost as much as N10billion per annum.
Who would have thought that the business of wreck removal would gulp this much? That is, talking about charting this in our annual budget, as it were. Then, we will be dealing with the issues of diverse interests; presidential and legislative interests, policy makers and implementers interests, tenders and board approvals, contracts and contractors, queries and amendments, costs and procurements, funding, legislative oversights and media analysis, corporate governance reports and business ethics, stakeholders and observers, executors and clappers, etc, etc.
To underscore the fact that wrecks removal is a big deal, the DG NIMASA, unarguably an authority in the maritime industry whose views and assertions carries tremendous weight, told a gathering of selected maritime journalists "it is a crime for anybody to just remove wrecks from any part of our waters without proper official clearance."
This is because according to the NIMASA helmsman, wrecks are economic goods with huge monetary value and can be converted to one of several economic uses. The is even as experts explain that ship wrecks is a lucrative industry such as ship breaking that produces second hand spare parts, while the metals and other serviceable components fits other commercial demands.
In other words wrecks holds as much economic value as it poses huge economic and operational dangers, and as such is guarded and protected as government property, for all that it is worth, both in economic terms and coastal safety terms. It attracts huge financial expenditure and given the rough estimate of wrecks scattered around our channels and harbour nationwide, it is considered a critical official business which demands focused attention.
Perhaps this is the reason wrecks removal control, management and anticipated removal enjoyed an unusual policy distortion and high level indecision and display of poor intellectual outlook by those that drafted the legislative bills for its control; signed off under the purview of different departments of government, with its concomitant crisis of duplication and conflict of interests by control claimant agencies.
This is so because the act setting up the Nigerian Ports Authority, Nigerian Maritime Administration and Safety Agency and National Inland Waterways Authority, vested them individually and collectively,

the right to manage and remove wrecks. The situation is made worse when individuals appointed to position of responsibilities developed the urge for financial cravings other than service, and this has since attracted fierce rivalry between NPA, NIMASA and NIWA, not because of they wish to undertake selfless service but are attracted by the prospect

of financial gains that has since attended the contract awards for wrecks removal.
Again Jamoh did justice to the sad reality in very clear terms when he addressed the matter recently. Fielding question from journalists on why the issues of wrecks removal subsist despite repeated official claims between NIMASA and NPA on yearly basis, he said:
"Wreck removal is an issue, you are very correct, not only NPA, even NIWA too. NPA will tell us, look any wreck within the brown waters is our responsibility, NIWA will come and tell us no, even the brown water is within the inland waterways, so we are responsible.
"If you know how much we have spent on wrecks removal, you can't believe it. It is over N10billion to remove all the wrecks across our territorial waters. I f you say you want to leave it to NIWA, look at the total budget of NIWA, where will they get the money?
"What we are doing, as am talking to you the FMOT has inaugurated a committee to look into the grey areas, and we are working hand in hand, NIMASA, NIWA and NPA to bring to an end this kind of clashes so that we can give those who can take these actions the responsibility to remove the wrecks.
"It doesn't matter who remove the wrecks, the immediate challenge is that there are overlapping functions, and you find it in NIMASA, NIWA and NPA Acts, wrecks removal is power. But all is well, the supervising FMOT has inaugurated a committee and we are working to see to the end of these issues."
Asked if NIMASA can initiate a joint operational process to eliminate conflicts amongst the various agencies in the removal of wrecks, he said NIMASA does not have the power to do so.
"I am not in a position to recommend merger because of this conflict, I think we should look beyond the issue of personalizing the matter and seek a patriotic, amicable and informed decision to remove wrecks as a national duty. Where the responsibility of one agency is more and far reaching in respect of an issue, it should be allowed to handle the responsibility", he enthused.
Vintage Jamoh has soon after, played host to the managing Director of Nigerian Ports Authority and the Executive Secretary/CEO of Nigerian Shippers' Council, where they discussed and agreed on modalities to collapse aspects of their overlapping responsibilities.
According to him, the agreement followed the outcome of the work of a ministerial committee, stating

that meetings like this are necessary to build synergy and create the right atmosphere for the overall progress of the economy.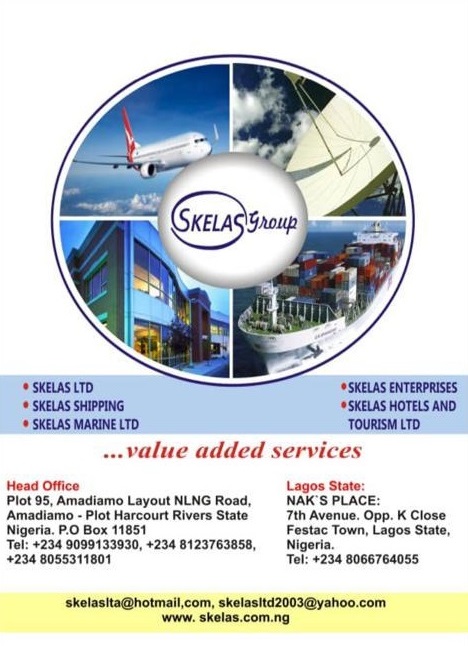 His words, "We have held the inaugural meeting for improved synergy and we hope to hold it on a monthly basis for the next four months. Due to the proximity of our corporate headquarters to each other, a lot of gains will be achieved in a short while without the usual official bureaucracy.
"From our discussion and deliberations, we have decided on so many issues that concern national development, overlapping functions, and others. We have a committee inaugurated by the ministry of transportation and we have been working for close to a year now. We have now decided on who should take what responsibility and we are going ahead with that."
It will be recalled that a former Minister of Transport, Alhaji Yusuf Suleiman in August 2010, concerned about the conflicts amongst agencies of government, directed the leadership of NPA and NIMASA to come together and harmonise method for the removal of wrecks with the Lagos State Waterways Agency.
He lamented that given the slow pace of work occasioned by rivalry between NIMASA and NPA, the process may take six years for identified ship wrecks scattered across our shores to conclude, and further lamented that the delay portends danger to water transportation safety as much as merchant shipping.
His directive followed an earlier ministerial intervention in which he advised that NPA should take up the removal of wrecks at the ports harbour, while NIMASA handles others lying outside the harbour. His advice was however not taken as both agencies stuck with their posturing, relying on their respective statutory enabling acts dealing with the matter of wrecks removal.
Whereas NIWA's power over wrecks removal derives from Section 9(d) of the NIWA Act,(1) which invested it with power to "survey, remove, and receive derelicts, wrecks and other obstructions from inland waterways", the NPA Act does not have precise and explicit authority to manage wrecks removal, except the loose reference Section 7(i) of the NPA Act which empowers it to "control pollution arising from oil or any other substance from ships using the port limits or their approaches".
Analysts and experts, including NPA argue that the above status confers on NPA the statutory mandate to deal with hazardous wrecks found anywhere within Nigeria's port limits; and therefore, that the NPA power over has overriding authority over channels, harbours and the waterways, and stretches far into the beach covering 100 metres

high water level.

This by implication proponents in favour of NPA playing vital role in the matters of wrecks management covers both creeks and swampland below the highest astronomical tide level; including all beacons, moles, piers, jetties, slipways, quays and other works which extend beyond the natural line of the high-water level.
Finally, the NIMASA Act Section 22(1)(n) gives it express and far reaching powers over wrecks summed up in the following clause: "the functions of the Authority shall be to: (n) receive and remove wrecks", making NIMASA the lead agency with regulatory control over Nigeria's entire territorial waters, unlike NPA and NIWA which functions in this respect, are clearly restricted and nevertheless, also subsumed in the exclusive powers of NIMASA to control, remove and manage ship wrecks and other marine pollutions.
It is a therefore a demonstration of high official integrity, national focus and commitment to get government business done, that the DG NIMASA, fully aware of its overriding powers not only conceded to the mapping of a mutual framework for the removal of wrecks, The direct consequence of the current framework is that in exercising its statutory mandate over wrecks, the NIMASA is destined to come into conflict with NIWA and the NPA, which both have their own respective mandate. It is likely this quagmire that has led the NIMASA to assert its claim to the status of official Receiver of Wrecks with overriding control over the management and removal of wrecks located anywhere within Nigerian territorial waters.
The latest efforts aimed at developing a common front may not be unconnected to ministerial powers to steer the process on the path of efficiency and less rancor thrown up by the overlapping functions of the related agencies in the matter of wrecks management. Section 362 of the Merchant Shipping Act creates the offices of the Receiver and the Assistant Receiver of Wrecks, to be appointed by the minister with the power to handle wrecks found in Nigerian waters. The Receiver of Wrecks' power to remove wrecks is rather extensive and encompasses wrecks found in any port, navigable river or tidal water within Nigeria; or in or near any approach to any port.
In exercising its power of wreck removal, the act empowers the Receiver of Wrecks : take possession of and raise, remove or destroy all or any part of a vessel; light or buoy any vessel or part thereof until the vessel's raising, removal or destruction; and sell any vessel or part thereof once the vessel has been raised or removed.
In addition to the power to remove wrecks, the receiver of wrecks can also: determine whether a wreck constitutes a hazard; mark hazardous wrecks; and set the deadline and approve the conditions for wreck removal operations, where the shipowner elects to remove the wreck.
Where a vessel is wrecked, stranded or in distress at any place on or near the Nigerian coast or any tidal water within Nigeria, the receiver of wrecks is empowered to take command of all persons there and assign such duties and give such directions to each person as it thinks fit for the preservation of the vessel and the persons and cargo on board (7).
Further, where a party who is not the wreck owner finds or takes possession of any wreck within Nigeria – or finds or takes possession of any wreck outside those limits and brings it within those limits – such party must deliver the wreck to the Receiver of Wrecks. Failure to do so, without reasonable cause, constitutes an offence punishable by fine and forfeiture (8).
It is also a punishable offence to perform or cause to be performed any salvage or breaking up operations concerning any vessel or any wrecked, submerged, sunken or stranded vessel lying within Nigeria without prior written permission from the Receiver of Wrecks. This offence is punishable with a fine and imprisonment (9). These provisions aim to effectively vest absolute control over all wrecks in Nigeria in the Receiver of Wrecks, notwithstanding the powers of any other agency.
It is instructive to note that neither the offices of the Receiver and Assistant Receiver of Wrecks, as espoused in Section 362 nor any other section of the Merchant Shipping Act identifies which government agency is the Receiver of Wrecks referred to therein. Section 2(1) of the act provides that "the agency of Government established to be responsible for Maritime Safety Administration and Security shall be the implementing agency for this Act".
Based on practice, this provision has occasionally been relied on to accord NIMASA the status of Receiver of Wrecks. Fortunately, Section 362 leaves no room for speculation, as it clearly sets out the method of appointing the receiver, since in the absence of such appointment; any claim to the office of receiver is at best mere posturing.
Even if the NIMASA was duly appointed as the official Receiver of Wrecks in line with the Merchant Shipping Act, its power over wrecks would still be subject to those of the NPA in certain respects. In this regard, Section 381(1) of the act specifically makes the Receiver of Wrecks' power in relation to wreck removal "subject to the provisions of any other enactment or law relating to ports". This provision accords precedence to the powers of the NPA under its establishing act in relation to the removal of wrecks within the port limits.
It commendable that the Minister of Transportation, Rt. Hon. Chinuike Amaechi set up the ministerial committee to resolve the issue of wrecks removal by bringing all those remotely or otherwise involved, to sit down and design a common framework that is expected to be devoid of any future acrimony and divisions.
In the absence of the ongoing effort to design a common modus operandi, and in view of the above provisions, the alternative option is for the minister to appoint the NIMASA the official Receiver of Wrecks; not withstanding arguments by pundits that even if NIMASA is so appointed and the matter of Wrecks Receiver is regularized in favour of NIMASA.
Finally, the hitherto acrimony and lucre luster attitude which attended to the timely and effective issues of wrecks removal was believed to have created the leeway for other interest to compete for these wrecks, where a large chunk of it is reportedly stolen and or, illegally removed, from time to time.