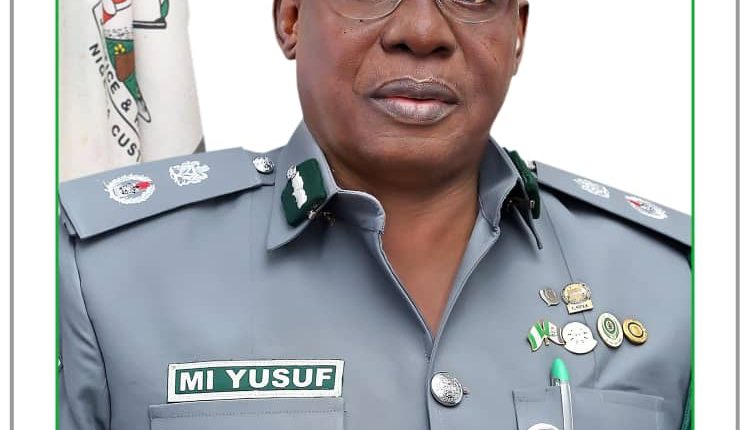 Yusuf Announce N870bn Revenue Collection '21
…Gives Reasons Customs Release and Customs Seize
BY EGUONO ODJEGBA
The Apapa Command of the Nigeria Customs Service said it collected a sum of Eight Hundred And Seventy Billion, Three Hundred And Eighty Eight Million, Three Hundred And Forty Thousand, Six Hundred and Fifty Naira, Sixty Five Kobo (N870, 388,340,650.65) in revenue between January and December 2021.
Comptroller Yusuf Malanta Ibrahim, the Customs Area Controller who disclosed above during a press briefing earlier today in his office, while fielding questions from journalist, gave reasons customs releases cargo, interdict and often seize same cargo at a different point; noting that the various counter checks  is a product of lack of compliance with import guidelines by importers and traders.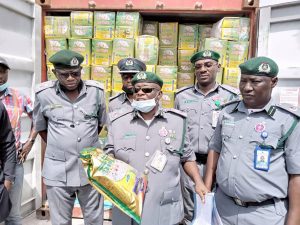 He urged the media to tell the nation the true position of the matter which many Nigerians erroneously frown at, without at the same time making effort to get importers to increase their level of compliance that could and should lead to the disappearance of these counter-checks outside the ports.
Yusuf who was fielding question from journalists after presenting the command's scorecard for the year ended 2021, took time to explain the unfortunate but unavoidable development.
Responding to the apparent contradictory scenario, Yusuf explained, "Customs release and customs intercepts…well, all these kinds of issues are as a result of lack of compliance. If we are sure of our compliance customs will not stop what customs has released. The point is that we are not compliant.
"If we are compliant, you can look anyone who stops you on the road eyeball to eyeball, and tell him you have declared the true content of the cargo and paid the true value. As a Nigerian, nobody should intimidate you, but because you're not sincere, that is why we are having this problem."
To buttress his points, he situated individual importers compliance level to that of institutional corporate importers, whom he said are far more compliant and hence enjoys cargo fast track clearance scheme, which is otherwise open to every importer, small or big.
"For example, have you seen any manufacturer or conglomerate who are very much compliant with their declaration been stopped on the road? Never! We have a lot of ways that will assist the system to facilitate trade, particularly when you look t the fast track scheme, which allows cargo to move seamlessly from the ports to the conglomerates (importers warehouses).
"For those complaining about stoppage of goods on the roads, customs have layers of control, not only at the seaports. If you go to the border, there are layers of control, if you think you have jumped this one, you will not jump the other one. And this counter controls are yielding positive results, particularly in terms of aiding national security."
He continues: "If you go to federal operations units and look at the statistics of their performance, you will be surprised."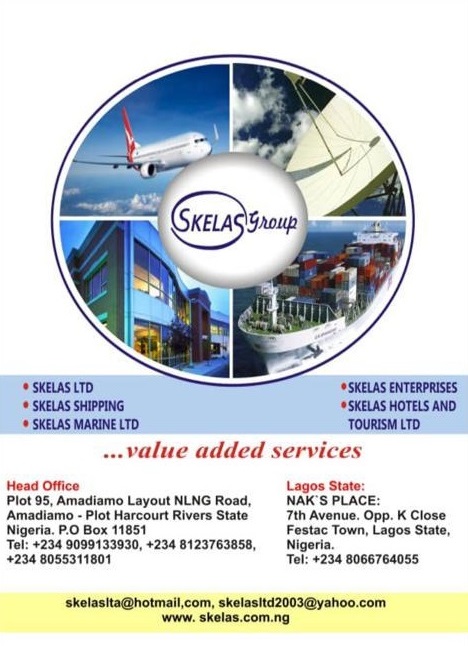 The Apapa customs boss who also defended customs management against allegation of perceived lack of seriousness in deploying cargo scanners recently given to select ports to boost their operations, explained that there are procedures that must be followed before the scanners are deployed; noting that customs have "done about 70 percent of the procedure. We are on the final procedure, l can assure you that before the end of next month (February 2022), the scanners will be deployed and will start working."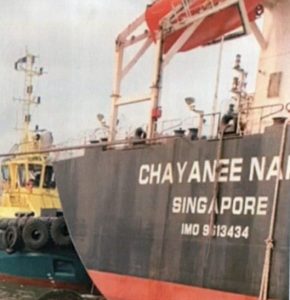 Speaking on the command's revenue collection and overall scorecard for 2021, Yusuf said, "The revenue profile of the command has significantly increased by about 68% when compared with the collection of 518.4 billion in the year 2020. We are determined to do more and surpass our revenue target for the year 2022, by God's grace."
According to him, the command also recorded a boom in the exportation of non-oil commodities with about 110% increase in tonnage above the figure of the year 2020; as it processed about five million, three hundred and eighty metric tons were exported in the year 2021, as against one million, three hundred metric tons exported in 2020.
"The Free on Board (FOB) value for the exported items also rose from $340 million in the year 2020 to $641 million US dollars in 2021. The naira equivalent of the exported goods stood at over N245billion naira", even as he listed items exported to include steel bars, agricultural and mineral products.
Yusuf attributed the sterling performance to the prevailing export policy. "This feat was achieved through the Federal government policy and export incentives schemes occasioned by the service facilitation and automation of NXP and CCI."
In the area of suppression of smuggling, the customs old  war horse said the command made a total of 103 seizures with Duty Paid Value of thirty one billion, two hundred and twenty seven million, four hundred and thirty one thousand, two hundred and twenty five naira (N31,227,431,225.00) only.
He listed some of the seized items to include 46.55 kg of cocaine concealed on vessels Mv Karteria, unregistered pharmaceuticals like captagon pills, tramadol, codeine syrup; and MV Chayanee Naree which was laden with raw sugar.
He said the seizures were made in accordance with provision sections 46, 47 and 161 of CEMA (Customs and Excise Management act) CAP C45 LFN 2004. In addition, Yusuf explained that the seizures have been condemned by competent court of law and that suspects arrested in connection with the seizures are still undergoing investigation and interrogation.
An uncommon team player, the Apapa customs chief said the command has achieved a robust industrial harmony with all government agencies in the port, including its host, the Nigerian Ports Authority (NPA) and other sister agencies including the Department of State Security (DSS), National Agency for Food and Drug Administration Control (NAFDAC), National Drug Law Enforcement Agency (NDLEA), Standard Organisation of Nigeria (SON), Port Police; as well as shipping lines and terminal operators.
As a demonstration of the renewed interagency cooperation, NDLEA Apapa Commander, Apapa Port Director of DSS, and the NPA Lagos Port Manager, all graced the occasion in person.
Instructively, Yusuf assured that the year 2022 has began on a good note of collaboration and synergy among government agencies in Apapa; and expressed the hope that it would continue in that stride.