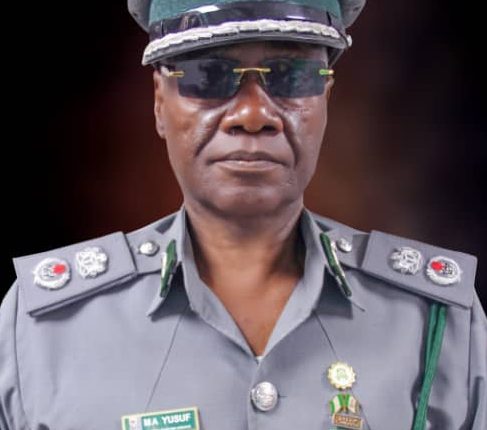 A.M Yusuf Bows Out In Blaze of Glory
BY EGUONO ODJEGBA
The immediate past Coordinator, CGC Strike Force Zone 'C', of the Nigeria Customs Service (NCS) A. M Yusuf was among newly promoted comptrollers decorated last week in at the Service Headquarters, Abuja.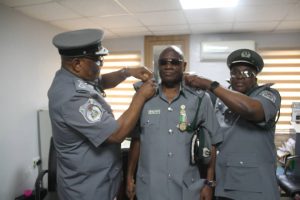 Comptroller Yusuf's decoration also coincided with his honourable retirement from the Customs Service in December 2022 after attaining the statutory sixty years of age in service to fatherland.
A phenomenal outstanding officer, Yusuf brought many honours to the NCS as much he achieved extraordinary exploits that got the service out of some of the tight corners it got boxed, amid been tossed by circumstances and society.
By providence, Yusuf, records shows is often on standby to get the NCS tide over obvious embarrassing moments. But like the proverbial Moses who sought to fight for his own Israelites, Yusuf walked the stormy waters as part 0f occupation hazards, but curiously vide colleagues who felt threatened by his exceptional contributions to the service.
Beneficial Reforms
But for the far reaching reforms and restructuring by the incumbent Comptroller General of Customs, Col. Hameed Ali (Rtd) to reposition the service for professionalism, efficiency and increased productivity, Yusuf as much a number of other officers may have served out their time in the service, with the burning pains of official ingratitude and repression, they individually suffered for daring to take the service a notch higher in various aspects of the service's overall functions and core duty.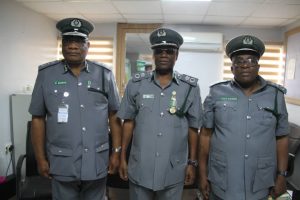 Whereas it is common knowledge that certain individuals with proven career competences often falls victim of official oppression and suppression in the public service, it would appear that the menace is more pronounced in the customs service; with many already retired, and some still serving, believed to be wearing such scars of pains.
While some bears these burdens and badges of injustice with equanimity, some collapse into emotional wrecks and pines away by installment, even as others reportedly develops suicidal tendencies until they succumb to various kinds of neurological disorders, and or premature death.
Perhaps, the immediate past Coordinator of the Nigeria Customs Service Headquarters Strike Force Zone 'C', Alhaji Musa Yusuf fit the category of those who strived onward courageously and without bitterness, in spite of apparent unfair treatments.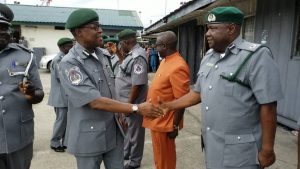 Above circumstances fairly approximate Yusuf's case before he was fortunately pulled out by the CGC's reforms.  A,M Yusuf's case should encourage others facing similar situation to keep hope alive, while continually doing that which is right, inspite of all odds.
Case Study
The prior administration had posted Yusuf to the Customs Command and Staff College, Gwagwalada Abuja at a time the then Chief Superintendent of Customs was obviously the poster boy of the service; who is renowned to have redefined enforcement, intelligence gathering and the processing of same into actionable intelligence.
Indeed, the story of Yusuf is one of great interest and yet, one full of contradictions. Between 2010 and 2013, Yusuf according to reports, helped the service to avoid a major embarrassment from rice merchants who had accused the NCS of kowtowing to the wishes of economic saboteurs to flood the markets with smuggled imported rice.
It was the most inauspicious period for the service and its management, which coincided with serious bad mouthing of the service and its leaders by overfed politicians and top office holders, who occasionally picked on the service as the weeping child.
Although the attitude was introduced by the regime  of late General Sanni Abacha, the government of President Olusegun Obasanjo turned it into an informal national anthem. Thus, himself (Obasanjo), a few of his ministers and lawmakers, often take out time to paint the customs service as the most corrupt government department, anytime they felt the need to make some political noise.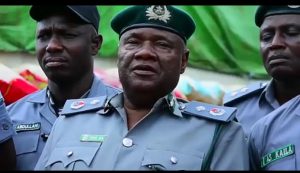 The service unfortunately provided the napkins with which they cleaned their hands; despite historical evidences that some of these politicians, who pontificate when it is convenient for them, often force the hand of the customs service to doing certain stuffs it would rather evade. This gave some Indian rice traders under the aegis of Rice Millers, Importers Distributors Association of Nigeria (RIMIDAN), the effrontery to begin to call the customs names; the height of disgrace sadly permitted by our political leaders.
At the thick of that official demoralization, Yusuf, a middle level officer, out of some sort of intuition, developed an uncommon enforcement strategy that saved the image of NCS and its management from its hitherto negative perception.
RIMIDAN
As it was with some of the flippant politicians, RIMIDAN constantly mocked and accuse customs of aiding the smuggling of rice, purportedly to undermine investments in local rice production, driven mainly at the time by Indian and Lebanese investors; and a sprinkle of Nigerians, more or less serving as figure heads.
It must be stated for clarity and better understanding that the Indians were been cuddled by the federal government of that time, same way the present government officially kowtows to the wishes of Chinese businesses and concerns in Nigeria.
In January 2013, RIMIDAN 'donated' 150 Vehicles to the NCS to support its operational patrol in order to tackle rice smuggling; even as the group literarily assumed the stature of an ombudsman, and became very strident and audacious in accusing customs of compromise; apparently emboldened by the occasional reckless statements of top government functionaries, in this regard.
 Uncommon Solution
Between 2011 and 2013, Yusuf led a crack team of officers and men he put together to route the smugglers, making huge, successive high profile seizures along the Lagos-Badagry-Cotonou  waterways; which operations, management chiefs categorized as uncommon and unprecedented.
Although it sounds too sweet to be real, Yusuf became a recurring decimal in major anti-smuggling activities and a vault in strategic successful enforcement, accounting for mind bungling seizures of 9000 by 50kg bags of foreign parboiled rice; followed with the additional seizure of about 6000 x 50 kg bags of rice; and over 3000x50kg bags of rice, respectively; all foreign parboiled.
The three most outstanding offensives conducted by the customs is believed to be the highest in its record to date, both in terms of Value, Duty Paid Value (DPV) and in terms of numerical statistics.  For instance, the 9000 by 50kg bags of rice intercepted on 1st April 2013 has a Value of about N40million, and DPV of N44million.
From customs records, Yusuf, absolutely a non marine operative, nevertheless led all the water-to-land operations; on the backdrop of customs intelligence that the waterways has become rice smugglers biggest get-away route, at the time.
A fine gentleman officer with a fairly huge frame that seemingly matched his huge intellectual capacity, Yusuf confirmed that whilst it lasted, he enjoyed the unlimited support and blessings of his bosses at the Federal Operations Unit (FOU) Zone A Ikeja; under whose jurisdiction and control the two years sting operations were executed.
In view of Yusuf's astonishi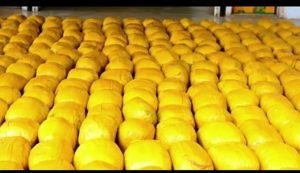 ng anti-smuggling exploits and which the controller considered as the bastion of his administration, one of his bosses, Comptroller Dede Kane, called him: 'my son, the apple of my eyes'.
Also, Kane's successor, Comptroller Victor Dimka, acting Controller of FOU Zone A, described Yusuf as a 'recurring decimal in strategic customs anti-smuggling activities.
Like a golden fish, it became apparent that Yusuf had no place to hide. It was not surprising that new Unit Controller, Deputy Comptroller Mohammed Inuwa, was minded to seek him out upon been confronted with a critical assignment.
According to findings, shortly after assuming control, Inuwa had received intelligence from the headquarters about a consignment of smuggled rice on transit on water from the Republic of Benin. At that time the headquarters for obvious reasons relied more on the FOU than the Western Marine Command to undertake important assignments, apparently due to the Dimka/Yusuf pioneering federal operations dragnet even at the waterways.
Apparently fashioning out strategy on how to handle the assignment, Inuwa was believed to have gone through the unit's achieve, and found out about Yusuf's record breaking achievements in marine operations. Peremptorily, he decided Yusuf was the man to catch the thunder.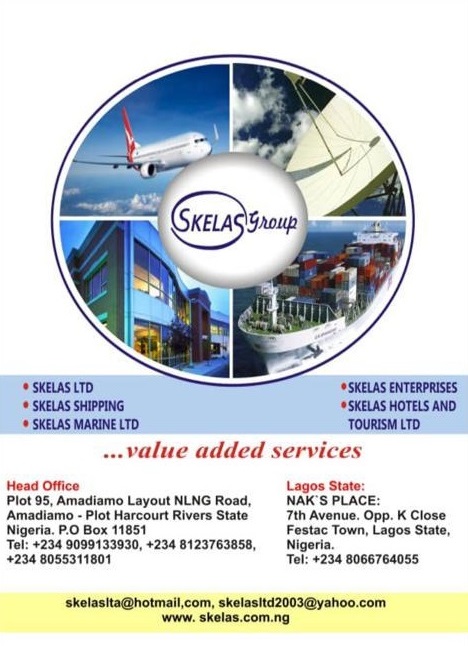 Inuwa placed a special request through headquarters to recall Yusuf from FOU Kaduna, where he just got posted from Port Harcourt Area 1, after been unceremoniously redeployed from the unit; to help activate the head quarter's intelligence; and also to help actualize the interception.
Assuredly, Yusuf delivered according to expectation, within 13 days; an operation that afforded the service some open display of quiet jubilation. Like others before him, Inuwa had good things to say about the enforcement enigma, whom he described him as 'our most courageous and extremely meticulous officer', aftermath of the catch of the 9000bags of rice; still the highest to date in the history of customs anti-smuggling operations.
Recognitions and Sabotage
For his ingenuity, commitment and operational savvy, Yusuf bagged the CGC's 'Golden Award Medal'; while at the command level, Kane instituted a 'Best Officer of the Month' commendation; in which Yusuf was the pioneer winner.
That was not all. The unprecedented seizures became issues of national interest at high places, including the presidency, as the late President Umaru Yar'Adua's government felt the need to honour the service to encourage it to do more.
From records, the four successive sting operations fetched over 40 trailers of rice, necessitating the presidency to recommend the budding CSC for a National Merit Award. As part of the process, the National Security Award Committee, NSAC, headed by Col. Wushishi, Rtd, contacted Comptroller Dimka to furnish the committee with details about Yusuf.
The committee also visited the traditional ruler of Yusuf's home town, the Emir of Bade, Alhaji Abubakar Umar Suleiman to scout for information about the prized officer.
Dimka who disclosed the role of the NSAC to our reporter during a media chat, spoke highly of the Yobe born officer. Speaking of Yusuf and his team, Dimka said, "Those officers are determined, and you may wish to know that their leader, Yusuf has been given the Gold Merit Award."
He continued: "As we speak, there is a committee set up by the presidency, looking into the records of officers that have excelled in their various assignments, particularly in anti-smuggling. He (Yusuf) is being considered for an award. The award committee people have come to my office to ask questions, so this is not an era where lip service is the order of the day.
"Yusuf has displayed extra-ordinary capacity for result and intelligence; and there is no week his station does not perform in terms of expectations. He won the CGC Golden Award and was decorated yesterday", Dimka revealed.
But just as he was being screened for the award, some individuals adept at peddling rumour, poisoned the mind of the then CGC, Abdullahi Dikko against the adroit  middle level officer, painting him in bad light, through  'eye-service' (a local parlance for defamatory gossip), slander and negative reports.
It is also to be noted that inspite of prior information that his screening was successful, this anti-smuggling enigma was denied the award; with rumour at the time that the committee was prevailed upon to replace him with the popular Nollywood actors, Aki and Pawpaw.
The man died when Nigeria choose to reward comedy and entertainment over and above sterling successes in the fight against anti-economic crimes; in a well laid out national award.
Reminisces
Reluctant to speak on his nomination for the botched national award, Yusuf nevertheless emphasized the following points:
"Let us get this award and nomination thing in the right perspective, because however you look at it, my bosses, three of them in all greatly influenced me. I got the CGC Gold Medal Award working under then Comptroller Dede Kane.
"Oga Victor Dimka was the then DC Enforcement, and Richard Oteri was the DC Admin. In fact it Oga Oteri that informed me that l have been slated for an award, that he has seen the list and l should proceed to the CG Conference holding at Abuja immediately; l didn't know.
"As for my nomination for the national award, up till this moment l have no idea who nominated me, l just got a call on phone and l was interviewed. I was asked to give them names of referees, one from my local government area and that of my traditional ruler, so l gave them the names and they contacted them. The national award committee also called Dimka on phone to ask questions about me.
"I am not sad that after all said and done, because there were people like my boss then, who had privileged information that my screening was successful, l was not given. My only disappointment was about my men, because it would have been a morale booster in their future commitment to national assignment.
"So it is well, l feel very fulfilled, our CGC sent me to head the Strike Force Zone C, it was a privilege. My belief is never to look back at sore or unpleasant moments but to continue to do what is right and what is expected of you until the very last minute. If you don't waver, you'll be happy."
Conspiracy and Vindication
Sadly, the then leadership encouraged and rewarded these rumour peddlers, in some instances, either through arbitrary promotion or through juicy, favourable postings.
It would appear that the more uncommon results Yusuf achieved, the more troubles he attracted unto himself, following full blast disparaging and outright false reports deployed by certain colleagues who feared and loathed him at the same time; apparently, with unremitting determination to pull him down.
Those whose business it is to know say Yusuf's trouble started when about three of his colleagues known as the 'Dikko Boys' led a convoluted conspiracy to stop his apparent rise, through dubious tales and fabricated lies; believed to have tickled the fancy of the customs leadership at the time.
Acting on those lies, the then CGC pulled Yusuf out of the theatre of anti-smuggling war, and posted him to the Customs Staff and Command College, Gwagwalada, Abuja. He was there until Col. Ali learnt about him and ordered his posting to Port Harcourt Area 2, Onne.
It will be recalled that despite his academic brilliance, it was not until the last promotion exercise under Dikko's administration did he get elevated to the rank of an Assistant Comptroller; while be became Deputy Comptroller under the Ali administration.
Like many other officers, Yusuf didn't only get promoted as at when due through the rigours of promotion exercise under the present administration, officers and men have expressed joy about the present freedom and improved work culture, contrary to one of fear and nepotic tendencies in the prior administration.
Again, like many other officers in the old regime, Yusuf also got back his groove and confidence through laid down responsible management process, ending a nightmare of unwarranted harassment and oppression, through biased posting and or controlled promotion.
Crowning Glory
It must be stated and very loudly that with the coming of Col. Ali whose leadership style can best be likened to the judicial epithet of 'Justice is Blind', postings and promotion were largely dispensed in a fair and just manner to deserving officers.
His posting as the Coordinator of the CGC Strike Force Zone C under the Ali regime of restoration and sanity was also the crowning glory for Yusuf. However, unlike other zonal strike force coordinators, Yusuf became somewhat reticent to and extremely media shy; perhaps, because of his sad experience in the past.
Yusuf spoke about his time and work as the immediate past Coordinator of the Nigeria Customs Service Headquarters Strike Force Zone 'C', which will be published tomorrow; as the crowning glory of his service; showcasing all the critical turning points.
He last posting was as the DC Enforcement, Apapa Area Command, Lagos, where he replicated the exploits he is known for. Undoubtedly one of the service's most outstanding enforcement chiefs with the largest seizure scorecard in the history of the service, Yusuf has etched his name in letters of flaming gold in the record books of customs anti-smuggling operation.
TO BE CONTINUED TOMORROW