 Abuja Attack: Is Hadiza Usman,NPA's boss a liar?
BY EGUONO ODJEGBA
Soft spoken, intellectually refined, unassuming and activist Managing Director of the Nigerian Ports Authority, NPA, Ms. Hadiza Bala-Usman shocked the nation late last year when she raised alarm of attempted attack on her person at the National Assembly, NASS, Abuja.
For someone regarded very highly for her strong principles of fairness and equity, rich cultural etiquette, political sagacity, harmless aura and nationalistic disposition, it was most logical and natural that her claims for attempted physical attack, and the further allegation that she escaped unhurt because she was quickly shielded and taken for cover in the office of

Senator Danjuma Goje,
attracted serious upbraid and appropriate condemnation from across the polity, not the least also from the maritime industry, where she holds forth as an economic builder, a transparent administrator and the moral guardian of the industry.
The national uproar was most significant in the sense that her alleged attacker was not just anybody but a respected and accomplished Nigerian, a retired military chief, one with a history of national service and honour, one who has gained tremendously by way of recognition and for whom those in authority have continually deemed it fit to partner with in critical national security undertakings; and above all, one who had just been 'relieved' of his contract with the Nigeria Ports Authority, retired Navy Captain Hosa Okunbo.
Thus like Usman, Okunbo represents many things to many people, besides being a man of affluence, a man with cognate expertise in security matters and a man of no mean capability, one with an intimidating record of consequential standing, both in national service and private undertakings, and therefore a man of immense respect and one whose sensibilities and affinity to natural justice and accountability cannot be questioned with a pretentious overdose of officialdom and swept under the carpet.
The allegations, the alleger and the alleged turned out to be too big and serious, and thus should not be treated like any other political mudslinging, and allow to die quietly, in the normal Nigerian way.
Being no ordinary woman, much is expected from Hadiza, especially in matters that hinges on the moral gauge of society. Thus it bears asking whether the NPA boss was truly attacked or whether she lied; and this clarification is necessary to reset the national ethos of our collective values.
To put these questions in perspective, perhaps it is necessary to do a layout of the background. NPA under the watch of Hadiza had just revoked the contract of her alleged attacker, who naturally, has also shouted blue murder and engaged in lengthy lamentations, even at the hallowed chamber of the Nigerian Senate.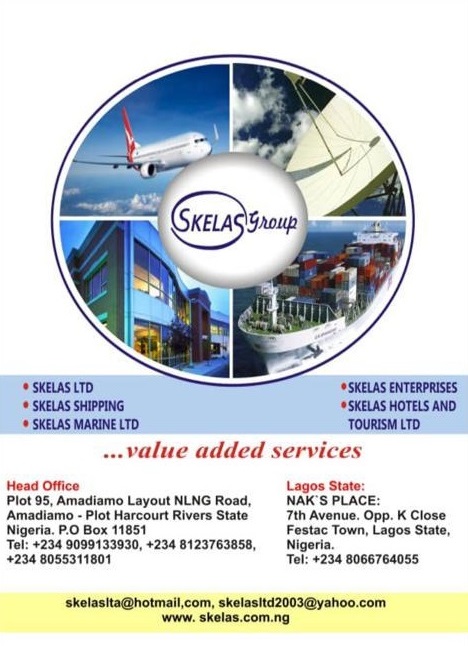 The termination of OMSL contract by NPA drew instant reaction in which the maritime industry was polarized. Expectedly, the matter attracted the attention of the Senate where both parties were invited to state their case.
There, the OMSL chairman apparently channeling his tears inward, cried: "There was no discussion; only to be sacked on the pages of newspapers after these investments. What is painful is that they denigrated my image and my integrity. I don't do business because of money; I have served this country meritoriously with my integrity intact.
"I have 50 vessels with the Navy. That is the extent of our commitment to national development. Our records are there in NNPC and IOC. NPA did not contact us for a meeting; they never wrote to us to say you are terminated; they never called us for anything at all."
Following this disturbing tears, Hadiza was invited by the senate to state her case and defend herself against Okunbo's submissions. Then came the calamitous hissing of her alleged ignoble attack, in a sequence discerning minds would regard as too cold for comfort.
Official complaints were reported to have been lodged at appropriate quarters, even as it is believed that recipients of the primary complaints have themselves officially made incidental complaints to other relevant quarters.
On the other hand, Okunbo has immediately and severally denied the accusation, affirming that his unblemished integrity could not conceive such thoughts least of all carry them out in their physical manifestations. It is not clear if the relevant authorities have invited the complainant and the accused for interrogation.
Certainly, a responsible and responsive government would have immediately taken up the matter, especially in view of their weight and the political and economic weights of those concerned, and report back their findings to Nigerians. If the issue bothers on political tales, as many are wont to believing, which no doubt also have political solutions, the government owes the Nigerian people the duty of diligently soaking away the unsightly excreta of these VIPs and fumigating their elevated latrines; and to mitigate the offensive stench and the bruises its exposure has subjected our national psyche.
Whereas the incident happened over six months ago, the harmattan wind has since given way to the tropical winds and rain, and no mention of the matter has been made since then. Before the wind returns seaward, and before the matter is ultimately overtaken by other contending national morass blowing in the air, it would be proper for this government to give Nigerians an update.
Especially on the basis of the recent re-opening of the remote causes of the alleged Abuja attack, the Secured Anchorage Area by NPA, through a marine maritime issuing fresh quit notice, despite the position of Senate that the parties involved should maintain the status quo.
On the basis of the latest development, it is necessary for Nigerians to be updated with information of police investigation of the alleged premeditated attack, the parade of the suspects, if any, and plans for their prosecution.
Over and above all, a white paper authenticating Hadiza's claims or otherwise, and expected further lawful action against Okubo, if he has been found culpable or complicit. Okunbo and Hadiza are too eminent, too polished to engage in the fallacy of intellectual deceit and to be allowed to drive the illusion that Nigeria is a banana republic.