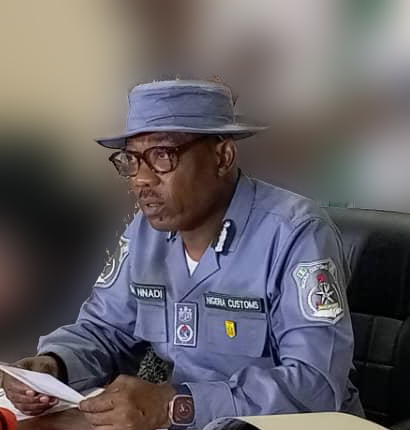 'Cargo Scanning Without Content Integrity Is Recipe For Physical Examination' – Nnadi  
New Customs Area Controller, Tin Can Island Command of the Nigeria Customs Service, Comptroller Dera Nnadi mni, has said the greatest single threat to the success of cargo scanning is lack of traders character, noting that the end result of every flagged scanning process is indisputable reversion to physical examination.
The Tin Can Customs helmsman lamented that the ratio of compliant traders is abysmally low and hence the demand for trade facilitation has been largely made difficult by the self same stakeholders who regularly throws spanners on the equal demand for compliance, being also the lever of trade facilitation.
Nnadi in this chat with Eguono Odjegba of Pinnacle Time made a number of startling disclosures such as saying that payment of duty is not same thing as compliance, even as he hinted that part of the current effort to shore up revenue collection in the command is combating the concealment of high duty paying items. Excerpt:
Congratulations on your appointment as Area Controller, Tin Can Island Port Command. Why is Customs paying such huge attention to Tin Can?
Sometimes, I find it a bit bewildering that someone should be congratulated for being posted to carry out an assignment. Nevertheless, I understand the sentiment considering that Zone A of NCS contributes over 70 percent of the Service revenue. Tin Can specifically is ranked to contribute the second highest revenue for the NCS. In that light I see my posting here as a measure of confidence in my ability by the leadership of NCS. However, this doesn't mean that I am being sent here to be congratulated. I'm delighted that I can be trusted to carry out this crucial role for Customs at this Command, for that reason, I think your congratulations is in order.
Within your first 11 days, you set a new revenue record like you did at  Seme area command, by exceeding the 2023 revenue target with a full quarter to the bargain. What are you doing differently?
Let me start from Seme Border where we were able to surpass our target by collecting 125% of the 2023 target. However, we didn't do anything different apart from encouraging and motivating our officers. We also deepened our relationship with stakeholders by making them understand their role after the border was reopened for trade. They knew that they had a strategic partner in Customs because we showed empathy for their pains as they were just coming out from several years of border closure which led to tough economic times. So, we encouraged the people to have confidence in their environment.
In Tin Can Port, the revenue target that was surpassed was for a single day. The target given to the Command on daily basis is N3.3billion; but for that day we collected N5.2billion. People were excited because for a very long time that didn't happen at the Command. Nevertheless, we have gone beyond that figure because we recently collected N7.6billion in one day. We are making steady increase in our drive to generate revenue. The truth is that so much confidence has been reposed in us and we mustn't just live up to, but seek to surpass this expectation from the NCS management.
Nonetheless, revenue generation is a function of cargo throughput. In recent times, the volume of cargoes coming in has dropped, but we are maximizing the few that have come in by blocking identified previous loopholes. Some infractions are so obvious that we just have to address them, issues of undervaluation, concealment of high-duty paying items, among others. When such items are identified, we issue them Debit Notes to pay for the shortfall. We also engage the stakeholders to explain why they have to pay, even as we state the impact on the Nigerian economy. The support from stakeholders has been massive and it could be because they see me as a 'home boy'. The compliance level is increasing and we keep educating the stakeholders that payment of duty isn't the same thing as compliance.
What does that mean?
If someone ought to pay Customs duty of N1million and he pays N700,000; it's true that such person has paid duty but he hasn't complied. We encourage them to pay the appropriate duties, because my presence here isn't just to ensure that stakeholders pay duties but ensure they pay the correct duties. Compliance is paying the correct duties at the prevalent exchange and declaring the correct quality and quantity of items in a container.
Upon resumption, I went round the port and observed that we still suffered from the old issue of late resumption to work. Why should we have a maritime system where we find people resuming work by 10am or 11am? I stressed that it was unacceptable. To lead by example, I offered to come to work by 8am. Some of the encumbrances that made people come to Tin Can Island Port late is like the deplorable state of the road, but which has been addressed. It may not be perfect at the moment but it has improved by 70%-80%. There is relative free movement into the port environment and everyone within the port can come early. Currently, terminal operators, freight agents, banks, even food sellers resume work by 8am at Tin Can.
Why do you emphasize so much on time?
Port business is a supply chain, if one unit comes on time and the other service users or providers aren't around, then there is a problem. If Customs resume by 8am but the agents only show up by 10am, it becomes an issue. We also had to build the confidence of importers who value their time, particularly those who import homogenous products. If someone imports 50 containers of homogeneous products like camera of same size, quality, producer and value; we shouldn't insist on examining the whole containers before releasing. Instead, we randomly select 10 or 15 containers and examine them. If we confirm that all the items are the same and appropriate duties have been paid, we should be able to release the remaining 35-40 containers after breaking the seal. However, if we find that there are infringements during the earlier random examination, then, we have reason to examine the rest. This rule only applies to homogeneous products.
Another reason we have to do this is because there are challenges with the cargo dropping space at the ports. For instance, at Tin Can Island Container Terminal (TICT) the cargo dropping space is for about 250 containers and one company could come to the terminal with 200 containers of homogeneous products on two bill of laden. If we drop the 200 containers for that company in one day, it means the rest of the terminal users won't have an opportunity to be attended to on that day. If the plan is to inspect all in batches of 30s, it means the importer has to wait for about 8 -10 days before he can exit the ports with the consignments. Aren't we negating the 48hours clearance time which we have been talking about for more than a decade at ports? Can't we achieve less than 48hours clearance time with some of these initiatives?
How is that possible?
I asked people to come to work on Saturdays and Sundays for examination to also assist in easing up the system. When people talk about competitiveness in the port system, my view is on service delivery. If I'm able to give customer satisfaction to the numerous clearing agents and importers, I'll be happy because that is what every trader and businessman wants. Our primary goal is optimal service delivery. I would rather save someone two days in the ports than to allow him pay demurrage at the ports for two months.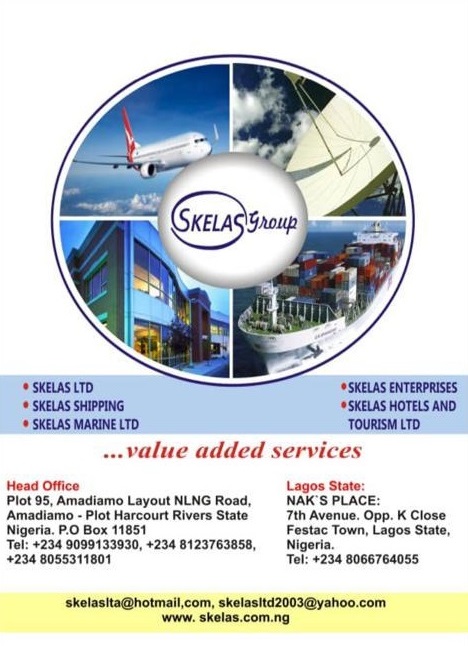 Quick delivery is what we are pursuing now and we are convinced that it will encourage people to pay the correct duties. I have also spoken to my officers, stating that should there be any delay on their part they will have me to contend with. Luckily, they have accepted these ideals that I preached and we are all driving the new process.
Given strategies you have so far introduced at Tin Can Island Port, how long does it take to clear cargoes?
Since I resumed at Tin Can, I've never left the office earlier than 10pm. I'm not celebrating it and I'm glad to be leading my officers by example. They have also not attempted to abandon me in the office. It doesn't mean that I'm punishing them, but I'm leading. While I'm preaching electronic transfer of documents between Customs and stakeholders, most of the things we do here are still largely manual. This is why the Customs Modernization Project is so dear to me.
We sit down to sign documents and attend meetings all day because I am also here to listen to the issues and complaints of stakeholders. I have resolved that all documents that comes' to my table will be signed and delivered before I go home.
When I was the DC Enforcement at Tin Can, I had to lead teams' onboard vessels when ships call at 1am. A ship may have finished loading outward and we must go onboard. Someone may load his container and wants to exit the gate and we must exit that person. For these roles which weren't time-bound, we were always at the ports. If we receive containers and ships 24hours daily and 7 days a week; why can't we discharge cargoes within 24hours. This is why I'm experimenting 24-hour operations starting by the number of hours I'm already spending at the office.
Recently, the Managing Director of Nigerian Ports Authority (NPA), Mr. Mohammed Bello-Koko invited port stakeholders for a meeting and I asked at this same question about 24-hour cargo delivery from the ports. I also shared with the NPA Managing Director the encumbrances to 24-hour port operations based on the challenges we are experiencing at Tin Can.  We need lights, security, good access roads, among others. He also admitted that there is a need for us to change to some of the approaches that I have already implemented.
Some stakeholders have observed the need for banks to work on weekends, but the question I asked is – How do people who travel via airplanes pay their airfares at weekends or after banking hours? Don't flights arrive at 2am and officers are on ground to clear them? I worked at the airport as a much younger officer and I recall that people can pay duties at any time day or night. So, if we can achieve that at the airport, we can also replicate it at the seaports. Banks can provide apps that enable people transact business with them even we they're not physically in their offices. This has already been done because with most of our banking apps we can transfer millions in one transaction. Why can't freight forwarders come to examine and clear their goods on Saturdays? The habit of devoting Saturdays to 'owambe' should stop. TICT is already in partnership with Customs by positioning containers at any time of the day. I expect other terminals who are in competition with them to adopt it, otherwise they will lose customers.
It is common knowledge that the NCS regularly flag import containers and carry out interception at the entry ports especially with regards to suspected illicit substances in the line of organized crime. Does your Command collaborate with the headquarters to also flag the counterpart countries of origin of these illegal exports?
Every Customs outfit all around the world understands the concept of supply-chain and risk management. Sometimes you hear about multiple checks and multiple alerts, it is because we can't legislate people's character. I am here because we have to checkmate port users. There is a zonal office to also supervise me and Federal Operations Unit (FOU) does its level of checkmating. There are also other enforcement and investigation units put in place to ensure that the right thing is done at every level. Customs also partners with international organizations like Interpol and local organizations like National Drug Law Enforcement Agency (NDLEA), Standards Organization of Nigeria (SON), National Agency for Food, Drug Administration and Control (NAFDAC), Nigeria Police, Federal Road Safety Corps (FRSC), among others, who share intelligence with us.
Recall that some years ago, we seized 3 containers of arms. It was as a result of intelligence sharing. Two were direct information from other agencies, while the third one was because I started looking closely into documentation similar to the first two. Nevertheless, I wouldn't have seized the third one if Customs didn't receive intelligence for the first two. Getting trade facilitation and compliance together is one of the greatest challenges of every Customs administration. How do you facilitate trade when one is insisting on compliance and people don't want to comply? The problem is that there are few people that don't want to comply and to discover them we subject the process to delays resulting from rigorous checking. In doing that, those who are compliant are also affected by the delays leading to some level of protests.
Some clearing agents and freight forwarders who protested during the CGC's recent visit to PTML Command accused the customs of arbitrary increasing of duty rate, is this true?
We didn't increase the duty rate. The only thing that increased was the exchange rate which is beyond Customs management. If you were importing a container valued at $10,000, the value remains the same and the duty remains the same; moreover, you were formerly paying duty at N400 or N500 per dollar now it's over N700 per dollar.
At Customs, we are only responding to the exchange rate. We later found that some importers started devaluing their consignments in order to pay the Customs duty they calculated months ago. They have forgotten that these details are in the Customs system and we see them and say no. In fact, the CG encouraged us to optimize exports so that we can get more dollars that will ease the pressure on naira. Don't forget that if the foreign exchange improves favourably, the Customs duty will drop.
How would you describe examination of cargo at Tin Can, 100 percent physical or largely scanning?
Nigerians always clamour for non-intrusive examination via scanners. This is the global practice and appropriate way to go. However, this is subject to the integrity of the cargoes and consignees. If there are items A, B, C in a container and only A is declared; scanning will lead back to physical examination because it will indicate that items other than item A is in that container. This, however, eliminates the trade facilitation and timeliness that would have accrued from scanning because we resort to physical examination.
The most important issue which determines the adoption of scanning or physical examination is the integrity of the cargoes. If people declare the right thing, it makes easier. Otherwise, scanning will lead to double examination. Therefore, at Tin Can, most of the examination at the port resorts to physical examination because the items aren't homogeneous and there is also a high risk of concealment. For scanning to work, Nigerians must be encouraged to prioritize integrity.