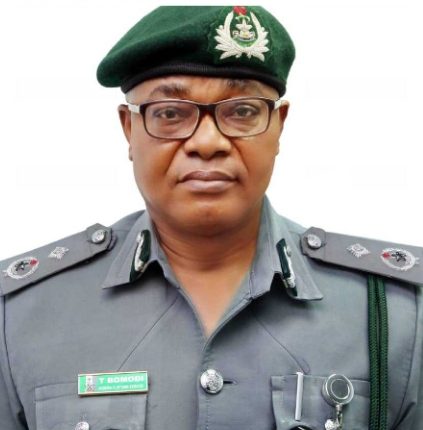 Customs Right To Duty In Benin Not Negotiable
BY GBOGBOWA GBOWA
Recent threat by a group known as the Security Situation Room based in Benin City, Edo State to drag the Nigeria Customs Service to court to determine whether the service have the right to operate within highways has been dismissed by a serving senior officer as efforts in futility.
The officer who does not want his identity revealed because he was not authorized to speak also described the call by the group urging President Muhammadu Buhari to order the scrapping of customs operations along the nation's highways as the "abuse of the freedom of speech"; noting that the customs service will never negotiate its power to carry out its lawful duties.
He explained that the Customs & Excise Management Act (CEMA) confers on the Nigeria Customs Service (NCS), the statutory responsibility of overseeing every form of port trade, part of which is revenue collection on imports and export and enforcement, through monitoring, policing and compliance.
"
In the simplest of terms or layman's interpretation, its enforcement role through monitoring and compliance remains inherent and inelastic to the extent of methodologies and strategies devised by management at any point in time, which is deemed necessary to drive above mandate.
This is especially in view of our propensity which has already assumed a culture, to circumvent government's fiscal policies and procedural requirements. Encumbered with this challenge, successive customs administrations including the present one have been obliged to continuously update its strategies to combat and checkmate various forms of identified leakages through various layers of interventions; including the FOU Zone C station at Ekiadolor, Benin City.
Thus far, the station in question is and remains legitimate to the extent that its operations 24/7 at the said location are official, documented and sanctioned. This makes the call recently by a group known as the Security Situation Room, Benin City, Edo State,  unpardonably misleading and unwarranted. It is the more so to the effect that the group urged the presidency to dismantle in its words, the 'Nigerian Customs Roadblock' in Ekiadolor axis of the state, absurd, obtuse, indecorous and plaintively lacking in character and patriotism.
The group's published in one of the leading social online media, it alleged that "the Nigeria Custom Service roadblock at Ekiadolor, near Benin City, Edo State has become centre of oppression and extortion by Custom personnel."
Those familiar with the operation of the customs service will immediately hoot at the erroneous impression of a 'road block' which must first be corrected.
What is operated at the area is a check point where operatives of the service flags down identified vehicles for checks in line with their assignment, which derives lawfully from the service's statutory mandate.
It is also misleading to refer to the said check points as belonging to the Federal Operations Unit (FOU) Zone C in the light of contrary facts. This is so because there are other customs formation including the Edo/Delta Area Command and Headquarters Strike Force, carrying out both general and specific tasks, strictly within the confine of its responsibility; and which cannot be annulled or wished away.
It is instructive to note that the road in question is a federal highway that merely aggregates one of Benin City's access and exit gate way. In fact, the location is a major artery connecting all the states of the South-South and South East; and thus is a national trunk way; and holds only a marginal percentage of the economic activities of the state.
From findings, the bulk of vehicles subjected to customs operatives stop and search are inter-state services, and this fact is verifiable. The group's claim that the state's economy is been threatened by the activities of the customs service appears farfetched and sounds more like a routine alarm. Sadly, Nigeria is such a permissive society where smugglers operate shadow government.
With their huge financial wall chest, smugglers often stop at nothing in their rabid efforts to continually malign the customs.   According to the newspaper, the group in a statement signed by one Douglas Ogbankwa, described the 'Ekiadolor roadblock operated by the Nigeria Custom Service Federal Operations Unit' as a "weaponised banditry against the people of Edo State."
Titled "Edo State People and Edo Economy Under Siege", the Convener of the Situation Room, Ogbankwa alleged that the state economy is being hampered by "bandits masquerading as Custom Officials, who he further alleged of extorting people of the state.
It reads: "We are outraged that these armed bandits masquerading as Custom Officials have created a heist heaven in Ekiadolor, Edo State and we see their activities as specifically targeted at Edo people knowing that they travel far and wide and bring in goods home as part of their diaspora remittances.
"There is a rat race among Custom Officials to be posted there, due to the gargantuan heist of our commonwealth that takes place there every day. We find that they will be asking for Custom Papers for cars that have been registered in Nigeria some times for more than 10 years and that passed through the requisite Custom Clearance at that time.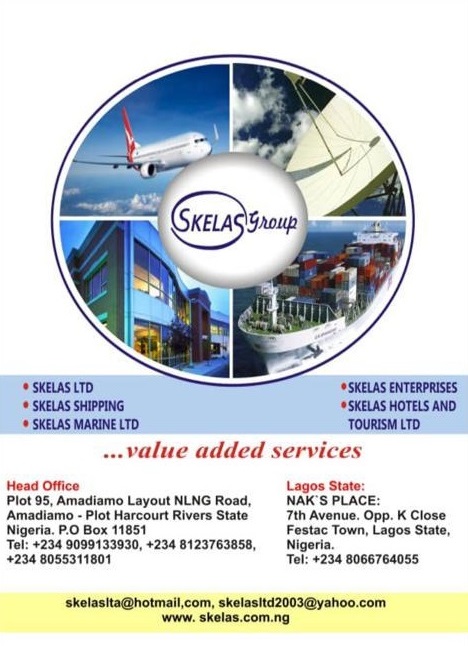 "Edo People living abroad, bring in goods year-in year-out and these Custom officials have crippled the economy of Edo State as they have in their custody many containers of Edo People, which have passed through Custom Scrutiny and Clearance at the Borders or Ports.
"They will seize trailer loads of foreign rice from Edo State citizens, send some home to their families to feed, do give away with people's sweats to their families and friends, sell others and put the money in their private pockets. As Dr. Nnamdi Azikiwe said "Enough is Enough!"
It however sounds strange that in an egalitarian system such as ours, the group wanted the world to believe that the so-called seized items he referred to above were arrested and taken away from 'Edo people'  without justifiable cause; how laughable!
Like the group clearly recognized, the Nigerian Customs Service is a legal entity that can sue and be sued, surely those crying wolf must be hiding some things. Customs do not hold unto intercepted items an hour longer than it is absolutely necessary; should such checks satisfied all the demands of due process.
Once customs checks' clears any cargo or item in question, they are summarily released as the service benchmarks trade facilitation same way it places premium on national security and correct documentation of customs goods.
While the management of the service decries corruption and is known to have wielded the big stick through heavy sanctions, to the extent of dismissing some of its personnel that have been found wanting, it must be recognized that a thick cobweb of enticements by those who often turn around to alleged bribe taking; which very often they promote by deliberately seeking to cut corners during the clearance process of cargoes, while hoping to find scapegoat in customs officials when their plans goes awry.
The petitioners wrote, "We are not unaware of the heavy extortion that takes place in that place as travelers are made to part with money for their cars, goods and consignments, that they have paid custom duties for and have passed Custom Clearance, under the guise of under valuing of Custom Duties, which is an internal issue and arrangement of the Custom Service, which the Nigerian People cannot be inundated with."
There is a maxim that says "once beaten, twice shy", the management of customs having realized that Nigerians have deepened the act of getting around the law in terms of actual valuation of goods, including other sharp practices like concealments and under declaration, also came up with the counter check systems that some concerned Nigerians talk about.
So when those adept at cutting corners at the sea, air port or land borders buy their way through, they have other layers of checks to contend with outside the entry points. CEMA empowers customs men to stop and search any customs goods (import or export) on transit, anywhere in Nigeria upon reasonable suspicion.
Also, if the search reveals any form of violation under the customs extant trade guidelines, customs operatives are empowered to impound and take into customs custody such goods. In fact, CEMA empowers its operatives to carry out search anywhere within the confine of this country, be it private or public property.
The customs service is the only state department that has power to search without a warrant; and can even enter and citizens bedrooms, if there are reasonable suspicion that illegal goods are kept there.
Therefore, allegations and references that travelers are exploited under the guise of undervaluation of goods is not only a mockery of our lawful statute and a gross disrespect of our institutions, it would seem that this group may have engaged in but the deliberate attempt to weaken our trade compliance system if not to out rightly impugn the character of customs officers and men through threats, albeit by intent; as is readily evidenced in the group's further statements:
"This cannot be allowed to happen under our watch. We call for the immediate dismantling of that illegal and extortionist roadblock at Ekiadolor. The Legal Team shall interrogate through originating summons and/or other permissible Originating Processes the following issues of Law at the ECOWAS Court of Justice and/ or other grievance remedial fora:
Whether or not the Nigerian Custom Service being an institution that has primary jurisdiction over goods and consignment at Nigerian Land, Sea and Air Borders, as prescribed for, by the Custom and Excise Act, can mount illegal and extortionist roadblocks all across Nigerian Roads except as indicated below, whether the mounting of illegal and extortionist road blocks all across Nigerian Roads, except as indicated below and  the extortion of citizens of Nigeria  thereof, amounts to stop and search for Custom Duties as provided for, by the Custom and Excise Act and whether same is not an infringement of Citizens Rights to own movable and immovable, Right to Freedom of Movement and Right to Freedom from Torture as enshrined in Chapter 4 of the Constitution of the Federal Republic of Nigeria, 1999 (As Amended) and African Charter on Human and People Rights, now an Act of the National Assembly cited as Cap A4 LFN, 2004. We shall adumbrate at the trial that the actions of the Nigerian Custom Service of mounting illegal and extortionist roadblocks all across Nigeria, amounts to psychological and traumatic torture of the Nigerian People;
"2. Whether by the Custom and Excise Act, the Nigerian Custom Service is imbued with any powers whatsoever to indiscriminately  check, seize numbered vehicles, goods and consignments with the requisite Custom Papers and which has passed Custom Clearance, indicating the requisite Custom Duties has been paid, as provided for by Law and whether all those illegal and extortionist roadblocks, (except those situate around one Kilometre radius of a Nigerian  Land Border with another country) are not liable to be immediately  dismantled, same being an infringement of the Fundamental  Human Rights of Citizens as posited above.
"Whether the Nigerian Custom Service and the Federal Government of Nigeria are not liable to pay damages to the Plaintiffs, who are Citizens of Nigeria for their entire extortionist, oppressive and repressive actions, which has impeded free flow of goods, consignments and cars into Nigeria and has almost made the Nigerian Economy comatose."
Perhaps, it is just as well that the group has said it is going to approach the court in order to determine some of its objections and assertions as given above.
"The Legal Team will commence work immediately with the issuance of the requisite pre action Notice to the Nigeria Custom Service, Headquarters, Abuja," the statement reads.