Ejibunu Dedicates Award To Officers And Men
…Seeks Strengthening of Seizures Evacuation System
BY EGUONO ODJEGBA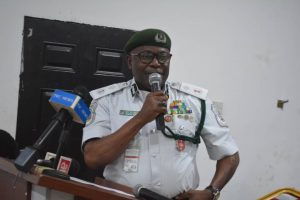 The Controller, Nigeria Customs Service (NCS) Federal Operations Unit (FOU) Zone A, Deputy Comptroller Hussein kayode Ejibunu has dedicated the Outstanding Performance Award conferred on him by the League of Maritime Editors (LOME) to officers and men of the unit.
Ejibunu who spoke on the sideline soon after the ceremony at Lagos Airport Hotel Thursday, explained that he is nothing without his officers and men, whom he said are constantly in the front line, and who are often exposed to the hazards of anti-smuggling operations.
"When l give out orders or give directives for things to get done, and when you see my officers responding enthusiastically, it is because they believe in me. So my officers and men are actually me, they are always at the theatre of war, executing my directives.
"This award is for them, they made this award possible, let me say that l am only holding it in trust for them. Rain or shine they are out there answering national call, it is not easy my brother. Just two days ago, smugglers shot at some of them during patrol, some of them are in hospital as we speak.
"Like l said earlier while we were inside, l feel happy that a group like yours who understands what we face and occasionally witness how economic saboteurs treats us like enemies just because we are doing our job, have decided to recognize our contributions to society.
"We value this recognition if not for anything at all, but for the simple reason that our CGC gave his consent, it makes us feel proud and fulfilled."
Meanwhile the anti-smuggling czar has appealed to the leadership and management of the customs service to consider providing his unit with trucks for ease of evacuation of seized items in view of what he disclosed as the latest development by errant border communities to sabotage the existing evacuation system for seized items.
While thanking the management for providing his unit with numerous logistics support, he lamented the sordid situation he and his officers face at the combat zones, as he narrated the harrowing experiences of intimidation and sabotage at some of the flash points; and hence his request for additional logistics support.
He explained that whereas the culture of resistance by undesirable elements involved in smuggling at the border fringes has always been one of hostility, he alerted Nigerians and the management of the customs service to the latest development he described as 'border community conspiracy' where members of the general public sympathetic to or offering support services to the service are identified and harassed.
His words, "Management has been very kind to my unit, l was given almost 21 new vehicles to add to our operational fleet. However we are now in a situation that like Oliver Twist, we are appealing that we need more.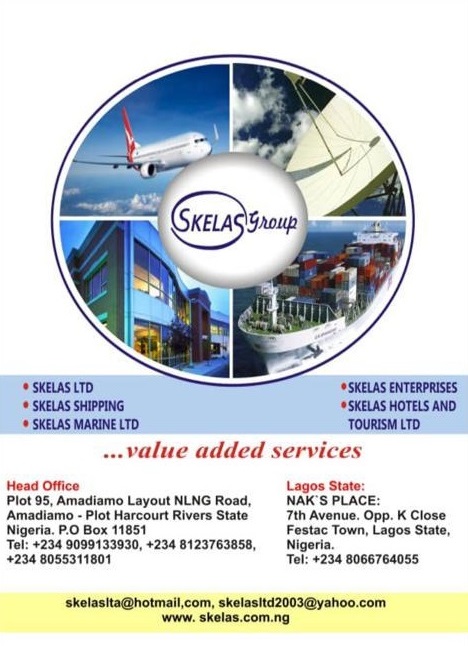 "There is this serious conspiracy by the border communities, because the manner of smuggling now is for them to stockpile rice and other contrabands along the bush path, and start bringing them in pieces. Now when we locate them, it becomes difficult to evacuate.
"Sometimes when you call truckers, they will and assist you, but the communities have started identifying those truckers and they have started dealing with them. So it has become very difficult for us now to get trucks to evacuate seized contrabands."
"Sir l want to use this opportunity to respectfully appeal to our CGC to give us trucks so that when we are going on patrol…we have seven to eight trucks lining up behind my officers, so that as we patrol, we see and carry; it will boost our morale."
Giving a graphic description of some of the challenges they are confronted with on the field of operations, he said:  "At a point, we got to one village, they brought juju…this their local charms and kept them on the ground on the road, and dared my officers to cross. And you know, l have gallant officers who have signed for this job with their hearts and body, and almost with their lives, ready to serve this nation at whatever cost. They crossed the line and nothing happened. But at the end of the day, we were able to evacuate only what our operational vehicles could take, we could not evacuate all because there were no trucks", he lamented.
He continued: "We have gallant officers that are ready to work with their hearts; we should give them all it takes so that their jobs will be easier."
Focused and determined, the sheer volume of his unit's seizure of questionable and contraband items has resulted space constraints that is putting storage facilities known as government warehouses under serious pressure to the point of overflow.
"I want to thank the management for building another warehouse for our unit. Just yesterday, the warehouse has been filled up. I am begging if it is possible to build another one, we want it, because right now, we have space challenge."
Ejibunu explained that one of the reasons border communities get involved in smuggling is the erroneous belief that smuggling is a trade peculiar to the economic existence of border community dwellers.
According to him, the false culture and narrative is so entrenched that customs officers are regarded as enemies and constantly targeted for elimination. This is even as he noted that operatives are trained and retrained to remain in the position of defence at all times, in addition to identifying the limits and line of duty during operations, which he likened to the  theatre of war.
"While performing our duty, we encounter some challenges; key among our challenges is lack of adequate manpower to man the long stretch of our vast and porous border. What l mean here is that even if you line up the whole officers and men of the service, we cannot cover it. If you go towards Idiroko border line, you will be standing on Nigeria soil at some places; you step another feet, you are in Benin Republic. If care is not taken you could mistakenly move into the other country while carrying arms and this is against the law.
"So we keep training and retraining our officers on the dicey nature of border policing, especially because of the level of animosity shown by some of our border community people. We suffer incessant attacks on our patrol teams by die hard smugglers. Since my resumption, l have lost five officers, the hostile nature of the border communities is worrisome.
"They believe smuggling is a legitimate trade, we have sensitized them on the need to shun smuggling. Some of them retrace their steps, some still continues. Those still on the beat are however feeling our impact, we have sent some to jail, some are still under prosecution; so the service is not sleeping at all."
On his achievements, Ejibunu said the unit under his watch recorded about 1260 seizures with a cumulative Duty Paid Value of N12billion. According to him, the seizures includes a total of 83,414 bags of foreign parboiled rice which is equivalent of 124 trailers; all of which were made between January and October 2022.