Customs Boss, Col. Ali, 3 Commanders, Spokesman Bags LOME Award
BY GBOGBOWA GBOWA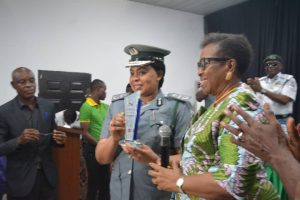 For his giant strides at raising the overall fortune and hitherto floundering image of the Nigeria Customs Service (NCS), the League of Maritime Editors (LOME) Thursday last week honoured the Customs Comptroller General, Col. Hameed Ali (Rtd) with LOME Gold Award.
The ceremony was the high point of a One day Annual Retreat and Lecture organized by the group at the Lagos Airport Hotel Ikeja. Col. Ali who was represented at the occasion by the Coordinator of the Customs Lagos Zonal Headquarters, Assistant Comptroller General of Customs, ACG Adeyanju Aremu commended members of The League for its incisive news coverage of the customs service, noted that the continued growth of the port industry rests in part to developmental journalism, and urged the group and its members to sustain the tempo.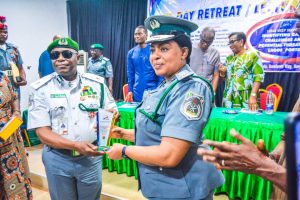 "Those who have carefully observed our CGC will know that he is not the type that easily accepts award, so for him to write to us to receive this award on his behalf means so much. You have been projecting our image and l know that you will continue to do so as we continue to deliver on our mandate to the nation.
"Developmental journalism is also key to the success of industry measurement and growth, you have been there since the CGC assumed control of the customs service and to give him this award is a testimony of your watch that he has been doing well as far as his mandate is concerned.
"His administration have ensured that the service balance national security with trade facilitation, and we remain committed to trade facilitation, as you can attest to, through our fast track system."
Also speaking, the Comptroller General of Nigeria Customs Service (NCS), Col Hammed Ali (Rtd) said the topic of discussion was apt, coming at a time it has become necessary to decongest the existing ports.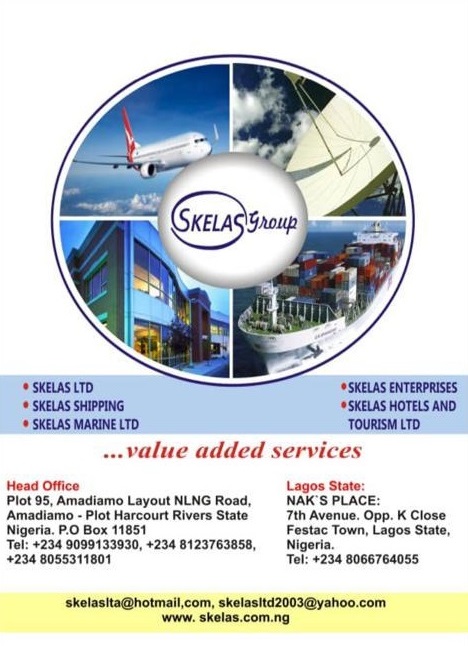 Speaking on the topic of presentation "Lekki Deep Seaport: Identifying Gains, Challenges And Potential Threats To Lagos Ports", the CGC through Aremu said the customs service is committed to efficiently playing its role, noting that the Lekki Seaport will jumpstart Nigeria lead position in continental trade.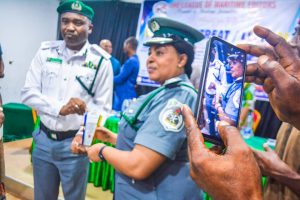 "When completed the LDSP will position Lagos as a new maritime logistics hub in West Africa while also supporting Nigeria to maintain economic leadership in the African Continental Free Trade Area Agreement (ACfTA).
"It will also directly benefit local communities by creating massive jobs and enormous revenue in the coming decades. Our fast track system is still rolling and robust, it is our hope that it will be critical for the success of Lekki Deep Seaport which we believe has the capacity to handle and create massive jobs.
"Our officers are already there under a full command structure awaiting the commencement of operations", she said.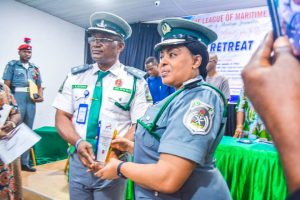 President of LOME, Chief Timothy Okorocha described the CGC as a go getter and team player, who he says has taken the message of collaboration to all stakeholders in the bid not only to achieve his mandate but to positively impact the Nigeria Customs Service, for which he has become an inalienable part and parcel since 2015 when he was appointed the CGC.
It is on record that Col. Ali has rewritten NCS name in the global international trade map, including the World Customs Organization (WCO), World Trade Organizations (WTO), ECOWAS, and other International Agencies under the United Nations, a development that afforded Nigeria to earn higher global respect.
Apart from the CGC, three of his top rate performing controllers and the service image maker, Deputy Comptroller Timi Bomodi also received Outstanding Performance Award. They include the Controller, Federal Operations Unit, Zone B Kaduna, Comptroller A. B Hamisu psc+; Controller, Federal Operations Unit, Zone A, Deputy Comptroller Hussein kayode Ejibunu; and Coordinator, CGC Strike Force Zone A, Deputy Comptroller Mohammed Yusuf.