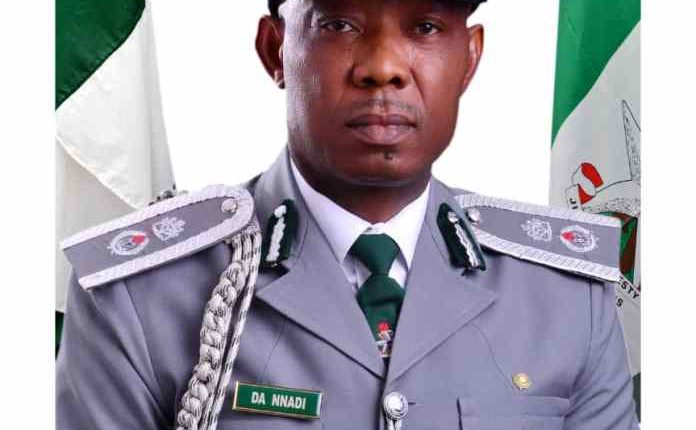 Idiroko Customs' Lands N172m Seizures in 5 Weeks
BY EGUONO ODJEGBA
Ogun 1 Area Command of the Nigeria Customs Service said it made seizures of 7311 bags of foreign parboiled rice and other contraband items amounting to N172, 999,387.00 between October 18 and November 23, 2021.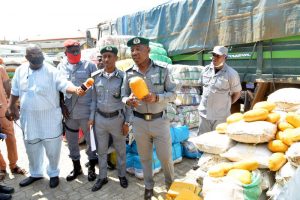 The Customs Area Controller (CAC), Comptroller Dera Nnadi who disclosed above at a press briefing in Abeokuta Wednesday, said that the 7311 bags of 50kg rice is equivalent to 12 trailer loads of rice; which translates to 365, 550 kg or 365.55 metric tons.
He said: "The above emphasis is deliberate to show that this quantity of rice, if allowed into the Nigerian market will affect the federal government rice policy negatively."
The ldiroko area customs boss said the service will leave no stone unturned in supporting the backward integration programme of the federal government designed to drive self sufficiency in local rice production; noting that Nigeria have the capacity to be self sustaining in rice demand.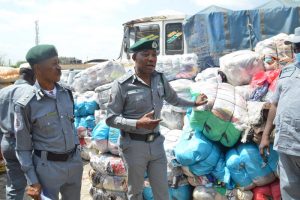 He said, "Recall that a rice cooperative farm in Ogun State (specifically at Imeko Afon) with the active support of the Central Bank of Nigeria, Federal Government and World Bank just last week harvested 2600 metric tons of paddy rice.
"This is major win for the Command as we celebrate these farmers who are testimonies and justification of the Service anti-smuggling effort in support of local rice productions in the country".
The Command also said it generated total revenue of N2, 437,050.00 during the period under review, which consist mainly of auction sales of seized petroleum products (PMS) and scrap metals, due to the closure of the border and lack of import activities.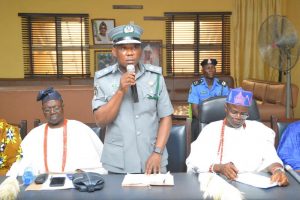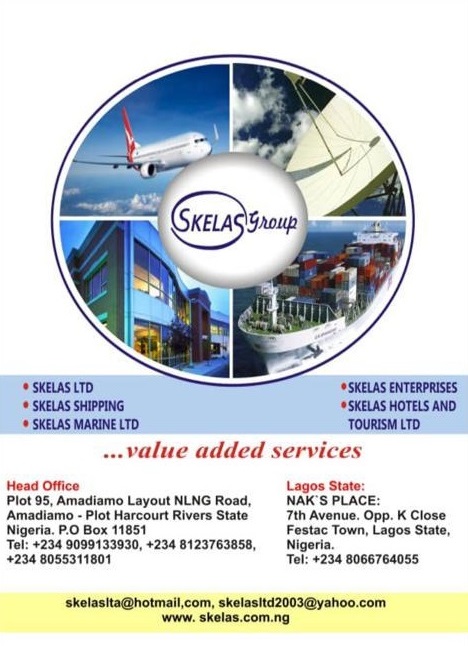 Other seizures recorded during the period under review include 124 sacks of book size and 165 coconut-size cannabis sativa, 20 units of used vehicles as means of conveyance, two used motorcycles as means of conveyance, 12 kegs of 25 liters of vegetable oil, four bales of 25kg each and 26 sacks of used shoes, 831 kegs of 25 liters of PMS, four sacks of used toys and 810 cartons of frozen poultry products.
Although Nnadi said two arrests were made in connection with the intercepted cannabis, the suspects he added have been released on bail.
He informed that the Comptroller General of Customs and the Management has provided 10 brand new Toyota Hilux vehicles to the command, to enhance its anti-smuggling operations.
"It is a demonstration of Management support and encouragement to Ogun 1 Command. It is proof of Management commitment to quality service delivery to the nation. This gesture will no doubt enhance our operation and improve our performance part of which we will share with you as we progress.
"We are deploying massive intelligence and are also deploying rules of engagement in all our operations. This has yielded greater successes being recorded on daily basis without casualties".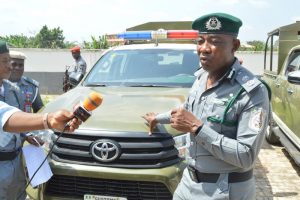 To achieve massive local support for the activities of the customs service and its operatives, Nnadi said there is ongoing partnership engagement with critical groups and traditional institutions in Ogun State, which he said will remain a continuous interaction.
"To this end, we have been engaging the youths who form the bulk of the human capacity asset in Ogun State particularly at the border areas. We have also been engaging the elders of the communities who in all honesty have a good knowledge and understanding of the challenges of enforcing government policy in the border especially as the borders remain closed.
"We have also been engaging with royal fathers of the state and has appealed to them to warn their subjects to desist from smuggling and attacks on Customs personnel. Let me use this medium to thank them for accepting to continuously help in this direction. We are also reaching out to the state governor who is the chief security officer of the state in this direction and the future looks mutually very rewarding for Nigeria Customs Service and the state".
He warned smugglers and criminal elements in the state to embrace legitimate trade as the customs under his watch will not look past any act of violations that constitutes financial injury on the economic wellbeing of the country.
Instructively, he noted that neither continuous attacks on customs nor other security operatives in the state by unpatriotic people will not deter the command on its statutory assignment; and assured that the customs service will under any circumstances negotiate its task.
"We are determined more than ever before to carry out our anti- smuggling operations without let or hindrance", he said.