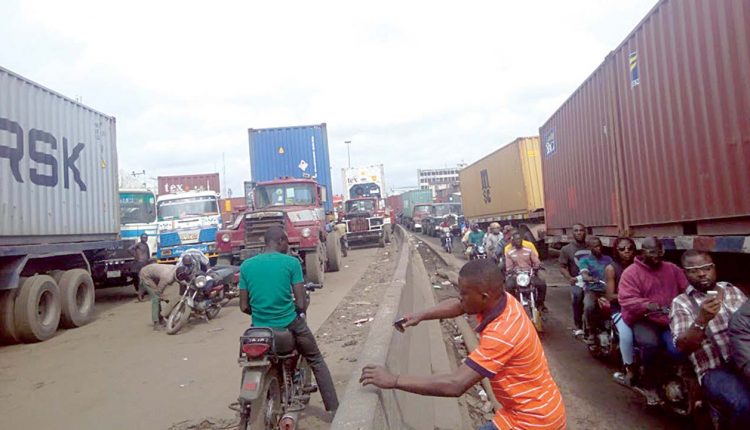 Kirikiri Terminals: The underbelly of a financially induced gridlock
The Olodi-Apapa –Kirikiri link bridge by Julius Berger is the first access-exit way along the Mile 2-Apapa major road, Lagos. Mile 2 a popular suburban centre also serves as major artery connecting various parts of Lagos metropolis.
The Mile 2 expressway leads North East to Ojo-Okokomaiko straight to Agbara and Badagary, and North West to Orile –Igamnu through to the Mainland. The Osho-Apapa expressway runs through Mile 2 bridge, with Kirikiri Town link access road been the first exit feeding traffic directly to Kirikiri Town. At the opposite side of the road is the popular Julius Berger Yard, serving as exit route for Kirikiri-Olodi-Apapa bridge traffic, which connects the Oshodi-Apapa expressway.
The area used to be a highly notorious spot for all sorts of sundry socio-economic criminalities, ranging from pick pockets, bag snatching, touting, gang fighting and hooliganism at its peak. Mile 2 is also a popular motor park and sub regional terminus, for travelers from Liberia, Ghana, Cote d'Voire, Togo and the Gambia.
In the past ten years Mile 2 has lost its popularity to Kirikiri Town, as the centre of action, following the establishment of additional ports and customs bonded terminals, tank farms and ancillary businesses, with huge informal settings, which sooner overshadowed the Nigerian Prisons as the hitherto nexus of action, and which used to be the Kirikiri Town traffic compass.
With the increased trading and ports and petroleum products operations, Kirikiri started experiencing traffic challenges, which grew steadily through neglect and indifference until it assumed a hydra headed social monster; which was sooner overtaken by official collusion, until it degenerated into a fierce field of economic intercourse, of monetary exchange, and readily emasculating all official interventions.
If disturbing reports obtained from stakeholders and users of the axis is anything to go by, the traffic conundrum may have assumed an irreversible calamity that could last forever, unless the Federal and Lagos State Government makes the firm decision to take the bull by the horn, by exercising its full its might.
Investigation indicates that the gridlock is caused ostensibly more by human factors than environmental. Further investigation reveal that it is promoted more by state officials interference, who colludes with touts, ports and tank farm hustlers, trucks operators and their agents, thereby driving an almost open financial compromise, which has become a culture and upon which free flow of traffic currently depend.
There is

 

indication that those who may be making monetary gain from the chaos and who wish that the situation subsists are uniform operatives, including the police, navy, civil defence, federal road safety, LASTMA and the presidential task force team.
While a growing informal business sector supporting the Mile 2/Julius Berger sprawling auto markets wouldn't want sanity back to the area, they are however considered secondary obstruction, kept active by the primary beneficiaries in uniform.
Pinnacle Time can authoritatively confirm that whereas every truck laden container whether 20ft or 40ft, leaving the customs bonded terminals pays a total of N70,000 to the combined uniform agents, owners of empty containers been returned to the terminals pay N50,000.00 each. The 'fee' is usually collected in bulk by civilian fronts, who presents the truck number to a designated representative of the leaders of the various uniform agents; said to be working in unison, and who have developed a reliable sharing formula amongst themselves; said to be almost without friction.
With the payment, the truck is literally booked, and is allowed to proceed, following the traffic queue. The booking point is at the Mile 2 bridge head, with a counterpart monitoring arm stationed at the junction of the Olodi-Apapa-Kirikiri bridge access link road by United Bank for Africa, UBA, opposite the old Julius Berger Yard.
Further checks indicate that occasionally, to buy time, a truck driver or owner who have paid the routine 'required fee' and who wish to have its exit or entry farther facilitated, pays a negotiated amount to a uniform agent, who will aid his movement to "overtake" to a desired position on the traffic queue, often causing further traffic obstruction in the process.
The cumulative effect of these indiscriminate movements is believed to farther worsen the traffic situation, which occasionally overwhelms the uniform men and the federal road safety corps marshals, detailed to the area to manage traffic. Our reporter also gathered on authority that officials of the Nigerian Ports Authority in the respective terminals in collaboration with men of the Nigeria Customs Service directs officials of traffic control to allow only specified trucks laden containers, like Maersk Line access to the port, at particular times.
This will create its own bottleneck lasting for two whole days or more, sometimes, as they struggles to find their way past other trucks and vehicles already ahead, say for more than a week already; through the already congested road.

 
Sources informed that it takes a week or more to conclude the inward movement of this category of containers belonging to international shipping conglomerates, arbitrarily passed by representatives of affected port managers within the terminals. Investigations also revealed that occasional disagreements by agents of the various uniform services, often lead to the worsening state of an already bad traffic situation that is allowed to stall movement, in the cause of altercations over order of truck pass manipulation and counter orders.
Unconfirmed reports alleged the complicity of the leadership of the Nigerian Navy Barracks located in Satellite Town, and sharing boundary with Kirikiri Prisons. Those familiar with the area inform that until the traffic problems, the axis use to serve as daily passage way for Naval officers and men, most of who have found the Maza-Maza/Mile 2 old road, better alternative to escape the maddening Kirikiri thoroughfare, adjudged freer and shorter in distance, until falling into the current darkness.
It is believed that naval personnel daily deployed to the troubled area share out of the common pool of fee charged truckers, and remit certain percentage to the office of the Navy Commandant; from where the 'bush allowance' is said to trickle down the line in relation to seniority.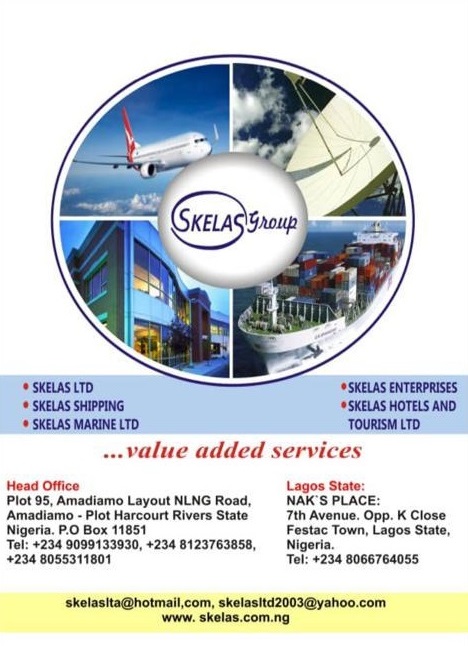 Pinnacle Time can also confirm that some of the naval personnel involved in traffic control at the Kirikiri/Olodi-Apapa intersection by NIMASA Resource Centre are officers attached to the NIMASA Coast Guard Command, CGC.
Aside helping out purely as uniform organization in an area considered a naval zone; sources inform that their interest is further served by ensuring that officers of the CGC with office at the NIMASA Resource Centre and other staff of NIMASA are saved the trauma of the traffic snarl.

 
 

The gridlock with no define peak period, has assumed an all day and all night dimension in recent time, subjecting workers and residents of the axis alike to unending mental, emotional and physical torture in negotiating their way in or out, daily. Caught in the web are the terminal workers, customs personnel, employees of Nigerian Ports Authority, NPA, Nigerian Maritime and Safety Agency, NIMASA, Nigerian Prison personnel, Naval personnel and a host of other Nigerians who ply the troubled thoroughfare.
The traffic build up which sometimes stretch endlessly into the far recess of the Olodi-Apapa/Julius Berger Yard bridge and its feeder access and exit roads, turns out as confounding as the chaos that spill backwards into the township, including the Kirikiri Prison end, and often terminating at various ports terminals and tank farms, spreads across various locations.
Very often, the gridlock forces people coming in or going out to walk on foot for long distances, walking over mould of excreta, broken bottles and filths, indiscriminately strewn all over the place. While some workers have resorted to leaving their vehicles in adjoining locations around Mile 2, Festac Town and far flung areas within Amuwo Odofin Industrial Estate, residents of Kirikiri have also resorted to walking or doing their normal daily rounds on commercial motorcycles, depending on which comes easier, each with its peculiar agony.
The scenario is better captured when prison inmates are caught in the traffic snarl on very hot days for hours, sweating and apparently burning inside their prison trucks. As the sun goes down and dusk prepares to set, workers making their exit out of the area occasionally fall prey to attacks, molestation and pick pockets, while winding through the maze of gathering human traffic, setting up their roadside evening markets, and all the other human accoutrements of socio-economic hustling that characterize the area.
The scenario appears worse by the assortment of ancillary businesses such as food vendors, cosmetics and clothing sellers, mobile and make shift mechanic, rewire, fitters shops, auto battery sellers and battery chargers, metal scrap sellers, drinking bar shops, all by the road sides, and servicing the aforementioned auto markets.
Caught in the web of an unplanned and informal large markets that Kirikiri have become, with various shades of people plying their trades and trying to make ends meet,

 

the chaos may last forever; with a possible wide margin for escalation of crimes and insecurity.
Commenting on the problem, a senior customs officer serving at one of the terminals who spoke in confidence said the gridlock is a major headache that affects officers' emotional balance. He said, "These days, I park my car at Jakande Estate along Apple Junction and take okada here. There was a day I had to leave my car on the bridge; it was getting close to 12noon, caught as early as 9am.
"There is no way the problem will solve until government enforce its planned truck call-up operation, where trucks and trailers should be allow to ply the road only when they show their pass. It is not rocket science, honestly, I don't understand the delay. Number two, all trucks should be removed from the major roads into their trucks parks or commercial truck parks, and allowed to come out only when they are going to NPA truck parks to position for the call up system to access the ports."
A clearing agent, Cletus Offorchebe said government should also consider relocating auto marts within the Julius Berger Bridge axis to expand the scope of clean-up, arguing that secondary businesses connected to the auto marts are major impediments to the flow of traffic.
He said, "The problem is everywhere around here, to go out from this place in the evening, or even on your way to the terminal in the morning, you can step on shit if you don't watch your step. People selling at the car markets, mechanics, food sellers and car battery people defecate on the road.

 

I have been robbed on the access road down to the major road by two men; it wasn't even 7pm yet. One snatched my bag and ran into the car garage, I chased after him, they were throwing the bag to one another, and they disappeared."
The Federal Road Safety Corp area commander, SRC A.G Ogbebor, said its duty is to control traffic and not to determine the volume of traffic, or who should ply the road or not. He however noted that a major impediment to the free flow of traffic is the involvement of security personnel who engage money for truck pass, instead of concentrating on the steady flow of traffic.
"FRSC personnel are stationed here to control traffic, we cannot determine which articulated truck or containerized truck should use this road to access the terminals, or determine how many or when. All I can say is that the ports people alert us to allow certain container brands like Maerskline to come in.

 

I don't know why they do random passing of trucks; I don't know the criteria they use to do their business.
"All I know is that the terminal people will tell us to allow only certain containers belonging to certain shipping lines, and this last for some days. So anytime they say they will take only them, it means all others outside the brand they have chosen will just find places where they wait until it gets to their turn.
On the allegation of collection of bribes to pass trucks out of queue, he said, "I won't deny that some people pass trucks and create problems in the queue these days; the implication is that they just start using the road as their park. Traffic control and passing of trucks does not mix. You are doing traffic and they give you a truck to pass, you can't do the two together because one must fall for one.
He lamented that "Personnel that are supposed to be doing traffic control and having their own trucks to pass out of the confusion, lead to conflict", adding that in addressing such
Conflicts, care is taken to do so with some level of maturity so "you don't create disharmony within uniform agencies."
Asked why the area gets choked up overnight after a substantial reduction of traffic the day before, Ogbebor said, "I don't work at night, we close around 7pm, what happens at night, when we come back in the morning, it's a different thing we see. When those who are supposed to clear up the congestion come and fill different trucks into this place and when they bring them in, they occupy everywhere on the road like this."
Asked who to hold responsible for the malfeasance between his agency and the navy, he exonerated the FRSC. And when further asked which agency have assisted his agency more in effort to clean up the insanity, he did not waste time in saying it is the navy.

 
"The Naval personnel are doing very well; I don't know what you heard about them. It is just that you know, among every twelve there must be a Judas. That is how it is in every situation and in every organization. The navy been very helpful to us, because most truck drivers don't listen to us, unless you force them, so most times the naval men steps in", he said.