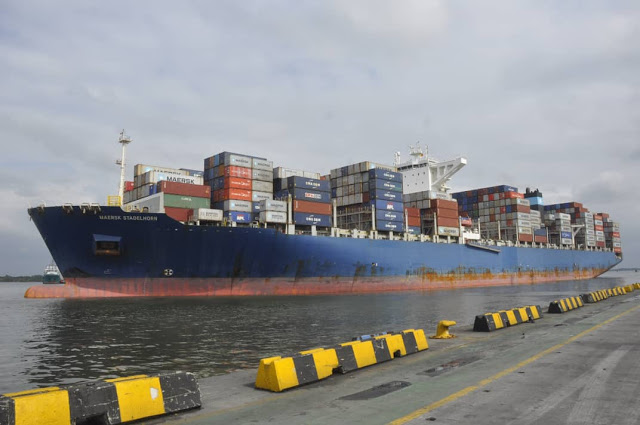 WACT The Onne FDI Prototype: Waxing Stronger 20 Years After
BY EGUONO ODJEGBA
Perhaps, one of the key achievements Nigeria recorded in the past twenty years in respect of her search for critical development partnership in the maritime sector is accepting the bid interest of West Africa Container Terminal (WACT) to develop part of the marginal stakes at the sprawling Onne greenfield.
To begin with, the operators were undivided in their focus and commitment not only to grow the Nigeria economy but also to project Nigeria as an important sub regional hub, expand the economic frontier through import landlocked system to neighbouring states. This the terminal operator have achieved vide aggressive operational capacity building and the pursuit of knowledge transfer, thereby positioning Nigeria as a major maritime operational hub.
Twenty years down the line, starting from 2000 when WACT expression of interest got endorsed, the firm has never looked back, and with very determined strides, have continued to improve on its services, build cargo handling capacity, drive internal training and explore collaboration, while nor shying away from key investments decisions.
Board Chairman WACTCountry Manager APM Terminals Nigeria, Mr. Klaus Laursen
Managing Director of WACT Onne, Mr. Aamir Mirza
It has built a robust community relations and work force culture that thrive on a sense of mutual ownership, even as it has grown its corporate social investment services to a proactive level which anticipates possibilities and demands, strictly in line with international best practices.
With its emerging global outlook, WACT has been able to demonstrate the institutional capacity to formulate corporate strategic blueprint that drives the entire system, economic, investment and operational components like a gigantic loom, each fusing into one another like a collapsible belts that in turn preserves the harmony expected from a production line; with target work volume and projected service delivery time frame.
With a modest start off throughput of 35,000 containers in 2003 when it started operations, WACT has steadily grown its capacity over the years, with over 200,000 containers delivered in 2019. Of particular note is the firm's progressive investment drive in Nigeria that caters for infrastructural expansion and container handling capacity, for which it has also already earmarked a fresh investment portfolio of $100million, when it marked its 20th year anniversary few weeks ago.
The Commercial Manager WACT Onne, Noah Sheriff(right) presenting a plaque to Captain Pranay Sharma, the Master of Maersk Stadelhorn,the largest containership ever to berth at a Nigeria Port at WACT Terminal Onne Port, Rivers State
To underscore its abiding strategic and critical commitment to the growth of the Nigerian national economy, WACT last week berthed the largest ever cargo vessel that called the nation's port at its terminal in Onne port. The containership named Maersk Stadelhorn is the biggest ever to call our port, with overall length of 300metres and 48.2metres beam.
Maersk Stadelhorn has about 10,000 TEU (Twenty Equivalent Units) container capacity carriage. The containership successfully berthed at WACT, Onne on Sunday 15th August at 1600hrs, and occupied berth 8 but overlapping on berth 9 due to its very large size/frame. It is believed that until now, regular containerships calling at Nigerian ports are those in the class of WAFMAX with maximum capacity of 4,500 TEU.
Stakeholders in the maritime industry including stakeholders of various sub industries, top officials of government agencies and indeed, officials of WACT and its parent company, APM Terminal, have expressed profound excitement with the historic achievement.
Perhaps what is also very significant is the fact that the feat is coming on the backdrop of a cut down in global trade occasioned by Covid-19, and this for all intent and purposes, further defines WACT unshakeable commitment to the growth of the Nigerian economy. Stakeholders and industry analysts say WACT's believe in Nigeria cannot be better demonstrated. 
This is even as top officials of WACT and APM Terminal also singled out the Managing Director of the Nigerian Ports Authority, NPA, Ms. Hadiza Usman and her management team for commendations for offering special support that made the berthing and collective dream, realizable.
Commenting on the development, Country Manager of APM Terminals Nigeria, Klaus Laursen, said they are excited, even as he eulogized the management of the Nigerian Ports Authority "for dredging the channels and for professionally piloting the vessel to the port. Without the effort, support and approval of NPA, this would not have been possible."
Lauren however also commended this company's huge investment in WACT which made it possible for the terminal to upgrade its services with modern cargo handling equipment, and ultimately for putting WACT in the position to be able to handle large container carriers.
According to him, "The feat recorded here at WACT is impressive. The significance of this development is that even the ports in Lagos will now have to try and catch up with the new standards set by WACT.
"It is also important to mention that this is happening at this critical time when economies of the world are facing a lot of challenges due to the COVID-19 pandemic.
Also speaking, Managing Director WACT, Aamir Mirza, said, "Over the last four years, we have continued on the journey to develop our business by investing in our people and container handling equipment and our handling this vessel is in line with our vision to make WACT the best performing container terminal in West Africa."
L-R: The Zonal Coordinator, Zone C, Nigeria Customs Service, ACG Francis Enwereuzor, Managing Director Oil and Gasl Free Zone Authority (OGFZA), Mr. Umana Okon Umana, Managing Director WACT, Mr. Aamir Mirza, Executive Secreatry/CEO Nigerian Shippers' Council, Mr. Hassan bello and the Port Manager, Onne Port, Mr. Al-Hassan Ismaila; during the commissioning of two new mobile harbor cranes acquired by WACT to boost operation at the Onne port, Rivers State, July 2019
Mirza said by successfully handling the 10,000 TEU vessel, "We once again proved to all our customers that WACT is capable of competing with other ports in Nigeria and West Africa".
Commenting, the Nigerian Ports Authority (NPA) said the development demonstrates management determination to develop the eastern ports and reposition Nigeria as the centre of commercial operations in the sub region.
A statement signed by the authority GM Corporate and Strategic Communications, Engr. Jatto Adams said,
"The Authority is delighted to state that the landmark arrival of the biggest gearless Maerskline vessel at the Onne Ports is a result of management's determination to improve the patronage of the Eastern Ports.
Minister of Transport, Rt. Hon. Chibuike Amaechi
Skelas Group Chairman, Prince Olayiwola Shittu
"It is an indication of the fact that the Eastern Ports are equipped to receive all manner of vessels and an expansion of the options of consignees in the Eastern and northern parts of the country.
"The Management of the NPA congratulates its team at the Onne Ports Management also appreciates all stakeholders at the Onne Ports for their cooperation towards seeing that the vessel berthed safely without any challenge.
"The Authority assures of its commitment to ensuring that all ports locations in Nigeria work at their optimal capacity and the repositioning of Nigerian ports as the hub in the sub-region."
Critical ports service providers also commented on the development. According to the National President of the Association of Nigeria Licensed Customs Agents (ANLCA), Iju Tony Nwabunike, Nigeria can achieve much more in terms of its gross domestic product (GDP) through purpose driven and genuine foreign direct investment with multinationals like APM Terminals and its subsidiary WACT.
"I always believe that this country can earn better GDP when it attracts purposeful foreign direct investments, with investors that are willing to help us grow our potentials, not those who just want to come here and take and continue to take."
"APM Terminals has almost become Nigerian brand, and one is happy that its sister company WACT is setting examples in the eastern port, I am sure this will give the Lagos ports a big challenge. There is no reason all ports in this country cannot function optimally, I think that is what WACT and NPA have simply done with the arrival of this giant container ship", he said. 
Also speaking, National President of the National Association of Govt. Approved Freight Forwarders (NAGAFF), Chief Increase Uche said "What has happened is a proof that more can be done. WACT has demonstrated capacity, demonstrated purposeful industry together with NPA under Ms. Hadiza Usman. I think that what is happening is significant, and I think we should encourage more of this focus by thanking WACT and other serious operators and government officials that are committed and forward looking."
Frontline customs broker and the chairman, Skelas Group, Prince Olayiwola Shittu said, "Industry growth is always driven by foresight and right policies. I think WACT has demonstrated it has the foresight, they didn't stop there; they have demonstrated what real investors do, build and expand the possibilities.
"What more can they ask for than been remembered for leading the revival of the eastern port, that is very significant. The full revival of the eastern port depends on other factors, if government plays its role as much as these terminal operators are playing their own roles, we can reconnect with the glorious past and create a new shipping world. Africa and the third world are watching, and you know, the Nigerian market is vast and serves markets outside our boundary."
L-R: Head Human resource, WACT, Josephine Eneje, Vessel Planner, WACT, Sokari Soopu; WACT Managing Director Aamir Mirza; Senior Supervisor Berth Planning and Cargo control, Ifeoma Nwabekee; and Country manager, APM Terminals Nigeria, Klaus Laursen, during the 20th anniversary celebration of WACT,at Onne Port, Rivers State, recently
Recall that just before the historic berthing of Maersk Stadelhorn at its terminal in Onne, WACT has pledged a fresh $100m investment for the further development of operational capacities at the Onne Port.
Last year 2019, WACT acquired a number of state-of-the-art handling equipments, which include two Liebherr LHM 550 Mobile Harbor Cranes (MHCs), which significantly raised its capacity for cargo handling and service delivery.
In December 2019, WACT handled a containership measuring 265 metres in length overall which at the time was the first gearless vessel and the largest containership call outside the Lagos area. As Noah Sheriff, WACT Commercial Manager remembers it: "It took us only 2.75 days to turnaround the vessel. Also in January this year, we handled another large gearless containership with a capacity of 3,081 TEU deployed by Pacific International Lines, PIL.
Sheriff says the terminal has become the gateway to East Nigeria and a strong alternative to ports in Lagos over the years with the multimillion dollars investment made in information technology and modern cargo handling equipment.
According to him, "The rapid growth you see at WACT today is partly because of our e-commerce capabilities that allow landside customers to do business with WACT from literally anywhere across Nigeria coupled with our continuous investment approach, which has resulted in such upgrade from our liner customers.
"We are excited about the significant milestone recorded today in WACT, Onne. This is a positive development for Onne Port and the entire business community because large vessels come with many benefits for authorities, liner customers, and landside customers", adding:
"So, we have continued to enhance our capacity, capabilities, and you can see another example today with the berthing of Maersk Stadelhorn. Before now, it would be difficult to imagine that such a humongous ship could berth in Nigeria, but here we are with the ship at our berth." 
NIMASA DG, Bashir Jamoh
NPA boss, Hadisa Usman
The role of an enabling environment provided by the Federal Government is also key in growth processes, and WACT never took this for granted, as both WACT and officials of their parent company, APM Terminal acknowledge these essential support.
"We must thank the Nigerian Ports Authority for the dredging of the channel to make it possible for this ship to come in. The NPA Managing Director has indeed been very supportive," Sheriff said.
WACT's  2020 further investment portfolio is also targeted at upping further upgrade, which is expected to include the acquisition of three additional Mobile Harbour Cranes, bringing the total in operation to five; 20 Rubber Tyre Gantry Cranes; three Reach Stackers; 13 terminal trucks and trailers and an empty container handler.
Official sources in WACT said the upgrade will also include the deployment of reefer racks with a 600-plug capacity, as well as expansion of the current yard, new workshop and a new terminal gate complex.
Given the scope of its policy capacity upgrade regime, Mirza, WACT MD , the company has reached a point where radical changes are likely going to come its way. "With more equipment coming in, the mode of operation will change, and we believe we are setting that up for the next 20 to 25 years so that we can serve our customers better in terms of service delivery, customer satisfaction and improved capacity," he said.
Unarguably, WACT has done a lot of work in marketing Onne Port to the global community as the service level customers are getting at Onne appear far superior, satisfying and competitive, compared to port businesses elsewhere in Nigeria.
While vessel waiting time is almost zero, it is believed that WACT has a record of timely delivery of containers to its customers, unlike Lagos ports bugged down by traffic gridlock. With her exponential growth potentials, WACT remains a critical and reliable development partner to the Nigerian port economy; with a forecast of 31percent annual growth rate. 
While the Easter Port gain in business traction with the potential of becoming the preferred destination, WACT is not letting down its guard on measures to sustain its handling capacity and sustain its delivery time frame. As things stand, WACT might just as well be looking beyond the Onne frontiers, farther into other regions and across the national borderlines, on account of its developmental initiative and robust commitment to growing the Africa economy under its friendly investment window. 
With other deep sea ports been considered outside Lagos, not to rule out the equally huge market in the East, Central and Northern Nigeria; the possibilities with WACT is endless and very promising. WACT enjoys the serene industrial atmosphere of the Onne Oil and Gas Free Zone. In addition to excellent hinterland connections to the rest of Nigeria, the terminal offers excellent customer service and trained operators familiar and proficient in the use of modern handling equipment.
E-Commerce driven, WACT uses the latest Terminal Operating System technology to provide customers with real-time visibility of their cargo status. Customers can also order terminal services instantly and book and pay online using the platform, rather than visiting the terminal. This helps companies handle their cargo movements throughout Nigeria more effectively and efficiently.
With its competitive haulage policy outlook within the Eastern trade corridor, North East and Central Nigeria, it leaves no one in doubt that Onne Port operated by WACT is the new destination.
National President of ANLCA, Uju Nwabunike
NAGAFF Founder, Dr. Boniface Aniebonam