NLCA KLT Chapter Disowns Oyeleke
Laments Shippers' Council Current Ineffectiveness
The crisis rocking within the Association of Nigerian Licensed Customs Agents (ANLCA) has nose dived as the chairman of Kirikiri Lighter Terminal (KLT) Chapter, Comrade Goddy Sewa Soleji disowned an esrtwhile acting Financial Secretary of the chapter, Mrs. Esther Oyeleke Oluwatoyin, over alleged irresponsible behavior, spreading of lies and propaganda in the media.
This is even as the ANLCA Chapter boss says the Nigerian Shippers' Council has lost its bite since Hon. Emmanuel Jime assumed leadership.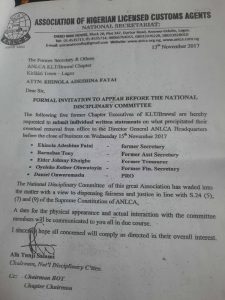 Soleji who was reacting to an online publications in which Oyeleke claimes to be the chapter chairman and also claimed to have rehabilitated the Chapter secretariat, stated that the said Oyeleke has since been expelled, and was merely seeking avenue to be heard.
Soleji in a chat with newsmen in his office at the secretariat yesterday said that Oyeleke was expelled by the administration of President Olayiwola Shittu for anti-association activities in October 2017, and has not been granted any pardon, talk less of contesting and winning any election.
Mrs. Oyeleke and four others has allegedly wrote to the Nigerian Ports Authority (NPA) using a fake letter headed paper, in which she reportedly attempted to tarnish the image of the chairman, Goddy Sewa Soleji.
According to Soleji, Mrs. Oyeleke and her co-travellers were as a result expelled by the association Disciplinary Committee, because their actions undermined the internal workings and dispute resolution mechanism of ANLCA, Section 24 (5), (7) & (9) of the constitution of ANLCA.
"As it stands, she remains ineligible to contest an elective position in ANLCA until a legally constituted NECOM and a legally organised NEC meeting says otherwise", Soleji said.
The KLT Chapter Chairman also said that the suspended National Executive Committee (NECOM) of ANLCA headed by Tony Iju Nwabunike have been asked to stop parading itself in office by Justice Aikawa in suit No FHC/L/CS/921/2020 on 26th of August, 2020.
Explaining the genesis of the recent flare up in the chapter association's crisis, Soleji said her claim to the chairmanship of the chapter is fraudulent and illegal.
He maintained that the process under which she stood election were in
contravention of above court order, which suspended NECOM on 16th February, 2021.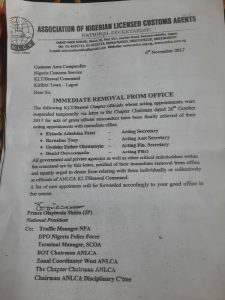 Soleji averred that any claim to electoral process derived from the said unregistered BOT is illegal, and further buttressed the futility of the election which he said was organise in the middle of the night at Systems Place Hotel Satellite Town Lagos.
"This reeks of illegality and blatant disrespect of the law which in saner climes attract prison sentence."
"As a matter of fact, the court ordered that all parties should maintain status quo. As a result of this, Comrade Goddy Sewa Soleji remains the Chairman of ANLCA KLT until further notice" he said.
He explained that having been elected into office and sworn in by the registered Board of Trustees of ANLCA on December 19th 2018, his tenure is expected to end by January 28th, 2022.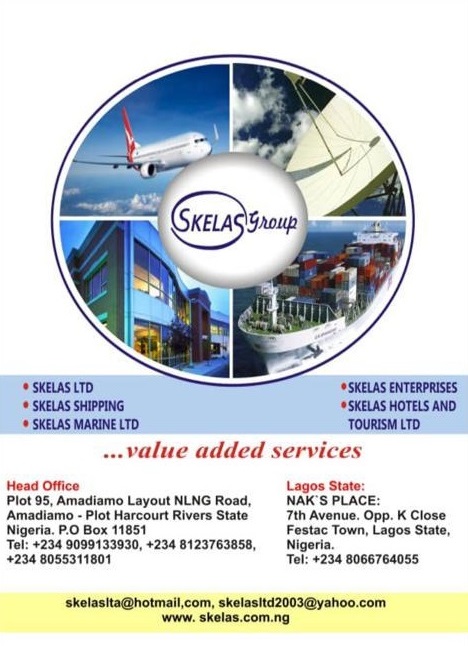 Speaking further on the recent developments, Soleji said:
"On the issue of KLT ANLCA Secretariat, we state categon'cally that all she (Oyeleke) said is false and incorrect. Firstly, our administration only began operation in 2015 (6 years ago) and as at when we came in, ANLCA KLT had no secretariat.
"We only acquired the said container in 2016, while in her interview, she stated that the container has been in use in the past 8-years.
"As we speak, the said container is still in use, and is now our annex office, well fumished and a comfortable haven for our members.
"In addition, we have acquired a fully functional, well furnished and conducive secretariat (A Standard Three Bedroom Flat) befitting of the status of ANLCA that has been in use since 2018.
"The reason she may not be aware of an ANLCA Head Office in KLT Chapter is that after her suspension and subsequent expulsion, she hasn't been participating in any activity involving the Association. Every bonafide member of ANLCA KLT Chapter is aware of the existence and functionality of the
Association Secretariat in KLT Chapter. Ao, her argument is unfounded and full of insincerity ", Comrade Soleji stated.
Meanwhile the KLT Chairman has said 80 percent operational challenges faced by members at the chapter is caused by shipping companies.
"It is no longer news that the Shippers Council who has the sole responsibility as a government parastatal failed to regulate them and order them to obey international best practices and make sure our ports are more friendly.
"Since the period of Covid-19 when government directed that shipping companies and terminals should not collect demurrage on cargoes for the period, the shipping companies violated the directive, and up till now, our letter are still there, they have refused to refund the monies collected from our members and their importers.
"Most terminal operators do not have good working equipment, despite this, they keep counting storage charges.
"In terms of container refunds, the shipping companies owe our members refunds that have lapsed for three to six months.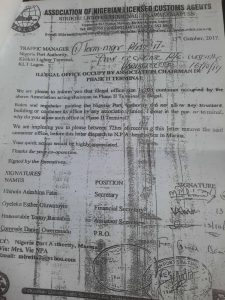 "As an experienced agent, I can tell you that if you do the right thing, you have no problem with Nigeria Customs Service."
He lamented that since Hon. Emmanuel Jime became Executive Secretary of Shippers Council, he has done nothing to ameliorate freight forwarders sufferings.
Soleji said under Hassan Bello, the council carried out investigations
into their claims and insist shipping companies make refund of monies collected unjustifiably.