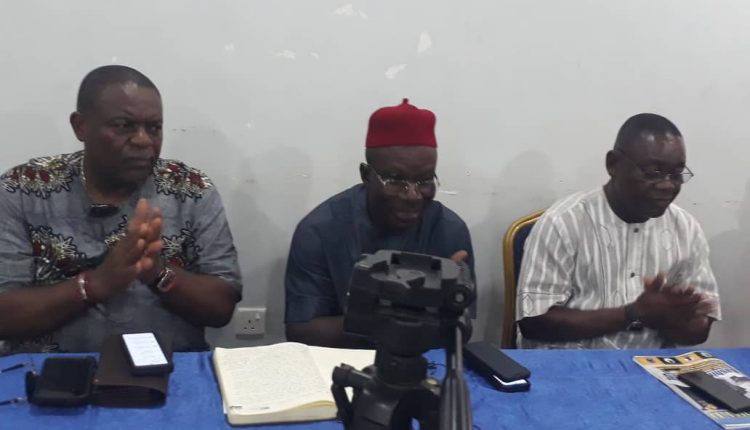 Accuse Abubakar of Double Standard, Dumps Peace Deal
BY EGUONO ODJEGBA
The registered Board of Trustees (BoT) of the Association of Nigeria Licensed Customs Agents (ANLCA) yesterday pulled out of the shaky peace deal brokered by the Council for the Regulation of Freight Forwarding in Nigeria (CRFFN), accusing its Governing Council Chairman, Alhaji Tsanni Abubakar of double standards, and of playing the script of ANLCA members in the council.
The registered BoT also called the bluff of the CRFFN alleged claim to proscribe the association under certain pretexts, warning that the Board of ANLCA cannot be intimidated into succumbing to coercion and illegality it claimed the CRFFN has so far orchestrated.
A 3-man member of the registered board led by Chief Ernest Elochukwu at a press briefing held at Villa Parks Hotel Lagos, described the process that led to the ANLCA peace deal penultimate week under the guidance of Ababakar as a wholesale fraud obtained under duress and unfair arm twisting.
The former National President of ANLCA alleged that three of their colleagues in the board who participated in the said reconciliation meetings were literally ambushed to do so and thereafter cajoled to remain until the scene played out.
Other members of the registered BoT present at the are Chief Dennis Okafor and Chief Dayo Azeez, who disclosed that the press briefing received the consent of the Board Chairman, Alhaji Taiwo Mustapha, said to be presently at Saudi Arabia.
Elochukwu explained that while the board is totally committed to the peaceful resolution of the ongoing crisis in the association, he said such peace initiative must be based on fair play and justice, and not tailored made to suit preconceived plans or to reward lawlessness and impunity.
His words: "This conference is mainly to alert you, the media and the public that the much touted peace which the chairman of the CRFFN Governing Council,  Alhaji Tsanni Abubakar has been going around peddling is a monumental fraud and an attempt to subjugate one party in a dispute to the interest of the other party.
"Myself, Chief Sir Ernest Elochukwu, Chief Dennis Okafor, the Chairman Denca Group as members of the Registered Board of Trustees of ANLCA who had not participated either by presence or by communication with what is going on say that we are not part of it.
"And to also tell you that even our members who had been railroaded into it are also not part of it, yes, they were railroaded; and to say that we are still intact. Nothing has happened to us."
He said their position however should not be misconstrued for persons who are averse to settlement, that they are in fact are in hurry to move pass the stalemate.
"Considering the long time this crisis has taken, any move for peace is most welcome. But then, the question is what methodology is being employed? Or to put it more sufficiently, what kind of peace are we hoping to achieve? Because there are many types of peace, we have peace of harmony, when everything is in harmony. We have the peace of tranquility where everybody is calm. We also have a soothing peace and we only have the peace of the graveyard."
He further explained that the decision to opt out of the peace process designed by the CRFFN is based on concerns that those fomenting the crisis in the association are members of the council, who would logically do everything to sustain their narrow interests and hence will not allow a purposeful, straight forward resolution of the matter; and insisted that any sincere intervention would should not shy away from getting to the bottom of the crisis by way of curing a repeat.
"Sometimes some people have come up to say they want to make peace in ANLCA and you hear them say something like 'oh, forget about how it started, forget about who is right or wrong, let's make peace.' And the question becomes, 'how can you make peace without knowing what has happened?' And this is what we have consistently been saying that they should, those who say they want to make peace should ask…because it means they are not interested to know that this whole thing started with the one man refusing to vacate an office he entered into when it was time for him to leave as the Board of Trustees Chairman, and then the erstwhile NEC supporting him. That is the genesis of the crisis in ANLCA. And so those who don't want to be told that this is the problem, we wonder what they mean when they say they want to make peace."
On the threats to proscribe the association, Eluchukwu said, "l want to let everybody know that we are in democracy and not military rule. A democratic government is based on the rule of law, let it be known that nobody can intimidate us to say they can proscribe ANLCA, we meet at the court.  Only the court can determine if they have the right to proscribe ANLCA, and the reason. And now if you become a player, and become part of the fray, maybe a day shall come in this country when the law will take its course against anybody who have done wrong."
Providing a wider background to the crisis and the apparent posture of CRFFN to ignore the facts, Elochukwu said: "This whole thing started before the last board was constituted. The man we are talking about is there as the vice chairman of the board, I mean Njoku, and Farinto is there as a board member. They are ANLCA members, we don't have any problem with that. But we don't want CRFFN to be used to terrorize ANLCA, we will not take it that.
"We will not take it, because come to think of it, we produced CRFFN. I know what we did to get that Act into being. So the same masquerade we help in creating should not be the one to flog us, it is not fair."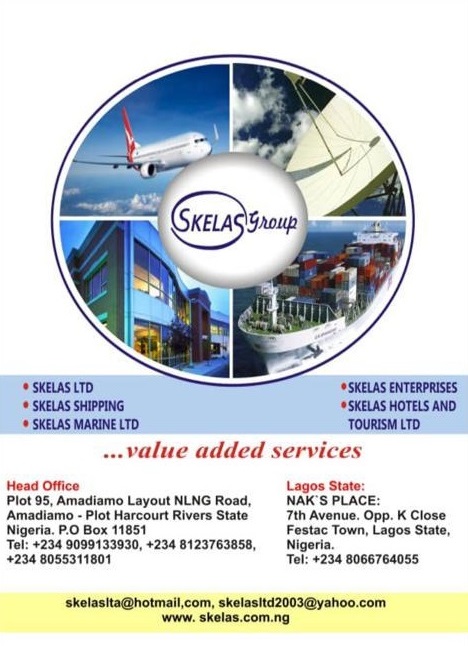 Elochukwu said the desperation with which the CRFFN interrupted the peace effort of the Nigerian Police amid its controversial inability to release the report of its reconciliation committee calls for a probe, noting that Ababakar truncated the police peace move that was yielding results and almost concluded at the beginning of the year for his own ulterior motives; designed to serve the interests of those he is allegedly working for.
"In January this year, the Police through the then Area Commander in Festac Town called both sides to a reconciliation parley, that was on the 12th January and arising from that meeting and discussion and the subsequent meeting that was held the following day, we agreed on some actionable plan,  that is, things that we needed to do to bring normalcy to ANLCA. The principal of which was to jointly form the association electoral committee (ASECO) that will conduct election at a particular point in time, so that the vacuum at the National Executive Committee (NEC) level will not exist, because we told the Area Commander that as far as we are concerned, the tenure of those who are still occupying the place had expired because they were elected on a four-year tenure and sworn in on a constitution that says four years.
"So, we now agreed to form ASECO jointly, and have an election. And then the question came out, which board was going to supervise the ASECO? The police said they were going to write to the Corporate Affairs Commission to tell them the status and as at the time of this thing, the status as checked in the portal of the Corporate Affairs Commission showed that we are the registered board.
"Because they have other agenda, they never brought their nominees for the ASECO, rather, we started hearing about an AGM, and from the snipers we are hearing it's like an AGM to ratify what they did in Owerri. It was then we felt that there was something wrong. And then the first attempt to hold that AGM, some of you will remember, we stopped it because it was first scheduled to be held on the 7th of February or so in Benin and later moved to Lagos.
"We put a publication which put paid to it and then we thought that that would be a call for them to get back for us to continue on the journey we were already going. Rather the next thing we heard was that CRFN had come into the matter again, and we were like what is going on? So when we first saw the notice or a directive said to have been issued by the Chairman to Kayode Farinto to convey an AGM, we were like wondering whether it was real because the same Kayode Farinto was elected as Vice President in 2018 and his tenure has expired."
The registered also accused Abubakar of attempts to usurp the statutory functions of ANLCA BoT, which were part of the shenanigans they averred, rang the alarm bells.
"He now continued on another trajectory which is by the appellation of an acting National President. We didn't know where that boost came out from, and for the Chairman of the CRFFN Governing Council to address him as such we now said something was amiss. And then the next other thing we had was that,  it wasn't that again, that it was the one that he was going to do by himself, scheduled initially for 3rd March or so and then later moved to 15th March and that was the one we were told eventually held.
"The next thing we heard was that the registration of members were going on at the National Secretariat and we wondered why would registration of members be at National Secretariat? By ANLCA Constitution the membership starts with the chapter, you must belong to a chapter. So we never knew that this was one of those contrivances to create an impression that 'oh members have said…'
"So when eventually we now heard of the AGM going ahead to hold, it was only at the eve of that AGM or thereabout that Alhaji Tsanni Abubakar now used some people in high places to intimidate, bamboozle, cajole, arm twisted our BoT Chairman to come to toll their line, and that was why in the so-called meeting, he called them surreptitiously to come and talk with him, which they went. Before they knew it he had moved them to the hall and the rest as they say, is history."
The registered board said all that the CRFFN leadership was interested in is to imposed Chief Henry Njoku and Dr. Kayode Farinto and the leprous Owerri BoT on the association leadership through hook or crook. He notes that the permutations have been responsible for the obvious double standards of the CRFFN to date.
"The actions they have taken so far was something that also needs to be considered before we can now even talk about what they did. For instance when somebody who says he is interested in mediation, there are things that are standard. When you talk about mediation that means there is a quarrel. When there is a quarrel that means there are groups. When there are groups that means there are factions. So for him to have continued interacting with one faction, doing whatever he was doing with them showed that he didn't mean any good, he was already taking side.
"And then he said he saw one side talking, he should have also availed the other side, like he said, we were told about 250 people or 250 person were at the so-called AGM but we know that ANLCA membership nationwide is not less than 2000 or thereabout. And so would the 250 from one faction be considered members of an ANLCA? So that is actually, first and foremost the first failure.
"Then the second failure is the action that they purportedly took. First was his trying to first announce that in the process of settlement, that our side should take the BoT while the other side takes NECOM. Where does that come from, is ANLCA now something that you share between two, take and take?
"Then how can you also explain the fact that…he first of all said he was going to be the chairman of ASECO while his acting Registrar would be the Secretary until somebody told him that if he continue talking about that, that he would be heading to court immediately, before he rescinded. Or some other things that they did, including the surreptitious motion to seek to adopt the infamous constitutional amendment made in 2020 at Owerri, whereby they purported to have amended the constitution that they extended their tenure.
"So, all this things done has shown that the chairman of CRFFN Governing Council meant no good for ANLCA, talk less of reconciliation. But of course, let it be said that we are not really surprised. Why we are not surprised was that about eight months ago or so, a committee was said to have been set up by the same CRFFN Governing Council, termed Reconciliation Committee to reconcile the warring faction in ANLCA headed by one Alhaji Abba. I knew that I was interviewed and I know that all my colleagues were all interviewed by that same committee. And we were later told that the committee finished the job, wrote a report but that because the report didn't go the way Alhaji Tsanni wanted it to go in favor of his co-conspirators, the report went into the archives."
He continues: "So, for him to now suddenly wake up and say he was ordering an AGM, we knew that he was playing a script that they have already written and that was first and foremost to truncate the police aided settlement because they suspect that whatever will be found would not favor them. Because we also heard that he was instrumental to the corporate affairs commission not to respond to the police request. Of course, certain manipulations that have been going on will all come to light maybe one day.
"Finally, we also want to assure you people, and gentlemen of the press, that we took the actions that were necessary at the time because there are things that will happen, you ask, did you do what you're supposed to do? And if you didn't, it means that you had actually slept on your right. So when this things started, we complained, both in whichever form and in writing to the Chairman of the CRFFN Governing Council, letting him know that what he was doing smacks of taking sides and injustice, we told him that, and therefore that we are not part of it. We wrote to him as a board, then, he never listened."