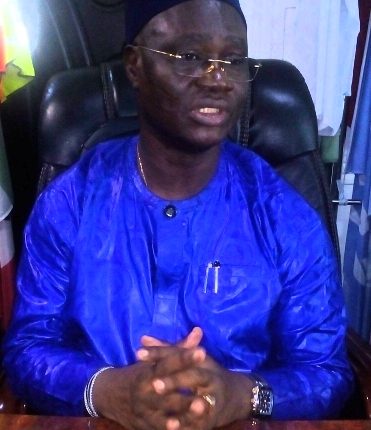 The President General of the Maritime Workers Union of Nigeria (MWUN), Comrade Adewale Adeyanju has accused industry employers of doing too little in the training and empowerment of workers in the industry.
Comrade Adeyanju who doubles as the Deputy President of the Nigeria Labour Congress (NLC), believes that the leadership of the NLC is doing everything that is statutorily required to call attention to the welfare of workers, and says if the naira availability challenges and labour unfriendly attitude of governments  persists, labour movement will reactivate its suspended protest; and struggle.
While the labour leader in this exclusive interview thanked the DG of Nigerian Maritime Administration and Safety Agency (NIMASA) for the donation of two vehicles to MWUN for its logistics need, he expressed sadness that other agencies of government and employers of labour were not administering their corporate social responsibility (CSR) judiciously; and vowed to challenge the status quo. Excerpt:
BY EGUONO ODJEGBA
Sir let me congratulate you once again about the Nigerian Labour Congress recent peaceful election in which you also emerge as the Deputy President. PG Sir soon after the election NLC issued far reaching statements to perceived labour unfriendly governments and organizations to sit up or be dammed. Would you say that the NLC warning has produced any positive result in terms of change of attitude by recalcitrant employers?
I want to thank you for coming, as a friend and brother, you know the style of leaders in this great country. Every leader that emerge his own style of leadership. Yes the new President of NLC today is coming to build on the past activities of the past leaders, especially the leadership of our former respected president, Dr. Ayuba Waba who has brought sanity into Nigeria labour movement and somebody who has emerged as a global president. You know it's not a bread and butter affair, and somebody else is coming to take over for him would have his own style. Comrade Ajeoro is not new in the labour movement. He has been an activist over the years in term of labour activism. So he has come in to build on what the former administration have left behind and I think it's equally the new NAC of NLC they're going to improve upon to build upon what the former NAC under the leadership of Ayuba has laid down in principle. So I think it's almost a month or some days in the office now,  you can see the changes coming in from the attitude of some of the employers of labour which I think has added more value, more respect to labor movement in this country. I can say it, immediately after we were sworn in, ultimatum was given to two states who are not having the love of their workers at heart. I can say that of Imo state and Abia State…they were owing pensioners almost 20 or 25 months pension, including workers salaries, for almost 20 months. So the ultimatum was carried out and I'm sure, I can tell you categorically that those areas have been taken care of as a result of proactive NLC leadership style.
Are you saying that the backlog of salaries owed by ABia State for example has been paid?
Yes, the outstanding has been taken care of by the governors, the two governors. You can see because…they say charity begins at home, if you look at what the Congress presidency is saying, don't be biased, he is not being tribal, he is from Imo State and he started the issuance of ultimatum with his own state. So you want your world to know that if nobody can play on his intelligence, if he can start with his own state. He can extend it to other states like Abia State where ultimatum was given at the peak of the elections, and I am sure the governor of that state lost its senatorial ambition as a result of its attitude towards workers. So Abia state that is supposed to be one of the best among the states in the South East has been the worst. So I think we have started doing something better now so that the government will not see NLC as if they don't know what they are doing. I think we have already made a statement to be taken to mind by bad employers, even state governors that are not ready to play by the rules, who believe that as governors today, enjoying you enjoy immunity, they can continue to be reckless. The new direction coming from NLC now is a signal, a signal to perform and grow governance. So it's a signal to all the tiers of government, federal, state governments and local governments; it is also a signal to the organized private sector in this great country. So we have started under his (Ajeoro) command.
Early this week, NLC called off its planned nationwide strike to protest workers suffering in respect of scarcity of naira. How will you react to perceptions in certain quarters that the threat by labor leaders to embark on strike was rather hasty and hence the back down, even when the situation has not improved appreciably?
Well, I want to thank you for that beautiful question, between you and I and the God that all of us are serving, we all know the character of the Governor of our Central Bank who introduced what we call anti-money policy that is affecting almost 200 million Nigerians today. Yes, the ultimatum issued I think has brought a little bit of sanity in Nigeria today because naira to me, nobody can tell us that there has been no improvement in the way and manner the banks are now dispensing the naira following the ultimatum. And the ultimate was to let the whole know that NLC was not holding its hands and is doing the right thing at the right time. So far the policy is anti-people where citizens and workers could not access their monies at the bank, and NLC felt there was the need for us to cry out for the world to hear, and the ultimatum was suspended when government intervened, it has not been called off, it was merely suspended. And you have heard from labour movement has given CBN two weeks for them to do more. The CBN management team was at the NLC Secretariat, and the Minister of Labour and Productivity was there too to intervene on this matter. In fact the minister knows that he has to midwife on problems relating to workers affairs, he wrote to CBN that there's danger ahead, because if we come out and start picketing banks you know what it's going to be like. NLC parades responsible leaders who weigh all available options because we don't want some hoodlums who have nothing to offer to hijack the picketing. I think that was why we suspended it not that it has been officially called off. Two weeks was given for CBN and the banks to put their house in order so that money can flow properly, as a responsible labour movement.  So l think we are on course.
Back in the maritime industry, the Maritime Workers Union of Nigeria (MWUN) under your very proactive leadership also announced the suspicion of the unions planned picketing of the shipping sector. Some observers think that union's position appears to be face saving measure in the face of the shipping sector having ignored the union's threat. What is your reaction?
Well, I don't need to join issues with whoever is holding such views or whatever name they want to give to us over these issues. All I know is that the maritime union leaders are responsible and are painstaking when we take decisions. We have standards, before we use threats, we establish serious industrial or social threats, there is no compulsion that once threats are issued they must be carried out, no. utmost that is you have to remove that threat. That is why we government, the ultimatum was not given to the people telling you this, the ultimatum was for stakeholders in Project Nigeria, stakeholders most of whom are reliable and equally very responsible. They are employer of labour and we respect them.  And the threat was not only for the Shipping Association of Nigeria (SAN), it was also for the government and all stakeholders who are part of the action we are about taking. And if the office of the Minister of Transport called the Nigerian Shippers' Council who happened to be the bridge building agent in shipping  sector intervened by calling an emergency meeting last weekend where SAN was mandated to start negotiating with our union, why must the union say no?  So, what am I dragging at? What I'm dragging at is an ultimatum given to them because of their character… and at the meeting called and midwife by NSC,  they all agreed that negotiations should commence immediately. So, do I need to shut down the port and do I need to go ahead and picket the shipping industry? At the end of the day, what is expected is dialogue? So, something I'm trying to fight over, make trouble, make noise about the government have already waded in, so we need to sit down with them. That was last week and the meeting was peaceful and reasonable, and SAN, the captains of the shipping industry all attended.  Should I still go on strike? So let them talk, you know that anyone who ignores the union does so at his peril.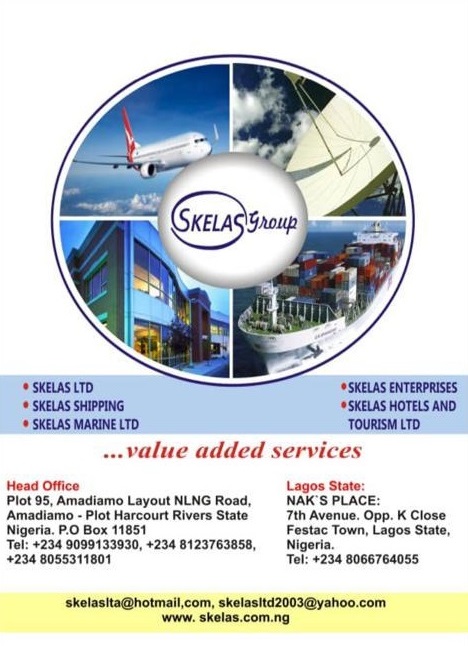 When the ultimatum was issued, it was reported that SAN Secretary accused the union of not following the laid down rules that union did not communicate properly before issuing its ultimatum.
I don't want to join issues on that since the matter has been taken care of. I know that SAN have reacted both in writing and verbally, and we've discussed. She was new and I think she has been briefed properly on the issue. So I won't want to join issues with third parties who are trying to incite leadership crisis between us and SAN. We hold her in high esteem, she is just coming in, and you can't know everything in the industry. I also think that some of the people under her who gave her the opportunity to be their head are not telling her the true position of things. What is important is that she have been giving proper brief on the matter, so I don't have any issues. Another important thing is that give we issued ultimatum and government call us for dialogue. We are talking about our job because maritime sector is not a factory, it's part of the gateway economy and leaders must show sufficient responsibility. Before we issue ultimatum, we weigh options. It was when all the options you weigh collapse, then you can apply option B which is issuance of ultimatum and the government will not play with our threat. They don't joke with it because if you shut down the port, you practically shut the economy. You also know that union is part of the economy, we are part of the insiders and part of the outsiders. People have been saying that we are giving ultimatum and withdrawing our ultimatum, yes, because of the network and sensitivity of the job, the peculiarity of the port activities, if we close on the port down today, do you know how many everybody will suffer? No responsible government wants us to close down the port either; hence there is always an avenue to meet and resolve. Remember that big masquerades don't just come out anyhow, they come out at the right time and that's what we are doing.
What is the update in union's agitation for improved and negotiated salary structure for Nigerian Ports Authority workers?
The update is very clear, and I want to thank you because that matter has been resolved. This is ISSUE of NPA salary over the years…it's almost 18 years Or more than, the union had to make noise. If we didn't make noise when we did, the salary wouldn't have been reviewed. We shouted that government was not listening to workers yearning by the port authority and I think we have done noble, the salary has been adjusted and reviewed, so that matter has been a closed matter.
So are you saying it can no longer be considered to slave wage?
There is nothing like slave wage in NPA, they have a structure, they're under the ministry of transport and it's like NIMASA,  it's like Nigerian Shippers' Council, NIWA, they have their own body. They have their own structure with the Salaries wage Commission. They have well established salary structure and condition of service under the . So, they have already reviewed and adjusted NPA workers salary, but yet…something has to be what done beyond the salary review.  We applaud the leadership and management of NPA for being proactive on this matter. The NPA managing director has shown very strong commitment and has a human face, he has taken it upon himself to even support maritime workers by going with us to Nigeria Labour Congress on the issue. So, for the first time we have seen a proactive NPA helmsman come out strongly to show support, we give it him, we applaud him.
Hopefully by May 29, a new government is expected to come on stream. What does MWUN under your leadership wish the new government to focus on to raise the growth trajectory of the maritime industry? In other words, what and what should change in the maritime sector?
I think a lot needs to be done. I pray that…what we need now is prayers for the incoming government. The maritime sector did not feel the presence of the outgoing government. We must tell ourselves the truth, you and I know how many thousands of time we have been talking about the road leading to the ports. This morning…nobody coming from the Oshodi axis towards Trinity will tell you the experience was a good one as a result of a traffic jam; and where the road leading to the port has been taken over by petrol tankers and trucks.  How long will it take government to construct a road of about 5km or 10 km from the port down to Mile 2 and to Oshodi? So this incoming government should focus on immediately improving ports road system. This is not an era where workers and Nigerians should be wasting five out of the eight working hours on the road. And it's affecting the maritime workforce, workers are suffering from depression and exhaustion of every kind. So we pray that the new government will give us a proactive, action packed minister, both for roads, air and transport, we don't want people who are good at making promises, we want action. We want the incoming president to appoint ministers that are maritime industry friendly, because a lot of damages have been done. You can't go to Apapa without your car, you must go either by motorcycle or boat. Motorcycles are been banned, boat jetties are far between and in some cases not available, we want real change.
We want the incoming to look at the challenges at the ports, whether from shipping and seafarers, dockworkers of NPA and all related port activities. Just look at the nation's port industry, everybody is concentrating on Lagos ports alone. What happen to Warri port, what happen to Calabar port? What happens to Onne? The road leading to Onne port has been in chaotic situation, l was there, we spent almost 3 to 4 hours before we could get out the last time we visited.  So, they should give us a proactive minister in charge of roads and transportation, who will be able to manage the already bad situation and manage the resources and assets. We hear of millions and billions budget appropriation for port roads, but where are the roads? So the presence of this outgoing president and his government is not visible in the maritime sectors.  The former Minister of Transport, Chief Amaechi…tell me…80percent of his years in office was for the railway…where the junior minister too cannot come to the port without clearance from the senior minister. We have suffered in the hands of the past administration, is rail more important than port activities? The minister of transport was occasionally around, we followed him, he spoke to me and l spoke to him about the ports roads. We can't continue to be celebrating failure…'oh the honourable minister of transport is here', television and the newspapers and online reports carries the news, the moment he returns to Abuja, that's the end. But he will tell Mr. President during FEC meeting that all is well at the maritime industry. But we the stakeholders know that all is not well. We don't want that any more. Look at how the CBN and Customs bring in funny, funny policies that are anti-trade, many investors and shippers have runaway to Cotonou port which is performing better. Their economy is now booming with imports meant for us. Go to Five stars Logistics…the volume of cars that used to land there has reduced. Cotonou port is the one attracting most of the cargoes meant for Nigerian ports.
Port industrial accident appears to have actually reduced drastically. To what can we attribute this, terminal operator's efficiency or just that we are just being fortunate?
I think your observation is correct, it has to do with both the terminal operators and the union awareness, sensitization coming from the leadership of the union to their members also contributed. Over the years we recorded so many accidents from dockworkers side, from shipping side too until the recent reduction. But the terminal operators too have contributed immensely too to the reduction, I think we can give it to all of them; accidents have reduced drastically.  Nobody wakes up in the morning and say, well, he's going to work and when others come back in the evening, there's news their breadwinner has been hospitalized, so we are happy such has reduced. However, in port operations, you cannot rule out what we call eventuality. Eventually we definitely come, but you need to curb it, you need to manage it, the industry have to prepare against it. I commend all the terminal operators for what they believe in because job they have been given to them to manage on behalf of the government, and they are doing it well. And there are lots of improvements from the terminal officials to the workers.
Few days ago you got donation from the management of Nigerian Maritime Administration and Safety Agency (NIMASA), were you expecting it? And what was your reaction when that actually came?
The union was very elated to be part of that success story coming from the management of NIMASA. It didn't come to us as a surprise. If you have a leader that is very humane, who believe in encouraging and empowering his workers, the workers will enjoy that benefit of committed leadership. The DG NIMASA Dr. Jamoh OFR is not an outside, he's an insider who started his career from inside and he knows the challenges of the maritime workers. So he's been appointed as DG NIMASA at this time did not come as a surprise to all of us, and we believed in his leadership quality. So it came in when we never expected it. There's no tribal sentiment about what I am saying, he has opened window for all the employers of labour in the industry that there's need for you to direct part of your corporate social responsibility (CSR) to the workers, to the union and vital industry stakeholders. No CSR is too big or too small to empower and encourage workers and people within your operational base. So the union is very happy for the privilege. What about terminal operators whose workers are facing challenges every minute? It's only a few of them who have this very humane and encouraging disposition towards their workers. So as far as the union is concerned what Dr. Jamoh has done now is a wakeup call that CSR can be properly and evenly distributed. You are empowering communities; you are building houses, schools and offices for communities, what about the union that you are interfacing with every day? What about other incidental and critical stakeholders? We need to thank the DG NIMASA, we need to applaud his selfless leadership quality, because if he was not selfless, he can keep the CSR fund in his house. And when you put that money in your house…and that is the attitude of some of our employers of labour, the money will lose its purpose. Many of those who misappropriated public funds even forget where the monies are until they change colours and loss value. In every respect it should be the welfare of the workers first, the union is like a pressure group. Workers all over the world need pressure group leaders who can work to preserve the interest of his group. So, I want to thank him on behalf of the union's leader.  I think that terminal operators and other employers of labour will have a rethink on how to distribute their CSR. Employers also recognize industrial peace and stability, so this gesture will make me and my management to do more. When I was talking, he said in the past five years since our exco come on board, the port have worked, there have been peace, and there has been nothing like banging of the table in total disagreement. This is because we have transformed, and we have trained and developed ourselves. How many people have each stakeholders and employers trained? Even the terminal operators, how many of their workers have they sent for local and international training? We are coming to that soon…because the union has an agreement with terminal operators. Instead of training, instead of empowerment, they do nothing.  So we are going to have to sit down with them on this before we go into CBA (collective bargaining agreement) discussion for shipping sector workers. How many dockworkers, how many shipping workers have they trained? The maritime industry worldwide is been automated, operations are no longer analogue, that has been buried long time ago; it's now digital era.  How many workers do the organizations and employers send for oversea training every year? Michael Imodu Institute is very close to us here, how many have sent their workers there for training? If I am not trained to standard, I won't be where I am today. And the training is for the good of the industry. If we believe in making trouble all the time, the port will not be as peaceful as it is. So this message that Dr.Jamoh has sent out is apt and timely.  It is an eye opener for us, but we also understand that this kind of a thing can only come from someone with a passion to grow the industry. Yes NPA has supported us to build our annex serving as our guest house…but there are still questions. What about Nigerian Shippers' Council, National Inland Waterways Authority?  They should follow suit, even if I retire tomorrow, somebody will work on this. Yes it is a privilege but workers have the right to be trained and supported to grow through CSR programmes. So they should prepare for us…if they don't give we will ask because we are the ones that are doing the job. I was in Maputo about six or seven months ago…go to terminal, go and see how their stevedoring contractors are equipped. They train their cranes operators; they train their dockworkers through their simulators. How many terminal operators here have these simulators? Because it's part of the contract agreement between the government, stevedores and the terminal operators, that each terminal must have simulator training rooms to train your workers. Seafarers, dockworkers, shipping, including NPA. They concession their port. I was in the port and I went round, their port is not as big as a Lagos port, very clean. Each terminal, each port, each division has its simulator for training of dock workers, seafarers and even the staff.