Nwabunike rededicates self as he clocks 58
BY EGUONO ODJEGBA
Iju Tony Nwabunike, National President of the Association of Nigeria Licensed Customs Agents (ANLCA) while thanking God for life and special graces, has resolved to rededicate himself to selfless pursuits in the service of humanity.
Speaking on the occasion of his 58 birthday anniversary, Nwabunike said humanity will be better served and achieved oneness if everyone gives from what he or she has to support the less privileged . He described his anniversary coming at a time the world is battling with the Covid19 pandemic as a moment of gratitude out of deep reflections, and a period to recommit to the goodness of God through selfless commitment to humanity and good values.
He says: "I come from a community of industrious people called Ozubulu in Anambra State where chivalry and communal living is highly encouraged. As a professional in the freight forwarding sector, I have participated actively in the maritime industry for about three decades.
"Although, I have veered into other aspects of human endeavours as a businessman, Ozubulu, Anambra State and the Nigerian maritime industry have played very vital roles in shaping my person.
I have been involved in certain philanthropic activities long before now, but the need to redouble efforts towards such acts have further been emphasised by the challenges posed by the ongoing pandemic.
"Covid-19 pandemic brought health, economic and very serious humanitarian challenges to the world. As I celebrate, I am conscious of this and will further implore well meaning Nigerians to lend hands of support to the needy around them.
"I am speaking to you from my Lagos home where I observed a very mild family celebration while passing messages of love for all that should exemplify in good deeds to all my family members, friends and well wishers who have been showering goodwill messages on me.
"I am very thankful to God for his grace and mercy towards me and for giving me the blessings of life to this stage while praying to Him to grant me more years which I will dedicate to serving humanity. To my friends and my professional colleagues, my advise is that we sustain and increase in efforts at promoting moral values, ethical behaviours and professional diligence in the discharge of our services in the maritime industry and Nigeria at large."
…Allays fear over job losses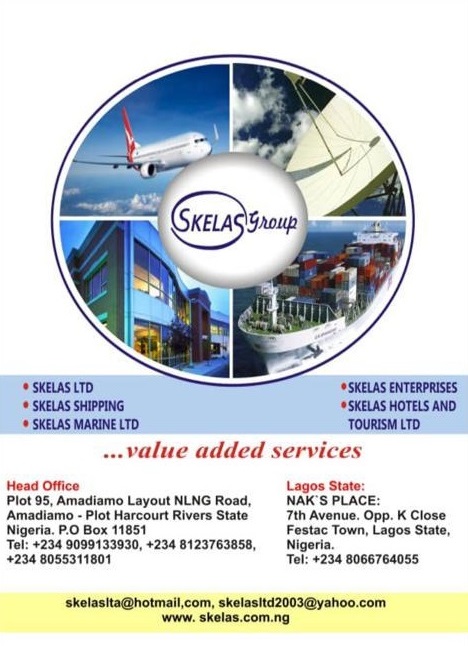 Says shipping, export, blue sea are untapped goldmine
Amid the growing apprehension of job losses across sector occasioned by the raging corona virus pandemic, leading customs brokerage group, the Association of Nigeria Licensed Customs Agents, ANLCA, has said such fears were unwarranted and misplaced, noting that Nigeria has the economic wherewithal to survive and outgrow convid-19.
The group said the nation's agriculture, maritime, oil and gas sectors has the capacity to even re-launch Nigeria into a much more exalted

 

economic frontier, with potential for critical global export, if our local resources are well harnessed and the political climate retailored to serve as growth catalysts rather than been parasitic.
ANLCA National President , Mr. Uju Tony Nwabunike who dropped the hints, said whereas it would amount to self denial to say covid-19 have left nations economy unaffected, he posit that Nigeria should look at the positive side of the pandemic to realign the production, management and distribution of her vast resources under an efficient fiscal direction.
The group's position contained in a statement signed by Nwabunike and made available to Vanguard Maritime Report, opined that the maritime industry alone can generate more jobs that was the case before the pandemic, through sincere reevaluation of our economic template.
His words, "We have watched the shocking and ongoing devastating impacts of the Corona Virus Disease on various sectors of the economy leading to massive job loss and general quake in the global economy. Though not completely insulated from effects of the pandemic, the Nigerian Maritime Industry holds potentials to serve as the country's low hanging fruits for economic growth, stability and survival.
"Unlike the aviation industry where government agencies like Federal Airport Authority of Nigeria and Nigeria Airspace management Agency including airlines are either mulling salary slash , workers lay off

 

and shrinking in human capital needs, the maritime industry still holds the ace as indispensable mode for global trade and commerce
"Rather than worry over likelihood of job loss, customs brokers, freight forwarders, truck owners, chandlers and other ancillary service providers in the industry should gravitate towards keeping themselves abreast with virtual presence and operations in the ports."
The ANLCA leader urged the federal government to shake off the worries of expansive dislocation in the economic system and instead set up recovery measures through critical alignments in the productive and economic system that will promote diversification, revive failed local capacities and reintroduce the national export base.