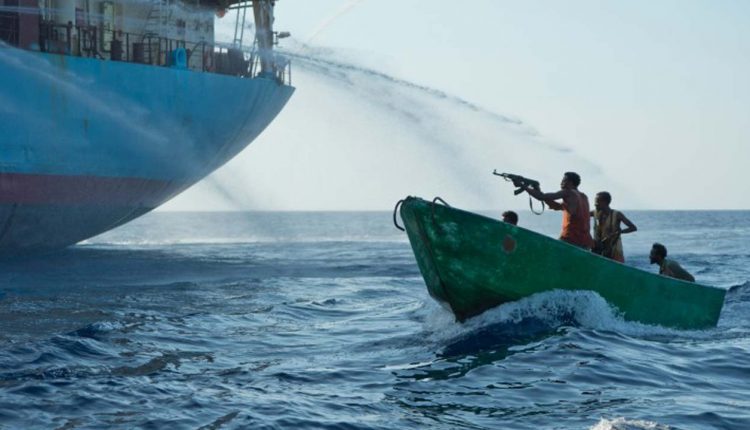 Testing Nigeria's anti-piracy law on weak footing
Last week, the Nigerian Maritime Administration and Safety Agency (NIMASA) carried the wrong foot first, in what was supposed to be a leading major step in the fight against piracy, especially as a test case of the agency's new anti-piracy policy, passed into law last year.
The agency announced the handing over of 51 suspected pirates, which includes 48 Ghanaians and 3 South Korean nationals to their respective home governments; urging the two countries to continue with investigations and possible prosecution of the said suspects.
Whereas NIMASA reported earlier that ten pirates who had on May 15 attacked a Chinese vessel, MV Hailufang 11, off the coast of Côte d'Ivoire and forced it to sail towards Nigerian waters, were currently been prosecuted by it, the outcome of that trial as an important reference point under the Suppression of Piracy and Other Maritime Offences, (SPOMO) Act was yet to be established, before the recent propaganda, nay, do-good gesture.
While NIMASA said it is acting in the spirit of bilateral understanding, it is not clear what specific bilateral agreements NIMASA has acted upon, or its real intentions; which happens to be neither here nor there.
Generally, international maritime crimes are prosecuted at the point of commission, more so, this is a matter that is expected to have provided SPOMO apple opportunity to test run its capacity to provide legal deterrence, either gleefully wasted on the altar of narrow and unproductive sentiment, or, spewed out of order, hastily, for that matter.
Interestingly, the International Maritime Organisation (IMO) known to have repeatedly expressed frustration at the heightened activities of pirates in the Gulf of Guinea (GOG) has sent special commendation to NIMASA and the Nigerian Navy, for been on the track towards curbing piracy and other maritime insecurities in the sub region.
These apparent conflicts of interests comes across as rather confusing, under a duplicitous atmosphere bolstered by the more you look, the less you see kind of situation. Is there a conspiracy to undermine and destroy SPOMO early in the day under controversial criminal exchange scheme? Does Nigeria and Ghana have criminal swap arrangement?

 
Those who does not want to think that Nigeria have demonstrated her lack luster attitude once again in such critical matters say Nigeria is merely playing to the gallery, pander to publicity and or, is simply displaying her incompetence.

 

This is most unlikely since Nigeria, nay NIMASA, has come under international commendations like never before, in recent time. So, is somebody pulling some stunt to achieve unmerited accolades at the expense of anti-piracy war; like in the immediate past regime in NIMASA?
To also think that the United Nations through IMO also supported the 'pirates handover deal' where no such security arrangement appear to exist, also clearly questions the real intention of IMO, who are quick to label Nigeria pirates haven,

 

with farther lamentation that Nigeria is not doing enough to protect international merchant shipping and seafarers.
 

Perhaps also, the whole hullabaloo about Chinese crew rescue, about Korean/Ghanaian piracy stories, and by extension the United Nations ecstatic disposition are all deliberate media hype, unintended by neither Nigerian Navy nor NIMASA.
While NIMASA and Nigerian Navy are clearly singing discordant tunes over the latest pirate saga, the government of Ghana has embarked on effusive thank you diplomacy to Nigeria for a case of international crime; while Korea has exonerated its nationals fingered in the piracy saga.
This is even as IMO maintained appear to have maintained a grim submission of the consequences of piracy on international trade on one hand, and on the other hand, applauding Nigeria for improvement in the fight against piracy. One is not sure what to make of this conflicting gestures and apparent double standards.
The suspect vessel which had authorization to fish in Ghana and Benin waters was arrested by the Nigerian Navy on the 18th of May, 2020 around the southwest of Lagos waters with her Automatic Identification System (AIS) switched off. The Nigerian Navy explains it suspects the reason the AIS gets switched off is for the ship and crew to engage in piracy or other related maritime crimes.
But Director General of NIMASA, Dr. Bashir Jamoh speaking during the handover of the ship said it was not sure if the ship and crew were engaged in piracy, but insisted the ship and its crew nevertheless, violated international sailing rules by shutting down its Automatic Identification System (AIS) 36 times in 6 months, 3 of which were done in Nigerian waters. NIMASA was very sincere and careful not to lay faulty charge, but also appeared quite willing as though driven by a troublesome genie to seek out some dirt to throw for a prove the agency is working.
The latter must have paid off, following the flurry of commendations that have come its way. What is more, riding on this euphoria has afforded the NIMASA helmsman Jamoh to embark on very important working visits to the Chief of Naval Staff, Vice Admiral Ibok-Ete and the Inspector General of Police, Mohammed Adamu.

 

The visits among other reasons are intended to foster greater synergy between NIMASA and the organisations in drastically putting down maritime crimes and insecurities.
Jamoh who was represented during the handover of the Korean/Ghanaian ship and crew by the agency's Commander, Maritime Guard Command, Commodore Aniete Ibok said, "we are handing over this vessel to the Ghanaian authorities in the spirit of bilateral cooperation enjoyed by both countries.
We have done our preliminary investigations and we have found nothing against the vessel but we would not know what she would be doing whenever she turns off her AIS which occurred 36 times without being logged in her record book in line with international protocols and three of these were in our domain.
However in the spirit of the brotherhood that Ghana and Nigeria enjoy we are handing over the vessel to Ghana for further investigations"
While some industry observers have expressed misgiving about the whole thing as smacking of propaganda, others think that the substance of the matter may have been deliberately whittled down.
The NIMASA DG further warned that individuals or organizations thinking of perpetrating any form of illegalities in the regional territorial waters should be ready to face the full wrath of the law.
"We will not condone any act of illegalities in our maritime space; we have improved our intelligence sharing with relevant agencies and with what we are doing now, in no distant time piracy will be a thing of the past in the Gulf of Guinea because we have a robust antipiracy law that will deal with perpetrators of illegalities in our waters."
While receiving the vessel and the crew on behalf of the Ghana Maritime Authority, the Second Secretary Consular of Ghana in Nigeria, David Ako Sowah commended the Nigerian authorities for being professional, selfless and with for exhibiting regional and continental outlook.
His words, "As the big brother in this region, Nigeria has done well in showing a lot of maturity in handling this case and I want to assure you that Ghana would also look in to more collaborations with Nigeria to ensure that the Gulf of Guinea remains safe for maritime activities".
The Consular General of the Republic of South Korea in Nigeria, Kim In-Taek, also commended the Nigerian authorities for its liberal streak and professionalism in the handling of the case. He was quick to dispel any erroneous impression that Korea was involved in unlawful activities in the GOG, noting that the Korean ship captain explained that the ship AIS was bad for six months hence its location remained undetected.
Like a priest confessor, the Korean ambassador noted that the vessel and her crew however erred by not following the protocols of logging the incident in the log book as required by merchant shipping laws. He expressed special gratitude to Nigeria for having an elitist, professionally capable Navy and a NIMASA, which produced a win-win verdict on the tale of two ships and the trial of Nigeria's anti-piracy law.
In the letter of commendation signed by IMO Secretary-General, Kitack Lim, hesaid he was impressed by Nigeria's efforts to actively address maritime security threats in the region, and thanked Jamoh and his management for their proactive response.
He further stated: "I would also like to reiterate my congratulations to the Nigerian Navy on the successful capture and arrest of pirates from the fishing trawler Hailufeng 11, and more recently on the rescue of the crewmembers of the containership Tommi Ritscher. Those actions, together with all the other initiatives you highlighted in our meeting, including progress with the Deep Blue Project, send a strong and valuable message to the international community with respect to the considerable efforts your government is making to curb piracy and armed robbery against ships in the Gulf of Guinea."
Giving a professional insight into the matter, President of Nigerian Institute of Shipping (NIS), Capt. Anthony Onoharigho said NIMASA acted within the ambit of the law. He explained that to do otherwise was to expose Nigeria to international sanction and legal dispute that may not end in her favour.
He said, "When you look at SOLAS requirements in terms of issues of activities at sea, there is a lacuna in that law, it is always very difficult for you to prosecute a foreign vessel and crew. What is usually done is to detain the vessel because the crew is automatically citizens of the vessel flag state. In practice, the vessel flag state is granted the right for litigation against any of its vessels or crew members.
"I think this is what NIMASA and the Navy have done. If there are sufficient and concrete evidence of maritime crimes against a vessel and its crew, the vessel can be detained but the crew must be released to its country of origin which is the flag state. Crew can always defend failure to have their AIS functional, they can tell you it is bad and that's why it is not transmitting.
"The AIS is to allow the Coast Guard of security architecture to pick the location of vessels in their radar. Very often, claims of broken down AIS is fraudulent, sometimes they swift off when they want to do illegal bunkering or fishing or other things. What they will say to anyone questioning them is that the AIS is bad, so if there is no concrete evidence of the offence committed, there is no way you can detain the crew, especially if it's a foreign vessel.
"The flag state can sue Nigeria for detaining its vessel without concrete reasons. In majority of cases, crew get away with that excuse that the AIS is bad, would you go and diagnose the AIS to be able to establish an evidence, does Nigeria have that expertise?
"That is the scenario NIMASA and our Navy found themselves. Before they released the vessel and crew, they have done their due diligence, and probably didn't have any concrete evidence to do otherwise."
 

Erudite navigator and marine security expert, Capt, Enusoh Warredi also commenting on the issue on social a media group, alerted on the prospect of Marine 707 having been engaged in unlawful fishing in our waters.
"A couple of weeks ago, there were croaker fish floating and found on the beaches of Niger Delta. And I said, 'foreign fishing vessels throwing away their evidence on sighting law enforcement.' I was not taken seriously", he lamented, adding:
"What is a Ghanaian fishing vessel doing inside the Nigerian exclusive economic zone? If I was the one, that ship will not leave until we get to the bottom of their reasons for being here. The department of fisheries must explain. These are some of the people stealing our natural resources and laughing at us behind.
The Ghana flagged vessel with International Maritime Organisation's (IMO) number 7419755 and registration number 316880 is owned and operated by World Marine Company Limited, Japan and as at the time of its arrest. It had 51 crew on board, three Koreans and 48 Ghanaians.