As team hands over seized diesel
Coordinator of the Nigeria Customs Service (NCS), Headquarters Strike Force Zone B, Deputy Comptroller Oseni Olurokoba  have served economic saboteurs and smugglers a quit  notice   to vacate the zone or be ready for its onslaught, saying  its task to ride the operational zone is total and uncompromising.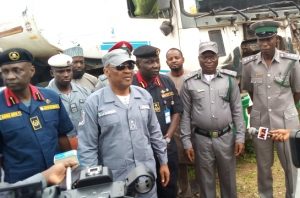 Olurokoba said the Team will continue to carry out its statutory duty with let or hindrance, and without consideration for person, position or status. This is even as he announced revenue receipt recovery of N234,411,763 for the second quarter of the current fiscal year, April to June 2021.
The Team also recently handed over a tanker load of automotive gas oil (AGO), it impounded within the period under review to officials of the Nigerian Security and Civil Defence Corps (NSCDC), in fulfillment of the corporate synergy between sister agencies of the federal government.
According to Olurokoba, the anti-smuggling stance of the service is a continuous exercise which gives no room for gaps, and which he says is as blind as justice, without consideration for person, position or status in the society.
He said operatives of the Strike Force will not go slow in clapping down heavily on all forms of smuggling and warned smugglers and would-be economic sabotuers to either leave the zone in pursuit of their illicit agenda or embrace legitimate trade; warning that the Strike Force will continue to decimate smugglers businesses and to erode their wall chest of funds, deployed to smuggling.
Giving the breakdown of the seizures, Olurokoba said the items which are detrimental to the well-being of the national economy, which includes 47 cartons of illicit drugs estimated at over four million dollars, only.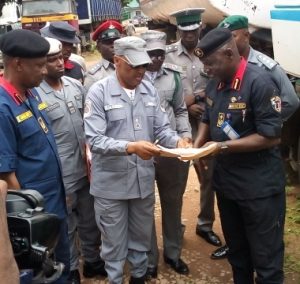 Speaking on the activities of the unit, Olurokoba said, "The CG Strike Force Zone B covers North West, North East and North Central. Our job is to challenge and stamp out anything related to smuggling. Despite the security challenges in this area, we have the manpower and logistic support of the CGC not to buckle.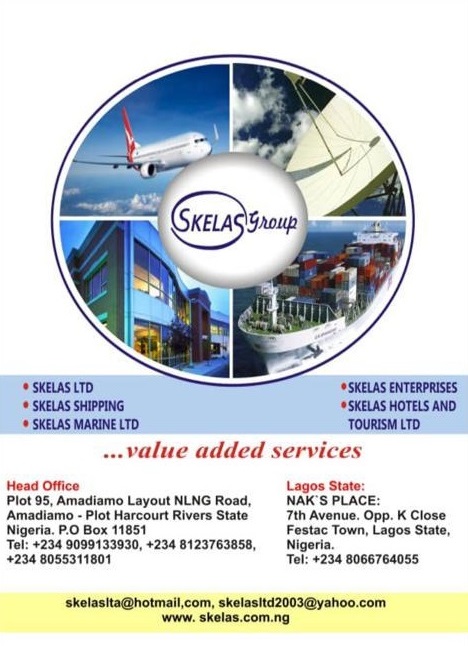 "Under the period in review, we intercepted millions of naira un-customs items to the tune of N234,211,0763 as recovery. Foreign parboiled rice was 1708 bags of 50kg at N46, 029,680. Foreign soaps was 1419 cartons at N18 million. Assorted foot wears, both new and secondhand is 255 sacks, contained in 57 cartons which is N28 million.
"We also seized various vehicles that are means of conveyance, 16 units in all, totaling N102 million. Vegetable oil is 1145 litres, including 271 bales of secondhand clothing, fake and illicit drugs, cream and condensed milk, dates and petroleum products."
Asked about his strategy and what he does differently from other units, he said: "We don't go all out, roaming the streets, pursuing vehicles with a bag of rice, or all those stuffs.
"We thrive on intelligence, get our facts right and go after sabotuers and smugglers. And when we embark on operations, we are blind, just like the logo of justice shows, and we do our jobs without consideration for person, position or status.
"If your business is not in tandem with customs extant laws, we seize and impound. We also engage stakeholders during each visit to variant axis under the unit, see the traditional rulers and educate and sensitize them on the state of our economy and the danger of smuggling."
He continues: "It's either they relocate out of the zone or go into legitimate trade, otherwise we'll continue to have their investments wasted. The only acceptable condition is for them to comply with customs extant laws."
Handing over the truck load of seized contaminated diesel, Olurokoba said, "l have the authority of the CGC to handover one tanker truck with its contents of suspected adulterated AGO to the representative of the Commandant of the Kaduna NSCDC. They know what to do, this AGO is not fit for use and you can imagine what would happened if we didn't apprehend it."
Responding, Deputy Commandant, Ahmed Sallihu, Head, Anti-Vandal Unit, representing the State Commandant, Mr. Godwin Mebi thanked the NCS and Olurokoba and his operatives for its strong inter agency relationship.
"This is a good example of inter-agency synergy. We will do screening analysis on it, and we will give the Customs service a feedback", Salihu said.