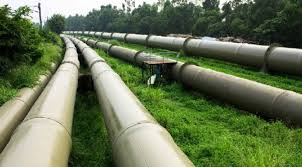 OPEC Quota Imbalance Rebound
As Nigeria's Crude Anti-theft War Goes Full Throttle
BY EGUONO ODJEGBA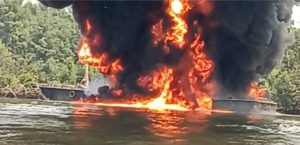 Whoever is still in doubt that Nigeria has taken a stern position against the country's crude oil staeling, perhaps, may hook up with this week's Bloomberg news analysis that sustained offensive against crude smugglers in the Niger Delta is no longer official propaganda as some are won't to believe.
According to Bloomberg, recorded deterrence is gradually correcting the worrisome imbalance recorded in the Organization of Petroleum Exporting Countries (OPEC) quota production system, owing to Nigeria's inability to meet its own quota.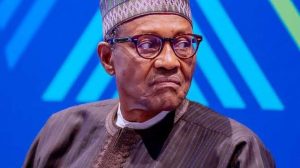 Evidently, it is not only the Government of Nigeria that is happy about the positive development but indeed OPEC as well as friends of Nigeria and all economic development partners; who are doubtless expressing signs of relief.
The Government of Nigeria and more importantly President Muhammadu Buhari with all his men in the petroleum sector must be the happiest, having come under scathing criticism for the worsening state of crude theft that created an unwholesome image problem for the government, home and away.
Perhaps, this government's greatest joy is the unwavering confidence it reposed on face behind Tantila Security Services, a private security company it contracted third quarter of last year to work with the state security agencies to halt the embarrassing situation.
Despite unprovoked stiff resistance and antagonism mounted on its path, Tantila Security Services owned by High Chief Government Ekpemupolo, aka Tompolo, the unassuming, legendary and dreaded leader of the defunct Movement for Emancipation of Niger Delta (MEND), set off on its critical assignment, on a note of determination to exterminate the  menace.
Well meaning observers who reportedly expressed anxiety over his capacity to deliver in an environment as volatile and difficult as the Niger Delta; more especially owing to fears of coordinated regional sabotage, the arrest of MT Deinmo, a Very Large Crude Carrier (VLCC) by his men perhaps, signaled a positive flag off that Nigeria and indeed the outgoing government meant business.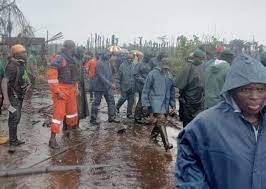 It appears unusual in Nigeria's political history that a government with less than six months to vacating office would worry so much about the restoration of the nation's critical assets, having presumably done too little the greater part of its tenure in this regard. The operators of Tantita Security Services Ltd informed that the crude oil tanker, MT Deinmo with International Maritime Organisation (IMO) number 7210526, was loaded with an unspecified quantity of crude oil at the Escravos River in Warri South West Local Government Area of Delta State, when it was intercepted.
In addition to the ship said to weigh 1,500 metric tons, Tantita operatives also apprehended eight crew members of the tanker. According to an insider, the sting operation was based on a tip off, which they responded to swiftly.  The security expert disclosed they were offered huge monetary bribe in millions of naira to look the other way, but that they turned it down.
The captain of the ship which was subsequently handed over to the Nigerian Navy was said to have claimed they came in from Lagos.  But for the arrest, the ship it was gathered was billed to sail back to Lagos.
It will be recalled that Tantita Managing Director, Engr. Kestin Pondi, had taken security chiefs and petroleum department top officials, including the Chief of Defence Staff, General Lucky Irabor, Group Chief Executive Officer of Nigerian National Petroleum Company Limited (NNPCL) Mallam Mele Kyari, amongst others to a location around Bayelsa State where they also discovered  an illegal oil pipeline illegally tapped into the Trans-Escravos pipeline, through which major siphoning of products was believed to have been perpetrated.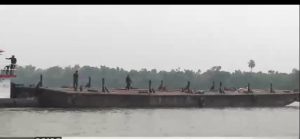 Again, on January 2, 2023, the Security Outfit in collaboration with Nigerian Security Agents apprehended and destroyed a barge, MT Brighton 1, said to have been involved in the stealing of Nigeria's crude oil and selling illegally refined diesel to foreign ships.
The MT Brighton 1, an 820- metric ton barge, was apprehended in one of the creeks running into the Ramos River in Agge community, a border village between Delta and Bayelsa State; bringing into quick succession a gradual but certain end to the painful years of crude smuggling and its attendant disruption of the nation's crude production, and her inability to meet its OPEC quota as well as its overall negative impact on global crude market.
The successes so far recorded by Tantita in joint operation with the Nigerian Military is no doubt a huge booster to Nigeria's quest to plug the existing leakages, conserve her daily capacity production in lieu of her global quota; while regaining her hitherto status as a leading oil-producing economy; all of which has reduced to unimaginable struggle and nightmare in the face of sustained massive crude theft, in the last couple of years.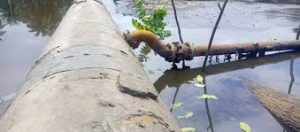 Perhaps, what was most embarrassing under the circumstances was the discovery of official conspiracy and collusion, believed to be high up top management echelon in the relevant state departments.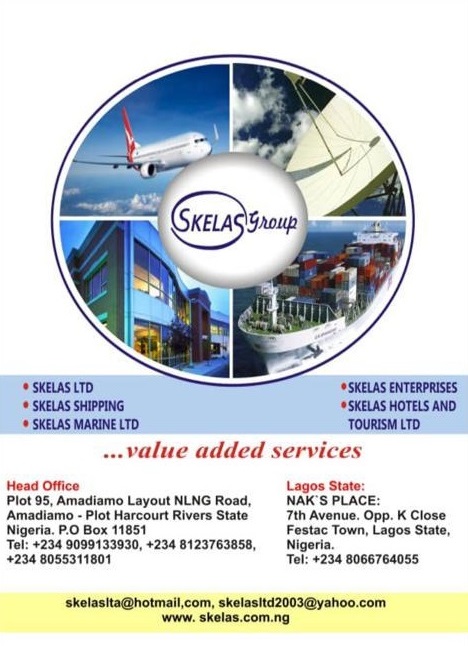 A Tantita top operative says all other vessels engaged in crude theft and smuggling within the region will also be effectively crippled unless they disengage and beat immediate retreat whilst they still can.
A total of four suspects apprehended onboard the vessel (MT Deinmo) pleaded innocent, as they told news men they were tricked into the business, noting that it was their first time getting involved in crude smuggling. Those arrested includes Augustine Omote, believed to be a marine engineer and Obiakpor Moses, said to be a supplier of food and sundry materials to the apprehended barge operators.
Speaking, Augustine who claimed that it was his first trip said that he had no idea that what his employer whose name he simply gave as Augustine, and still at large as at the time of going to press, wanted him to deliver was stolen crude.
Speaking to a local television crew, he said, "We were loading the products when some community boys said l should settle them. So l crossed over to where they at the creek and explained to them to allow me contact my boss to discuss with them, that l am not the owner of the job"; noting it was in the process that he was apprehended.
One of the maritime intelligence and security expert attached to Tantita involved in the operation said on telephone that the suspects are usually given a false sense of security by their sponsors, who he said are the actual barons of crude smuggling.
As the Tompolo's gang dig deeper to deliver on its contractual mandate, they also disabled a major  illegal operations said to be owned by Blessed Corporate Oil & Gas Services Petrol Station, which is allegedly involved in the sale of stolen petroleum products.  The petroleum products service station located in Opete community in Warri, Delta state is regarded as a major avenue for sales of stolen products.
The NNPCL in August 2022 secured President Buhari's approval to award the indigenous security outfit the contract to monitor, protect and arrest petroleum pipelines vandals, including crude oil thieves incidental to its area of activities in the  region.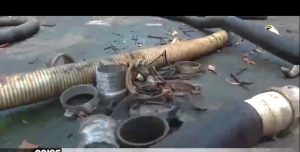 According to media reports analysis, Nigeria's oil production has rebounded to 1.35m bpd,in December 2022, restoring the daily output from its hitherto abysmal average due to the ongoing crack down.
According to a Bloomberg survey, OPEC has increased production by 150,000 barrels per day, almost all of which came from Nigeria. OPEC production totaled 29.14 million barrels per day, the report said. Although the December increase which lifted Nigeria's production to 1.35 million barrels per day from about 900,000 barrels per day two months earlier, the country's output is still only half of what it was a decade ago; said Bloomberg.
The Bloomberg report says despite that the official data from OPEC and the Nigerian Upstream Petroleum Regulatory Commission (NUPRC) were yet to be released as at the time it published its analysis,  NNPC L's production record early December 2022 put at 1.59 million barrels per day with NUPRC statistics of  1.4 mbpd sufficed to validate its survey on the significant progress being made.
It will be recalled that Nigeria has been unable to meet its OPEC allocation in the past one year, falling below an abysmal estimated 1.8 mbpd quota and losing as much as 700,000 barrels per day to sabotage and shut-ins. That things are getting better is also reflected in NNPCL's disclosure that it can now monitor the country's oil infrastructure real time with its new automated platform, buoyed by its whistle-blowers scheme which rewards persons who report activities of suspected oil thieves.
The report stated that other OPEC producers are sticking to controls agreed late last year to keep supply and demand in the global market in balance. Oil supplies from key member countries like Saudi Arabia, the United Arab Emirates (UAE) and Iraq were largely unchanged, with Saudi output still at 10.48 million barrels per day, it said.
Bloomberg reports that crude supplies from OPEC are expected to come under pressure after further European Union (EU) sanctions on Russia took effect last month. A group of ministers from member states will meet on February 1, to review output policy.
In view of the hitherto debilitating effects of crude smuggling, the National Assembly recently passed a N21.83 trillion budget, pegging Nigeria's crude oil benchmark at $75 per barrel from the previous $70 per barrel while production for 2023 was put at 1.69 million barrels per day.  President Buhari last week Tuesday, signed the appropriation bill into law.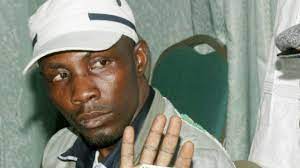 This is not the first time Tompolo is working with government, in 2011, a company he is believed to have interests, Global West Specialists Vessels Limited bagged a maritime security contract, which not only supplied 20 patrol boats with high powered maneuverability, but went after pirates and successfully returned peace to cargo ships calling Nigerian ports; whilst the contract lasted.
The ongoing N48billion pipeline security contract criss-crossing all the states of the Niger Delta effectively put Tompolo out as a critical stakeholder and a patriot of uncommon determination. NNPCL sources say since inception, Tantita has apprehended about 68 vessels involved in crude stealing with about 638 illegal refineries destroyed.
Tantita Security Services Spokesman, Mr. Paul Bebenimibo says they are upwards looking and believe that with the current traction which will be sustained, the story of pipeline vandalism, products stealing and associated crude crimes will be brought down to the barest minimum, if not entirely eradicated.