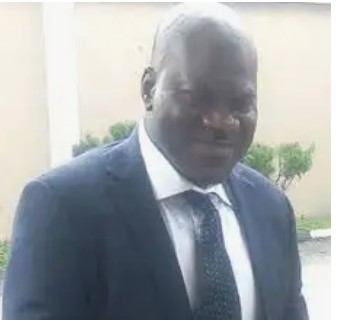 Remain above board, Mustapha charge elected Western Zone Executives
 Chairman Board of Trustees (BoT) of the Association of Nigeria Licensed Customs Agents (ANLCA), Alhaji Taiwo Mustapha has enjoined newly elected chapter executives in its Western Zone to rededicate themselves to the service of members of the association, eschew bitterness and rancor, and to remain above board in the discharge of both their professional and association duties.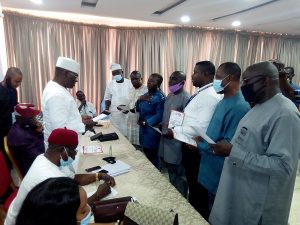 Mustapha gave the charge yesterday, during the swearing in ceremony of elected chapter chairmen and other subordinate officers in Tin Can Island and Seme chapters, including Kirikiri Lighter Terminals, where election was conducted for the office of the Vice Chairman, downwards. A by-election was done for the Lagos Airport Chapter earlier on Tuesday.
Addressing the elected officers after handing over of their Certificate of Returns, Mustapha admonished them to strive to lift up the image and voice of ANLCA once again in their respective chapters, and to continue to cultivate peace even amongst those presently opposed to peaceful resolution of the crisis that has bedeviled the association, said to be over two years now.
His words, "Our members are angry, some gather at Tin Can and said they were going to storm the National Secretariat and take it over. We appealed to them not; I believe that what you cannot resolve peacefully may not be completely resolved with violence. I appeal to every one of us not to consider violence; we must remain peaceful and continue to pursue the path of resolution of this crisis.
"When we conducted the elections at Airport chapter, Mukaila said that our elections are illegal. We are waiting for them to upturn what we have done. We are the duly registered BoT of ANLCA, the law recognizes the impostors. My advice to all the chapter chairmen and other zonal officers that have been elected today including those elected at the Airport earlier is that you remain above board.
"This over two years crisis has take us back ten years, you must use your various chapters to rebuild ANLCA's image. We need to return to where we were, rebuild our influence, re-dedicate your selves to the service of our members. They have elected you to serve them; you must listen to their complaints and solve their problems.
"Customs brokerage is a beautiful and beneficial profession, we must rally around our members to ensure that the system does not treat them unfairly, that they are not exploited. "Remain professional in your customs transactions, when you do so, so can challenge anybody. Let us eschew violence and bickering, because ANLCA is one big family. This ugly crisis will go away and we will remain one united and happy family."
Association Electoral Committee (ASECO) Chairman, Chief Obi Chima Best also admonished the elected officers to put in their very best "because this experience may offer you a credential in the nation's political arena, so do not think that this office is not important.  Every leadership office counts, your time here may create a pathway for you tomorrow in your local government, state of the national level."
Secretary Board, Prince Taye Oyeniyi  who was visible at the event said "when the registered board members led by Alhaji Mustapha thinks that peaceful resolution of the board crisis is the only way to go, and choose dialogue and dialogue again, even at the risk of always been snubbed and insulted, it is not a mark of weakness. But our brothers at the National think that they can cover up the truth forever, it is not possible, the truth will prevail.
"So I will to specially thank Alhaji Mustapha, Chief Denise Okafor, and the BoT members for choosing the path of responsible leadership and the path of peace. I am sure that some of those they have deceived to help them escalate the crisis by creating a nonexistent BoT for them, some of them are very responsible and serious industry people. They are learning about the truth and they will not honour illegality, because they have their good names to protect."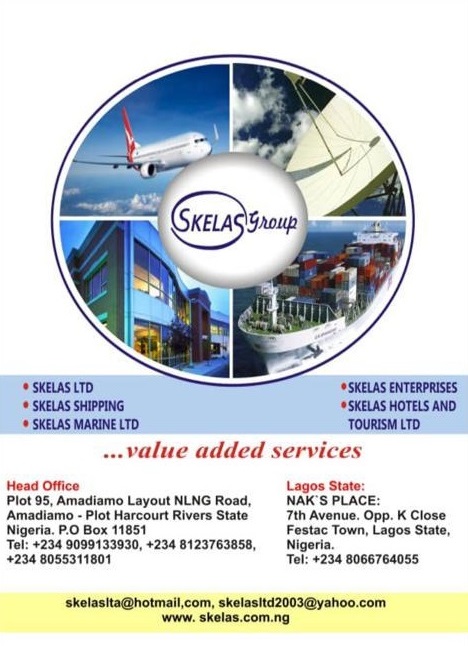 BoT Vice Chairman, Chief Dennis Okafor also admonished the newly elected zonal officers to do the board and all members of the association proud by raising the flag of leadership higher, through service and adding value to the association by making members have a sense of belonging.
"It is only through hard work, where every members of your chapters will feel your leadership impact you can claim to have brought value to ANLCA. So the whole essence is about service, we want to reclaim lost ground. ANLCA once had resounding authority by virtue of our established integrity to make demands and we are listened to. It is your duty to take us back there."
Elders and leaders that graced the occasion include Barr. Ada Akpanunu, Mazi  Nnamdi, Dayo Azeez, Elder Alade Adeniyi among others.
While Alhaji Mohammed Akanni Mojeed polled 64 votes out of 68 to emerge Tin Can Island Chapter chairman, Okorie Osita was voted Vice chairman, Ovien Imonitie, Secretary, Adebowale Adebare, Treasurer, Yetunde Adekanbi, Financial Secretary, Mayowa Taiwo, Assistant Secretary and Awo Ade was elected public Relations Officer.
Also, Emmanuel Onwugue was voted KLT chapter chairman, with Chibuzor Oganbe as Financial Secretary.
The National Executive Committee (NECOM) has however, faulted the development, noting that the elections were acts of illegalities.  In a notice of disclaimer signed by the National Secretary of ANLCA, Alhaji Abdulazeez Mukaila, a copy of which was made available to Pinnacle Time, said Barr. Raymond Onyimba and not Chima Obi Best is Chairman of the ASECO.
The disclaimer reads "The National President IJU TONY NWABUNIKE has directed a reaction to false publication signed by one CHIMA OBI BEST claiming Chairmanship of ANLCA Association Electoral Commission (ASECO)
"For clarification, the Chairman of ANLCA ASECO remained BARR, OYIMBA RAYMOND ENEKWECHI as ratified by National Executive Council (NEC) copy approval hereby attached.
"Consequently, OBI CHIMA BEST being a member/Staff of NORTH ATLANTIC TRANSIT LIMITED a defaulter Corporate Company with personal staff I.D. No. EZ1500000178 is NOT and does NOT qualify even if any, as a non-stakeholder nominal director without single share of his corporate employer."