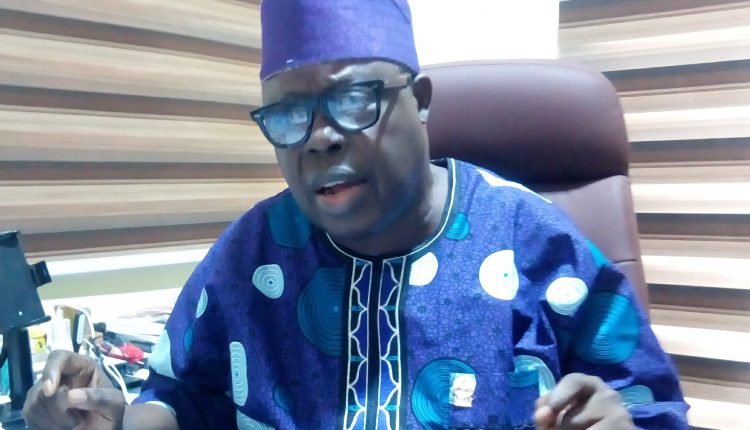 To enhance the workability of trucks Electronic Call-Up System (ETO) and achieve a sustained and efficient traffic management in Lagos ports, a stakeholder, Prince Olayiwola Shittu has canvassed the scrapping of ports terminals common user roads.
The outspoken front line customs broker and Chairman, Skelas Group of Companies explained that whatever challenges ETO is facing cannot be divorced from lack of consultation and sensitization by the Nigerian Ports Authority (NPA), accusing the authority of failing to call for dialogue before embarking on ETO.
He said as long as critical issues affecting the port industry like ETO remains on the scale of public discourse, there will be need to always put NPA on its toe, as a way of supporting the authority to deliver on its goals and objectives. "I will suggest that we scrap the common user roads surrounding the terminals in Lagos ports. Scrap it entirely, it's not necessary. All terminals should have their exits and their entries facing the expressway.
"The common user roads serve no purpose other than give NPA room to flex muscle, terminals should have private access and exit roads, you will be surprise how soon all these issues of clogging will disappear", Shittu enthused.
He notes that whenever and wherever relevant departments of government fail to carry stakeholders along in sensitive industry matters such as ETO, such failure and neglect will always produce fault lines that will slow down implementation of projects.
The immediate past National President of the Association of Nigeria Licensed Customs Agents (ANLCA) who was responding to question on his assessment of ETO, especially on issues having to do with perceived conception defaults, including the way and manner NPA went about it, said all noticeable implementation challenges are manmade.
He agrees with popular opinion that the leadership of NPA was less open and communicated even less while planning ETO, despite that it is a public service project, noting that an important project like ETO should enjoyed robust dialogue, consultation and sensitization.
According to him, "We have a problem in our industry, nobody ask you for your opinion. When Ms. Hadiza Usman got into office, l had the opportunity of meeting with her one-on-one. And because as at the time, I represented a group and knew where the shoe pitches, I offered some advice, like many other local players would have done to support her success story.
"I told her 'don't take people unaware on decisions you want to take that will affect people. Don't even thinker a little with the system itself, call them. In fact establish a quarterly meeting of representatives of all stakeholders, find time to sit down with them'.
"Let the shipping companies tell us why agents are complaining about them, or tell you why agents are doing this or that, and from there, we would improve on service delivery. She said okay, till l left office as president of ANLCA, it never happened."
He likened the  challenges confronting ETO to similar challenges that confronted the Ports Reform Programme in 2006, all of which he believes have to do with 'I know it all' attitude of political appointees; further fueled by an air of arrogance to force issues down the throat of Nigerians.
He said owing to above attitude, the ports concession programme suffered avoidable defaults which port users are still suffering from.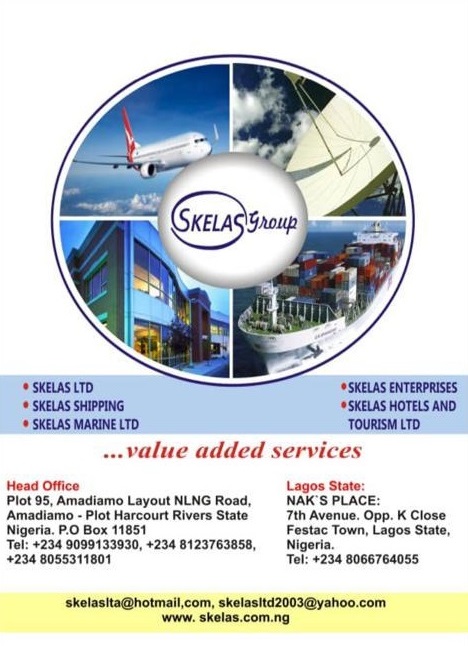 "You know, our style in this country is that people who are in position of power just assume they can force anything on you and then allow the system to take care of it. Right from the time of concession, the disagreement I had with Chief Adebayo Sarumi who was one of my mentors in the maritime industry, and Ojo Maduekwe, may his soul rest in peace, was the system of concession they wanted to visit on Nigeria.
"They didn't want to use the South African model, they didn't want to use Ghananian model, but just want to play politics and they balkanized the port, left a narrow strip as common user area, so NPA will still maintain influence. But that's not the way things are done, that's why we are having this problem we are having now.
The Skelas Group Chairman said ETO would have less to contend with if dialogue and consultations has been allowed, where certain critical decisions may have been taken to broaden the scope of discourse and thus deliver a well structured intervention that would provide far reaching mechanism to solve the Lagos ports road traffic gridlock.
Accordingly, he advocated the scraping of the Lagos ports common user roads, calling the retention of such common user facilities political gimmick by NPA to remain relevant. This is even as he faulted the 2006 concession programme, which he said is wholly responsible for the Apapa ports roads traffic gridlock.
His words: "I still continue to say that the whole partitions called terminals should have been under a single operator, who would have allocated spaces for different types of specialized import/export operations, and empty container bays, where you can return your containers with ease.
"Because eventually, like what is happening, every terminal has its contractual agreement with a liner. This means that cargo coming from a liner's ships must come to that terminal. So that same liner can take the empty containers out, once they have discharged containers brought in. But now because of the pile up, we don't even have enough space to keep imports, so why would they consider space for export or whatever else?
"However, the issue of congestion on the roads shouldn't have been like this, even when they wanted to concession the road, government said they don't have money, and we heard from NPA that Dangote was going to be given the contract and all that, and within a very short period it was going to expand and construct. Okay the area it has done in Apapa, nobody in the port have not seen it, it is good enough. It could have been better, but let's say at our level, it's good enough.
"But the area that's very important is this access from Tin Can to Mile 2 that will take you out of Lagos. Maybe it is not meant to be completed on time. Sometimes I ask myself, did Hadiza promise anybody that by so, so time, the access roads will be completed? I am not sure she did.  She mentioned the one of Apapa axis that goes out through Ijora. They had to repair the bridge, that within a year or two, in fact, her promise then was that by the end of last year, that axis would have been completed.
"Yes we know that Covid-19 became a constraint, but Covid-19 constraint does not stop road construction, because road construction is by schedule, and Dangote is using cements made by Dangote to build the road, and the rods you have them, go ahead and do your work.
In fact the concrete method used by Dangote is what Nigeria should have adopted 10/15 years ago, that would have kept all this job repetition on our roads all over the federation out. But then politicians don't want the roads to be properly done so that the roads will be a recurring decimal in their budget and then, you know how it goes. That could also be the reasons the ports access roads have been left for this long."
He continues, "Imagine if I have to go from PTML to APMT, do you know how many terminal gates I will come across along the way, with intersections, the one that wants to go right or left, the one that wants to reverse and all that, they cause unnecessary clog. I know it will be difficult for them to reverse, because they are making a lot of money out of it. Government concession and those they have given concession, they cannot take it away from them, but it was a bad decision from the start.
"PTML should have direct access to the main road; look at the success they have made with barges that people feel is not possible. But barges are possible with the right framework, rules, monitoring and control. Most of these congested terminals should invest; they have to move their goods out. A terminal can build its own rail line from the terminal to join the national grid and create alternative for people to evacuate their goods."