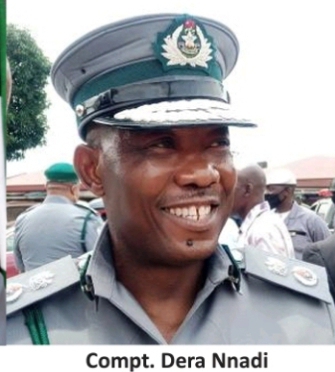 'Seme Corridor Critical To Sub-Sahara African Trade' – Nnadi
BY FUNMI ALUKO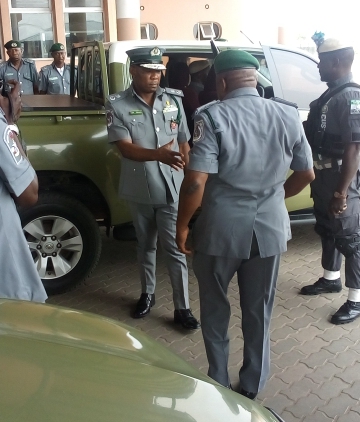 The Seme Border Command new Customs Area Controller (CAC), Comptroller Dera Nnadi, mni, has said that the Seme Border Corridor otherwise known as the Lagos-Abidjan Corridor is critical to West and Sub-sahara African trade, noting that the ever progressive massive regional  trade has existed from time immemorial, with Seme as a connecting link.
Comptroller Nnadi arrived his new office at 12:37pm into the waiting arm of his management officers and heads of other sister agencies operating at the border. He was received by the acting CAC and Deputy Controller ETLS (ECOWAS Trade Liberalisation Scheme), DC Ojo, as he alighted smartly from his official vehicle, after which he proceeded straight to the Quarter Guard mounted by his men to receive him.
After reviewing the Quarter Guard, he was shown to his office where he had a meeting with principal senior officers of the Command, beginning by thanking  the Comptroller General of Customs, Col. Hammed Ali (Rtd) and his management team for deeming him worthy to be posted to Seme Border.
He explained matter of fact that the Seme Corridor is a very well known and very well used transit by trans-regional traders, which links Nigeria with its neighbours in West Africa, connecting Nigeria with Ghana, Togo, and others through Benin Republic, our immediate neighbour.
Nnadi further explained that the volume of trade that plies the Seme Corridor, also known as the Seme Expressway, as part of the trans-Africa Highway, extends to Senegal, ending in Mombasa, the Kenyan port city.
He says from Mile 2 Bus Stop and Alakoro in the heart of Lagos Island, and from Idumota Market at the Lagos mainland through manufacturing industrial estates at Ogba, Ikeja and Agbara, vehicles are available to various destinations along the West Coast and central Africa, where articulated trucks and passenger vehicles load men and materials for various destinations, starting from Benin Republic and going to Togo, Ghana, Ivory Coast, and beyond.
The Seme Customs new boss who held his management officers and media men spell-bound with his intellectual and historical account of the trading route noted that Nigeria has everything it takes therefore, to be a front runner in regional trade and the soon to be implemented African Continental Free Trade Area (AfCFTA), with the Nigeria Customs Service playing a key role by deploying its smart trading tools and applying existing trans-regional schemes like the ECOWAS Trade Liberalisation Scheme (ETLS).
A product of intellectual power house with clearly proven evidence of his vast knowledge of the diplomatic, bilateral and comparative advantage of the route, Nnadi further informed that with Nigeria's population of over 200 million people, Nigeria cannot afford to underutilize the economic advantage of the Lagos-Abidjan Corridor.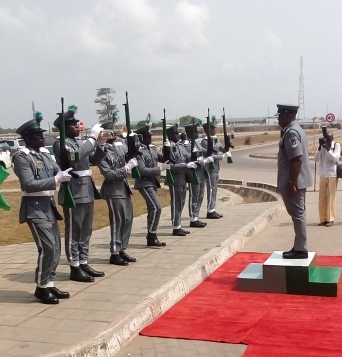 In particular, he posited that the Seme Customs Command as custodian of the Lagos-Abidjan corridor has the capacity to correct any trade imbalance within the region.
While thanking the Comptroller General of Customs, Col. Hammed Ali (Rtd) and his management team for  his posting to the command, Nnadi  said it is a huge responsibility for him and the command's management team to ensure that together, they do not perform less.
His words, "This deployment to Seme is strategic because Seme border is one of the major gateways to Nigeria, not just economically but also politically. Nigeria is surrounded by four countries that speaks  French and Benin Republic is one of those nations on this corridor. Through this border, we have access to the Abidjan-Lagos corridor, crossing five independent states (Côte d'Ivoire, Ghana, Togo, Benin, and Nigeria)."
"This corridor isn't new. It is as old as Nigeria or even older than the nation. Our forefathers traded on this route and when you read the history of the Ghana Empire, Old Oyo Empire, Dahomey Empire, among others, you would find this border in the historical developments."
"It is very important that we treat this opportunity of being posted to Seme border as very critical because this should be the gateway for AfCFTA in the region."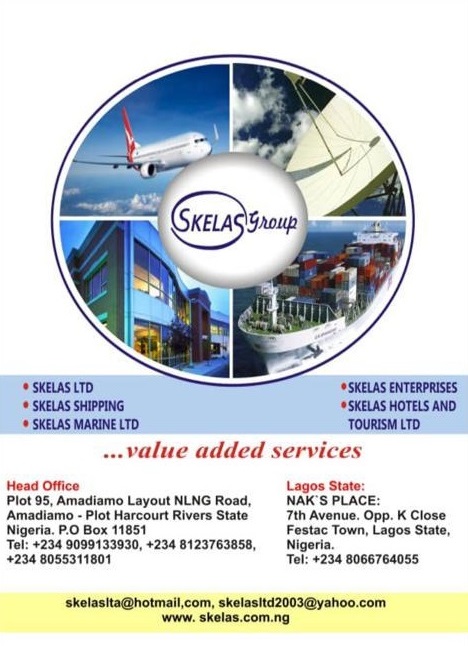 "It behooves on us to consider our posting to this Command as significant to Nigeria and the whole of Africa. I am only first amongst equals, you are all core officers manning different beats, and working together as a team is nonnegotiable.  We are expected to perform to our optimal capacity for the benefits of our country, and l will drive the process."
"With your support, we cannot afford to do less, because for any of us, it is a privilege to be here. So l urge all of us to sit up and continue to build on what we already have; and we can even seek to improve where there are opportunities."
Speaking on the upcoming implementation of AfCFTA  and considering that the African continent has a population of over 1billion people, Nnadi emphasized that AfCFTA is an economic blockbuster, and averred that the scheme has the potential for creating  a huge continental market, emphasizing that the Seme Command is positioned to play a lead role.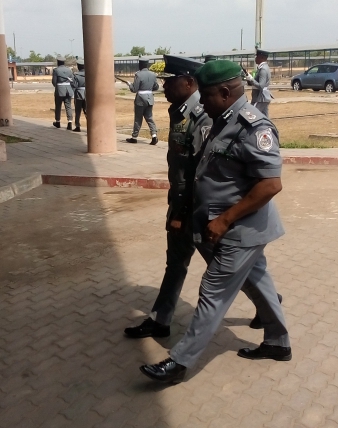 "Driving down to this Command I saw lots of trailers and I enquired and was told that they are Dangote cargoes lined up for exports via the border. I think we should be excited that some companies still bridge the gap between Nigeria's imports and exports. However, globally, Africa isn't performing optimally because the continent records the lowest intra-regional trade and the situation is worse within West Africa as the sub-region is the least trading group in the continent."
He promised to explore the existing stakeholders engagement with sister agencies including the military and police to improve on the existing road block system along the Seme-Lagos expressway.
He urged the command's management chiefs, other government agencies, members of the border community and travelers to embrace challenges of trans-border trade and comply with the law guiding trans-border trade all the time.
Nnadi who said border communities have challenges that are not insurmountable, added that there is need to cover infrastructural gaps that will improve their standards of living and promote lawful sources of livelihood; including improved host community relationship.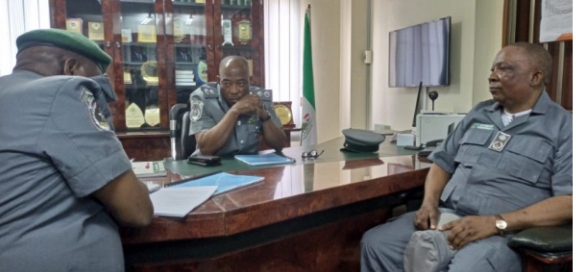 Ahead of the 2023 elections, he advised his officers to be polite and courteous to travelers and traders using the Seme corridor, but nonetheless, urged them to be firm and to insist on what is lawful and things that are unacceptable, in other to curb smuggling and trade violation.   He said he will focus on trade facilitation, revenue generation and national security, just as he pledged to continue to nurture and build on customs\host communities' relationship, stakeholders' engagement and the overall protection of Nigeria's bilateral and diplomatic values. Asked how he intend to translate his various intellectual trainings especially his eleven months stint at the National Institute of Strategic Studies (NIPS) for use in the service,  he said that his experience and knowledge from previous assignments across the border and his academic exposures will be deployed to further the cause of border administration by transferring such knowledge to colleague officers and the upcoming ones, through engagements and effective interactions.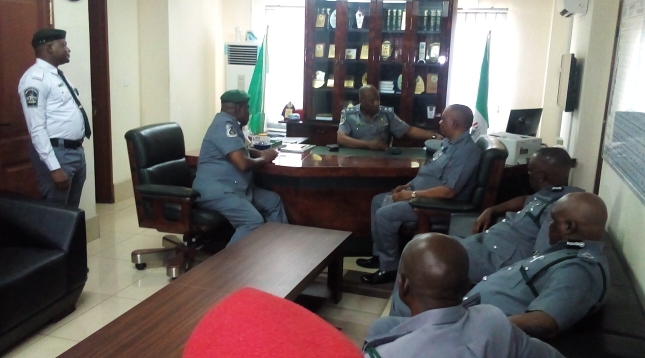 It would seem he came very prepared, as he has before now, authored a paper on 'Under Development of Border Communities and Its Impact on Customs Operations', which was undertaken while he was a participant at the Senior Executive Course 44 NIPSS.
While promising to interact closely with traditional rulers and other members of the border area, he solicited closer stakeholder interactions at strategic and operational levels; and said part of his itinerary for yesterday was a visit to the Oba of Akran later in the day to inform him privately "that one of his sons has just been posted to take charge of Seme Command."
Cerebral, erudite and unapologetic when it comes to customs trade and administration, Nnadi has traversed the length and breadth of the customs service administration, worked at different commands, departments and units. He is versed in customs administration, enforcement and revenue, with a strong passion in strategic planning and execution.
He served briefly as the Customs Area Controller Ogun 1 Command before proceeding to NIPS under the Senior Executive Course 44.  Until his present posting, the former ace customs public relations officer was Controller, Human Resources Department (HRD).