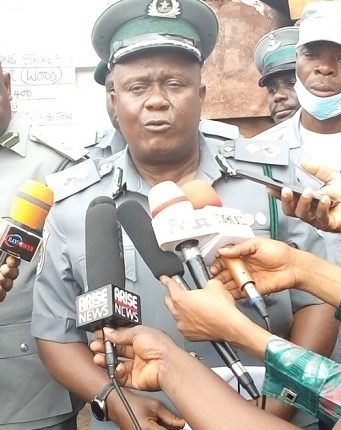 Strike Force impounds donkey skins, charcoal, others worth N643m
BY EGUONO ODJEGBA
In keeping with its vow to focus more on the monitoring of the export component of the economy as much as its import, the Comptroller General of Customs Strike Force Team A, yesterday announced the seizure of 2×40ft containers of donkey hides and skin, made up 12,500 pieces;  5x20ft containers of unprocessed logs of wood, and 6×40ft containers and 1×20ft container of charcoal, containing 3,891 sacks.
Coordinator of the team, Deputy Comptroller Ahmadu Shuaibu said the items were seized within the last six weeks, with a combined Duty Paid Value of N643, 727,837; adding that the team from inception has recovered a total revenue receipt of N3,001,226,794.
Shuaibu explained that the recovery from demand notices for eleven moths was achieved through meticulous documents screening by the Team ICT Unit, undertaken to verify documentations and claims, which effort largely led to uncovering of infractions and identified duty shortfalls. He said the above recovery would have been lost by the federal government if not detected.
According to the Strike Force boss, most of the seizures under review comprised of exports which contravenes government policy on export of protected and controlled species. Prominent among the seizures were donkey hides and skin, unprocessed wood, charcoal, rice and footwear.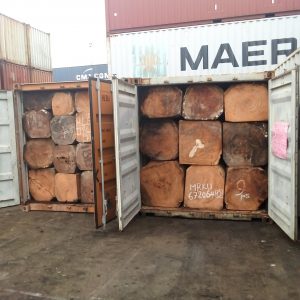 He explained further that the export prohibition guidelines are in tandem with the Federal Government's policies for the protection of endangered species, protection of the local economy and promotion of National Forest Policy, ratified by the Federal Executive Council; to safe guard our forest resources and guide against extinction of endangered species.
"The policy also helps to protect our environment against deforestation, we don't want to wake up one day and we are confronted with climate issues, all of us have a responsibility to protect our green environment.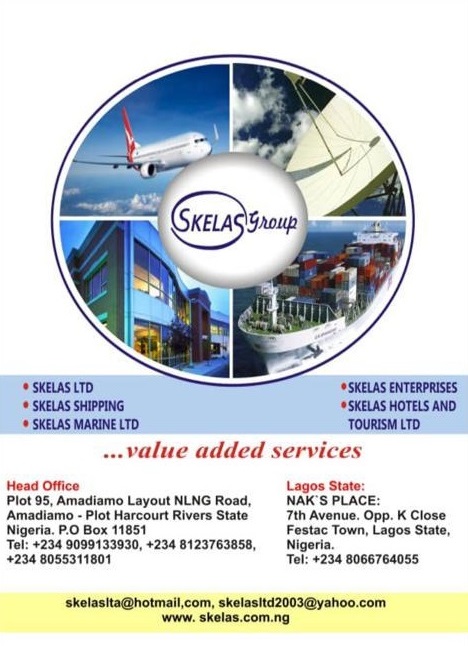 "Each log of wood we illegally fell have a devasting cumulative effect on our environment over many years. When we remove one plant, we are supposed to plant two, but we are not doing that, and the danger is desert encroachment.
"Ordinarily, donkey meats are not part of our meals, we don't consume donkey meat and skin, but owing to hunger, some people started killing and taking them out. It is also illegally been sold in our markets for consumption, because they are affordable. Donkey gives birth once a year, imagine the quantity that has been killed, we can't have them replaced in our life time, and we must not allow them go extinct", he advised.
He appealed to importers and exporters to be comply with the extant rules and make honest declaration a habit, warning that failure to do so will merely cause them misery and loses,  noting the government have the capacity to continue to confront their illegalities and match them strategy for strategy.
"The appeal is that they should have a change of mind and embrace legitimate business. The alternative is that government has the capacity to put them in check, any time and any day, and also to drill hole in their wall chest of funds.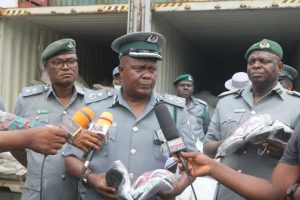 "These seizures are clear loses, and unless they do what is right, they will continue to suffer losses because government will not relent in ensuring that all acts of smuggling and economic sabotage are resisted and those concerned arrested and brought to book."
Fielding questions from reporters, Shuaibu explained that there's a shift of emphasis from just arresting errand boys to pursuing, arresting and prosecuting smuggling kingpins, as a means of crippling their financial powers to sustain smuggling.
"The warehouses from where some of the seizures were made are sealed and they are under watch. Arresting the cleaners or errand people there wouldn't address the matter, we want to be able to arrest the king pins, and we are looking out for them.
"Government has the capacity to pursue and arrest them, to destroy their finances, because definitely, the funds for buying these illicit products have been lost. The emphasis is to make them continue to loss so that they cannot continue on this line of illegal trade."