Customs goes gaga on fuel smuggling
As Peters explains difficulty in apprehending barons
BY FUNMI ALUKO
The Nigeria Customs Service (NCS) have introduced far reaching new stringent measures to curb smuggling of petroleum products outside the country, amid official steps designed to ensure their effectiveness, which are encapsulated in administrative cannon that can be described as the reading of the riot act.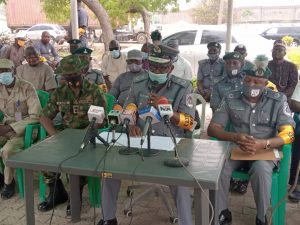 This is even as the Joint Border Patrol (JBP) Sector 3 of the NCS have said that unwarranted chain of third party interferences in smuggling activities have made it extremely difficult to apprehend the actual individuals behind smuggling.
Coordinator of JBP Sector 3, Comptroller Olugboyega Peters psc (+) dss, mnim, Fipman, who made above disclosures recently at IIorin, headquarters of  Sector 3 and Capital City of Kwara State, lamented that the activities of middle men like crossers, drivers, informants and local community sympathizers  of smuggling barons create unnecessary barricade that allows smuggling kingpins evade arrest.
As evidence of the renewed commitment to combat fuel smuggling, the Sector 3 Coordinator announced the seizure of One Hundred and Fifty Four Thousand Four Hundred and Four (154, 404) liters of petroleum product with a Duty Paid Value of Ninety One Million Two Hundred and Thirty Six thousand four Hundred and fifty Naira (N91, 236,450), between April and August 11, 2021.
Peters who said the activities of smugglers' go-between are largely driven by ignorance, revealed the new tricks deployed by fuel smugglers has been uncovered by the NCS, and  includes transporting fuel in unapproved and highly unregulated means such as packaging the products in improvised cellophane bags, Jerry cans and other unapproved mode of transportation.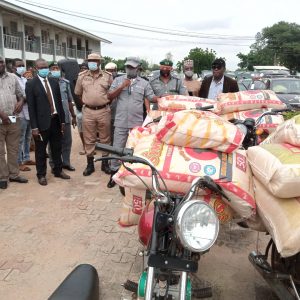 He further explained that the new methods of conveyance by smugglers  is intended to beat detection by customs and other security agencies, hence smugglers device to abandon the popular mode of fuel conveyance by  petroleum tankers.
Despite above difficulty, he said the NCS have succeeded in reducing smuggling activities by 85 percent within his sphere of jurisdiction, covering the four states of the north central region of the country. Speaking on the consequences of fuel smuggling, challenges of fighting fuel smuggling and the new strategies already in place to enhance improved border policing, Peters said:
"Petrol smuggling has a long history and has been significantly reduced in this Sector. To make our land border less porous, we have deployed additional patrol teams to prevent not only smuggling of petrol but other smuggling activities. Moreover, the policy of 20 kilometer Radius by the Federal Government is still in force.
"Any petrol station that falls within the 20 kilometers radius and has the approval to lift petrol from NNPC/DPR are policed which make it difficult to be diverted or smuggled out. Security has been tightened; smuggling has become harder which hurts the smuggling networks.
"It might interest you to know that since my assumption of duty late last year, under my leadership, we have seized One Hundred and Fifty Four Thousand Four Hundred and Four (154, 404) liters of petroleum product with a duty paid value of Ninety One Million Two Hundred and Thirty Six thousand four Hundred and fifty Naira (N91, 236,450)"
Peters also spoke on smugglers attempts to beat detection and the counter measures the sector has put in place under his watch to remain a step ahead of the economic saboteurs.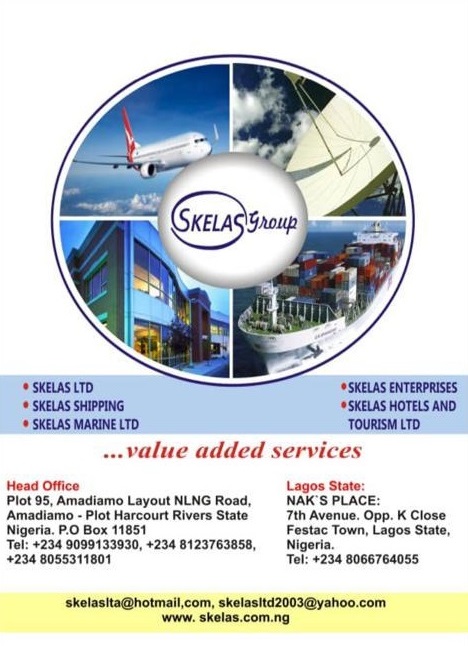 He said, "Smugglers have continued to advance with their techniques of smuggling, they have resorted to using sacks to smuggle petroleum products. I want to warn these criminal elements operating in the Sector that any method, scheme or tactics used shall be uncovered, make arrest prosecute such perpetrators.
"We are more determined than ever to make the sector uncomfortable for them, as the sector will henceforth beam its search light on trucks with sacks."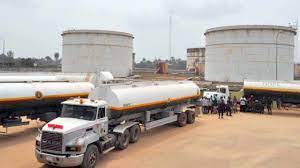 Between April and August 11, 2021, the Sector 3 according to Peters made a of eighty two (82) seizures of different items. He listed the items to include 650 sacks of  60 liters each of diesel (39,000 liters); 1,735 bags of foreign parboiled rice of 50Kg each; 1,415 Jerry cans of 25 liters of petroleum products (36,525 liters); 33 used vehicles; 12 bales of second hand clothing and 10 motorcycles; with total DPV of N92, 547,752.00
…Customs, NNPC Reactivates Operation White Hilux Team
Speaking further on the determination of the federal government to tackle the issue of fuel smuggling, Peters revealed that NCS and the Nigerian National Petroleum Corporation (NNPC) have worked out a joint strategy to effectively crash the smuggling of fuel outside the country.
"As part of effort by Federal Government to curb smuggling of petroleum product, the Nigeria Customs Service in collaboration with Nigerian National Petroleum Cooperation (NNPC) recently approved the reactivation of Operation White Hilux Team, designed to control the smuggling of petroleum products across the border.
"Security has been tightened; smuggling has become harder which hurts the smuggling networks. It might interest you to know that, from the record made available by NNPC/DPR, only 13 petrol tankers were granted approval to load petroleum product every week to border communities, to prevent products from being smuggled out.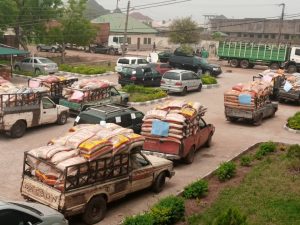 Giving the breakdown of the new partnership and how operatives of the JPB are expected to drive the action plan to ensure that it is weak proof, Peters handed down sets of rules and key internal control elements and sanctions best described reading of the riot act; enumerated below.
No petrol station is allowed to operate in the night; 2. Any major supply through approved routes is monitored through strengthening of check points manned by our officers; 3. Enforcement is mapped out and thoroughly monitored by team of officers comprising of Customs, ONSA, NIA, Police, DSS, Immigration and other sister agencies involved in this assignment; 4. All petrol stations are on roster to lift fuel accordingly which makes it absolutely difficult to smuggle out; 5. Approved tankers laden with petroleum product must be escorted by a team of officers (only on roster) to the point of discharge; For example- Any tanker either from Ilorin or Oyo en route to border station or area of our responsibility (AoR) will be monitored by a team of officers positioned at Okuta and hand it over to officers at Ilesha Baruba, while officers at Ilseha Baruba will guard it to Chikada or any approved point of discharge; 6. No petrol tanker is allowed into our Area of Responsibility (AoR) after 1600hrs to avoid late discharge and unwarranted suspicion; 7. No officer on roster/escort of a petroleum tanker must leave the discharging point until after the last drop is discharged into the underground tank; 8. Any tanker that cannot get to the point of discharge before 1600hrs must sleep over at the nearest check point and proceed to its destination the next day; 9. A detailed inventory of each petroleum product is always taken. e.g. Number plate, Driver's Name, point of destination and couple with other relevant documents; and 10. Crackdown against illegal petroleum outlet i.e. fuel Station found guilty or violating the above Rules of Engagement (RoE) therein will be sanctioned.
For the avoidance of doubt, the Sector Coordinator explained that escort officers approved to escort petroleum tankers loaded to the point of discharge should not for any reason be misconstrued by the public as smuggling of products, but as part of strategies to enhance monitoring to avoid fuel diversion out of the country.
"I want to make this clarification that escort officers of the approved petroleum tankers loaded with petrol to the point of discharge should not be mistaken for smuggling out of  the country but as part of strategies to avoid same product been smuggled out or diverted."