 ANLCA CRISIS
"Court dissolution of board beyond me"-ANLCA NP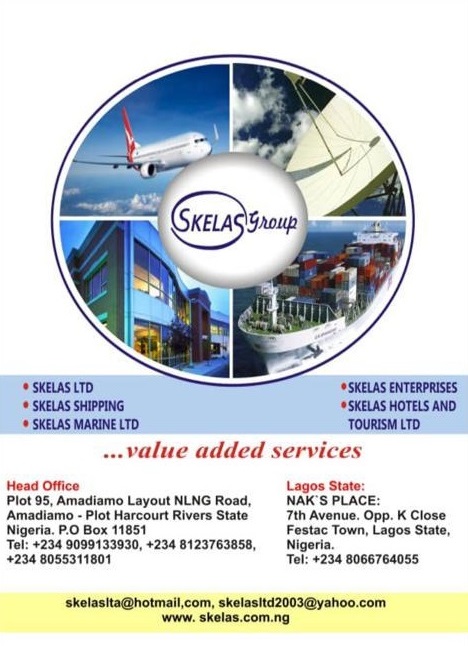 In spite of assurances by the National Executive Committee, NECOM, of the Association of Nigeria Licensed Customs Agents, ANLCA, the National Executive Council, NEC, which comprise of NECOM and the Board of Trustees, BoT, appears fractious and at daggers drawn.
This is coming on the heels of the latest court action said to have over ruled the extension of the BoT lifespan by six years February 2020, following the
expiration of the tenure of the Alhaji Taiwo Mustspha led BoT.
The National President, Association of Nigeria Licensed Customs Agents ,ANLCA, Uju Tony Nwabunike had last week said there's no crisis in ANLCA, sequel to a query NECOM issued its Vice President, Kayode Farinto, for alleged insubordination.

According to Nwabunike "Farinto has apologized to the House and we have accepted his apology. We are one big family and we have no crisis", he said.
However, few days afterwards, Nwabunike said anyone claiming to be a member of the BoT is doing so at his peril, stating that "as at today, ANLCA has no BoT", adding that anyone making such claim risk jail term.
He said the position is that of the law court that recently said the tenure extension embarked upon in February this year is null and void.
His words, "Let me say that as at February this year, the whole board of ANLCA tenure has expired; anybody parading himself as board member is risking jail.
"As far as we are concerned board members of the Association finished their six year tenure in February 2020. If a court gives me an order to bring them back I will not say no to court. Rather what I got was even a court judgment restraining me from recognising anybody again as board members and that is the latest order from the court.
"In fact am risking jail if I should sit down with anybody called BOT members until an appeal court revised the decision."
The ANLCA boss however, reiterated that there is no in-fighting among the NEC, adding that information dissemination will be streamlined and approved by the President.
Reacting to the rumours which allegedly sacked the National Executives Council of ANLCA, he maintained that persons involved in the court injunction are not financial members of the association since 2018, even as he insist that the leadership of the association is intact.
He dismissed two NEC members who are currently in court over the NEC crisis, Fakanlu Olumide and John Nwagbaraocha, as null and void "because they are not financial members of ANLCA."
lt will be recalled that five members of the BOT namely; Alhaji Taiwo Mustapha, Prince Taiye Oyeniyi, Chief Ernest Elochukwu, Chief Dennis Okafor and Mr. Dayo Azeez in February this year after their meeting at the ANLCA National Secretariat in Lagos informed that the Board had gotten an extension of another six years in office with effect from January 16, 2020 having regularized its registration at the Corporate Affairs Commission, CAC.
Alhaji Taiwo Mustapha who was elected Chairman BoT during the meeting said the extension was informed by a Federal High Court ruling in Lagos which failed to recognize some of them as lawful members of the Board ob the basis that their names was not contained in the Certified True Copy at the CAC as members of the ANLCA BOT.
Mustapha said following the development, they paid mobey from their pocket to CAC to regularize their names as well as the accrued annual levy to CAC, a development he argue imposes on them the need to begin their tenure afresh at the point they became recognized legal members of the board.
Frowning at the development, ANLCA National Secretary, Alhaji Abdulazeez Babatunde Mukaila said the BoT tenure ended 7th February, 2020, noting that nobody gets elected into Board unless through an AGM called specifically for that purpose.
He said, "Whatever was their challenge or their inability to get themselves registered after their election, I believe that is their internal issue which is between them. "However, that does not make them not to be our Board. Close to five to six hundred corporate companies most travelling by road freely gave them that mandate to sit on the Board of ANLCA Trustees.
"No one will sit in an air-conditioned room and extend such tenure. It is a joke of the century and it cannot stand."
On whether ANLCA appealed the ruling of the Federal High court on the status of some members of the Board, Mukaila said, "the extant judgement that stipulates that we do not have Board and therefore until registration is made, there is no Board in ANLCA. I am not a lawyer, I am aware that Alhaji Taiwo Mustapha went on appeal in respect of that judgement. However, he came up and said he is withdrawing that appeal.
"So, I am not going to dabble into what the court said or not but my understanding is that we have a Board, if they have an internal crisis or any reason why they could not register themselves for six good years, but they did that when it was ten days to go, they have documented that they are the Board. It will be in the anal of history that is why we have their pictures here.
"Therefore, we have a Board, if they did not perfect any paper in Abuja, we gave them that mandate. It is going to be a joke of the century if a mandate given willingly by over six hundred companies at the Annual General Meeting is being upturned by just five people, it is not possible and it is not going to stand."
Contacted for reaction, the chairman of the embattled led board, Mustspha said he would only react after a formal meeting of the board. "I will will let you know about our position as soon as we have met. There is cause for alarm, the matter will be resolved in the interest of all", he said.