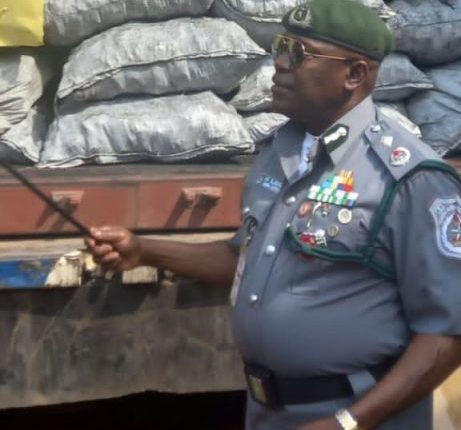 Ejibunu Spoils Xmas, New Year For Smugglers
…Impound Consignments of Festive Items, Arrests 14
BY GBOGBOWA GBOWA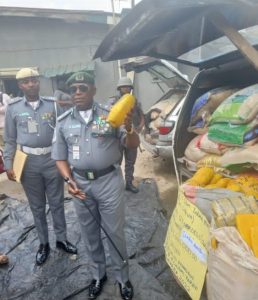 Contrary to smugglers expectation to smile to the bank this yuletide, the Nigeria Customs Service (NCS), Federal Operations Unit (FOU) Zone 'A' roughed the waters for smugglers as the unit made seizures of various contraband goods with a total Duty Paid Value (DPV) of N1, 021,263,350, as it intensifies the offensive against smuggling intended for the festive periods during Christmas and New Year celebration.
The Unit also recovered a total of N43, 530,867.25 through the issuance of Demand Notices (DN), for identified violations in the import rules, between the month of October and November 2022. This is even as a total of 14 suspects were arrested for different offences during the period under review.
Acting Controller of the unit, Deputy Comptroller Hussein Ejibunu while showing reporters around the seizures yesterday at lkeja, explained that 13 out of the 14 suspects have been released on administrative bail, while one is still in custody.
Giving the breakdown of the seized items, Ejibunu said they include 8,999 bags of 50kg foreign parboiled rice, which is equivalent to 15 trailer loads; 85,300 litres of premium motor spirit (PMS); 812 pieces of used tyres; 1x40ft container laden with charcoal, and 2x20ft container laden with 4,004 cartons of tomato paste.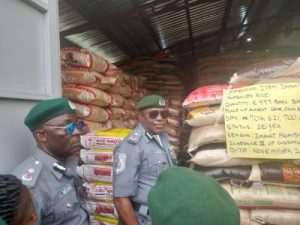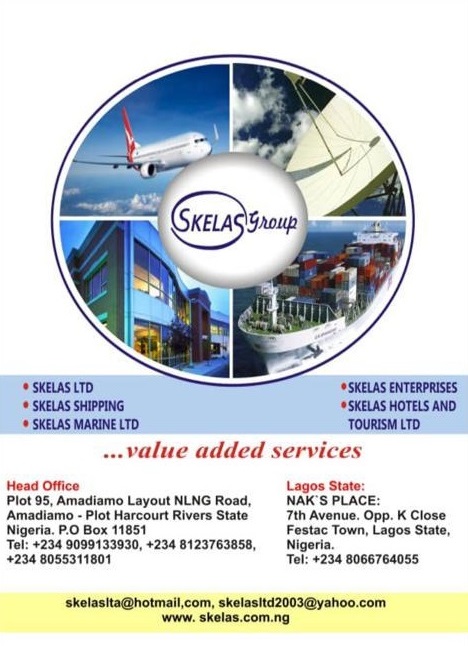 The others are five units of used vehicles, 40 cartons of 4 and 5 litres of vegetable oil, 128 parcels of cannabis sativa, otherwise known in local parlance as igbo or wee-wee, 13 cartons of knock out, 243 bales of used clothing 2,976 cartons of new shoes and 37 cartons of poultry products.
The Unit Controller explained that the recovered revenue would have been lost through different modes of duty evasion such as undervaluation, under declaration, application of wrong Harmonized System (HS) codes and false declarations, but for the unit's meticulous oversight and prevention as one of the critical layers of check.
Speaking further, Ejibunu said officers and men of the unit are at alert and prepared 24/7 confront and combat smugglers and duty evaders without let or hindrance  as provided for in the Customs and Excise Management Act (CEMA), all through the yuletide season.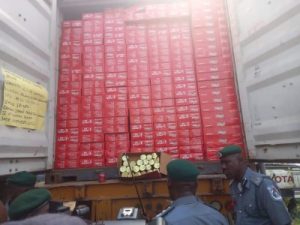 "Typical of lawless smugglers and enemies of our national economy, their expected desperation exhibited towards the end of the year has reared its ugly head. As I have always said, with the logistics support of the Comptroller-General of Customs, Col. Hameed Ali, CFR (Rtd), and members of his management team, the patrol vehicles received and other operational support provisions made by the CGC are highly motivating and they play contributory roles in the seizures we shall be showing you today.
"As the year draws to a close, let me reiterate our warning to smugglers, intending smugglers and their collaborators; that FOU Zone A, would watch, remain active and vigilant at all times. We shall vigorously go after them wherever they travel through, or store smuggled items, even if the smuggled goods are stored in their bedrooms, we shall lawfully swoop on them. It is an ongoing battle that we shall not relent on.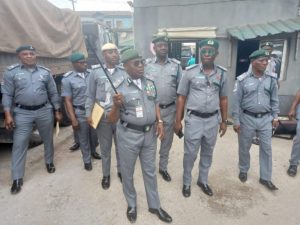 "Without mincing words, I dare say that smugglers would be confronted with the worst Christmas in their life of crime, this December. Not only are we going to seize their wares, but we are also determined to arrest them for prosecution", he declared.