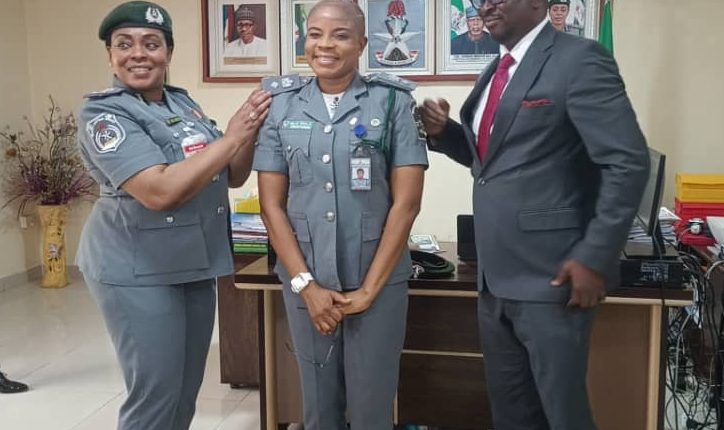 Lagos Customs Zonal PRO, Nwala, Decorated With New Rank
As Usman, Attah, Duniya, Sulaiman, Maiwada, Others To Follow Suit
By Eguono Odjegba
The Public Relations Officer, Nigeria Customs Service, Zone A Lagos, Nkiru Nwala was yesterday decorated with her new Chief Superintendent of Customs (CSC) rank by no other person but the Zonal Coordinator, Assistant Comptroller General Modupe Aremu.
PROs spread across commands and units of the service waiting to be decorated with their new ranks include Abubakar Usman (Apapa Area Command), Ifeoma Onugbo (Port Harcourt Area 11 Command Onne), Mohammed Yakubu (PTML Command), Peter Duniya (Federal Operations Unit Zone A), Eunice Nwaja (Murtala Mohammed Cargo Airport Command), Jerome Attah (Federal Operations Unit Zone C), Sulaiman Isa (Western Marine Command), Hussaini Abdullahi (Seme Command), Saidu Abdullahi (North Western Marine Command), Aliyu Maiwada (Headquarters).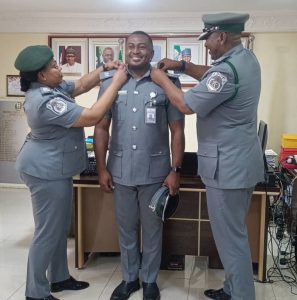 Other officers serving at the zonal headquarters were also decorated alongside Nwala by the ACG Aremu, after which the Coordinator admonished the newly promoted officers to rededicate themselves and see their promotion as a call to more duty, noting that higher ranks in the service imposes greater responsibilities in view of more challenges tied to higher ranks.
Speaking earlier during the decoration of more senior officers spanning comptrollers towards to chief superintendent of customs at the zonal headquarters, Aremu also urged those not promoted now not to feel bad but should work harder and prepare for their time.
Her words, "To whom much is given, much is expected. For the new ranks and levels, there are new responsibilities, and they should be able to carry the service going forward. And as for those who were not promoted, examinations are coming up very soon, and I will enjoin them to prepare well for the next one so they can get elevated."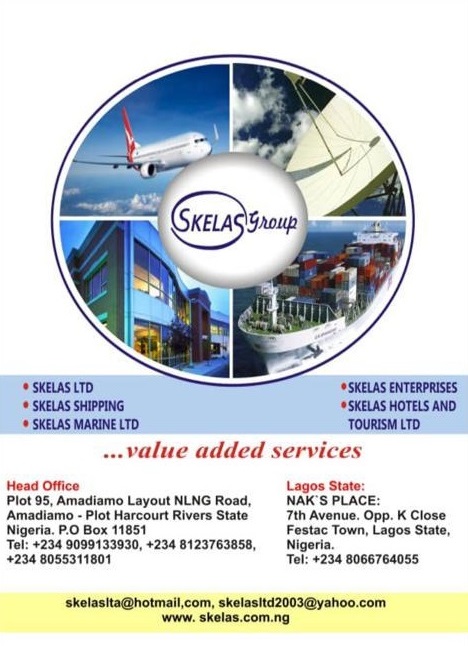 She urged operatives of the service to keep up the current traction in the service's anti-smuggling operation, adding that surveillance of the nation's borders in the South West will always be treated as priority issue in the interest of national economy and security.
"This is why we have E-Customs. We're working towards complete automation of our processes. Also, the borders will be manned electronically; we will have drones and area surveillance, and that will go a long way in helping us to police the borders effectively."
Fielding questions from reporters after her decoration, Nwala thanked the Comptroller General of Customs and his management for the privilege of the promotion granted some of them, noting that it will spur them to do more.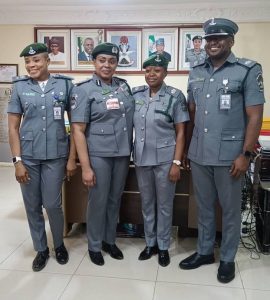 Her words: "First of all, those of us in the public relations department are very grateful to the CGC and his management for the privilege of being part of the promotion. The CGC is our father and our mentor, and we cannot fail to appreciate that they look upon us to continue to project the image of the NCS in very positive ways. The Service has trusted us, it has given us a platform, a privilege, and an exalted position to give hope and project the service properly. I am assuring the customs management that all of us from 2009 upwards will not disappoint.
"This decoration is going to be a booster to our existing mandate. In the context of anti smuggling, we're only going to be suppressing smuggling, as it is done globally, not eradication. But this is a step in the right direction because we now have more officers, and those that are here are motivated to do more, so we're expecting better results."
Speaking on information management tom match the efforts of the NCS and its management, she said: "We're going to build on what we have already. We have our established platforms like the NCBN and robust relationship with journalists.
"We will keep building on the existing relationship between us and every other platform that we need to continually engage the public, and our stakeholders and keep communicating until everyone knows what they need to know."