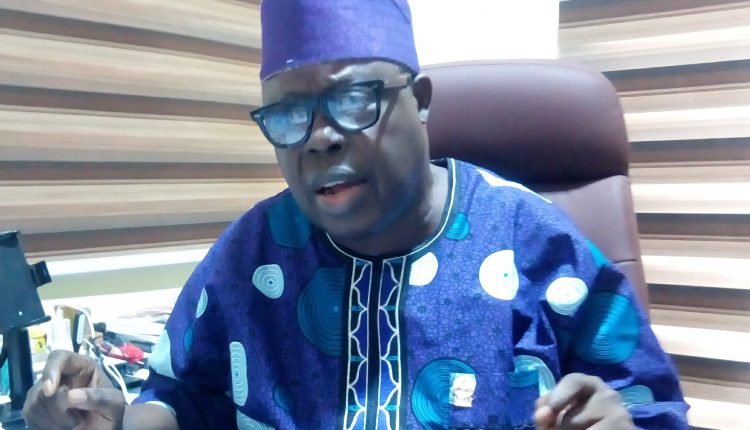 'NPPM may end up an academic exercise' – Shittu
Given the perceived shallow foundation on which the Nigerian Ports Process Manual, NPPM, was built, erudite customs broker and immediate past national president of the Association of Nigeria Licensed Customs Agents, ANLCA, Prince Olayiwola Shitu has said the scheme may end up an exercise in futility.
He said whereas NPPM sounds good to the development of the dynamics of service delivery improvement in the port industry, he worried that the may be bereft of depth as it may not have enjoyed robust engagement given its criticality.
A frontline maritime personality, Shittu also spoke on a wide range of other industry matters in the front burner, and suggested the scrapping of ports common user roads if the proposed Electronic Call Up System for trucks must work efficiently. He also provided insight into the contentious imported vehicle tariff reduction, noting that the hysteria that greeted the announcement was uncalled for. Excerpt:
By Eguono Odjegba
 The freight industry has been in lamentation recently over allegation that the Nigeria Customs Service is frustrating the implementation the presidential order on imported vehicle tariff reduction. Is the policy reversal fake, why is the system frustrating a policy pronouncement?
Because the system created the fact that political pronunciation has to go through regular administrative process. The fact that they said, 'oh we are going to lower it' does not amount to much. In those days, policies are administered from the customs and sent up for ratification. But nowadays, the reverse is the case, politicians will just make announcement, then customs will be waiting. When did the minister of finance sent enabling letter to the customs?  And when the president made that announcement, has there been a board meeting where these issues will now be put into the system to generate implementation? And from the time the president made mention of it till now, there has been a lot of misinterpretation. People thought to bring in car is now 5%, but no, that's not what it is. Let me make further clarification. What the government did was not to reduce the duty on cars. The duty at 35% still remains, but the levy of additional 35% was what was reduced to 5%. This means if you import a brand new vehicle, you pay total of 40% tax, unlike 70% prior the new policy statement.
 As a former National President of ANLCA, you're no doubt interested in the ongoing Electronics Call Up System for trucks. What is your view about the scheme's official preparation, the way and manner the Nigerian Ports Authority, NPA, and Lagos State Government has handled it so far?
 We have a problem in our industry, nobody ask you for your opinion. When Ms. Hadiza Usman got into office, l had the opportunity of meeting with her one-on-one. I told her 'don't take people unaware on the decisions you want to take that will them'. Don't even thinker a little with the system itself, call them. In fact establish a quarterly meeting of representatives of all stakeholders, find time to sit down with them. Let the shipping companies tell you why agents are doing this or that, and from there, we would improve on service delivery. She said okay, till l left office it never happened. You know, our style in this country is that people who are in position of power just assume they can force anything on you and then allow the system to take care of it. Right from the time of concession, the disagreement I had with Chief Adebayo Sarumi who was one of my mentors in the maritime industry, and Ojo Maduekwe, may his soul rest in peace, was the system of concession they wanted to visit on Nigeria. They didn't want to use the South African model, they didn't want to use Ghana model, but just want to play politics and they balkanized the port, left a narrow strip as common user area, so NPA will still maintain influence. But that's not the way things are done, that's why we are having this problem we are having now. I still continue to say that the whole partitions called terminals should have been under one operator, who would have allocated spaces for different types of specialized import/export operations, empty container bays, where you can return your containers at ease and they are shipped away, because eventually, like what is happening, every terminal has its contractual agreement with a liner. This means that cargo coming from liners ships must come to that terminal. So that same liner can take the empty containers out, once they have discharged containers brought in. But now because of the pile up, we don't even have enough space to keep imports, so why would they consider space for export or whatever else? However, the issue of congestion on the roads shouldn't have been like this, even when they wanted to concession the road, government said they don't have money, and we heard from NPA that Dangote was going to be given the contract and all that, and within a very short period it was going to expand and construct. Okay the area it has done in Apapa, nobody in the port have not seen it, it is good enough. It could have been better, but let's say at our level, it's good enough. But the area that's very important is this access from Tin Can to Mile 2 that will take you out of Lagos. Maybe it is not meant to be completed on time. Sometimes I ask myself, did Hadiza promise anybody that by so, so time, the access road will be completed? She didn't? She mentioned the one of Apapa axis that goes out through Ijora. They had to repair the bridge, that within a year or two, in fact, her promise then was that by end of last year, that axis would have been completed and okay. Yes we know that Covid-19 became a constraint, but Covid-19 constraint does not stop road construction, because road construction is by schedule, and Dangote is using cements made by Dangote to build the road, and the rods you have them, go ahead and do your work. In fact the concrete method used by Dangote is what Nigeria should have adopted ten/fifteen years ago, that would have kept all this repetition on our roads all over the federation out. But then politicians don't want the roads to be properly done so that roads will be a recurring decimal in their budget and then, you know how it goes. That could also be the reasons the ports access roads have been left for this long. Be that as it may, we will not stop putting NPA under pressure, they are the land owners, but I will suggest that we scrap the common user roads surrounding the terminals in Lagos ports. We scrap it entirely, it's not necessary. All terminals should have their exits and their entries facing the expressway. The common user roads serve no purpose other than give NPA room to flex muscle. If the terminals have private access and exit roads linking the major express road, all these issues of clogging will disappear. Imagine if I have to go from PTML to APMT, do you know how many terminal gates I will come across along the way, with intersections, the one that wants to go right or left, the one that wants to reverse and all that, they cause unnecessary clog. I know it will be difficult for them to reverse because they are making a lot of money out of it, government concession, and those they have given concession, they cannot take it away from them, but it was a bad decision from the start. PTML should have direct access to the main road; look at the success they have made with barges that people feel is not possible. But barges are possible with the right framework, rules, monitoring and control. Most of these congested terminals should invest; they have to move their goods out. A terminal can build its own rail line from the terminal to join the national grid and create alternative for people to evacuate their goods.
But the barge operations are having hiccups because some agencies of government allege that contrabands are moved out of the terminals
I said it when I was president of ANLCA, there is no way contraband can leave the port without collusion, even the present clearing process, there's no way anybody can take a container out of the port, devoid of the present system in place without collusion. And if the people you pay to resist temptation now find temptation more lucrative than what you are paying them, what do you expect? That's why the level of corruption is very high. It has never been this bad, and it has become a syndicate, right from the beginning of your documentation till you deliver. So I just pray, maybe the system been put in place now, the Nigerian Ports Process Manual, NPPM, will not end up a mere manual.
Have you studied the manual, do you have faith in it?
I have gone through it; there are some parts that are not practicable. There are areas that need to be jettisoned because the manual is based on standard operating procedure, SOP, of individual organizations relevant to cargo clearance. And who submitted the SOP? They themselves and some people collated it in Abuja.
From your study of the NPPM document, overall, does it align with national interest?
It should because some of the SOP indicated that if it is properly followed, it is workable. I will tell you, somebody said part of ourselves will go for examination and immediately after examination, we write our reports and then, it goes through the system, as part of the procedure. But nobody tells us that there are some, after examination it will take you three days to get a report, something delayed it. The delay is not factored into their SOP. I want to commend Nigerian Shippers Council, they have been trying , the only snag with the Council is that they don't have the legislative power to carry out a lot of actions, and its deliberate because operators within the industry are catching up on it. Then there are also other agencies in the port issues not helping matters too, over jurisdictional powers… "This is our area, we have the power." Even NIMASA with NPA were at logger heads over operations, until they resolved recently. Okay, you handle safety, you technical. Even the commercial end of it, NPA does not want Shippers' Council to be involved.
Despite Shippers' Council being the ports economic regulator?
Of course, there are lots of unhealthy business politics going on. NPA for example discharges cargo and collect fees, so they are supposed to be regulated commercially. If you're charging X amount here; is that what they are charging in Cotonou?  This scale of reference is important so that we can be competitive, regionally. You set up new bodies; they are supposed to be repealing the previous ones, in other to give the new body enough teeth to do what they have to do. If Shippers' Council is properly empowered, there will be sanity in the system.
 It must be a big challenge if at this age NPA and NSC are still flexing muscle of who has right over what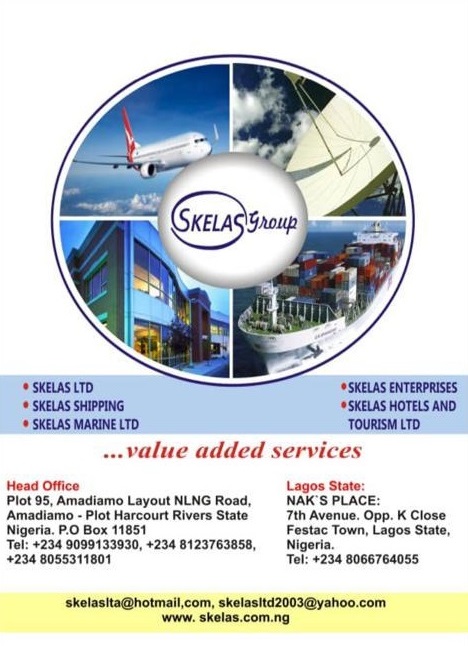 That is the same problem we are having in the freight forwarding industry and that is why every Dick and Harry answers I am an agent. You can't be an agent without license. And the only people that can license you to do customs clearance is the customs service. Now the Council for the Regulation of Freight Forwarding in Nigeria, CRFFN, is also issuing license now. To do what; to clear customs cargo? Is the licensing by CRFFN replacing Customs license? It's something that has to be resolved. Even during my tenure as ANLCA president, they thought I was antagonistic, because it became an opportunity for every Dick and Harry, because no matter your background, you come into the port. All you need to do is to go to an arm of government that is not licensing for customs purposes, who allows you to go to customs area for whatever reason.. Customs all over the world license clearing agents; it is only in Nigeria that we want to take advantage of every situation to enrich ourselves.
But the job of CRFFN is clearly defined, why the usurpation?
CRFFN as a regulatory body is supposed to regulate workers in the freight forwarding industry, just like a trade union. All the mago mago is about the craze for money at all cost. Who is paying the POF they are collecting? Go and see the receipts they have issued so far, it is the licensed company by customs that is paying, not individuals. It is the company's name that is there. So if I am paying from here now, it is Skelas. Now the same Skelas has to renew its licenses and permits to customs. Which profession does that? Now CRFFN is saying for every job you do, you must pay, but still the same CRFFN says, all the persons in your company must pay annual dues. Your company must pay their license fee, renewable every year.
 So this POF thing is all about the quest for money
Nothing more, all those expressly provided for in their Act is enough income for a regulatory body. What is the job of a regulator, is it to carry carry koboko to go and beat people at the port? No. To be on the system, you pay us this fee, you want to go to school, the following universities are available for you to study freight forwarding, customs brokerage; their own is to accredit. That one does not mean you must have offices t around state capitals, and then you are building infrastructure and edifices, to do what? By every comparison CRFFN is what COREN is,  and what do they do? If you see COREN branch offices in any state, its one small place because everything is done online. But these people, CRFFN, are doing projects, get millions in allocation and are still chasing us in the port for N1000 and N2000. Majority of those who should talk are not talking because those who are to benefit from that collection will not allow it. And that's why as you can see, those who went to the Council, who were selected to go to the Council, but let's agree with them that they were elected, when their tenure expired, they said they are not going anywhere. Where there is money, you will see Nigerians turn the system upside down. I was in the Council and I said this long time ago when I noticed the tendency to use the Council to exploit, that even if I was younger, I could never go back there. I talked and objected, let other people go and try. If there is nothing there, why the fight over tenure?  'I know my tenure is four years, whether you like it or not, I will be there when the POF collection starts.'  That is the kind of attitude that is affecting the entire industry and national system. Until recently, heads of maritime agencies don't meet, that's not good. And what made them start meeting is this Covid-19 pandemic. Ordinarily there must be a platform so that anywhere there is going to be clash of mandate, they resolve there and bring out a template just like SON was able to do with NAFDAC.
Let me take you back to ETO sir, do you think if there has been sincere dialogue and synergy, we could have had better results?
Hmmmm, we have said it earlier about this not having regular meetings amongst stakeholders. The people that are directly involved, at what stage were they consulted? Because before I left office, nobody ever consulted us about the proposal for trucks call up system. But we were complaining, how things were going. The latitude they gave to shipping companies for them to abandon their containers because they were getting deposits from owners was going to create problem for us. That was the beginning of this crisis, where empty containers will stay on top of trucks for three weeks/one month. The problem of ETO is that no transporter wants to take the risk of carrying loaded cargo to offload at destination, and then come back to access the port to go and drop the empty container, and come back empty and go and queue up before it can take another container. Truckers takes delivery, delivers it even if it is lkeja. He brings back the empty and is queuing because he doesn't know where to put the empty container. So, he waits to see a chance to get another cargo in the port, so that when he takes the empty container into the port, he can now load and go out. That's why he is in the clog. Now if you ask him, 'do you really need to queue to drop the container?' he will think you're from the moon. Tell shipping companies, get your own empty containers bay so that you can receive the container there, they will ask you, who will pay for the transfer between the container bay and the port when they are ready to take it? They don't want to take any responsibility.
But isn't this abdication of responsibility and failure of governance, isn't it government duty to make laws and policies for best practices and the good conduct of all stakeholders? Why is the NPA and Shippers' Council foot dragging on the necessity of obligating shipping companies and terminal operators to establish holding bays?
We have foot of clay because those who matters in the government of the day are the owners of the shipping companies. We never had this scenario ten years ago. But gently the thing crept in, the fact that the trailers are in one place over a period, impacts the integrity of the road, that's why the roads suffered wears and tears, coupled with the fact that there are issues of standards in the construction of some of the roads. This is also a factor. The loaded trucks remain stationary on one sport for long period of time and this weight hasten roads damages. Now you introduce different system to control the lock jam, all the security agencies they brought to control the traffic and all that, went there to make money for themselves, it is not hidden. How do you want them to support the turn around when they are neck deep in rent taking. Turn around wouldn't benefit them. Didn't you hear Lagos State Governor say he is ready to name names? In a sincere society, does the governor need to announce he will mention names of saboteurs when he can just expose those behind the problem and get it sorted out once and for all? What is the reluctance about? He does not need to tell us his plans, as a major stakeholder, he should name names and solve the problem.
The ETO scheme witnessed pocket of resistance at the take off, which suggests that government is forcing ETO on the industry, what happened to dialogue, sensitization, buy-in and compliance?
Well, you're forcing them because you want them to stop eating. Even the transporter is eating, if you have to take cargo from here to lkeja, they charge you N1million plus. Even if you're not the owner of the truck, are you not eating out of the confusion? And those who should sanitise the system, who should ensure that the needful is done, and force you to pay for the confusion, are also eating. Let me tell you, there's a solution. Before ETO can work, all containers coming coming should be evacuated by railway. The terminals should be linked by rail, and as cargo is dropping, it is scanned and scanned report is sent to the customs system. Now, they said they want to buy cargo scanners, who is the highest bidder to buy the scanners is what is delaying it up till now. But in most advanced countries, the terminal operators arrange for scanners, manned by customs and other agencies. As soon as the cargo is coming in from the ship, they are taking it to the scanner, report is ready, you go and serve it and be doing your work.
 But ETO have failed to address the gridlock
ETO should have been an integral part of the transportation connectivity. The system can load cargo on train and be taking them to designated Inland Container Depot, there is one at Ibadan and one in Kaduna. Let the port operations move from the transit area which are the terminals now, move out to the ICDs. Government can even provide incentives to encourage seaport terminal operators, get them involved in the ICD so that they will be willing to feed the ICDs, so that they can still continue to collect their demurrage in case owners of cargo or their agents don't come on time; rather than tell them to remove overtime cargo to customs government ware houses which is nonexistent. Ikorodu Terminal which was recently converted into government warehouse is already filled up. So, it's not taking anything out of the port terminals, there are no longer spaces in the terminals to take fresh imports not to talk of empty containers. The whole thing is in a mess. But if all the imports are taking to ICDs, what will be coming back to the port will be loaded empty containers, which should be loaded on ships ready to leave. Imports will no longer be stacked in the terminals; you will still pay your handling charges but not demurrage. But if you don't involve the seaport terminal operators, they won't cooperate to allow cargo move out of the port, so that they can go on collecting demurrage. All those hindrances are factors of how much money can I get?
 All port players or just the terminal operators?
Everybody, do you think NPA does not have revenue target?  .
Do they?
Yes of course, but they have been telling you this year's collection was better than last year's. Why do they need to announce the revenue generation that is greater than last year? It's because they are meeting up with target.