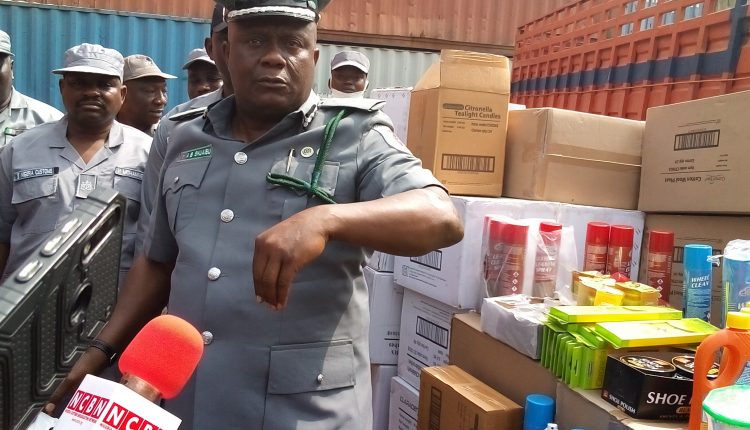 Smuggling: 'Change of mind and heart, not guns, will win war', Shuaibu
Coordinator of the Controller General Strike Force Team A, Nigeria Customs Service, Deputy Comptroller Ahmadu Shuaibu, Wednesday said that the war against smuggling will succeed through collective attitudinal change, anchored on re-orientation of minds and hearts of Nigerians.
While lamenting the collapse of citizens moral and social values, the anti-national regretted that strange modern day value system, with propensity for greedy acquisition has eroded the noble and ethical pastime of our collective cultural heritage, where every man was his neighbour's keeper.
He stated that whereas the customs service have no intention to buckle in the fight against smuggling and anti-economic activities, society have a duty to support government to have a reorientation that can usher in required patriotism to grow our local economy, and encourage local productivity and improved export potential.
In a chat with news men to showcase his team's impressive performance in the past one month, which included recovery receipt of N426million and a DPV of N338million in seizures; Shuabu said the wellbeing, safety and security of Nigerians is part and parcel of the duty of the customs service. Enjoy the interaction. Excerpt:
BY EGUONO ODJEGBA
Coordinator sir, what is the story behind these seizures here at the Ikorodu Government Warehouse?
This journey started from training college, where some of our anti-smuggling exploits were showcased. Behind us are consignments that failed due process; consignments that have been found to have compromised the extant laws, clearing procedures and import prohibition. Recall we mentioned earlier that owing to credible intelligence and the eagle eyes of our operatives to ensure that goods that do not follow due process are brought, examined and action taken. We brought you here to show you few of the seized consignments, so that you will be the judge. These are prohibited foot wears, they are prohibited but falsely declared as vehicles parts and used engines just to beat our operatives. But due to credible intelligence, our operatives on that axis were able to pick these. We have been saying that Nigeria has the resources as a country and the capacity as individuals to produce shoes. There are young people scattered all over the country who are into foot wear production and they can make all of these and can even make something better.
So apart from these foot wears violating extant laws, the other perspective is to protect local industry.
Precisely, we need to encourage our teeming youths to be gainfully employed. If we allow these kinds of improper importation to exit, then our country will be turned into dumping ground and, when there are no jobs youth restiveness will continue. We don't want that. So that is why we are part of this struggle, to ensure Nigeria becomes a better place. This type of importation is not allowed. The status of this consignment is that it has been seized and forfeited to the federal government. Here too, we have second-hand clothing also known as okrika, looking dirty, and the adverse health implication cannot be over-emphasized. Government in its wisdom banned this because of the health implication and well being of our citizenry. Help us to escalate this and let the people know that we will not get anywhere if this type of items are allowed to come in, and are patronized.
But how can we discourage patronage of these cheap generic imports?
If the teeming population refuses to buy these, then the importers will fail in their attempt to sell. Nigerians should note that these things are not good for use. You wear things that have already been rejected by another person and that can harm your own health. A healthy nation they say is a wealthy nation. Various modern diseases are known to be a result of this types of stuffs we go to market to buy and wear. We should desist from this and encourage our textile industries to make them work, so that they can employ more youths. I believe if the greater part of the youths is gainfully employed, restiveness and banditry will be a thing of the past. We want a country that is free from banditry.
Like going back to the old good time?
Yes, the one we enjoyed while growing up, where someone can travel from Sokoto to Lagos unhindered at night. Even when your vehicle develops a fault, you will find people to give you accommodation, water to bath and food to eat. And later, the next day, you get a mechanic to help fix your vehicle. That is the Nigeria we grew up in, and we want that to be come back and be maintained.
How is customs involved in such non customs function, which is more like social development responsibility?
 Insecurities are known to be promoted more by lack of jobs. Our action as operatives of the Nigeria Customs Service is to ensure that unlawful importation is discouraged. Here, we have 2 by 40 containers of this improper importation. They were all captured as vehicles parts and as Suzuki motorcycle parts. Importers can even help the system by making honest declarations. Once that is done, there won't be any need for the existence of strike force. So that is the message, help us pass it to them ; that they should join us in trying to move this country to where it ought to be. These are supermarket goods that people go to shops and buy as groceries. They are legitimate customs goods, but we seized them because they were falsely declared. The importer of this consignment and his agent declared computer monitors in contrast to what is inside the container.
Instead of seizure, why was debit note (DN) not raised as allowed by customs law?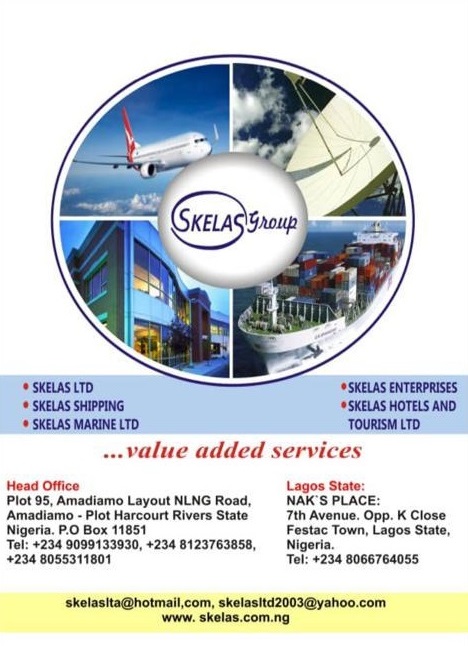 Issuance of DN is discretionary. If duty was collected on this, they will perpetrate more evil. The reason for seizing this is to send a message to importers who don't want to conform that proper and honest declaration is key to a vibrant and stable economy. Dishonesty in the clearance process should be discouraged. We may choose to classify and collect duty, but the message is not clear. But once this financial loss is involved and they suffer for it, we believe there will be a change of heart. So that tomorrow, when they bring this kind of consignment, they will declare correctly and the right duty will be collected; so that government can carry out critical infrastructural development. So these are the few out of our anti-smuggling exploits for the last month which we deem fit to bring and expose you to, so that you will help us escalate, educate and inform Nigerians.
What is the quantity of the seizures?
The quantity is an enumerated. They are all captured, the Duty Paid Value is over N330million, and the ICT components, as I have reiterated, we have been able to rake in demand notices (DN) to the tune of over N420million in the period under review. You will agree with me that those who have been forced to do that will not go home and clap for us. Some people find payment of tax difficult, but we have to do it because government must work and provide needed infrastructure for this country to thrive.
Is there a possibility of the strike force knowing where these seizures emanated from?
The strike force as an intervention unit exists to check and seize. The relevant unit of the service that is charged with that responsibility is on their trail. We have done what we are mandated to do. We have different units like the Customs Intelligence Unit, Police Unit, Investigation Unit, etc to carry out thorough investigation on who and who brought what. That is how it works.
 Are there suspects arrested?
Sure, there are suspects, but they have been granted administrative bail. All customs offences are bail-able.
Is it that importers are not aware that some of these goods are prohibited? All the items on display are the same items seized again and again. Is there no way they should not even come in at all?
Thank you for that question. The level of compliance since the inauguration of this task force has increased. You may wish to recall that in our first press briefing, we brought you here to show you more than six containers of prohibited items. With this constant intelligence, the tension of seizure and with the colossal financial damage they suffer, many of them are learning their lesson the hard way. That is why the number of seizures is going down, and by extension, the amount of revenue collected has gone up. It is a continuous thing. It is work in progress, because it is difficult to change minds and hearts, so it is a battle for the change of mind and heart. We always appeal to Nigerians to join us in this struggle to make Nigeria a better place and make our economy stronger and vibrant.
Can you juxtapose this philosophy of change of mind and heart with increased spate of offensives and use of guns?
In Nigeria we have many compliant traders, those who are following due process, who follows import extant rules and procedures. Their goods are delivered to their doorsteps, before customs formalities are followed. So, we still have compliant traders who are doing the right things, but the few ones who refused to reform and conform, those are the ones we keep combating. The greatest deterrence to vices and criminality is the personal desire for genuine change, when we change our orientation. Guns don't change attitude, guns create fears and achieve deterrence to some degree. The true change must come from within, which is the change of mind and heart, to be a positive influence on society and our environment. Every citizen have a civic role to play to make the country better.
But it is like citizens don't care much about country any more, they care about themselves
Yes, and that is why the leadership of the customs keep preaching about the need for change of attitude. When importers and agents embraces transparency and carries the longing and desire to conform, to do what is right, country will become better. If all of us united in the decision to change our attitude, with our minds and hearts fully committed, there will be need for less guns and no need for strike force. That is message the media should help to propagate. At the training college, you saw rice and drugs that were brought in despite the laws banning and controlling them. NAFDAC subjected the drugs to screening and discovered they are unwholesome. Traders should change their mind and bring in people in pharmaceuticals willing to follow the due process.
What will happen to the seized clothing and shoes?
The mandate of the strike force is to identify and stop them from coming into the country. Whatever comes after is the exclusive decision of the leadership of customs and his management team. You all know that the foot wears are banned, you all know that our textile industry is vulnerable because of the importation of foreign alternatives. If it is not discourage, eventually Nigeria will be a dumping ground. Our teeming youths scattered all over the country have the skills and wherewithal to produce the foot wears. Go to Aba and you will see the wonderful products they are making, you come to Lagos, you will see trekkers been produced and you will think they are foreign. So if we empower them, encourage and patronize them, then we will be earning foreign exchange very soon.  Our population is growing every day, what will their future be if this type of importation is encouraged to kill our capacity for export?
Second hand clothing also called okirika in Nigeria is prohibited. They are not allowed to come, if they do, they are seized and destroyed because of the health and wellbeing of our citizenry. These are clothing that have been used and trashed, some Nigerians will go and clean them up and bring them to the country. There is zero tolerance for these types of importation. The government has reasons for bringing about these prohibitions.  Like I said before, the reasons could be economic or to strengthen the social landscape. It could be as a result of environmental or situational factors. The restriction on some importations is for the good of this country.