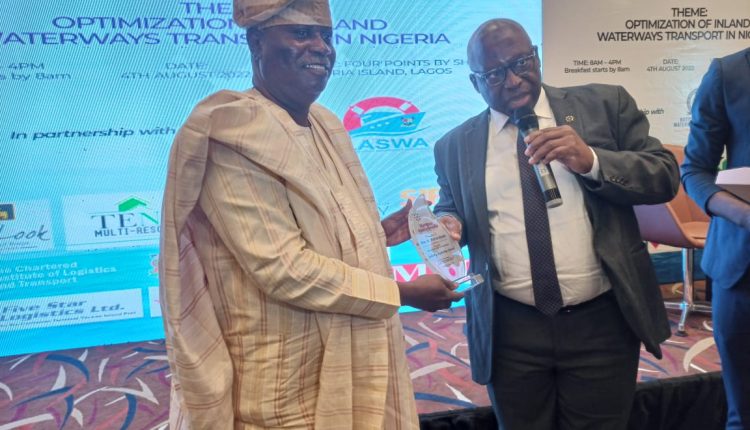 Stakeholders Commend CILT Intervention In Developing Inland Waterways Transportation
Global Logistics and Transport
BY GBOGBOWA GBOWA
Stakeholders in the transport and maritime industry last week commended the Chartered Institute of Logistics and Transport (CILT) for providing a platform for regulators, operators and service providers to jaw-jaw on nagging operational and policy issues bothering on cost efficient administration in the inland waterways sub sector; official overlap functions and their concomitant multiple charges that has become a major source of worry.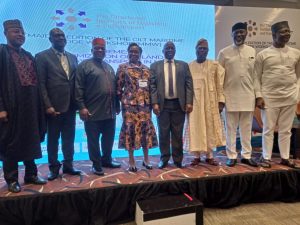 This is even as the organized private sector has appealed to the National Inland Waterways Authority (NIWA) and the Lagos State Waterways Authority (LASWA), respectively, to urgently harmonize their revenue mobilization and regulatory role to free operators from the burden of multiple taxation and charges; even as industry players urged the Nigerian Shippers' Council to enforce rules and guidelines through a harmonized framework to reduce conflicts amongst regulatory partners.
The appeals, submissions and interventions followed a One-Day Workshop organized by CILT at the FOUR POINTS BY SHERATON, Victoria Island Lagos, Thursday last week.
Chairman House Committee on Waterways who doubled as chairman of the occasion, Hon. Patrick Asadu in his address said the nation can no longer neglect the potential of her inland waterways transportation system and called on all stakeholders to remain open in harnessing and optimizing the sub sector's potentials.
Hon. Asadu, who was represented by Hon. Babatunde Hunpe, described inland waterways transport as a major catalyst for socio-economic integration, commerce, agriculture and human capacity development, further noting that inland waterways transportation creates the lowest gas emissions.
"Nigeria's inland waterways have the capacity to transform our economy, employ youth, revive local industries, promote trade and reduce the burden on the roads, nationwide. However, this will require deliberate efforts by way of policies, investments and standardized operations in tandem with global best practices."
While welcoming guests to the workshop, the President of CILT Nigeria, Barr. (Mrs.) Mfon Usoro compared inland waterways to the road sector, even as she noted that more regulations have been meted out to attain standard roads and road worthiness for vehicles.
"If we can visualize the inland waterways as motorways of the seas, most of our problems would be solved. We can visualize the road transport sector and the motorways, vehicles and all the infrastructure that have been established to make motorways safe, motorable and attractive. We can transpose that to the waterways and this simply means that we must provide all the infrastructure and policies to make waterways attractive and commercially viable so that merchants will choose to use the waterways," she said.
In her welcome address, CILT National President, Mrs (Barr) Mfom Usoro said the inland waterways transportation has the potential to compliment the nation's multi modal transportation system; and called for purposeful and pragmatic regulations to grow the required capacities and standards.
"If we can visualize the inland waterways as motorways of the seas, most of our problems would be solved. Once we can visualize the road transport sector and the motorways, vehicles and all the infrastructure that have been established to make motorways safe, motor able and attractive; we can transpose that to the waterways and this simply means that we must provide all the infrastructure and policies to make waterways attractive and commercially viable so that merchants will choose to use the waterways."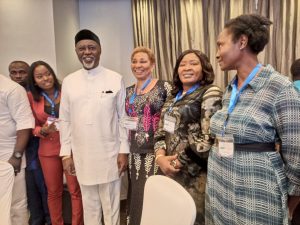 Usoro who was represented by the immediate past NP CILT, Mr. Ibrahim Jibril argued that since the transportation subsector is largely driven by the private sector, certain regulations like operational time frame for ferries and boat operators can at best be counterproductive.
She noted that only an attractive system that guarantees safety can encourage more investments and patronage for the sector. To enhance capacity development and regulatory focus, Jibril called for an industry audit of the inland waterways infrastructure such as boat building yards, jetties, watercrafts and skills to enable government know where there are shortcomings and where and how to direct attention for a purposeful optimization of the subsector.
However, the Managing Director of NIWA, Barr. George Moghalu disagreed slight with CILT position regarding present ban on night boat and ferry services, noting that unlike advanced climes, Nigeria inland waterways transportation does not yet possess the navigational, infrastructural, operational and security capacities to provide night services.
The NIWA boss identified overcrowded boats, substandard and expired life-jackets as well as inland waterways travel by night and early hours as responsible for most of the boat mishaps in the nation.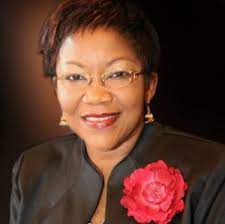 He stated that while the inland waterways can be positioned as lead transportation system for heavy duty carriage like containers to reduce the pressure on our roads, Mogholu disclosed that the authority has begun installation of cameras on shorelines to monitor inland waterways activities to improve the current standards, while maintaining that inland waterways transport remains the cheapest and safest transport mode for carriage of cargoes.
In his intervention, the Executive Secretary of the Nigeria Shippers' Council (NSC), Hon. Emmanuel Jime highlighted major problems limiting the nation's waterway transport sector to include faulty barges and boats, proliferation of jetties, inadequate handling equipment, high cost of operations, among others.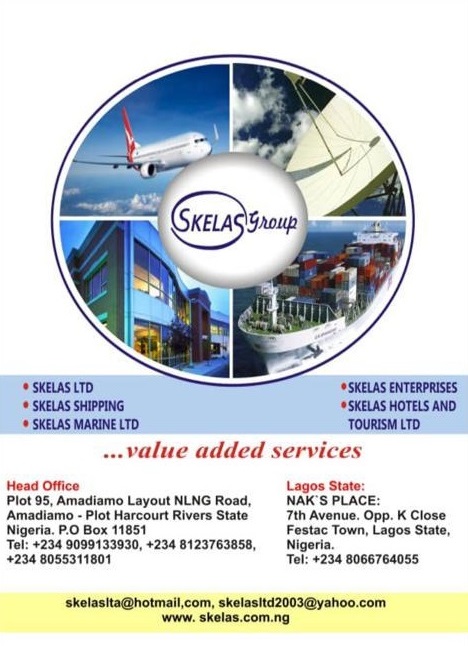 The culmination of above challenges he noted has denied the nation the expected optimum socioeconomic benefits from the inland waterway transport; even as he expressed dismay at the current industry attitude to the council's regulatory power as port economic regulator.
Jime said improved cooperation between the Council and NIWA will eliminate issues operational costs and multiple charges, through harmonized processes and standards regulations.
"NSC is involved in economic regulation of the sector but the challenge is that the industry hasn't really come to terms with this reality that there's indeed an agency responsible for regulating commercial activities. There is no way an operator could regulate or discuss issues around charges and costs without having an input from NSC. We have been engaging the barge operators and they are aware of the Council's role in their operations in terms of standardization and costs. NSC shouldn't be engaging the barge operators alone, we should be working closely with NIWA which is the agency with the direct mandate to regulate inland waterways."
In his goodwill message, the Chairman, Senate Committee on Climate Change and Ecology, Senator Lawali Hassan Anka, canvassed capacity development of the inland waterways transportation system, noting that inland waterways transport has a relatively low air and noise emissions compared to other modes of transportation.
"From an environmental point of view, inland navigation can contribute to making transport more sustainable, particularly where it substitutes for road transport. Waterborne traffic remains an environmentally preferable mode compared to road or rail haulage. Expansion and development of waterways can have significant environmental impacts, mitigate or compensate for damage."
In her own remark and goodwill message, the indomitable maritime tycoon and Board Member of the Nigerian Shippers Council, Mrs. Margaret Orakwesi lamented that barge operators and other players in the inland waterways system are encumbered with unwarranted demands as a product of the failure of government obligation to the sub sector.
The maritime investment lioness called on the federal government to stand up to its responsibilities and put the inland waterways industry in its right position in the transportation system, noting like other speakers that the sub sector can do better than it is currently doing, and offer a stabilizing effect on our overcrowded road transportation.
"The way to move forward actually is by water transportation, that is how to move cargo, not on our roads. I apologize for coming late; the little l heard l wasn't too happy. The private sector, business men and women should really be encouraged to go into this unique mode of transportation. You talked about barges, they cost lots of money, we need assistance.
"If we ride on your back (FG) to the banks I am sure loans will be provided, if you partner with the private sector, I am sure we will be able to help get traffic out of the way, and we all travel, we know that barging operations is really the in-thing.
"Look at Lekki Deep Seaport, they dreamt big, dreamt good, but where are the roads, where are the other connecting modes of transportation? So the barge operation will come to the rescue. When we talk about barge operations we talk about wreckage, we talk about obstructions; we talk about channeling, all these should be handled by the government, not private sector.
"The investment is huge, some of us blindly went into it, some thought it was an investment that will cost some millions of naira but now, the costs are going higher and higher, because you provide everything. Somebody was saying you provide your own light, you provide everything. If you're in water transportation, you dredge, remove wrecks, you channel the water; and these runs into millions of naira, we shouldn't be doing that, the government should provide the infrastructure to enable these things thrive."
This is even as the President, League of Maritime Editors and Publishers (LOMEP), Mr. Kingsley Anaroke in his goodwill message noted the imperative of reclaiming the nation's inland waterways as a critical component of the transport industry.
While applauding CILT for its maiden edition of Maritime Mode Workshop (MMW), Anaroke expressed worry about the rising incidents of operational mishaps and unprecedented records of death under the current regime; noting that inland waterways operations have never had it this low.
His words:  "On behalf of the League of Maritime Editors and Publishers as well as the MMS Plus newspaper family, I congratulate the Chartered Institute of Logistics and Transport (CILT) Nigeria on  its maiden edition of  Maritime Mode Workshop(MMW).
"It could not have come at a better time than now to help seek safety on the nation's waterways now punctuated and smeared with carnage.  The month of July, 2022  has gone down in history as a remarkably negative one for the inland waterways transportation in Nigeria following  the accidents of alarming proportion. One in Niger State and two in Lagos State with 19 lives lost in one incident.  We have lost the waterways to some powers, it seems, and so it must be reclaimed.
"The incidents made mockery of whatever efforts the National Inland Waterways Authority(NIWA)  and the Lagos State Waterways Authority(LASWA) have been making to ensure safety  on this type of transportation system.  We are not surprised that they sounded overwhelmed with the situation. At least, NIWA said they had given their best in training and monitoring yet the accidents came in quick succession.   Coming from a regulator, it presupposes that  all is not well."
He continues: "And this confers so much value on today's workshop with the theme:"Optimization Of  Inland Waterways Transportation In Nigeria. The Transport and Logistics industry needs multi-modal system of operation to function optimally but  issues of safety and security  as well as comfort must be given attention. I wish I could relive my waterways tourism experience in Dubai.
"As you jaw-jaw on many issues from operations to legislation, investment, safety, security , monitoring and compliance, I wish you fruitful deliberations.  God bless CILT Nigeria , the workshop team  and their  proactive leadership ."
Also speaking, the President of Women's International Shipping and Trading Association (WISTA) Nigeria, Mrs. Eunice Ezeoke urged NIWA and Lagos State Waterways Authority (LASWA) to discontinue their rivalry, partner and harmonise their processes to offer Nigerians affordable inland waterways operational services.