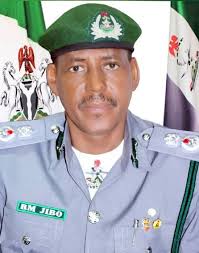 The Seme National Economic Blueprint: Mohammed Jibo's Scorecard
BY EGUONO ODJEGBA & FUNMI ALUKO
The construction of the Joint Border Post (JBP) at Seme-Krake between Nigeria and Republic of Benin funded by European Union (EU) economic development partners was designed to promote global and continental trade especially within the Economic Community of West African States (ECOWAS).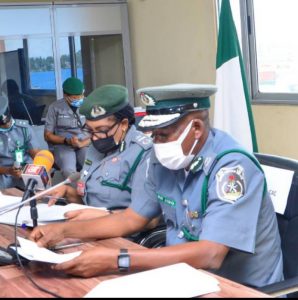 When it was finally completed in 2017, President Muhammadu Buhari said during the official launch of the JBP which sits on 17 hectares of land, that the facility would enhance trade facilitation by combining border clearance activities in a single location, increase cooperation and coordination of controls; in addition to fostering data and intelligence sharing between Nigeria and Benin Republic.
He said "The Border Post is strategically important and lies on the Lagos-Cotonou-Lome-Accra-Abidjan corridor, which accounts for about 70% of the entire transit traffic in the sub-region."
Although the Nigerian economy is believed to be the biggest economy in the West African region, Nigeria ranked 181st out of 190 countries in terms of cross-border trade, according to the World Bank's 2017 Ease of Doing Business, rating.
For Nigeria, the launch of the Seme-Krake JBP remain strategic for the capacity growth of its exports as well indeed the optimal capacity monitoring and documentation of imports; being the universal common denominator to trans border trade.
The conception of the Seme National Economic Blueprint in 2017 was therefore not an empty catch phrase, as the present government not only attached great economic and bilateral importance to the Seme Border, but indeed regards it as the centerpiece of international trade corridor.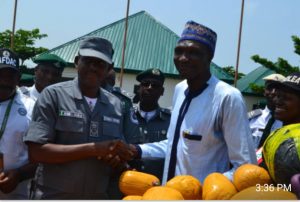 Perhaps, also, the Lagos-Abidjan Trade Corridor is one of the longest and busiest Trans-Africa Highway, said to begin in Senegal, and ending in Mombassa, the Kenya port city.
Incidental to this trade is the Lagos-Badagry Expressway through Seme, which is also a well known and equally well used road in Nigeria. It is the major artery that links the country with its neighbours in West Africa, connecting Nigeria with Ghana, Togo, and others through Benin Republic, our immediate western neigbhour.
All of these are evident from nearly all books on elementary geography of Nigeria and West Africa. From Mile 2 Bus Stop, and Alakoro in the heart of Lagos Island, vehicles are available to various destinations along the West coast; with a reverse traffic from Tema through Lome and Cotonou ports to Lagos, through the Seme-Krake land Border.
For a long time already, the corridor has the dubious reputation of being a major smuggling route, through which both sanctioned and contraband commodities; wearing the labels of imported or ECOWAS Trade Liberalization Scheme (ETLS) goods are plied.
The border post hosts officers and men of both the Nigeria Customs Service and the Nigeria Immigration Service, which administers the movement of goods and humans across the border.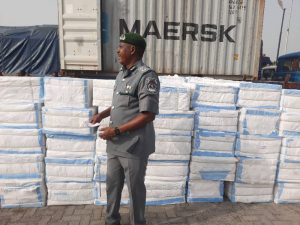 However, those familiar with the Seme trade corridor will admit that such acts of economic criminalities has scaled downwards comparatively, creating conducive atmosphere for trans-border movement and trade and regional diplomatic shuttles, guaranteeing economic, regional political and bilateral shuttles, economic frontier expansion, security and safety.
Steering the wheel of activities and overseeing the entire above blueprint is the Seme Customs Area Controller, Comptroller Mohammed Bello Jibo, an efficient and focused administrator and a fabulous customs operative whose versatility in ICT, customs intelligence, tariff and classification, revenue and enforcement are incontrovertible and unremitting.
As the chairperson of the border security meetings, he has continued to demonstrate high sense of responsibility in ensuring that the rules of engagements are maintained at all times and in all circumstances.
According to those familiar with Seme daily activities and happenstances, Jibo has set a standard that all stakeholders and those plying the corridor are minded to comply with; in keeping with the national economic blueprint for its overall national goals and mutual regional benefits.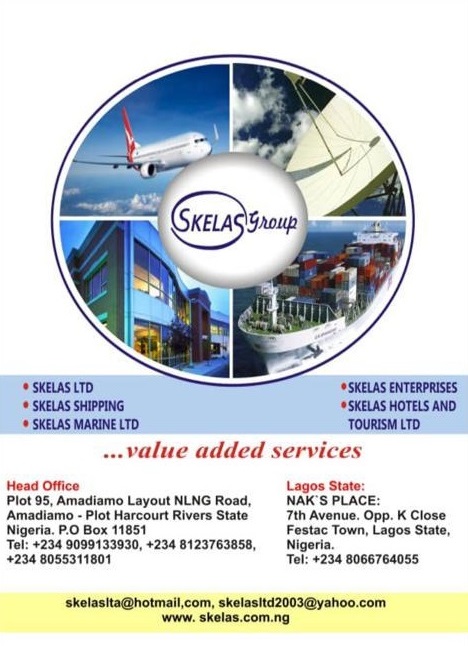 Beyond the border, Jibo has also remained uncompromising in ensuring that the ECOWAS Protocol on transit cargo is respected. Hence at the bilateral level, Jibo keeps the government of Benin Republic and its relevant agencies routinely abreast of the essential agreements, in a courteous but firm manner; while escalating developments beyond his office to higher authority.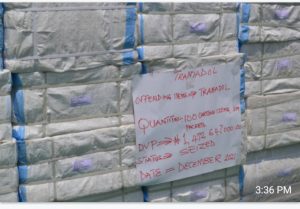 Jibo has not only kept a tight lid on the rules of engagement, he has applied the laws as appropriate, sending signals within and without that the Seme National Economic Blueprint is running and in place; manifested in sundry seizures; some of which are classified as high profile.
Top on the list is the seizure of a 40ft container of contraband items including tramadol and adult diapers in December 2021. The container on transit from the Cotonou port which was handed over by the Benin Republic customs officials under the ECOWAS Transit Protocol, became object of suspicion when the owner or representatives failed to follow up for documentation and clearance; beginning from November 15, 2021 when the container arrived Seme.
Accordingly, on December 20, 2021, Jibo increased security watch over the container, and after the 30 days allowable time frame, Jibo ordered the breaking of the container seal, where physical examination was carried out by the customs and other relevant agencies.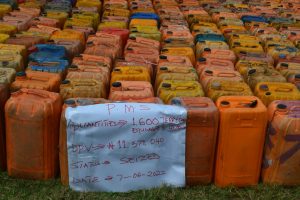 In all 200 packages of adult diapers, 100 cartons of Gabadol of 120 mg suspected to be tramadol, were found in the container. Jibo told reporters that the adult diapers were smartly arranged in front of the container to conceal the other offensive items: with a Duty Paid Value (DPV) of about N1.4 billion.
Jibo has also intensified offensives on the smuggling of petroleum products across the land border, especially Premium Motor Spirit (PMS), believed to have become one of the critical nexus in foreign exchange losses and capital flight, under Nigeria's fuel subsidy regime.
It will recalled that the menace of fuel smuggling and its negative impact of the fuel subsidy regime necessitated the Nigeria Customs Service to announce the ban of fuel distribution to communities 20kilometres to the land border  in 2019.
Since taking charge of the Seme Command in 2020, Jibo  has spared no effort birthed through various strategies at inflicting maximum damage on fuel smugglers; including regular seizures and confiscation  of products; believed to have also greatly punctured their wall chest of funds.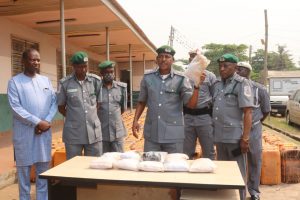 In December , 2021, his officers and men intercepted 1,050 Jerry cans  of 30 litres each, equivalent of thirty one thousand, fifty (31,050) litres of petrol,  along the Seme /Badagry Creks, with a Duty Paid Value of about N5.4 million
The seizure of 750by 25litres Jerry cans of petrol, equivalent of 22,500 litres, followed shortly after, from Oloko Creeks around the Badagry axis, with a DPV of N3.32 million.
It is estimated that between December 2021 and date, the command under Jibo has seized over 14,000 litres of fuel, with a combined DPV of over N27million. Majority of the smuggling barons are believed to be high heel fuel station dealers, who are also highly connected and influential in government circle.
Jibo has also drastically brought the scale of rice smuggling, as the Government Warehouse that hitherto gets filled up to the roof, now enjoys quite some amount of space,  consequent on improved compliance by traders.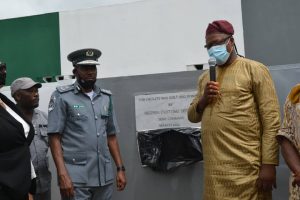 Equally, contraband imports like vehicles, vegetable oil, tomato pastes etc that used to be high point of economic sabotage are believed to be coming in trickles; even as customs operatives carries out constant offensives, in the effort to reduce smuggling to the barest minimum.
The effects of above has also manifested in the minimal capacity operations of bonded terminals and warehouses that has sprung up at Seme since the construction and launch of the JBP in 2018.
Insiders say the tight security and resilience of Jibo and his officers and men to maintain the rules of engagement may have accounted for low volume of trans shipment cargo traffic as both customs and private owned terminals and bonded warehouses, including are believed to be operating at below optimal capacity utilization. Statistics show that an average of 180 imported containers is documented for release every week.