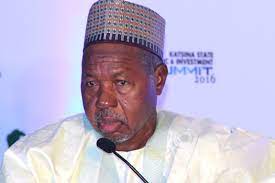 'Call for self protection followed security chiefs advise' -Masari
BY EGUONO ODJEGBA
Katsina state Governor, Aminu Masari has shed more light on his call to the people of the state to take up arms for self defence against rising spate of insecurity in the North West geo-political region of the country.
Large scale terrorism, banditry and kidnapping almost on weekly basis has since enveloped the region, even as the insurgents have also upped their attacks on our gallant soldiers for apparently stepping in to secure citizens against their criminal and evil actions.
In an interview broadcast on Nagarta Radio, Governor Masari reportedly  said citizens cannot continue to fold their arms in the face of deadly threats to their lives, noting that the armed forces is presently overstretched, saying that during a recent meeting at the Defence Headquarters, "We were later asked to return home and handle the situation."
It will be recalled however, that in a prompt reaction, the Federal Government urged Nigerians to ignore the advice and not to take up arms illegally for purposes of self defence. Minister of Police Affairs, Muhammed Dingyadi, at its second annual ministerial media briefing, said the police and armed forces including other security agents are on top of the current security challenge in the country.
Dingyadi who noted that the governor was entitled to his opinion, said: "Everybody should contribute his quota towards fighting crimes. We are not saying people should take arms illegally. I think we should know that we are in Nigeria, where everybody is entitled to his opinion.
"I think the governor has the right to canvass for what he thinks is right in his state. Also, we shouldn't expect the people to just be sleeping without taking measures to ensure that they secure themselves, their neighbours and their communities. That is the essence of community policing.
"So, we need to have the support and partnership of Nigerians in the efforts we are making towards fighting crimes and criminality. I think that is what the governor is talking about. What we're saying is that people should get ready in whatever it takes to do so, to ensure that we protect ourselves, we protect our neighbours, we protect our communities," he said.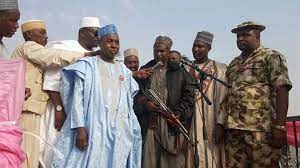 Gov. Masari had in the interview reportedly said it will be the height of irresponsibility for citizens to fold their arms and continually get killed by bandits, and urged citizens to adopt self defence initiatives to augment government efforts. This is even as he decried the lack of adequate security amid insurgents increased attacks on security personnel.
The former Speaker of the House of Reps said although insurgency was much higher before the All Progressive Congress (APC) led federal government came on board in 2015, state of insecurity was so bad that Fulani women stopped coming to the township, while farmers avoided their farm lands.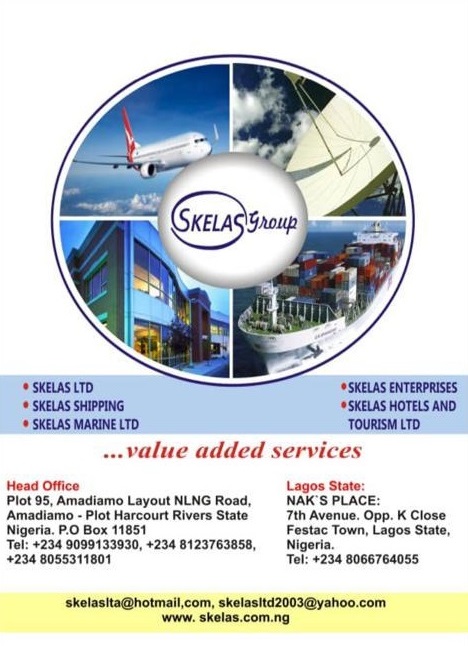 His words: "It's very important for the people to rise up and support the government effort. Apart from the money we are spending on security, hardly a day passes by without a person being killed or kidnapped. No single day, although the situation is not as bad as it was last year.
"We thank God for that but normalcy has not yet completely returned because just a few days ago about 10 people were killed in a village, how can you as a leader be okay with this situation?
"When we came on board in 2015 we inherited killings and banditry in the state. In 2014 there was a single attack that claimed over 100 lives around Faskari and Sabuwa LGAs. This is the situation we met on the ground happening daily because we always received reports of animal rustling and killings attributed to bandits and local vigilantes yan sakai in the state."
The Katsina State Governor continues:  "At that time Fulani women had stopped coming to town and farmers too had stopped going to the bush. We later discovered that it was not a problem of Katsina state alone, it's a problem that affected Niger, Zamfara , Kaduna states and later Sokoto , Kebbi and Jigawa.
"The military supported our steps which led to our meetings in Kaduna to find a solution. All security agencies were brought in and they all worked together for a year and recorded some successes. Then, we met with the Security Chiefs at Defence Headquarters but after a year it stopped. We were later asked to return home and handle the situation."
Masari revealed that the discovery that the bandits were Fulanis necessitated greater level of engagement with them, in the hope of getting them to back down, and promptly elected one of them as state official, with the assignment of going to the forest to debrief them of their criminal tendency, but again 'discovered' that their conclusion that the banditry was driven by Fulanis was wrong.
"On our part, we discovered those bandits are Fulanis, so we took advantage of that by ensuring that we got an official from a local government to be elected in their union and through him we reached out to those people in the forest.
"Later the SSG, police commissioner and DG SSS all went to the bush during that period but we discovered that the bad eggs among the Fulani that ran to the bush were to protect their animals. This is how we entered into a dialogue with Fulani leaders and the vigilantes across the eight LGAs.
"We reached an agreement at Kankara in the presence of all our traditional leaders including late notorious Buharin Daji and they returned with over 300 guns. Later things gradually returned and life went back to normal before the whole thing took a different dimension because those who entered the amnesty among the Fulani were murdered in the bush and that scared away others."
The governor noted that self confessed Fulani bandits who surrendered their arms and opted to toll the path of peace were identified and eliminated by the gang leaders. He spilled much in the no holds-bar interview, revealing why insurgency in the North West has become intractable and assumed business characteristics.
"This was how the dialogue stopped especially around villages bordering Zamfara before the 2019 election. I remembered we built 10 schools in the villages located inside the forest. But they later turned the schools as their base in the bush.
"After the 2019 (election) we all knew what happened in Zamfara, the new Governor vowed to continue with the dialogue and the IGP then supported the move, same with the military which started from Zamfara and continued from where we stopped. We supported the military with logistics to have a battalion built in Katsina", Masari said."