"Court dissolution of board beyond me"-ANLCA NP
"

Court dissolution of board beyond me

"-ANLCA NP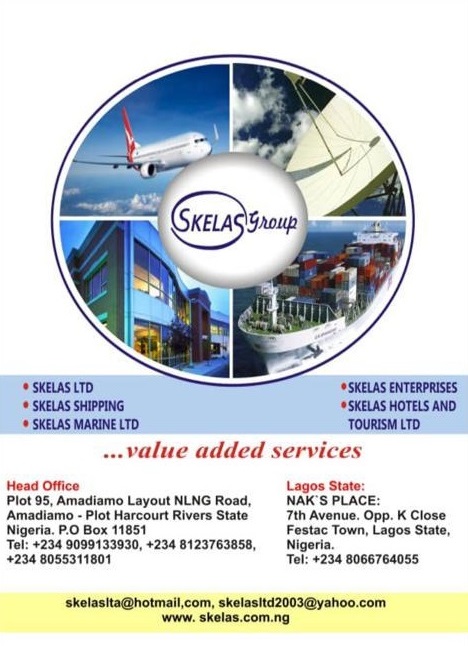 In spite of assurances by the National Executive Committee, NECOM, of the Association of Nigeria Licensed Customs Agents, ANLCA, the National Executive Council, NEC, which comprise of NECOM and the Board of Trustees, BoT, appears fractious and at daggers drawn.
This is coming on the heels of the latest court action said to have over ruled the extension of the BoT lifespan by six years February 2020, following the
expiration of the tenure of the Alhaji Taiwo Mustspha led BoT.
The National President, Association of Nigeria Licensed Customs Agents ,ANLCA, Uju Tony Nwabunike had last week said there's no crisis in ANLCA, sequel to a query NECOM issued its Vice President, Kayode Farinto, for alleged insubordination.
According to Nwabunike "Farinto has apologized to the House and we have accepted his apology. We are one big family and we have no crisis", he said.
However, few days afterwards, Nwabunike said anyone claiming to be a member of the BoT is doing so at his peril, stating that "as at today, ANLCA has no BoT", adding that anyone making such claim risk jail term.
He said the position is that of the law court that recently said the tenure extension embarked upon in February this year is null and void.
His words, "Let me say that as at February this year, the whole board of ANLCA tenure has expired; anybody parading himself as board member is risking jail.
"As far as we are concerned board members of the Association finished their six year tenure in February 2020. If a court gives me an order to bring them back I will not say no to court. Rather what I got was even a court judgment restraining me from recognising anybody again as board members and that is the latest order from the court.
"In fact am risking jail if I should sit down with anybody called BOT members until an appeal court revised the decision."
The ANLCA boss however, reiterated that there is no in-fighting among the NEC, adding that information dissemination will be streamlined and approved by the President.
Reacting to the rumours which allegedly sacked the National Executives Council of ANLCA, he maintained that persons involved in the court injunction are not financial members of the association since 2018, even as he insist that the leadership of the association is intact.
He dismissed two NEC members who are currently in court over the NEC crisis, Fakanlu Olumide and John Nwagbaraocha, as null and void "because they are not financial members of ANLCA."
lt will be recalled that five members of the BOT namely; Alhaji Taiwo Mustapha, Prince Taiye Oyeniyi, Chief Ernest Elochukwu, Chief Dennis Okafor and Mr. Dayo Azeez in February this year after their meeting at the ANLCA National Secretariat in Lagos informed that the Board had gotten an extension of another six years in office with effect from January 16, 2020 having regularized its registration at the Corporate Affairs Commission, CAC.
Alhaji Taiwo Mustapha who was elected Chairman BoT during the meeting said the extension was informed by a Federal High Court ruling in Lagos which failed to recognize some of them as lawful members of the Board ob the basis that their names was not contained in the Certified True Copy at the CAC as members of the ANLCA BOT.
Mustapha said following the development, they paid mobey from their pocket to CAC to regularize their names as well as the accrued annual levy to CAC, a development he argue imposes on them the need to begin their tenure afresh at the point they became recognized legal members of the board.
Frowning at the development, ANLCA National Secretary, Alhaji Abdulazeez Babatunde Mukaila said the BoT tenure ended 7th February, 2020, noting that nobody gets elected into Board unless through an AGM called specifically for that purpose.
He said, "Whatever was their challenge or their inability to get themselves registered after their election, I believe that is their internal issue which is between them. "However, that does not make them not to be our Board. Close to five to six hundred corporate companies most travelling by road freely gave them that mandate to sit on the Board of ANLCA Trustees.
"No one will sit in an air-conditioned room and extend such tenure. It is a joke of the century and it cannot stand."
On whether ANLCA appealed the ruling of the Federal High court on the status of some members of the Board, Mukaila said, "the extant judgement that stipulates that we do not have Board and therefore until registration is made, there is no Board in ANLCA. I am not a lawyer, I am aware that Alhaji Taiwo Mustapha went on appeal in respect of that judgement. However, he came up and said he is withdrawing that appeal.
"So, I am not going to dabble into what the court said or not but my understanding is that we have a Board, if they have an internal crisis or any reason why they could not register themselves for six good years, but they did that when it was ten days to go, they have documented that they are the Board. It will be in the anal of history that is why we have their pictures here.
"Therefore, we have a Board, if they did not perfect any paper in Abuja, we gave them that mandate. It is going to be a joke of the century if a mandate given willingly by over six hundred companies at the Annual General Meeting is being upturned by just five people, it is not possible and it is not going to stand."
Contacted for reaction, the chairman of the embattled led board, Mustspha said he would only react after a formal meeting of the board. "I will will let you know about our position as soon as we have met. There is cause for alarm, the matter will be resolved in the interest of all", he said.
S
aidu final revenue collection hits N69bn
Proceeds to hqtrs as Customs ICT boss
Immediate past Customs Area Controller , CAC, of Port Harcourt Area 11, Onne Command, acting Assistant Comptroller General, Aliyu Galadima Saidu said the command generated over N69billion January to August 2020.
Above figure is over and above the revenue figure for January to June 2019, which stands at N54.1billion.
The new Customs ICT boss said Onne Command under him also made a total of 31 seizures including twenty seven containers with a total Duty Paid Value, DPV, of eight hundred and twenty five million, seven hundred and thirty five thousand, two hundred and ninety six naira and eighty eight kobo, N825,435,096.88.
ln export, Saidu said the command within the period under review, achieved a total of 2, 402, 776 metric tons, MT of export activities with Free On-Board, FOB, value of one hundred and twenty eight million, seven hundred and eleven thousand, three hundred and eighty dollar, twenty seven cents, $128,711,308.27.
Saidu who was lasted week elevated to the rank of Assistant Comptroller General in acting capacity, proceeded to customs headquarters after handing over to the new CAC, Comptroller Auwal Mohammed, yesterday.
Speaking during the handover, Saidu said,
"Under my wach, this command has always strived to improve on revenue generating for the federal government. Our achievements are hinged on the volume of trade, blocking revenue leakages, level of port users compliance and other factors.
"Officers and men of the command have resiliently keyed into the stipulated mandate of achieving speedy clearance of cargo while enthusiastically carrying out 100% physical examination which provided the needed impulsion of creating an enabling environment to thrive in smooth attainment of trade facilitation.
"Together with my team of dedicated officers and men we have projected this command as a hub for compliance and most friendly trade facilitating port with a remarkable profile.
"The command generated and collected a total of sixty-nine billion, four hundred and forty-nine million, eight hundred and ninety-six thousand, seven hundred and nine naira, seventy nine kobo, N69,449,896,709.79, between January and August 2020.
"The command within the period under review, achieved a total of 2, 402, 776 metric tons, MT of export activities with Free On-Board, FOB, value of one hundred and twenty eight million, seven hundred and eleven thousand, three hundred and eighty dollar, twenty seven cents, $128,711,308.27.
"While we did everything lawful to encourage compliant port users within our area, the command's enforcement was hard on smugglers and non compliant traders.
"Consequently, within the period under review, the command recorded thirty one, 31, seizures involving twenty seven containers with a total Duty Paid Value, DPV, of eight hundred and twenty five million, seven hundred and thirty five thousand, two hundred and ninety six naira and eighty eight kobo, N825,435,096.88.
Saidu gave the break down to include 805x50kg bags of foreign rice, 5,615 x25litres kegs of vegetable oil, 3,184 bales of secobd hand clothing, 1,060 pieces of used tyres, 69 logs of unprocessed wood and 641 bags of used white cement.
The others include 4 units of Toyota Hiace buses, 4 units of 10-tyre trucks, 76 pieces of doors, 1,692 cartons of foreign soaps and detergents, and 5300 rolls of royal carpets.
The outgoing Onne customs boss said under his watch, the command built a robust customs community relations with host communities and encouraged his successor to sustain the tempo."
The Onne Customs new helmsman, Auwal Mohammed said he "will strive to build on the achievements my boss and predecessor is leaving behind."
Customs PH Area 1 Command records N39bn Jan-Aug '20
Comptroller Auwal Mohammed, esrtwhile Customs Area Controller,CAC, Port Harcourt Area 1, said the command under his watch generated a total of thirty nine billion, fifty three million, threr hundred and twenty two thousand, five hundred and fifty four naira, ten kobo, N39,053,322,554.10, between Jan-Aug 2020.
This is over and above a total of thirty four billion, nine hundred and thirty eight million, two hundred and seventy three thousand, two hundred and six naira, seventy two kobo, N34,938,273,206.70 between Jan-Aug 2019.
Mohammed who was last week posted to Port Harcourt Area 11 Onne Command of the Nigeria Customs Service said Area 1 Command also recorded various seizures and arrests including the arrest of two Lebanese nationals, charged with money trafficking through the Port Harcourt International Port.
He said some of the seizures include 2x20ft containers of vegetable oil and margarine falsely declared as insecticides spraying pump, 2x20ft containers of FTC Hand Tools, Candle wax and tomato paste declared as hand tools.
"Our monthly revenue growth has been stable despite the adverse effects of the COVID-19 pandemic and its harsh realities on the economy of the country.
"With a monthly revenue target of N6,932,555,542.53, we have recorded a total of thirty nine billion, fifty three million, threr hundred and twenty two thousand, five hundred and fifty four naira, ten kobo, N39,053,322,554.10, so far, between Jan-Aug 2020."
The Customs Port Harcourt Area 1 Nigeria Customs service, Area 1 Command new boss was born on August 1963 and hails from Gombe State. A 1987 graduate of Ahmadu Bello University Zaria, Garba holds a bachelor's degree in Political Science.
He enlisted in Customs in 1989 and rose through the ranks. He has served across departments, formations and unit, and have been visible in both enforcement and valuation.
He was until his present posting, CAC of Kebbi Area Command.
Termination of Boat Serives
INTELS gets restraining injunction against NPA
Reaction hints of political settlement
A Federal High Court sitting in Lagos has granted an interim injunction stopping the Nigerian Ports Authority (NPA) from terminating the role of INTELS Nigeria Limited as manning agent in the Pilotage Districts of Lagos, Warri, Bonny/Port Harcourt and Calabar.
The judge, Hon. Justice R.M. Aikawa, granted the interim injunction in suit number FHC/L/CS/1058/2020 based on an application filed by INTELS Nigeria Limited and Deep Offshore Service Nigeria Limited against the Nigerian Ports Authority (NPA).
INTELS and Deep Offhore had requested the court to restrain NPA from preventing them from performing their duties as managing agent, pending the determination of ongoing arbitration proceedings.
The court order, which was issued on Friday 28th August 2020, reads: "That an order is granted restraining the respondent, its servants, agents, and/or privies from giving effect for the purported notice of expiration issued it on 5th August 2020 or taking any other step to prevent the parties from performing their duties and obligations under the agreements between the 1st applicant and respondent dated 11th February 2011 and 24th August 2018, pending the determination of the originating motion dated 12th August 2020 seeking for interim measures of protection in support of the pending arbitration between the parties therein."
The court adjourned the matter to 15th September 2020 for the originating motion on notice.
Consequent upon the court order, the management of INTELS has asked the shipping community to disregard a Marine Information issued by NPA purportedly terminating its operation, as it was issued in contempt of the court.
Contacted for reaction, the authority GM Corporate and Strategic Communications, Engr. Jato Adams said "I am currently on my annual leave. "
A source who does not want his identity revealed said two options are open to NPA, to obey the court ruling pending when it is able to legally vacate the order under a counter ruling vide a coordinate court of jurisdiction or a one of superior jurisdiction; or accept the judgment without further ado, signalling restoration of relationship.
He said, "In this type of situation, INTELS is simply back to business, there is nothing NPA can do about it immediately. There are options here, if this judgment is not politically motivated, what NPA can do is to also go to court, one or competent jurisdiction like the High Court or even an Appeal Court to set aside the present judgement.
"Also, don't forget that some of these fights have political colourations, if for any reason INTELS have settled its problems with whoever is concerned, it is only smart to return through the court, don't forget that courts serves out as avenue for political settlements. ln this case, the matter is settled and NPA is obliged to carry on as though nothing happened."