DC SHUAIBU: A PRAGMATIC GOAL – GETTER
…He came, saw and conquered
BY TUNDE UMAR
– Seized landmark volume of Pangolin scales, Claws and Elephant Tusk Worth #22.2 billion
– Raked in #4.7 billion as revenue through interventions and issuance of Demand Notes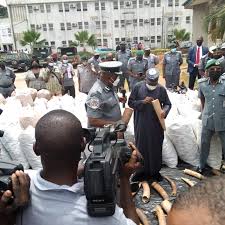 In its religious and rigorous quest to eradicate or meaningfully reduce smuggling and other vices to the barest minimum, the management of the Nigeria Customs Service inaugurated a combatant squad made up of Officers and Men with zest, determination and drive for excellence to compliment the efforts of existing anti -smuggling squads.
The COMPTROLLER – GENERAL OF CUSTOMS STRIKE FORCE (CGC STRIKE FORCE) with a blend of tested, disciplined and combat ready personnel was grouped into four zones for efficiency and accountability.
Each zone is coordinated by a dutiful, purposeful and competent Officer.
Zone A which takes charge of the south – western divide of the country has no doubt, been blessed with dynamic Coordinators but the management wanted more.
In line with the Management's determination to further rejig and reinvigorate the zone due to its peculiarities therefore, Deputy Comptroller Ahmadu Bello Shuaibu, a seasoned, effervescent, purposeful and highly responsive officer with a history of integrity, uprightness and dedication was assigned.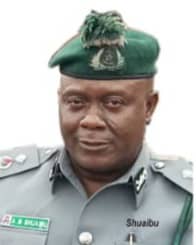 He assumed office on the 9th of October, 2020 and like Napoleon Bonaparte, he came, saw and conquered.
In spite of the restriction on movement of persons and goods occasioned  by  the dreaded Corona Virus Pandemic, the astute team player who is grounded and detailed in Enforcement, Trade facilitation, Human/Conflict Management and whose understanding of the Customs and Excuse Management Act ( CEMA) is incredible, immediately brought his wealth of experience to bare.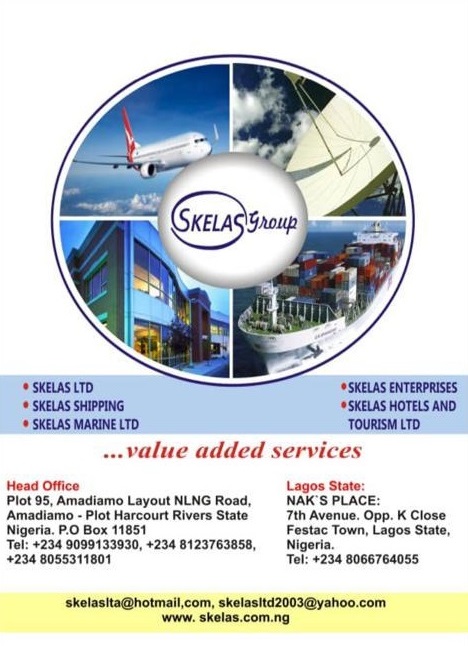 By January, 2021, his exploits which are a furtherance of his known traits had yielded about 13 seizures with Duty Paid Value of #141,619,069 ( One hundred and forty-one million, Six hundred and nineteen thousand and Sixty-nine naira) and #342,046,036 ( Three hundred and forty-two million, forty-six thousand and thirty-six naira) as revenue through interventions and issuance of Demand Notes.
A feat which he said "was achieved through meticulous documentary checks of the ICT components."
Shuaibu's reign in Zone A, between January 2021 and February 2022, was a season of monumental seizures which thoroughly depleted the finances of the smugglers and their sponsors in the zone.
The ground – breaker was the record setting seizure of pangolin scales, claws and elephant tusk valued at about #22.2 billion with three arrested suspects.
It was so highly remarkable that the Customs management ably led by the Comptroller – General, Col. Hameed Ali (Rtd) temporary moved its headquarters to lkeja – Lagos to showcase the seizure to the world and celebrate the Officers and Men of the unit.
Donkey Hides and Skin, Charcoal, Unprocessed logs of Wood, Bags of 50kg foreign Parboiled Rice, Vehicles, Used Tyres and Used Clothing are part of the numerous items seized almost on daily basis.
The Coordinator quoted HS codes 4101.2000.00 – 4108.9200.00 for donkey hides and skin; and Schedule 6 of the Common External Tariff (CET) for unprocessed woods to justify the seizures.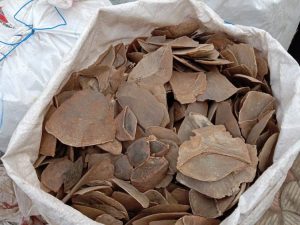 He explained further that, "The export prohibition guideline is in tandem with the Federal Government's policies for the protection of endangered species, protection of the local economy and to promote the National Forest Policy that was approved by the Federal Executive Council, which is aimed at assisting the nation's sustainable management of its vast forest resources against deforestation".
MegaSplash News observed that all through this assignment, there was no a single crisis or casualty of any sort. Not even a petition.  Stakeholders believe that these were due to experiences he gathered as Staff Officer, Federal Operations Unit" A", Ikeja and as Officer-in-Charge of Operations, Federal Operations Unit"C",Owerri amongst other tasking postings and assignments where he was remarkable, outstanding and exemplary.
Between January 2021 and February 2022, 216 seizures with a Duty Paid Value of #37,574,103,347 (Thirty-Seven Billion, Five Hundred And Seventy-Four Million, One Hundred And Three Thousand, Three Hundred And Forty-Seven Naira) was made.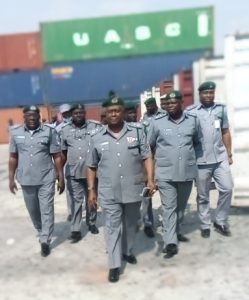 While 943 Demand Notes issued from ICT within the same period yielded a total of #4,664,120,514 (Four billion, Six hundred and Sixty-Four Million, One Hundred and Twenty Thousand, Five Hundred and Fourteen Naira).
During his handing over ceremony to Deputy Comptroller MI Yusuf, another gentleman Officer and reformer, DC Shuaibu thanked God for His endowments and appreciated the Comptroller – General and his dynamic team for giving him the opportunity to serve and provision of an enabling working environment and tools.