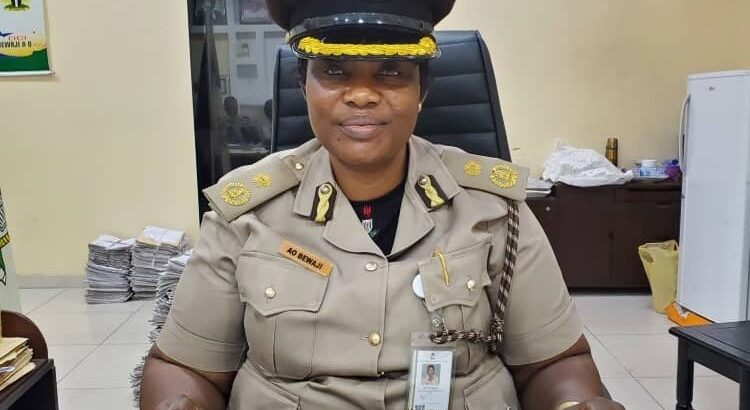 New Ikoyi Passport Control Officer Reinvent Work Culture
…Says New Passport To Take 6 Weeks, Renewal 3 Weeks
BY EGUONO ODJEGBA
An atmosphere of sanity, professionalism and critical partnership has been restored at the Ikoyi Passport Office, as the negative image that apparently enveloped the busiest passport office in the Nigerian Immigration Service, have begun to  give way to  positive hues and vibrations; thanks to the new team deployed by the NIS Comptroller General, Idris Isa Jere, penultimate week.
Under the new Passport Control Officer, Abolupe Bewaji, the work atmosphere and work culture have taking a new shape as officers and men now appear in their uniforms, replete with their name tags conspicuously fixed to their chests for easy identification, as they attend to applicants and visitors alike, with professional courtesy.
The rowdy brisk business atmosphere hitherto conducted in corners, places and unofficial enclosures have all disappeared, while passport applicants now receive speedy, respectful and honest attention from passport officers and men.
Even the epileptic power supply which hitherto compounded the challenges of delays at the Ikoyi Passport Office have also been eliminated following the donation of a 100KVA generating plant to the passport office by the management of Access Bank.
A deputy comptroller of immigration, Bewaji during a media chat Wednesday pledged to sustain the current atmosphere in keeping with the directives of the Immigration CG; to eliminate sharp practices and unprofessional conduct, and to revive public confidence in the service.
This is even as she explained that new passport application will take six weeks, and renewal three weeks; noting that the practice of paying negotiated higher price no longer exists in the system.
She said, "Under my tenure, service delivery will be taken to greater level. Applicants will be attended to on a first come first serve basis while the Ministerial order on passport issuance administration reforms will be strictly adhered to. Passport renewal will take 3 weeks while fresh applications will take 6 weeks.
"We shall ensure that we do the right thing at the right time for the right purpose as we are on a mission to restore the past glory of Ikoyi passport office."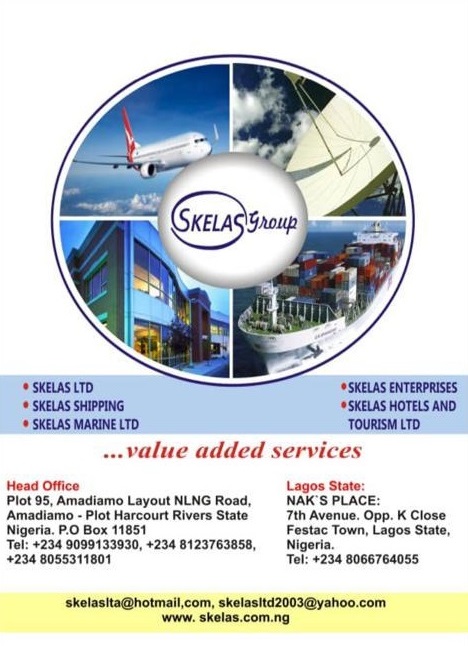 She also talked about the new wave of relationship the NIS has established with  key business players, currently helping the immigration passport office to overcome some of its operational challenges.
"A problem of power supply has been delaying passport processing at Ikoyi passport office before my assumption of office but all thanks to God and Access bank plc, we have been able to overcome this challenge in my  first six days in office as an 100KVA generating set was donated to us."
Bewaji also took time to explain some of the challenges directly affecting the service inability to meet the time frame for passport applications and renewal requests, which she attributed to difficulties in linking with the National Identity Management System (NIMC).
Accordingly, she advised intending applicants to ensure that their National Identity Number (NIN) corresponds with detailed contained in their application until the challenge is resolved.
She explained that some applicants erroneously believe that the immigration issues NIN, and also erroneously blame such delays on the service. She advised applicants to ensure they have their NIN before applying, since doing both simultaneously, logically creates challenges and delays, often also erroneously dumped on the doorstep of the immigration.
"For people seeking passports they need their NIN validated before we proceed further on application of passports. This will make them know the delay in the process is not from immigration. All things being equal re-issuance of a passport is three weeks while fresh passports are six weeks.
"We need all hands on deck to educate the public on certain areas for example, the price of passports, it's online. We should make the public to know the difference between starting application with immigration and getting your NIN validated correctly.
"All details in your passports should correspond and be arranged the way it is on your NIN Slip, if there are differences, the process will not work and this will cause delay," she explained.
It will be recalled that the comptroller general of immigration, Isa Jere on October 25, 2021 deployed Bewaji to the lkoyi Passport Office with the mandate to clean up observed rots in the system and recreate confidence and efficiency the NIS is known for.