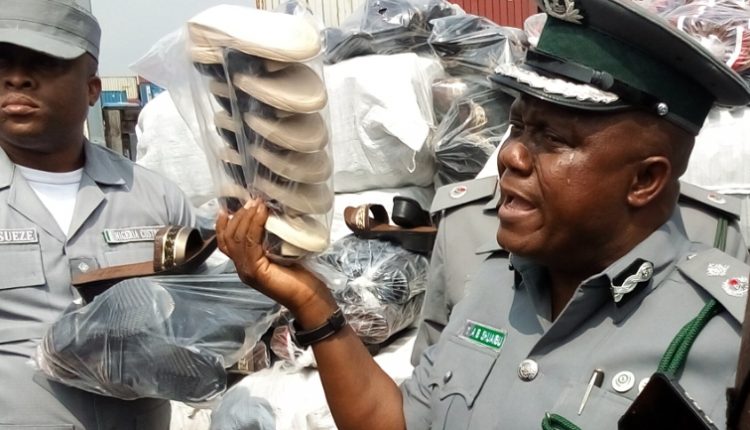 Strike Force Team A recovers N246m receipts in 1 month
Enjoins Nigerians to shun foreign  fairly used clothing, foot wears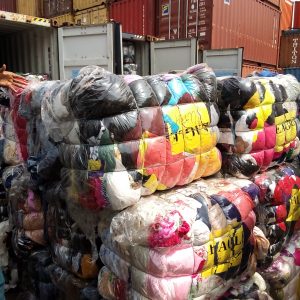 Management of the Nigeria Customs Service (NCS) has once again expressed deep concerns over patronage of fairly used and second hand clothing and foot wears from Europe, America and parts of Asia; noting that the unwholesome practice is not only a blight on Nigerians socioeconomic value but a threat to health and well-being society.
Comptroller General of the NCS, retired Col. Hameed Ali who lamented the unwholesome habit by some Nigerians explained that the health implication of buying and using these second clothing and shoes has far greater financial consequences than those patronizing the items imagine they are running away from, if only they understand the attendant health risks involved.
Ali who spoke through the Coordinator of the Headquarters Strike Force Team A, Ahmadu Shuaibu, further explained that "unfortunately the various diseases and health challenges posed by the use of these transferred clothing and shoes may not be immediately traceable to the clothing and shoes as the carrier agents.
"To forestall this unhealthy practice the federal government enacted necessary policies to criminalize their importations and use, but unscrupulous traders bent on making profits at the expense of the wellbeing of the masses, are still bringing these items from America, Europe and some places in Asia.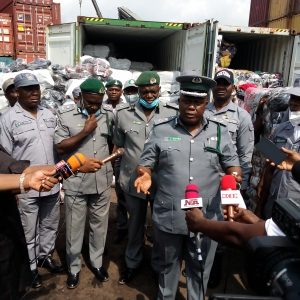 "Wearing shoes and clothes already used and discarded by their owners makes the wearers dirty, morally and otherwise.  This habit undermines our image as a people, because some unscrupulous Nigerians will go and scavenge for these items where they are dumped, and ship them to Nigeria. You have no way of knowing the type of person that used these items earlier, whether sane or insane, whether sick or healthy, but Nigerians foolishly buy these things and wear them.
"You mortgage your identity and personality; you reduce your worth and submit to strange forces, because washing does not remove what is non-physical in these items. It's a whole lot of risks, physically, spiritually and otherwise", he lamented.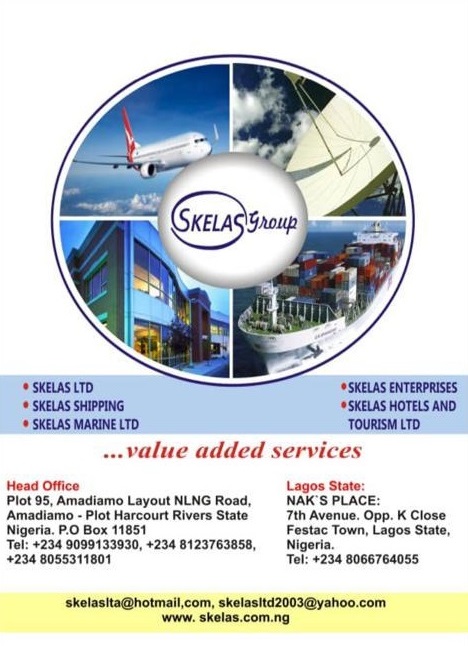 Shuaibu a deputy comptroller of customs, said his team intercepted 575 bales of secondhand clothing which has already been forfeited to government, in addition to 664 cartons of unregistered drugs and 1,140 cartons of supermarket goods, said to have been improperly imported into the country.
Other items seized include 1,140 cartons of super market goods, 530 cartons of foot wears and 1,600 bags of foreign parboiled rice, noting that the seized drugs were without NAFDAC number, following the agency's due diligence checks based on the invitation of NCS.
He also explained that part of the reasons for seizing the said items has to do largely with false declaration and underpayment of customs duty; even as he disclosed that a total of N426, 349,173.00 was recovered through issuance of debit notes.
He said, "Sequel to conscientious documentary checks, the ICT component of the team recovered the sum of N426.4 million from demand notices (DN) raised within April till yesterday, 25th of May 2021", adding:
"The money recovered from demand notices could have been lost to unscrupulous importers."
He appealed to importers and traders to commit to the economic wellbeing of the country by supporting the federal government backward integration policy aimed at reviving her moribund industries and efforts to resuscitate local manufacturing such as textiles, by shunning importation of foreign textiles, foreign shoes and foot wears.
He further lamented that such importation is systematically killing the nation's foot wear and textile industries, sending her teeming youths and the productive bracket out of employment, while creating employment and wealth for the exporting countries at the detriment of Nigeria's capacity to build own foreign reserve through export of her manufacture.
"While we appreciate our patriotic trader's for their compliance with the Customs and Excise extant laws, we employ the cooperation of all international traders to imbibe compliance in the interest of the nation's socio-economic wellbeing and security," he said.