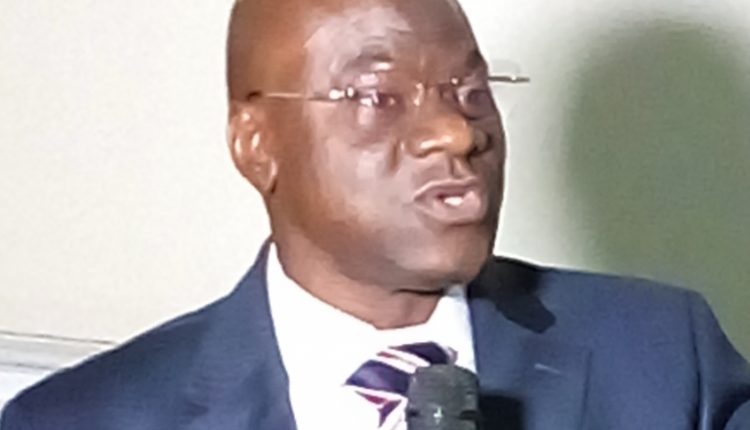 BY EGUONO ODJEGBA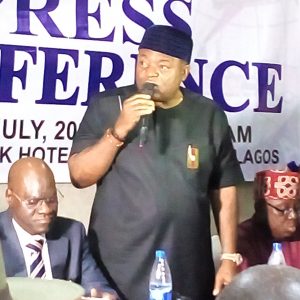 The registered Board of Trustees (BOT) of the Association of Nigerian Licensed Customs Agents (ANLCA) said yesterday that an Annual General Meeting (AGM) will be held soon for critical appraisal of development in the association and the industry, with the appointment of an  acting National Executive Commitee (NECOM) of ANLCA as a major agenda.
Chairman BOT, Alhaji Taiwo Mustapha who disclosed above during a press conference organised by the Registered BOT at Villa Park Hotel, Amuwo Odofin, Lagos, said the appointment of an interim NECOM to run the daily affairs of the association has become necessary in view of the suspension of Mr. Tony lju Nwabunike's leadership by the court.
He said as the custodian of the collective sanctity of ANLCA, the BOT is empowered by the constitution to take over the day to day affairs of the association in the period of crisis, and or to appoint an interim executive committee pending the resolution of any crisis, to avoid creation a vacuum.
This is even as Mustapha dismissed his purported expulsion   alongside his team by the Nwabunike led NECOM as an act of comical rascality, noting that the lju led NECOM has been suspended by a court of competent jurisdiction and stopped from parading itself in office.
He said, "We want to re-emphasise it here today that as far as we are concerned in ANLCA, and as far as majority of our members are concerned, Tony Iju remained suspended as ANLCA President"
"Secondly is that, whatever they have done by way of appointing anybody as board members becomes null and void"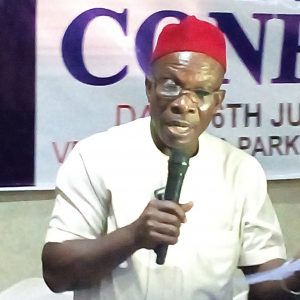 "We have also decided that in as much as we are not ready to take law into our hands, we would continue to pursue the court cases to a logical conclusion, and even if it means jailing any of them, we would do that."Mustapha lamented that the unfortunate current crisis has rubbed off adversely on the capacity of ANLCA to continue to influence industry development like it used to do, noting that the association has degenerated into laughing butt.
"Today, ANLCA has become a laughing stock in the maritime sector, but on our own, we would start repairing all the damages done.
"One action we are going to take now is to call for an AGM where we are going to appoint acting national executives.
"They (Tony Iju's NECOM) came up to say that we were jeopardising the interest of NECOM, and that they are inviting us to a Disciplinary Committee, and I ask myself, who is supposed to invite who for a Disciplinary Committee? Is it you that is disobeying the law of the land or some of us who kept quiet in the interest of peace in ANLCA and allowing you to keep parading yourselves and dancing naked in the market Square?"He continues: "To that extent any action taken by lju and his cohorts are in contempt of court, and therefore null and void.
"The BOT Chairman revealed in a graphic account, the intrigues, the backbiting and deceits that led to the ongoing standoff, as he accused a former BOT Chairman, Chief Henry Njoku, former board member, Dim Peter Obi and the embattled National President, Nwabunike of driving the wedge that has polarised the association, over the trio's alleged conspiracy and refusal for Njoku to vacate office after more than ten years in office.
Mustapha explained that the gentlemen agreement to spread the important leadership position amongst the geopolitical zones was also thwarted by the trio.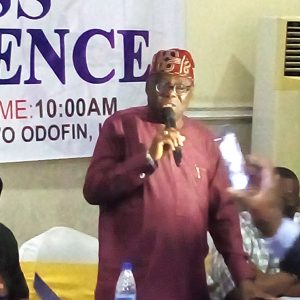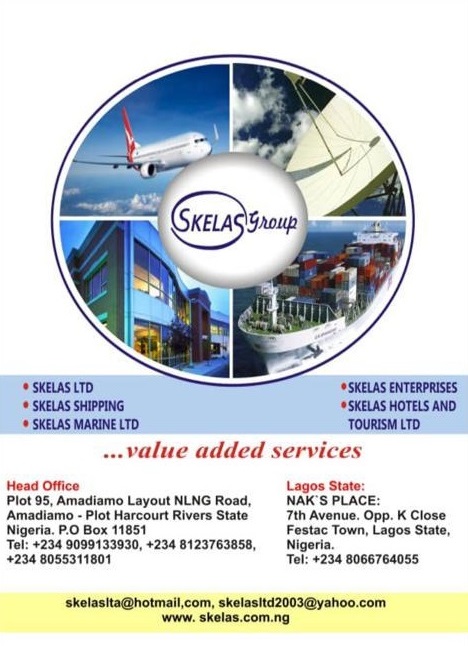 He revealed how Njoku and Obi went to the Corporate Affairs Commission (CAC) to first hide the association's file, and allegedly manipulated aspects of the register. He also explained how those working against the interest of the association tried to sabotage efforts to update the Register after Obi went to court to obtain judgment that unless Mustapha and others whose names are not in the Register gets captured, cannot parade themselves as BOT members.
His words, "I and some other board members went to register with CAC in order to legitimize our membership of the board. This is because this is the only way we can be legally-recognized as Trustees.".
"Even with the certificate of registration with us, Nwabunike and his cohorts still engaged ill actions against the leadership of the board which provoked action contained in suit number FHC/LCS599/2020 where the court issued an order on 29th June 2020, restraining Nwabunike and Co from interfering with the operation of the BoT as constituted in consonance with the certificate dated 16th January, 2020."
He continues: "As if that was not enough, going forward, some aggrieved members of ANLCA went to the same court that gave Obi the judgment to get the court to nullify all actions taken by the Board prior to the registration since it was illegally composed. Reacting to their prayers, the court gave an order on 26th August, 2020 restraining Nwabunike and his backers from parading themselves as national officers in the suit number FHC/L/CS/921/2020.
"It was noted that since then the suspended President and Njoku have been ridiculing court orders and by making unguarded statements denigrating the actions of the Justices that issued the orders". he said.
"Rather than tow this line, he embarked on vendetta against those whom he perceived did not support him during his elections."
Also speaking, Registered BOT Vice Chairman, Chief Dennis Okafor said  Tony Iju has been removed by the court, noting that any action carried out by him is clearly illegal.
BIR Secretary, Prince Taiye Oyeniyi said more than 25 letter have been written to NECOM for purposes of  reconciliation, noting however that every overture was rebuffed, or not accorded honest response.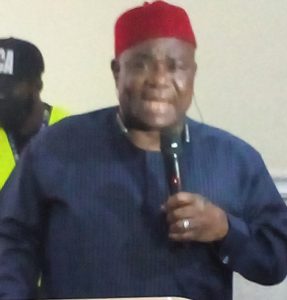 "Tony Iju has been removed and he stands removed", he stated.
Former National President and current BOT Member, Chief Ernest Elochukwu, said the reason the board has kept quiet is because "We don't have to dance naked in public like Tony Iju and his group are doing"
He said the board would not allow Iju and his team to destroy ANLCA as an association that has raised great men in Nigeria. He said it has been on the agenda of Tony Iju from the onset to destroy ANLCA.
"ANLCA has been an umbrella that has covered many agents and given them hope, but what do we have today, our members are vulnerable because of the clueless leadership of Tony Iju "
Also speaking, ANLCA's Western Zonal Leader , Chief John Oforbike recounted how he made many efforts in reconciling both the Board and Nwabunike-led NECOM, noting that every  attempts however failed, allegedly due to the posturing of Nwabunike and his supporters.
He said "I visited Tony Iju 18 times, one of which he had the company of the current bishop of the Roman Catholic Diocese of Sokoto, Bishop Matthew Hassan Kukah who prayed for us including other western representatives for four hours."
Oforbike also accused Nwabunike of plot to destroy the association, saying that he once told him he will be last president of the association because of the refusal of Western Zone to vote for him in 2018.