Distinguished Maritime Personalities 2022 Faces Unveiled
BY GBOGBOWA GBOWA
The maiden edition of the Distinguished Maritime Personalities 2022 Faces put together by the Maritime Insiders publication has been unveiled, with Team NIMASA, Mohammed Bello-Koko, Engr. Greg Ogbeifun, Dr. Taiwo Afolabi, Hon. Emmanuel Jime, Cdr Duja Effedua (Rtd), ACG Charles  Edike, Comptroller Ibrahim Malata, Barr. Jean Chiazor Anichere (SAN) making the list.
Addressing reporters on the Distinguished Maritime Personalities, DMP 2022 in Lagos yesterday, the Managing Director of Maritime Nigeria, publisher of Maritime Insiders, Mr. Igho Kelvin Kagbare said the DMP is going to be an annual event to honour distinguished personalities based on their critical contributions to the maritime industry, taking into account past and present assessments.
Kagbare said while the maiden edition is slated to hold in December this year, notice of the actual date and venue will be communicated later as according to him, the organizing committee is still consulting and yet to agree on a particular day in view of numerous industry events scheduled for December.
Speaking on the imperative of the DMP Award, Kagbare explained that despite isolated cases challenges here and there, the maritime industry has greatly impacted the nation's GDP, achieved efficiencies and rebound in some sub sectors, created new windows of investments and economic frontiers, while trades has remain competitive and attractive across board.
His words: "Notwithstanding the overall everyday socio- economic issues and challenges, it is easy to lose sight of the good across sub sectors and progress made by individuals, groups and organizations. The successes recorded through efforts of men and women who remain dedicated and committed to the growth of the maritime industry has been huge, impacting new windows of opportunities and even our gross domestic growth. These must be acknowledged to encourage operators and players, especially those with critical indices of development to do more.
"Without any doubt, we are convinced at Maritime Nigeria that there are personalities working hard to sustain industry growth and to keep the national development trajectory running unimpeded, and unending. Daily, we look out for, see and capture the positives by recognizing those working quietly and gaining momentum that defies all odds, and are flying the flag in their respective domains. These stakeholders and players are holed up in the organized private sector, in government agencies, all contributing to the national economic development.
"From a long list of hard working, focused and committed maritime and transport personalities, we have been able to identify and shortlisted the following individuals for recognition/honour in this maiden edition of the Distinguished Maritime Personalities, DMPs series."
They include Team NIMASA, made up of the Director General, Dr. Bashir Jamoh and his Executive Directors (Executive Directors, Maritime Labour and Cabotage Services, Engr. Barr. Victor Ochei, Executive Director Operations, Mr. Shehu Ahmed and hon. Chudi Offodile, Executive Director, Finance and Administration); who have proven to be a compact, focused team, committed to the development of our maritime industry.
The Managing Director of the Nigerian Ports Authority (NPA) Mohammed Bello-Koko, for his resilience in furthering the efficiencies of ports operations through strategic restructuring designed to raise the level of tonnage, reduce vessel turnaround time; and generally make the ports more attractive.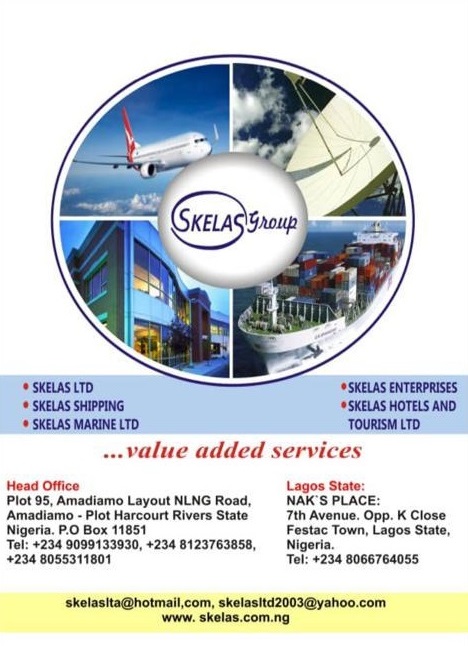 Also shortlisted for DMP Award is Engr. Greg Ogbeifun, a frontline shipping magnate, ship builder, ship repairs, critical employer of maritime labour, maritime capacity builder, industry philanthropists, and lead maritime personality in gender balancing. The CEO of Starz Investments and Marine Services is involved in pioneering the development of the Benin City River Port (BRP).
On the DMP recognition list is Hon. Emmanuel Jime the Executive Secretary/CEO, Nigerian Shippers' Council, NSC. Aside advocating port trade costs efficiencies,  Jime's strident calls for , standard operating procedures ( SOP) in Nigerian ports has generated quite some positive responses, aside driving the development of dry ports capacities. It is to Jime's credit that ports Vehicle Transit Areas (VTAs), Border Information Centres (BICs) and (PSTT) are all rolling and recreating the port system.
Other maritime and transport titans who are beacons of hope within and outside the industry include Dr. Taiwo Afolabi, Chairman, Sifax Group. As an Investor, Afolabi has touched lives in ways too numerous to mention. A business tycoon with strong maritime presence, Afolabi remains a defining factor in the maritime space, yesterday, today and no doubt for all time.
On the DMP 2022 roll call is Commodore Emmanual Duja  Effedua, Rector of Maritime Academy of Nigeria, MAN. His works at MAN for country and industry are pointers to the fact that where there is a will there will always be a way. MAN Oron throught the instrumentality of Effedua occupied a critical space in the just concluded President Muhammadu Buhari Scorecard Presentation, 2015 to date, at Abuja. While he insists that there is more work to be done, stakeholders have repeatedly expressed genuine excitement at the magnitude of change the Academy has achieved under him, where a forty years failed programme hit the performance radar under four years.
Also on the list is Customs Assistant Comptroller General  Charles Edike (Rtd), a man with unbroken records of striking successes and monumental revenue collection and recoveries. He was a revenue adjuster and uncommon administrator who was also singled out to go fix problems. He was Customs Area Controller PTML, Tin Can Island, Apapa Area Commands and Murtala Mohammed International Airport Command. He was also the Commandant of the Customs Command Staff College Gwagwalada, Abuja.
On the DMP list is Mr. Compliant and terror of drug smugglers, Comptroller Ibrahim Yusuf Malanta, Customs Area Controller of the Apapa Area Command. An economic gatekeeper, Malanta has also distinguished himself as an uncommon revenue collector and anti-smuggling commander.
Shortlisted for recognition is Dr. Bayero Salih-Farah, Director General of the National Institute of Transport Technology (NITT) Zaria; whose administrative versatility in transport technology and innovations has helped to steer the increased performance of NITT in the past few years.
In the list is a maritime personality whose intimidating credentials and intense industry knowledge and awareness is second to none. Capt. Warredi Enisuoh is a Certified Pilot, Certified Ship Captain, Maritime Security Expert and Astrologer. His exploits within and outside the shores of Nigeria are many even as he continue to provide expert info and professional advice to local and international organizations.
On the lists are two frontline maritime legal juggernauts, Barr. Jean Anishere (SAN) and Dr. Emeka Akabogu. The duo have distinguished themselves in availing the maritime industry insightful legal perspectives, and largely involved in maritime law issues, from the Presidency to the National Assembly down to the Agencies and Institutions; and indeed the civil/human rights organizations to gender governance support.